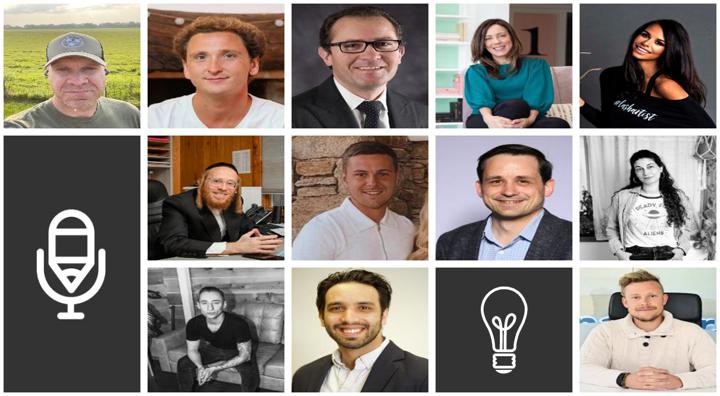 What is one marketing trend you see in store for Shopify store owners in 2022? What can store owners do to capitalize on this trend to improve sales? 
To help Shopify store owners pinpoint marketing trends for 2022, we asked Marketing professionals and experienced Shopify store owners this question for their best insights. From improving online hyper-personalization to incorporating voice search, there are several Shopify trends to improve sales. 
Here are 12 Shopify marketing trends to help boost sales in 2022:
Improve Online Hyper-Personalization

Integrate With Social Media and Other Platforms

Dominate With Omnichannel Video Content

Allow Cryptocurrency Transactions

Leverage Partnerships With Tiktok

Optimize for Voice Shopping

Offer Product Customization

Improve Supply Chain Delivery

Capitalize on Virtual Shopping 

Provide a One-On-One Customer Experience

Use Google Shopping Ads to Your Advantage

Incorporate Voice Search
Improve Online Hyper-Personalization
As even more customers move online from traditional retail shopping, personalization is going to become even more important in 2022. If you can anticipate your customers' wants and needs, and make them feel their presence and business is appreciated, you'll be a step ahead of the rest. Therefore, the businesses that stand to benefit are the ones that best implement personalization on their sites and digital storefronts. This will be a key to success in 2022.
Stephanie Schull, Kegelbell
Integrate With Social Media and Other Platforms
In 2022, I would expect better integrations with Shopify, social media and other marketing tools and platforms. This means more opportunities to engage and increase brand and product awareness online with current and prospective customers. Since this trend is expected to continue into 2022, it's important for store owners to increase their knowledge of social media and digital marketing tools that are better suited for Shopify integrations now and into the future.  With continuous platform learning and integration you should also ensure to update your social platforms with the most up-to-date and relevant information, so you are better equipped to utilize personalization and get ahead of the game by providing the best possible online customer experience for your shoppers.
Vanessa Molica, The Lash Professional
Dominate With Omnichannel Video Content
As we head into 2022, video content consumption will continue to dominate online traffic, and it'll be absolutely crucial for Shopify store owners and marketers to take advantage of an omnichannel video strategy. Omnichannel video content - social media video posts, livestream, influencer partnerships, and videos on your site, for example - will be the best way to capitalize on a trend that has been proven to hugely influence buying decisions and consumer behavior. Shopify has even partnered with TikTok, a short-form video giant, and merchants can use a TikTok for Business account to link directly to their Shopify storefront.
Stephen Light, Nolah Mattress
Allow Cryptocurrency Transactions
One marketing trend that we see for Shopify store owners in 2022 is accepting cryptocurrency for payment and transactions. Store owners can capitalize on this trend by starting to accept cryptocurrency in their stores. This will open up a new market for customers and give customers the flexibility to buy your products with the payment method that works best for them. This is a great way to generate demand for your products and provide a better customer experience for your customers. Accepting cryptocurrencies will improve the online experience of your online store and help retain customers long term.
Chris Gadek, AdQuick
Leverage Partnerships With Tiktok
The partnership deal between Shopify and TikTok can be a big thing for Shopify merchants who prefer social media marketing. TikTok is a thriving social media platform with around one billion users, lining up with Facebook, WeChat, and Instagram. Capitalizing on TikTok can bring one's business to a whole new level in the digital setting because TikTok is downloadable anytime, anywhere. That means it can reach a broader audience and invite the right people. TikTok users can access items in Shopify as they scroll through various short-form videos. Its unstoppable popularity will leverage Shopify store owners' customer engagement, allowing them to remain competitive and relevant in the market.
Jake Smith, Absolute Reg
Optimize for Voice Shopping
Voice shopping will become more popular than ever in 2022, and business owners need to start preparing now to take advantage of the trend. Ensure that all your product descriptions are voice-friendly by using conversational keywords and providing bullet points that highlight the most important features. This will make it easy for machines to determine what information is most valuable to the user and relay it to them in a concise manner.
Johannes Larsson, JohannesLarsson.com
Offer Product Customization
Customization is only going to increase in 2022. With so many companies and products out there, consumers want to feel they are being catered to, and rightly so. That's why I'd recommend using all of the digital and analytic tools you have available to create more customizable products for customers in the new year. If you want to stand out from the crowd, you should be making a customer's experience with you memorable, which customization achieves.
Peter Babichenko, Sahara Case
Improve Supply Chain Delivery
I believe supply chain issues will continue to plague commerce well into 2022. Therefore, you should be emphasizing the immediate availability of your products in all of your marketing efforts. If you're a local or small business, hopefully your suppliers are closer to home. Emphasize that you can get products to others faster than your competitors, and you'll thrive.
Nataly Vanunu, Boho Magic
Capitalize On Virtual Shopping
An improved virtual shopping experience is an upward marketing trend that Shopify store owners should hop on come 2022. Shopify store sellers must quickly adapt to the fact that shoppers are growing more and more accustomed to virtual shopping as a result of the pandemic lockdowns. Sellers who invest in improving and personalizing customer virtual shopping experiences will have an edge over those who don't.
Jason White, All About Gardening
Provide a One-On-One Customer Experience
More and more shoppers are going online to connect and interact authentically with the brands they like. And creating that genuine engagement will require more than liking, commenting on, and sharing your followers' posts on social media. Brands will also need to implement one-on-one experiences with prospects through chats. These conversations can range from offering discounts on new products or promotions to post-purchase customer support. A more personalized customer experience will make prospective buyers and new customers feel valued and assure them that your business is there when they need you.
Jason Sherman, TapRm
Use Google Shopping Ads to Your Advantage
Use Google shopping to your advantage by utilizing Google shopping ads. In 2020, Google made it free for stores to sell their products directly on the search engine platform. This is a great way to improve your reach and ultimately sales.
To capitalize on this trend, it's important to use HD photos, have a light background, and to ensure your product takes up the majority of the image. Text should be non-existent and your product description should be concise. Your target audience is shopping on Google, so use that to gain the upper hand on your competition.
Jean Gregoire, Lovebox
Incorporate Voice Search
Voice search in Shopify will rise to prominence this 2022. These days, there are a couple of voice search applications that you can integrate with Shopify. These include Heyoya Voice Reviews, Voice Search by Woice, and Mmuze. Experts have proven the growing trend of using voice search. For instance, one billion voice searches are done per month--that's according to Semrush; And that 58% of consumers take advantage of voice search to find local business information, as SEO specialist Bradley Shaw mentions. As such, it's only high time for businesses like yours to include voice search in your marketing strategies.
Abe Breuer, VIP To Go
Terkel creates community-driven content featuring expert insights. Sign up at terkel.io to answer questions and get published.