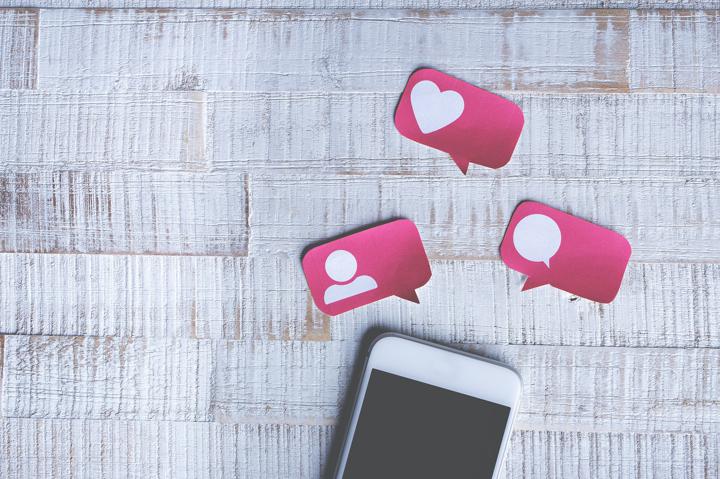 Image credit: Pexels
Companies around the world are constantly searching for the most effective ways to increase sales and brand recognition. Thus, they invest in different marketing channels: optimize their websites, send out email newsletters, launch targeted ads, etc.
One of the recent trends in business development is also involving influencers in your marketing campaigns. This article will talk about how this kind of marketing works, what types of influencers exist, and how they can benefit your business.
Influencer Marketing: How Does It Work?
Influencer marketing can be perceived as a separate and independent method of advertising goods and services. It is a proven and effective way to promote, which is suitable for large companies and small brands. 
Influencers are most common for cooperation with brands of cosmetics, clothing, jewelry, smartphones, cars, and so on, i.e., goods. However, this type of marketing is not just the privilege of the business fields mentioned above. All brands can benefit from working with influencers, from eCommerce to SaaS companies promoting their products and services.
The main thing is to choose a person who meets your needs and relates to your target audience. It is also essential to think through the details of your campaign to bring maximum benefit to your business.
An example of using influencer marketing in SaaS could be Adobe's collaboration with Raquel Willis (180,000 subscribers), who shares inspirational content.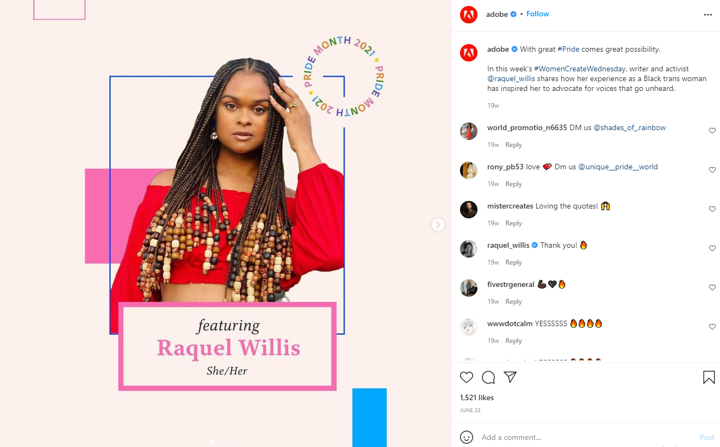 Screenshot taken on the official Adobe Instagram account
Another example is a screenshot of the post on Slack's Instagram account featuring a quote from public personality Nir Eyal (32.9 million followers) with his account tagged.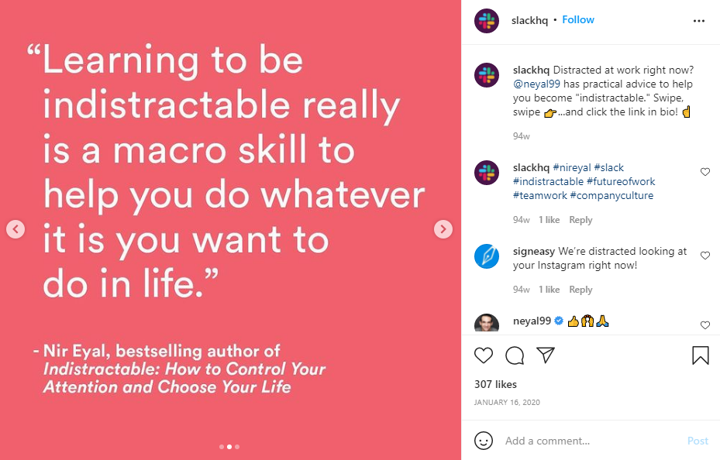 Screenshot taken on the official Slack Instagram account
The concept of influencer marketing is quite simple. First, you need to find a person with a large number of followers whose topic span is relevant to the area of your business. After that, you need to negotiate with him to promote your business among his subscribers on mutually beneficial terms.
For example, you have a small store selling clothes or jewelry. You can find a suitable influencer with a fashion blog, say, on YouTube, then contact him and discuss the option of cooperation.
Key points to discuss are as follows:
Which brand you represent and which products or services you sell.

How often and how many times you want the influencer to promote your products.

How would you like your product or service overviewed (f.e., an article, live-stream,

tutorial video

, etc.).

What benefits the influencer will receive: compensation,

your brand's products

, a discount, etc.
Different Kinds of Influencers
If previously only celebrities and a few famous people could be considered real influencers, now it's quite easy to join their circle. Anyone who has an account on social platforms like Instagram, TikTok, YouTube, etc., can succeed with quality content.
What is an indicator of an influencer's success? Of course, the size of their audience and its quality. You can use an influencer's popularity to promote your brand (the main thing is to choose the one whose audience is the most relevant to you).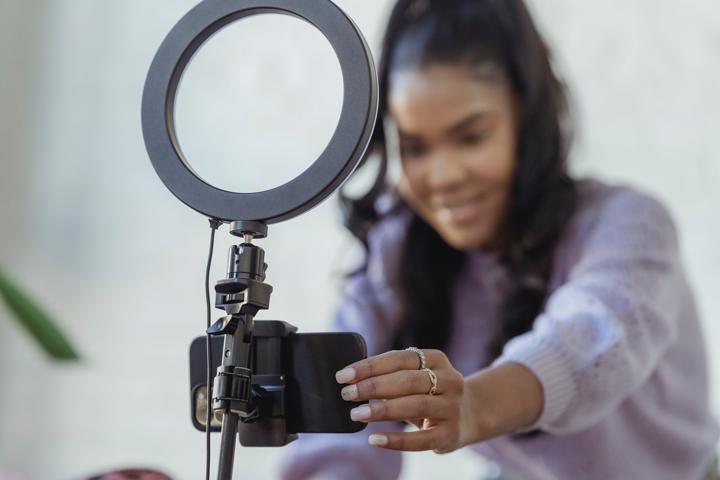 Image credit: Pexels
4 Main Types of Influencers
Influencers can be divided into four groups according to the number of followers.
1. Nano-influencers - 1,000-5,000 Followers
They can do advertising, but it is not their primary business. These influencers have the highest audience engagement rate, create the most personalized content, and are closest to their subscribers compared to other types of influencers.
2. Micro-influencers - 5,000-100,000 Followers
The cost of advertising for such influencers is higher than in the previous category. The vibe in their accounts is usually also pleasant for subscribers. Therefore, they are an excellent choice for advertising your business.
According to statistics, marketers most often prefer to work with micro-influencers.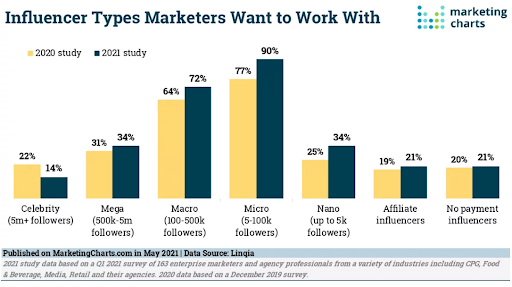 Image credit: Marketing Charts
3. Macro-influencers
- 100,000-500,000 Followers
The blogs of these influencers no longer have the feeling of personalization like the smaller influencers create. But they have a much wider reach than those with a narrower audience, and their engagement is higher than mega-influencers have.
4. Mega-influencers - above 5,000,000 Followers
Major influencers usually provide quality content and thus earn the trust of a broad audience. They often collaborate with big brands, but the cost of partnering up with them is pretty high.
These people are primarily celebrities, renowned athletes, authors, or other well-known public figures. So it's no surprise that the audience of these influencers is very diverse. What does this mean from a marketing perspective? There is no guarantee that advertising with them will bring you many clients or an immediate return on investment. However, it can assist in raising brand awareness and turning attention to your brand.
An example of a mega-influencer is Emily Ratajkowski (28.5 million followers). Below is a screenshot of a Kerastase brand advertising post in collaboration with her.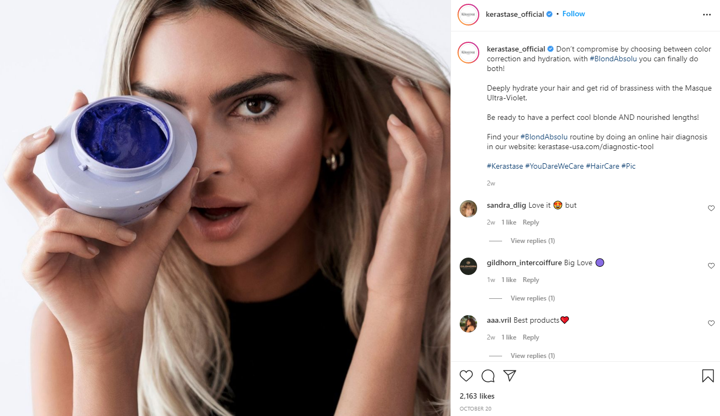 Screenshot taken on the official Kerastase Instagram account
Which types of influencers are the best for advertising your business?
It all depends on the specifics of your brand and the budget you have. If your company is relatively small, and the goods or services you offer are not targeted at the mass consumer, but instead a niche audience, choosing influencers with a smaller but more relevant audience is better.
How Do You Use Influencers in Your Marketing Campaigns?
So you've found the right influencer. This person shares your brand values, publishes quality content, and interacts with subscribers well. How can you use this partnership to increase ROI and brand awareness?
Here are five ways your marketing strategy can benefit from collaborating with influencers.
1. Gifts and Discount Codes
Everyone loves to receive gifts, and influencers are no exception. Therefore, most of them will be happy to feature your product if you provide it to them. However, they are not obliged to advertise it in this case, so it's considered good practice to write a brief description stating that you'd appreciate it if they made a post with the captions and hashtags you want.
In addition to the freebie, you can offer the influencer to earn a certain percentage of the profit from your sales made by using their personal code placed in the publication. By adding such a friendly gesture as a discount code for the influencer's subscribers to use in your store, you can attract potential customers to your website and boost sales.
Here's another excellent example of using influencer marketing for SaaS companies. Look at the screenshot of a YouTube video of influencer Mayuko Inoue (488,000 subscribers) telling about her morning routine, sponsored by Nord VPN. Near the end of the video, she thanks the brand and talks about the benefits of using their software. The video description provides a link to the Nord VPN website and gives a promo code for a discount on their services.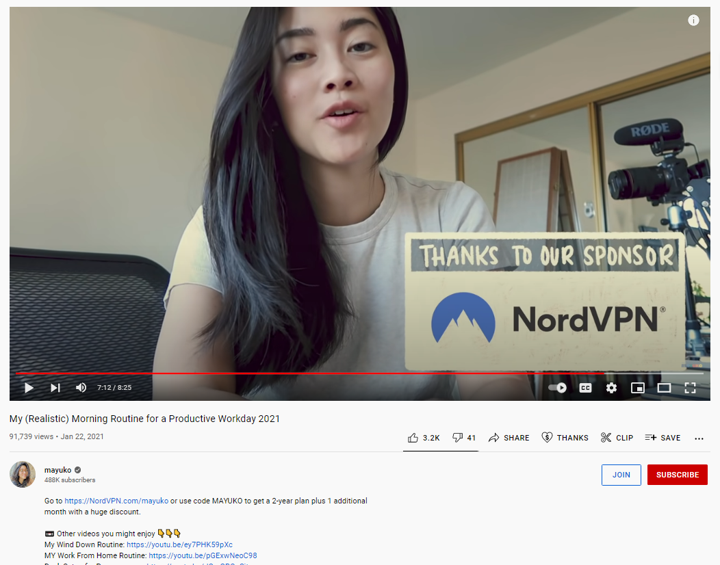 Screenshot taken on the Mayuko Inoue YouTube channel
2. Contests and Giveaways
It is one of the most effective marketing tactics to make your brand more recognizable and appeal to a new audience. You can agree with an influencer to post a giveaway with your brand's goods under specific rules that participants need to follow.
Everyone loves to win prizes, and we see giveaways in our social media feeds daily. To get the most out of such a marketing event, you need to create clear rules for the contest and explain them in detail to the influencer.
For example, look at the screenshot from the video by YouTube influencer Technology Gyan (9.89 million subscribers) featuring a giveaway collaboratiion with the brand Samsung India.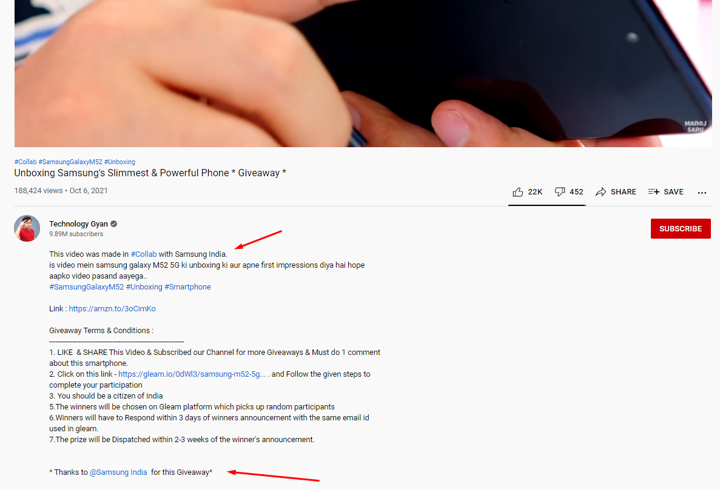 Screenshot taken on the Technology Gyan YouTube channel
3. Promotional Videos
Video has been one of the most effective advertising tools in recent years. The popularity of TikTok proved it, as well as the recent innovative implementation in Instagram called Reels. Video is an excellent opportunity to create high-quality and attractive content to promote it on social media platforms with the help of influencers.
The influencer can feature your product on his profile and talk about its benefits. For example, he can shoot a video while unpacking your item or demonstrate it in action. Such videos usually attract the attention of many users.
As an example, here's a video by Marques Brownlee (14.9 million subscribers) unpacking the PlayStation 5 and describing what comes with it. The video description reads, "Console provided by Sony for review".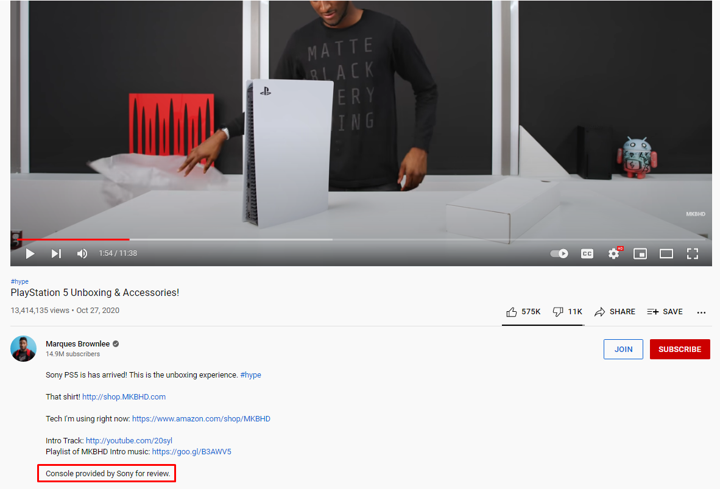 Screenshot taken on the Marques Brownlee YouTube channel
4. Confirming the Authority of Your Brand
You can collaborate with famous influencers by using their reviews and recommendations of your products. This can also be their photos and videos on your website, on social networks, and in your email newsletters.
Referring to influencers will help you get the attention of a wider audience because people trust them. The more people learn from trustworthy sources about the benefits of your product, the more your credibility rises, the more customers you will get.
The online store Ounass even created a separate section on their website, where customers can choose clothes, shoes, and accessories preferred by their favorite influencers.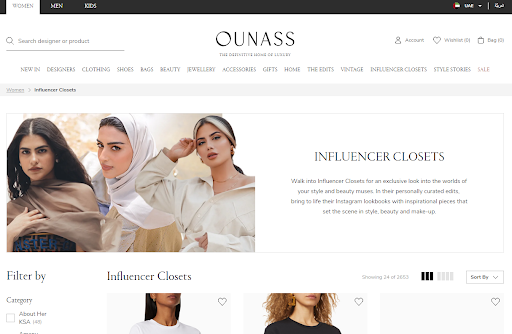 Screenshot taken on the official Ounass website
5. Social Media Management
As an effective digital marketing move, you can arrange for an influencer to take over your brand's social media for a while. That is, the influencer will temporarily publish posts and stories on behalf of your brand.
It's also a good idea to host a live stream with an influencer on your brand's account. This kind of promotion will help you attract new subscribers and build brand awareness.
The screenshot below represents a live stream with a famous influencer Lauren Conrad hosted by Cosmopolitan magazine.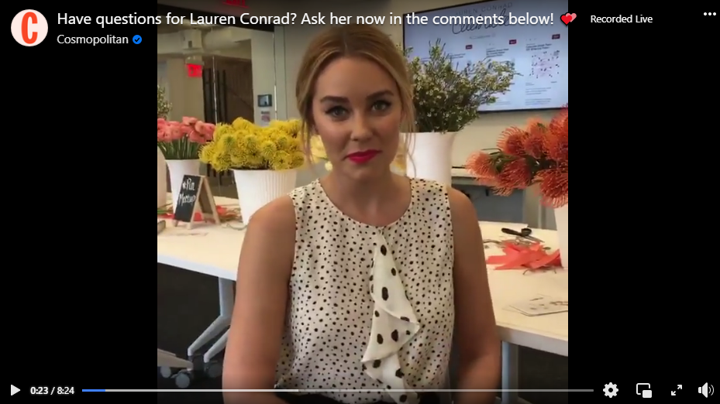 Screenshot taken on the official Cosmopolitan Facebook page
Conclusion
Influencer campaigns and marketing will help increase your brand's recognition, make your product more popular, and attract new customers. However, choosing a strategy and selecting the proper influencer needs due attention.
It would be best if you considered the following important factors:
Does the chosen influencer fit your brand values?

Does the influencer have a large enough level of followers' engagement?

What kind of advertising is best for you?
With wise planning of cooperation with influencers, your marketing campaign will be successful, which means that you will get authentic and valuable content, a lot of conversions, and, accordingly, an increase in profits.
Kate Parish | Onilab