There are a lot of excellent ways to boost sales and revenue in an online store. 
But the thing is, exceeding the average conversion rate of 2% (more precisely, 1.73% in October 2021) takes a lot of time and effort. And, sometimes, business owners simply do not have the required resources to wait around until their branding, content, and social media marketing strategies have all come together in a way that positively impacts both web traffic and user trust.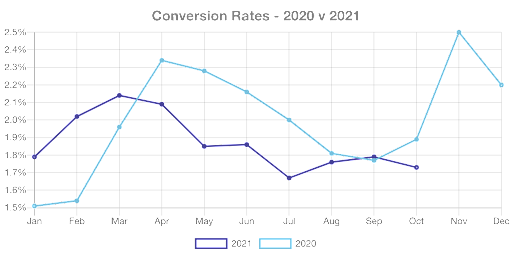 Source: irpcommerce.com
That's why every eCommerce business needs to examine the available methods for quickly boosting conversions. It's not just for financial benefit but also so that it can create the traction and means necessary to invest in the best marketing strategies to achieve sustainable and profitable growth.
So, without further ado, the following are the top six conversion rate boosters your eCommerce site can benefit from right now.
Publish an Explainer Video
Video marketing has been on a steady rise for the past five years. 
Wyzowl's The State of Video Marketing survey shows that as many as 86% of marketers use video in 2021, with 93% saying it's an essential part of their marketing strategy and 78% stating that it has directly helped increase sales.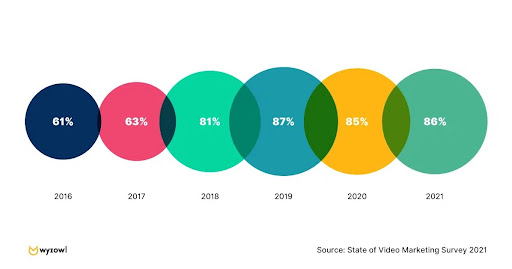 Source: wyzowl.com
Based on this data, it's easy to conclude that video is a format well-worth experimenting with on your eCommerce site. Especially if you're after a boost in conversion rates.
But what are the best video formats to invest in? Well, data from Vidyard suggests that, for 2021 and beyond, the best types of videos for marketing purposes include: 
Product demos
How-to's
Explainer videos
Webinars
Explainers are a particularly great choice for your homepage and landing pages, as they can help introduce your brand and products without coming off as overly sales-oriented. Plus, they can help you get your message across even when you're not selling in a conventional way.
For a great example of a company utilizing an explainer video on its homepage, check out WhatsGood.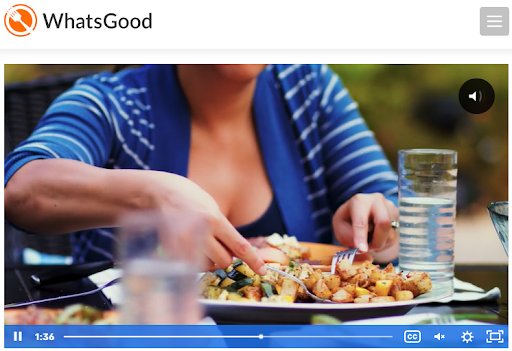 Source: Sourcewhatsgood.com
Being an online marketplace that connects local farmers with buyers, this brand could have had difficulties using just words to explain the process. The 150-second video, however, prevents any misunderstandings, combining the potential of visuals, audio, and powerful CTAs to deliver a unique value proposition that appeals to consumers' needs, values, and rational decision-making process.
Note that the effectiveness of WhatsGood's approach doesn't just come from the fact that the brand made a video for its homepage. The explainer follows a set of guidelines for making well-performing landing page videos. These include (but are not limited to):
Keeping videos short
Presenting the main idea within the first quarter of the video
Eliminating distractions
Define Your Value Proposition & Express It Clearly
If you look at consumer behavior trends for the past 12 months, you'll quickly realize that research is one of the most essential factors for having your message heard by your target audience. Yes, most marketers know that consumers don't make buying decisions (entirely) based on rational thought. They are just as much led by emotions. 
But, surveys from 2020 and 2021 show that boosting conversions depends on how effectively you can define your value proposition and how well you can deliver it to your web visitors. In other words, to increase eCommerce sales, you have to zoom in on your brand's individual approach and unique offer in a way that resonates with your audience.
To do this, you will have to figure out what online shoppers want from brands in the first place.
For example, a 2021 study by SurveyMonkey found that 55% of people said they'd be much more likely to buy from a brand that shares their social values. McKinsey, on the other hand, looked at why people switched brands. It found that 60% of people wanted more value for their money, 30% made purchasing decisions based on availability, and 20% decided what to buy based on convenience.
Knowing this, you'll want to ensure that your sales copy addresses your audience's needs.
Don't hesitate to optimize page headers so that they reflect your audience's pain points, like in the example of Timbuk2.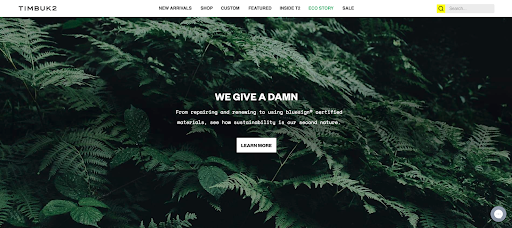 Source: timbuk2.com
By saying that it gives a damn, the brand effectively differentiates itself from so many other bag manufacturers whose products are either made using nature-harming practices or are simply made with planned obsolescence.
Or, if you want to take a step further, you can entirely re-write your sales copy to show off your product from your audience's perspective.
Future Kind does this on its homepage, pointing out several times throughout its website that its products are ethically sourced, vegan, and sustainable. 

Source: futurekind.com
Sure, it's understandable that changing your website copy (which you probably poured plenty of effort into) sounds a bit scary. But the thing is, if you want to boost conversions in your eCommerce store, you have to accept that consumer priorities change. And you need to change along with them, making sure that your buyers can count on you to deliver what they want and need from a brand such as yours.
Offer Guest Checkout
One of the best ways to maximize your eCommerce conversion rates is to focus on minimizing shopping cart abandonment. Data from the Baymard Institute shows that 24% of abandoned carts happen because people don't want to create an account on an eCommerce website.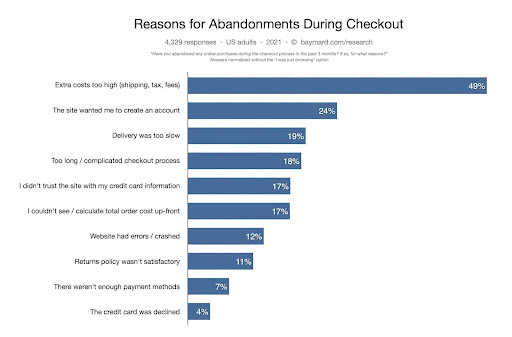 Source: baymard.com
And the thing is, this is an easy buyer objection to remove from your store's UX. Shopify has a handy guide for enabling/disabling customer accounts in its help center.
And, remember, giving web visitors a choice between saving their data or not won't just prevent (almost) one-quarter of your potential customers from abandoning their carts. 
Crucially, it will also send a signal that you value your customer's privacy. And that will inevitably encourage them to view your business as trustworthy. After all, 81% of consumers are willing to share their personal data in exchange for a more relevant shopping experience. So don't feel like enabling guest checkout has to come with sacrifices. Instead, look at it as a way to convince first-time web visitors to convert, whom you can then nurture into loyal supporters of your brand.
Experiment With Different Pricing Strategies
One excellent way to increase conversions in your eCommerce store is to experiment with your pricing strategy.
Tiered pricing, for example, has the potential of appealing to a large audience, as it can help you offer something for every budget. If you check out the Sync.com pricing page, you'll see that the SaaS brand offers Free, Solo Basic, and Solo Professional tiers.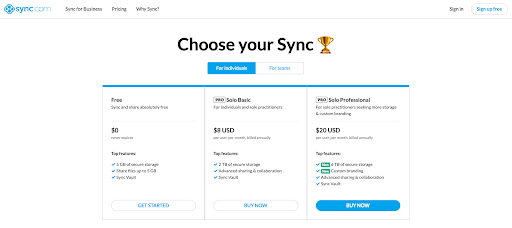 Source: sync.com
The more expensive the plans get, the more value they provide. But, what makes this strategy work is that the Free price point appeals to users who are still on the fence about investing in a cloud storage solution, helping Sync.com capture as many leads as possible without alienating them with an upfront payment requirement. 
If tiered payment plans don't work for your products, you can implement price anchoring. In fact, it might be an even better solution generally.
This pricing strategy relies on providing your web visitors with a suggested price point and allowing them to pay less, leaving them with the impression that they're making considerable savings.
For an excellent example of how a brand does this, check out US Fireplace Store. In its Staff Picks homepage section, this brand highlights several models that are on sale. So, a web visitor seeing a fireplace they like being discounted from $2,099 to $1,299 might be driven to speed up their decision-making process, thus leaving the brand with a higher conversion rate and, consequently, more money in its account.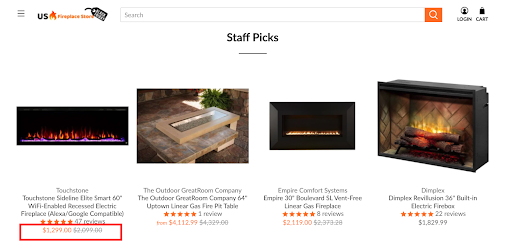 Source: usfireplacestore.com
Go the Extra Mile With Social Proof
If you think about conversion-boosting strategies you can benefit from right away, social proof should definitely make it on your top-5 list. After all, positive reviews are one of the absolute best ways to drive consumer trust, according to eMarketer.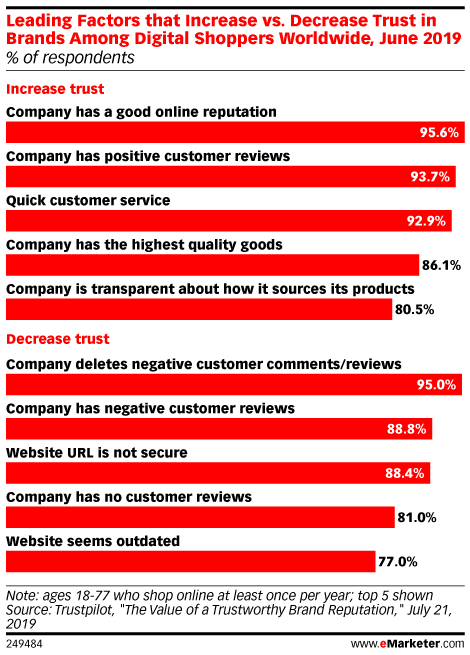 Source: emarketer.com
But the thing is, there's more to harnessing the power of social proof in your eCommerce store than displaying customer reviews or testimonials. Yes, star ratings yield good results, but you can achieve even higher conversion rates if you go the extra mile.
User-generated content like that used by Sephora is an excellent way to nudge your potential customers towards making a purchase.
Source: sephora.com
Note how the brand provides detailed product descriptions and product images but still includes user-submitted images as well. This allows shoppers to see the item in action and get a better idea of what to expect. 
Bonus points go to Sephora for encouraging reviewers to leave information about their personal features. This decision further helps manage user expectations. Plus, it allows each shopper to get more value out of the reviews on the site, seeing how skin tone and type hugely influence how a cosmetic product will perform for them.
Display Recent Sale Notifications
Last but not least, if you want to combine social proof with the fear of missing out, you can add a super-simple widget that displays real-time shopping updates to all your website visitors.
Recent sale notifications don't just testify to your eCommerce store's trustworthiness. They're also effective at gently nudging casual browsers towards choosing a product they need or like, all with the help of elementary consumer psychology.
You can do something along the lines of Orizaba Original, showing what products have recently been chosen by your buyers.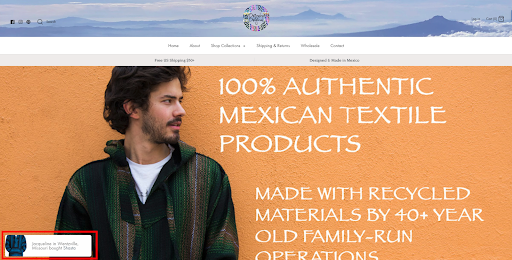 Source: orizabaoriginal.com
But you can also utilize this tactic for drawing attention to your most popular products (aiding consumers in the awareness stage move through the sales funnel more quickly) or even just for boosting newsletter sign-ups.
In Closing
Unfortunately, there's no secret ingredient for increasing eCommerce sales. Research and experience have shown that success with online retail heavily depends on a combination of product quality, well-developed marketing strategies, and a commitment to providing an exceptional customer shopping experience.
Nonetheless, the six conversion rate boosters we've talked about here have the potential of delivering instant results. The only trick is to implement them with care, paying attention that every single feature eventually contributes to the overall shopping experience in your eCommerce store. 
Whether that's a more advanced approach to social proof or an overhaul of your website copy is up to you. But what matters is that each change highlights your brand's trustworthiness, your dedication to providing value, and the fact that you fully understand what your target audience wants and needs.