Understandably, the recent pandemic has prompted unprecedented growth both in the eCommerce and digital entertainment sectors - even primarily brick-and-mortar stores have had to re-invent themselves and find their way in the digital market.
On the same note, video consumption has also ramped up during the lockdown, which has led businesses to focus more than ever on leveraging this type of content to serve their marketing purposes. And that's all fine and dandy! 
However, choosing the appropriate type of video content isn't a walk in the park.
You see, video is such a versatile medium that you can have wildly different styles - live-action commercials, animated marketing videos, testimonials, educational guides - tackling any number of marketing goals.
And using the wrong tool for the job will only lead to underwhelming results.
So, in this piece, we will discuss some of the most popular styles of marketing videos out there and provide you with some insight into how to use them to boost your eCommerce conversions. 
Let's dive in!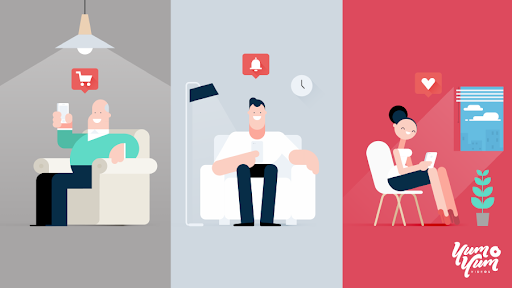 Humanize Your Brand and Build Trust
Trust is the starting point and a key element of any commercial transaction. A brand with high-quality offerings that doesn't work hard to build an emotional bond with current and potential clients won't go far in today's digital market.
Thus, humanizing your brand is imperative, especially when it comes to eCommerce businesses, where the lack of direct human interaction can make brands less reliable in people's eyes. 
Here are two video types that are perfect for building empathy and trust among prospects.
Company culture videos
This style is a perfect option to display the human side of your brand. Showcasing the core values, goals, and beliefs shared by the people that make up your company can help you get closer to prospects and customers on a more personal level.
Culture videos revolve around those aspects that make your company different from the rest, which can work wonders as long as you are honest about them. 
For instance, if your business has a playful work environment, don't try to put up a serious tone to your video, or vice versa. After all, that feature is what makes your company a singular place. Remember, uniqueness and transparency are critical factors in this video type.
Pro tip: Include different points of view. Every person that's part of your brand has something to share, so make sure you listen to them all. This way, you will also have a clearer perspective on the values that represent your company the better.

Customer testimonial videos
This video type features real customers in front of the camera sharing a positive experience with your product or service. Customer testimonial videos are a valuable tool to provide insightful information on how your offerings can solve people's pain points. This way, prospects will trust your brand and choose it as the solution to their problems.
As a rule of thumb, a testimonial video has to follow an organized structure:
Introduce the client's problem.

Recount how your company came into the customer's life.

Share the positive outcome achieved by using your product or service.
That alone leaves a lot of room for creativity, originality, and versatility; just remember to keep things honest. Use real customers, not actors, and focus on giving them a platform to explore your product's positive impact on their lives. You won't be disappointed.
Provide Accurate and Convincing Information
If there's something online shoppers need the most, it's to see and understand a product or service as smoothly as possible. Thus, providing people with handy content that shows and explains your offerings is a crucial move for any eCommerce business. 
Explainer and product video will lend you a hand on that matter.
Explainer Videos
These short pieces aim to make a product, service, or company more relatable and easier to understand. Explainers can be a powerful marketing tool that combines a compelling narrative, a detailed voice-over, and usually, compelling animated visuals meant to capture and maintain the viewer's attention.
This style has plenty of uses in the realm of eCommerce. For instance, you can create one for your product or landing pages to promote and sell your products or services. This way, you can clearly show your eCommerce website visitors all the features and benefits of your offerings.
Pro tip: Make a list of the questions you want your video to answer. For example, if you'll explain a product or service, you can use these:
What is it for?

How to use it?

What is its most important benefit?

Why is it the best option for my audience's pain points?

Product Videos
This style highlights a product or service's features and what it can do. It's particularly handy in the eCommerce sector because people don't have the chance to check out your offerings in person. For this reason, it's also important to show it in action and ensure people get the feeling of holding the product in their hands.
Product videos can take several forms, but unboxing, how-tos, and demo videos are some of the most popular. 
Pro tip: Don't forget to clearly cover the solution your product or service brings to people's lives in terms of their pain points. Just listing several features isn't that effective if you don't put your offerings in context!

Showcase Your Company's Expertise and Success
Another way in which you can make online shoppers trust your company is to position your brand as an expert in your field and give them proof of your success. 
Here are two styles that are perfect to accomplish those goals.
Case Study Videos
This type highlights a company's success stories. Case study videos are great to display the value of your work, product, or service told from someone inside your business. 
Unlike some of the other videos we've covered so far, Case Studies tend to follow an organized structure. That is to say, case study videos start by describing the problem a company was dealing with, then they move to explain the solution and how it was achieved, and end by showcasing the impact and results of that solution.
Pro tip: Use figures and stats that back up the story you are telling. This way, online shoppers will better understand how your company helped others overcome a problem and be more likely to jump on the bandwagon.

Webinars
In a nutshell, a webinar is a live video lecture hosted online used to share expertise or knowledge about a subject. This style does not only help you position your brand as an expert in your niche, but it also helps you nurture leads and boost conversions.
Moreover, they offer several interactive opportunities, such as surveys, call-to-action buttons, chat, etc.
Tips and tricks:
Record your webinar and send it out to registrants so they can watch it again whenever they want or for the first time if they weren't able to attend.

Make sure you give your audience the chance to ask questions and clarify any doubts.

Send them all the PDF files, videos, docs, or whatever you may use during the webinar. 

Keep Your Prospects and Clients Close
Great! You've built empathy, nurture trust, and showcased your offerings and expertise among your prospects and customers. Your job isn't done, though. There are still things to do to help you stay relevant and further your relationship with your audience.
FAQ Videos
This video type is used to provide direct answers to the most common questions your audience has related to your brand and your offerings. It's a practical and effective way of dealing with people's concerns and providing great general customer service.
When working on this type of video, keep them short and to the point. You don't want to bore or confuse people by any means. Short sentences and simple vocabulary are the way to go. On the same note, including animation can also help you illustrate your answers and further engage viewers.
Pro tip: Make a list of all the questions and group them per topic. This way, you can make several FAQ videos that answer similar questions. Also, anticipate the questions people would usually ask in a physical store, and tackle those as well.

Social Videos
These are designed to be shared on social media channels. In this case, social videos can be very diverse, such as commercials, event coverage, or even live streams. Their main characteristic is that they have to be adapted and optimized to each social network. For that reason, it's essential to check the maximum length allowed in the social channel of your choice.
This style aims to captivate and engage your social media followers. People can share and comment on your video, and this will also help you increase your brand's visibility. 
 Best practices:
Add captions. Make your video accessible to be watched without audio since that's the way most people on social media watch videos.

Include a

CTA

button. Seize the opportunity and be clear about what action you want people to take after watching your social video.

Consider the first seconds as a crucial part. Make sure it has a strong beginning so that people keep watching. Be creative!

Parting Thoughts
By now, it's well established that high-quality video content can be a powerful tool for eCommerce businesses across all niches. Its ability to transform a significant amount of data into short and easy-to-digest messages is one of the reasons why both marketers and customers like it!
Moreover, videos are perfect for nurturing leads and showcasing your expertise in your field or allow you to overcome distance barriers and make your brand more relatable. 
But remember, you need to pick the right tool for each job!
Hopefully, the information we've shared here today will help you do just that, inspires you to create video content that helps you bridge the gap between current and potential clients and your eCommerce business.