In 2021, there's a wide variety of ways to advertise your business, increase your customer base, and make money online. The proof is in the numbers: according to Grand View Research, the global eCommerce industry was worth over 9 trillion dollars in 2019 and is expected to grow at a compound rate of 14.7% annually until 2027.
Nowadays, marketers aren't limited to traditional advertising methods like newspaper and radio ads. They have all that and more: email marketing, search engine optimization (SEO), pay-per-click (PPC), social media marketing, and the list goes on.
With all these options, why would any eCommerce business owner use just one?
Putting all your eggs in one basket (or traffic channel) isn't just risky. It also isolates you from (potentially) thousands of new leads.
For example, if Google Analytics shows you've taken a nosedive in organic search rankings, you still have social media and retargeting to draw from.
But establishing different traffic sources means you need to use different conversion strategies. So in this post, I'm going to introduce you to nine ways to increase your eCommerce store conversion rate through a diverse range of channels.
1. Take Advantage of Retargeting
Retargeting is the process of advertising specifically to people who have visited your store, abandoned their carts, or interacted with your ads in the past.
Because they've already expressed some level of interest, these people are more qualified to buy than the leads you appear to with new campaigns because—according to ReadyCloud—retargeted consumers are 70% more likely to convert.
Other than its ability to pull on the pursestrings of pre-qualified leads, the fact that retargeting simultaneously attracts new customers and can lower advertising costs also draws marketers in.
And in more good news, it's relatively easy to create a retargeting campaign. This is thanks to pixel tracking on powerful platforms like Google Adwords and Facebook Ads.
2. Give Your Traffic Sources and Audiences Their Own Landing Pages
More than likely, you have over one target audience. For example, running shoe companies don't target only marathoners—they target sprinters, beginners, and career athletes.
A perfect example of this lies on the homepage of Business Insurance USA: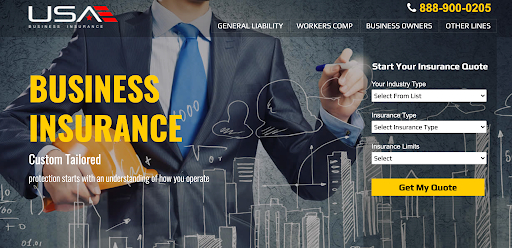 They make it clear that they don't specialize in or offer just one type of insurance. But rather, general liability insurance, business owners insurance, workers comp insurance, and even more.
If you click on each insurance type they've included on their navigation menu, you'll see that they have their own landing page with different copy, headings, taglines, and more. Visitors seeking workers comp insurance aren't after general liability, so it wouldn't make sense to attempt targeting them with the same content.
The same applies to your individual traffic sources.
Having source-specific landing pages means your Facebook ad directs leads to a page that your PPC ad doesn't, and vice versa. The reason this works is that you're amassing different audiences that are attracted to different things.
For example, Databox suggests your social media-specific landing pages should be based more on visuals than text, whereas pages that drive traffic via organic search should be focused on keywords.
3. Create Content Offers or Incentives for Each Traffic Source
Content offers and other incentives are tried-and-true ways of generating leads, no matter the traffic source. But because what attracts one audience might not attract others, you'll need to create multiple.
Examples of content offers include downloadable PDFs, checklists, email courses, infographics, and more. Basically, anything with the word "free" in front of it that can be sent directly to whoever takes the bait.
But as an eCommerce store, the type of incentives your target customers are looking for are most likely things that will help them save money.
Think coupons, discount codes, limited-time offers, free shipping, and more.
This practice is used by most (if not all) eCom businesses. They're on banners, pop-up ads, exit-intent ads, sidebars, and the like.
Just look at the online fashion store, SHEIN, for example: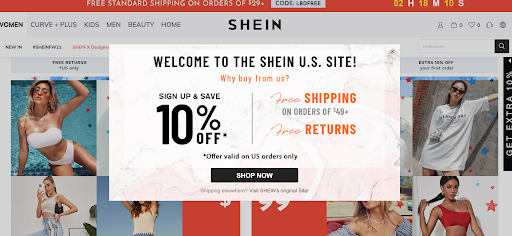 But if you want to amp up your lead generation game (and consequently, your conversion rate), start creating incentives specific to each of your traffic sources.
For example, an appropriate incentive for your social media audience would be a coupon code posted on your Instagram story. 
To encourage email list sign-ups, promise to keep your subscribers in the know about new releases, special sales, and more. In your Facebook ad, promote your "buy one get one 50% off" deal to first-time customers.
The options are limitless.
4. Optimize On-site for Search Engine Traffic
In 2019, Wolfgang Digital found that 43% of all eCommerce traffic comes from organic searches made on Google.
This means two things:
First, Google is the king of eCommerce traffic and is, therefore, a must-focus-on marketing channel. And secondly, you need to optimize for it if you want to reap the benefits.
Even if no one on your team knows much about search engine optimization (SEO), there are countless SEO courses out there that take just a few weeks to go through. Many are affordable, if not free.
Not to mention, there's a sea of digital marketing companies that specialize in serving specific industries—like LawRank, a company dedicated to SEO for lawyers, or Thrive, which specializes in eCommerce.
And if you've already got the skill set on board, it's time to start making SEO a higher priority. You can start by investing in high-quality tools like SEMRush or Ahrefs, creating a content strategy, building backlinks, and researching high-volume, low-competition keywords.
SEO isn't worth the time and effort just for the potential traffic, though. By improving your position in the SERPs (search engine results pages), publishing high-quality content, and becoming more discoverable on the internet, you'll build impressive industry authority.
5. Leverage the Power of User-Generated Content (UGC)
User-generated content (UGC) is created and published by actual customers on social media, rather than the eCommerce business itself. 
It's essentially the internet version of word-of-mouth marketing (which, by the way, is still the most credible advertising method according to Nielsen Global Survey of Trust and Advertising).
One study by Tint found a surprising amount of mind-blowing statistics related to UGC—like the fact that 70% of consumers say they consider UGC reviews before purchasing a product.
Take the camera company GoPro as an example. When users of their camera share their photography on Instagram, the company republishes it and gives credit to the artist—making it a win for both parties involved: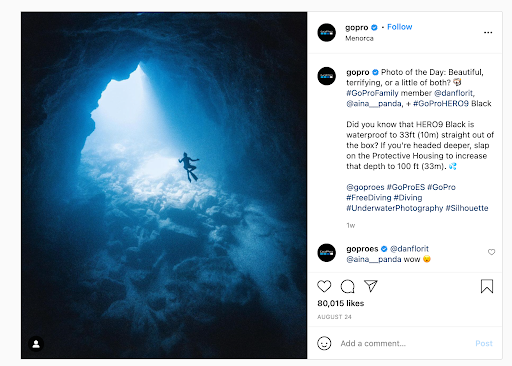 So how do you start collecting user-generated content and seeing the results?
If your business has been around for a while, odds are you already have some UGC floating around the internet—you just haven't found it yet.
The best places to look for UGC are your direct messages, tags, and mentions. When a customer created UGC, they'll usually tag the company they purchased from. When this happens, you receive a notification.
But what if you're a new eCommerce store, or you just don't have any UGC yet?
Well, lucky for you, it's pretty easy to encourage customers to create some.
For example, you can announce to your email list and social media followers that anyone who posts a picture using their favorite product from your store will be entered into a giveaway, so long as they remember to tag your store's account.
6. Segment Your Traffic and Analyze It
There are four main types of website visitors:
New visitors

Returning visitors

Returning customers

Loyal customers
The key to maximizing your reach to each of these types is simple: segment your traffic accordingly and personalize your marketing to them.
The goal of segmenting traffic is to establish groups of website visitors (i.e., the four we just identified) so that you can find out where they came from and how they behave. Once you do that, converting them becomes significantly easier.
For example, let's say that new visitors to your site have a 2% conversion rate, whereas loyal customers have 31%.
The new visitor starts at the top of the sales funnel, where they'll need to establish trust with your brand, read online reviews, comparison shop, chat with your live support (if that is available),  and then make a decision to buy for the first time.
The loyal customer, on the other hand, likely already knows what they want to buy, already trusts you, and doesn't need to spend much time (if any at all) weighing pros and cons.
These two types of site visitors are polar opposites—and need to be treated as such through personalization of the customer journey.
For example, new visitors would be attracted to a "free shipping on your first order" deal, whereas a loyal customer would appreciate a loyalty program that offers rewards each time they shop with you.
7. Create an Easier and Faster Checkout Process
When checking out becomes a task that takes more than a couple of minutes, cart abandonment—which already has a high rate of about 70% on average—becomes much more tempting.
It doesn't take a rocket scientist to figure out that the shorter your checkout process, the better. This is true regardless of where your traffic comes from.
Luckily, there's a variety of ways to identify repetitive or unnecessary steps in your conversion funnel. Such methods include using heat maps, website event tracking, and session recordings.
Once you've identified where most of your leads abandon their carts, you can move on to optimizing the process. Consider reducing the number of fields they have to fill out, offering guest checkout so leads aren't forced to make an account and employing autofill abilities, to name a few.
If you have a high-value product that cannot be stripped down to a few steps, you could consider showing users what the process looks like with a simple infographic. This is what amzpathfinder does to explain to users how they deliver their service: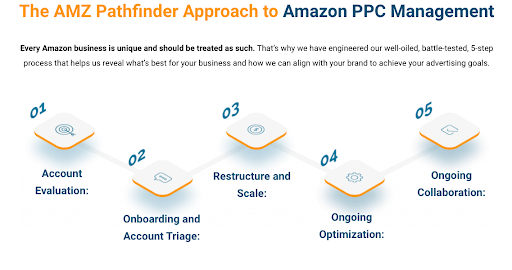 This is especially useful for service industries who have a longer step by step process to deal with each customer. To avoid customers getting overwhelmed or confused in the beginning, walking them through the way your company works ought to help.
8. Optimize Your Website for Speed
Site speed determines whether or not your potential customers are going to stick around and convert, no matter where they came from. But it's especially essential when optimizing for PPC (pay-per-click) and SEO.
When a web page takes too long to load, users become impatient and are more likely to exit or return to the search results. When this happens frequently, your bounce rate will become disappointingly high.
But this means more than losing the attention of a potential customer.
A high bounce rate signals to Google that your website isn't trustworthy or isn't what people are looking for—two factors that have a major impact on how a web page ranks.
Naturally, this means a high bounce rate can (and most likely, will) cost you ranking positions; and as a result, less traffic.
So, how long should you aim to have your site load?
According to Dot-Com Tools, the ideal load time for a web page is 2 to 5 seconds. But every second over two raises the bounce rate.
9. A/B Test Your CTAs and Ads
Last but not least, run A/B tests on practically everything you've personalized when advertising.
A/B testing is also known as "split testing," and it involves examining and analyzing the performance of two or more versions of the same element (i.e. a web page, ad, CTA, etc.). The goal of the test is to find out which version worked better, so you can rotate out the less effective one(s).
In your case, it would be testing CTAs and ads to find out which led to the highest conversion rates. And if you want to take it a step further, you can even test the landing pages you created for each traffic source.
---
And there you have it—nine simple ways to increase your eCommerce store conversion rate.
There's never been a better time to generate leads online, but with so many options, it can be easy to get overwhelmed. But with these tips, you'll be well on your way to maximizing the most important traffic sources of the eCommerce industry.