If there is one thing that's certain about the future, it's the mobile phone. From Gen Z's to boomers, the mobile phone is essential to our day-to-day lives. Even my 90-year-old neighbor has a mobile phone, she has to use a magnifying glass to read her texts but it's not something she could live without.
As of today, the number of smartphone users in the world is 6.648 billion. That's 83.72% of the world's population. With figures like this, it's understandable why mobile commerce has become an in demand market.
2021 mobile commerce sales hit $359.32 billion in the US alone. The same revenue stood at a mere $41 billion in 2013. With such a phenomenal rise, the question 'how have phones changed our lives', is simple, they've made everything…well…simple.
From online banking to buying and selling goods through your phone, mobile commerce is the way of the future. It's also attached to your hip 24/7 (I did have a belt holder for my phone but I'm not allowed to wear it anymore).
With such a meteoric rise in sales, let's take a look at what m-commerce is and how it has affected e-commerce today.
First off, what is mobile commerce?
E-commerce focuses on the single-tenant of online shopping through computers. Mobile commerce, also known as m-commerce, are the transactions made using a mobile device, tablet, or other handheld devices. 
M-commerce can be for both products or services, including in-app purchasing, mobile banking, or retail transactions. Mobile retail e-commerce sales in the US are projected to surpass $430 billion in 2022. At this moment, m-commerce is unstoppable.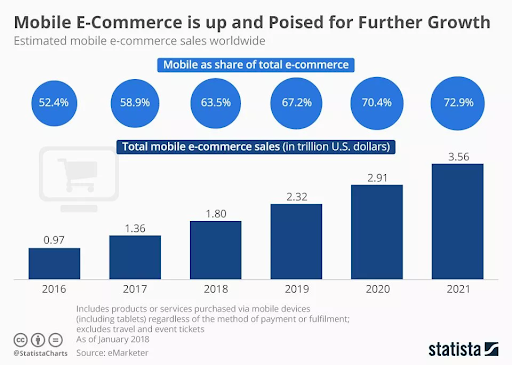 As we can see from the above statistics, m-commerce has become the dominant transaction of e-commerce worldwide. Smartphones are our most accessible devices, so it's no wonder people are more inclined to do their online business through their phones. 
The 3 heavyweights of mobile commerce
M-commerce can be classified into these three categories:
Mobile shopping
Mobile shopping has quickly taken over the e-commerce experience of yesterday. As the smartphone continues to improve with 5g and dynamic user interaction (UI), users embrace the convenience of their m-commerce shopping experience.
Businesses utilize their mobile site optimization so that their websites run smoothly on all devices. Through this, they can boost their revenue with digital content marketing as well. It's about making the experience as easy as possible, and there is nothing easier than a mobile phone.
Mobile banking
Gone are the days of standing in a queue, watching the clock laugh at you as it eats into your lunch hour. With top banks offering mobile banking, users can do all their banking needs with just a few taps on their phones.
What separates mobile banking from online banking, is the ease of use in the bank's dedicated app. Information is laid out clearly and transactions are simple. Also a record of your actions is always within reach.
Mobile payments
To simplify the buying process, mobile payment solutions have replaced the need for physical cash. So, if you are like George Costanza and have a wallet so full that it doesn't close, you can see why mobile payments are so popular.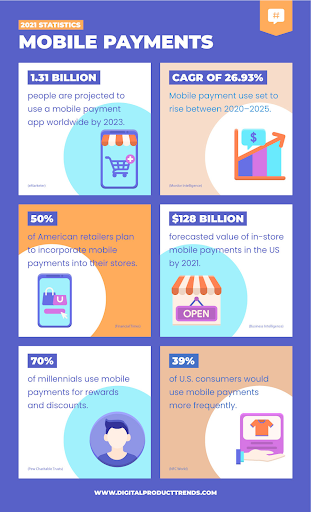 Payment options such as Apple Pay, Google Pay, and Alipay have made shopping transactions secure and easy. Businesses welcome these payment options as customer happiness improves through efficient customer experience.
Why are brands embracing mobile commerce?
Smartphones have become an integral part of society, so it makes sense for brands to embrace m-commerce. As technology improves, users reject their computers in favor of smaller devices that offer the same experience.
Outside factors have changed customers' views on how brick-and-mortar business operates. By adapting to m-commerce, retailers ensure amazing customer interaction through personalized shopping experiences.
Mobile commerce apps
Mobile shopping apps are becoming more profitable for retailers. An app such as Walmart ranks number one in the US with almost 25 billion registered users, Amazon follows behind with 23 billion.
Once the app is on the mobile device, users have access to the whole shop itinerary rather than only the products in-store. They also have the ability to compare prices and gather more information on a product, all from the comfort of their home.
They also have the convenience of tracking their product as well as receiving notifications of delivery. With many brands offering free returns and free collections, the online experience saves a visit to the store.
Extra marketing opportunities
The modern-day shopping experience has changed. Through social media, live chat, and email, businesses can reach their customers directly. Customer feedback and communication platforms such as amazon pinpoint, companies are always available to their consumers. 
M-commerce apps have certain capabilities that e-commerce doesn't:
Location-tracking

: Using GPS technology, m-commerce apps can pinpoint user locations to provide personalized and location-specific content.

Reachability

: With the ability to send push notifications and SMS notifications, online retailers can reach a wider audience even when they are on the move.

Mobility

: Shoppers always have a mobile at hand, whereas desktop computers aren't portable enough to carry from place to place (the number of stares I get taking my PC into the coffee shop.)
The benefits of mobile commerce
The benefits of m-commerce improve both the consumer and the brand experience. Below are a few examples:
Social Commerce
Mobile makes it easier for shoppers to share their purchases. Social media offers livestreams, mentions, and hashtags. They have generated a platform for customers to broadcast their favorite and most-wanted items, and avoid the work in silo mentality. By communicating together, consumers are having a shared experience.
Consumers, especially Gen-Z's, are more comfortable making purchases found on social media. From trusted followers and celebrity endorsements, products are awarded the seal of approval before being seen in-store.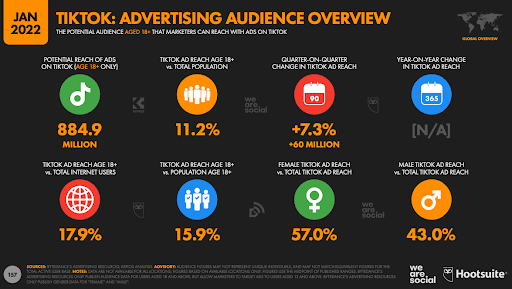 Through simple TikTok marketing techniques, sellers can overlay products onto livestreams. Whilst Instagram has a built-in shopping tab that is accessible on every page and Facebook has an online marketplace. Social media platforms such as Facebook and Pinterest, push retailers to the forefront and add a sense of validity to the products.
Enhanced customer experience
M-commerce offers retailers the opportunity to communicate with consumers in a more personalized way. Through AI interactions, push notifications, and promo codes, m-commerce is enticing repeat customers.
Apps have become easier to navigate with a responsive web design. Having a mobile-friendly website is essential to customer satisfaction. 85% of adults think that a company's mobile website should be as good or better than its desktop website.
Companies such as Ikea and Dulux Paint use augmented-reality technology to put their products in their prospective customers' homes. They are putting the in-store experience in their hands.  
One-click ordering
One-click ordering takes an already easy transaction and makes it seamless. M-commerce apps store customers' information in their profiles so they don't have to manually input them.
Gone are the days when payments were processed through a finance department structure. Customers save time without having to input their address and card information each time. The seamless transaction makes the customer feel recognized by the company, ensuring a return visit.
Intelligent chatbots
Many sites now have adopted the intelligent chatbot to converse with their customers. Utilizing AI-powered chatbots means companies can optimize their resources and still supply high-quality service.
55% of users say they enjoy the quick responses from a chatbot. These smart assistants can deal with simple enquiries and are available 24/7 for customer enquiries. Even though the company's office phone system allows one-to-one contact, it's time-consuming and can become frustrating.
Food companies use chatbots to find the best deals for their customers. Phone companies and retail utilize them to be the first point of call for an incoming query.
It's COVID-safe
COVID-19 has shifted shoppers' behaviors and patterns towards m-commerce for safety and peace of mind.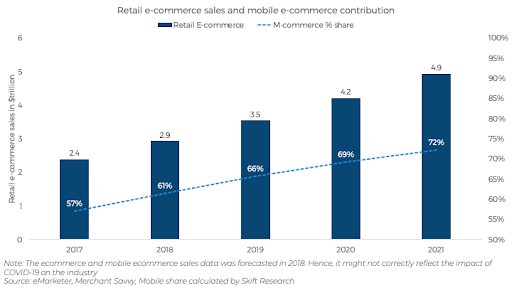 As stores closed, consumers had to make online purchases, many for the first time. This led to companies developing better mobile site optimization for their apps. As well as consumers becoming better acquainted with the process.
Even with stores reopening and many returning to work, the ease of m-commerce has affected in-store shopping sales.
Mobile commerce moving forward
With the global popularity of the mobile phone, companies would no longer be able to survive without fully embracing its benefits. From the ease of use, cost-efficiency, and return business, the benefits significantly outway the negatives. 
As the mobile phone has made itself essential to our day to day lives, it makes sense for m-commerce to have become as popular as it has. The phone is essential to how we live and communicate with each other, and now it is essential to our shopping experience.