Before we dive in, take a look back at Our (Grant's) Favorite B2B Websites (2019 Edition). 
Here are the key patterns he identified:
Putting "you" at the center of it all. All but one of the examples use personal language to connect the pain point with the user directly.
Asking for email vs. booking a demo. It's expensive to drive eyeballs to your business. Getting a user's email gives you the chance to educate and nurture even if they abandon.
Humans are out, illustrations are in. The vast majority of companies are opting for illustrations, with the exception of Drift, which is split testing photos of their employees to see who performs best.
Lots of social proof. Every single website is using some form of social proof to credentialize themselves and build trust with users.
Here are some changes in 2020:
Some of our favorite simple designs have added quite a bit to their design (we are looking at you Slack). 
Product images and animations are starting to supplant illustrations. Humans are potentially making a comeback. Drift still uses humans (my friend Sam still not featured, sorry Sam) as well as a few of our top sites in 2020. 
Social proof has stayed consistent with customer logos being the most consistent form of building trust. If they have worked with Amazon or Google we know! 
Integrations are front page news. Every site I reviewed highlights their integrations or API on the homepage. 
Let's dive into some of my favorites: 
Stripe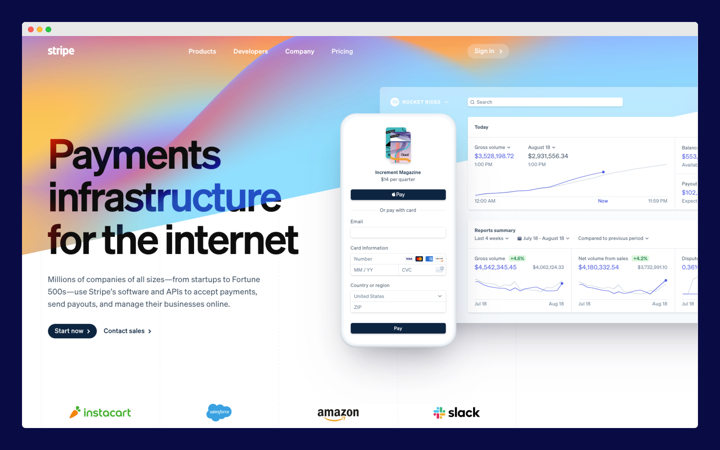 Stripe has created the perfect blend of design and function. Immediately we know what they do (payment infrastructure), who they do it for (online businesses), and how they do it (web and mobile app). What I really love about the site is that it consistently highlights the product with real product images, not just cartoons. 
P.S. They worked with Amazon & Google 
P.P.S. Their CTA's are a little too small and lack color, but the product showcase and design makes up for it. 
---

Monday
Monday hits a few of the changes we see happening in 2020 while carrying over some of the 2019 best practices. The product is featured, humans are used, and social proof is present. Their call to action is bold and consistent across the page. If you click it you are presented with the illusion that you are in the product. A fantastic tactic that actually got me to complete the sign-up process. We might be stealing this.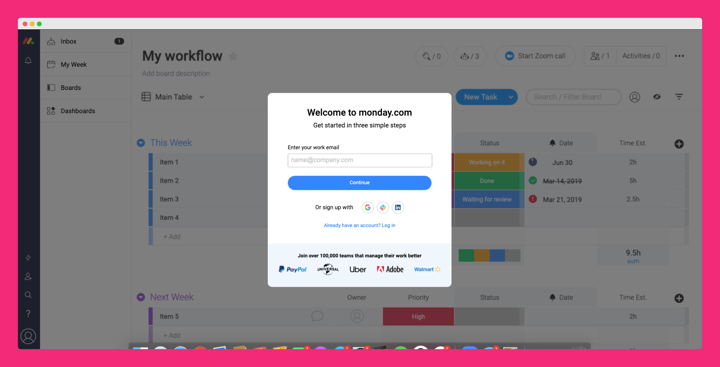 ---
Zenefits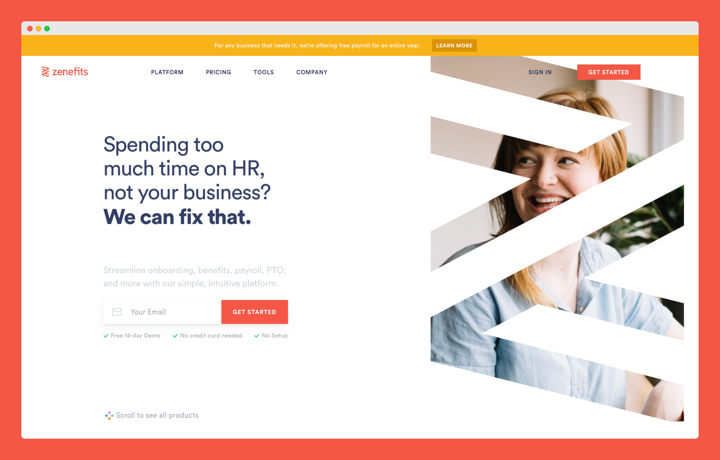 Zenefits nails their website in 2020 with their CMO Kevin Marasco saying on Linkedin "Since launching the new site, homepage conversion rate is up ⬆️ 141% and trial signups ⬆️ 308%. :)" I needed to include the Smiley Face because that even makes me happy. This site nails a lot of the trends we are seeing, but the animations drawing visitors attention to each product shot in incredible (already sent to our product team). Please take some time to scroll thru the page (Sorry Kevin conversion rates might drop slightly due to the traffic coming by to admire the page). 
---

GROW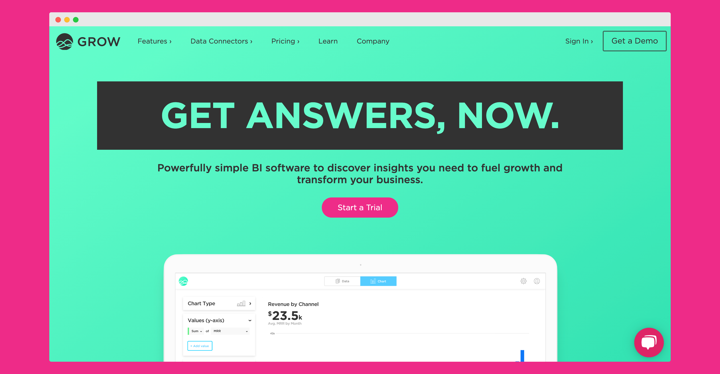 Grow is our boldest site of the year and I am here for it. Buzzwords have taken over and Grow gets to the point. They help businesses "GET ANSWERS, NOW." Then they get into the buzzwords. Their product animations are second to none showing just how simple their product makes organizing and visualizing data. For social proof, they leveraged customer logos (not Google and Amazon) and badges from top review sites, which was not used by Stripe or Monday but always recommended.
---

Compt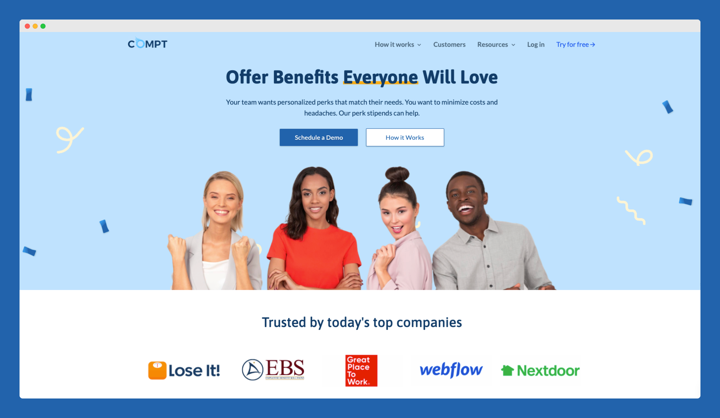 Compt makes an appearance this year and full disclosure they are a customer of Unstack's. I just started here and their site is one of the reasons I was so excited about our product. They immediately highlight that they are for employees (humans again) and what employers have used them (social proof). The product is featured but very clearly secondary to the employees and employers their product supports.