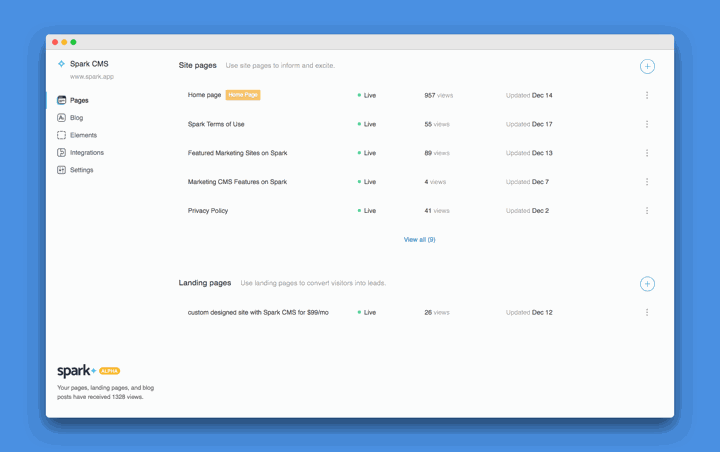 We are excited to announce the release of Unstack 1.0, an intelligent content management system designed to give modern teams full control over their marketing stack.
---
The Unstack editor - a new and better way to create content
For years we've been helping brands use platforms to tell their story and attract new customers. It's harder than ever to stand out, and that's why we knew we had to design a system that makes it easy for marketing teams to create and deploy amazing content. There is much to be done (and always will be), but the editing experience Unstack provides is something special. Whether it's marketing pages, landing pages, or blog content, Unstack gives marketers the tools they need to build great content that attracts customers.
Unstack Integrations - Design your custom marketing stack
Integrations allow marketers to implement their ideal marketing stack. Unstack 1.0 ships with one-click integrations to Google Analytics, Drift, HotJar, Facebook tracking pixels, and Hubspot. We have more than eight additional integrations slotted for 2019. The functionality of these integrations will also expand to provide teams with dynamic capabilities and cross-integration connectivity to help you work smarter and learn from your data.
Don't go it alone - Introducing the Unstack talent hub
We are assembling a community of creative professionals who will be a part of the Unstack talent hub. Access to these pros helps Unstack users get high quality design and content help from directly inside the Unstack platform. This will launch in the Spring 2019 and be available through a an a la carte option or monthly subscription plan.
---
Do you know someone who may be interested in Unstack? Maybe a founder trying to grow? An agency looking to generate recurring revenue as our partner? Please send them our way! hello@unstack.app
---
Thanks to our early pilot partners!!
Along the way we've had some early partners who gave us a chance and signed up for Unstack while it was still an idea. I would be remiss if I didn't mentioned two of those companies in particular:
Amy Spurling and Sarah Bedrick - Compt
Compt is a Boston based HR startup that gives your employees comprehensive, diverse, and personalized perks without increasing your marketing budget. Definitely check them out!
Luke Thomas, Friday Feedback
Friday Feedback curates team feedback for managers each week. Spend less time in meetings and drive honest communication to help your team do great work while staying human. You can try it free for three weeks!
---
You can start using Unstack for free. Click here to create an account. Unstack's full-stack marketing platform is designed to scale your startup.