Building high quality organic traffic is a long and often painful process. It can take years to really reap the rewards of the content, backlinks, and PR that your startup receives. Just take a look at this graph below showing our traffic from the last year.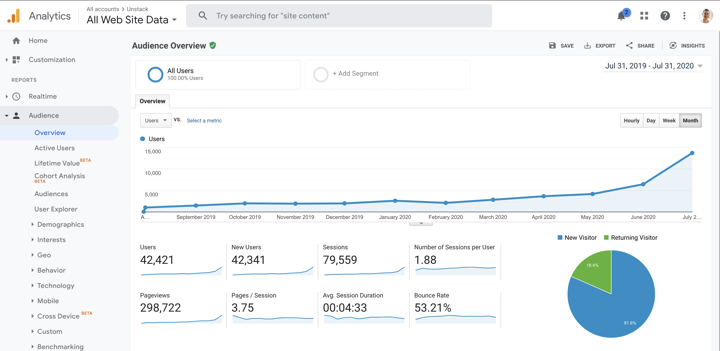 That growth is modest for a long time, but then see that kick up recently? While there's no silver bullet for building your SEO, there are strategies you can use to build your SEO traffic more quickly. And today, I'm going to share seven B2B SEO tips that helped us grow Unstack's traffic by 500% in just 10 months.
Here are seven key lessons for successful B2B SEO:
Create high-quality content consistently
Publish high-value directory content
Generate backlinks with free offers
Hustle to get your product to market
Get listed on app integrations
Build authoritative content from webinars
Keep optimizing your content
1. Create high-quality content consistently
Most of us are juggling a lot of balls, so time is limited for content creation. One of the ways we've addressed this is to build an internal content calendar drawing on our team members. This allows us to get more mileage from our team, while pushing everyone to write about various topics and lean into their particular expertise within the company.
Even when doing this effectively, there are limits on how much content we can produce. Great content takes time, and as I mentioned before, we're all juggling a lot of balls. That's why, in addition to drawing on our team, we decided to tap into one of our most precious resources: our customer base.
As a company who sells to entrepreneurs and marketers, our customers have incredible stories to tell and insights to share. So in addition to our internal content efforts, we set a goal of getting one customer per week posting a high-quality guest post on our blog.
2. Publish high-value directory content
This approach is a little less obvious than the first one but something that almost any company can implement. I came across this idea after seeing Workable's job description template library. They added over 700 free job descriptions that anyone could access. This was brilliant for three reasons:
It provided value to prospective customers and created goodwill in a way that was complimentary to their core product.
It was authoritative, which resulted in a ton of backlinks to drive page and domain authority.
It used long-tail keywords. Each job description had its own page optimized around that job title, allowing Workable to focus on reaching users who were hiring for jobs that their software was built for.
At Unstack we're doing some similar things by creating a free landing page templates directory and marketing integrations directory. Think to yourself, what are some clever, complimentary content library or directory ideas that make sense for your customer base?
3. Generate backlinks with free offers
One of the decisions we made earlier this year was to give away our most basic plan for free, allowing anyone to launch a free website on Unstack. At the bottom of each of those free websites is a link that says "powered by Unstack," which has generated thousands of backlinks for us.

4. Hustle to get your product out into the market
When we first started out, we did a lot of guest posting on high-authority blogs from larger companies in our space. We worked with a third party person to help us identify, target, and get content live. Overall, it can be expensive, and the results can take a long time to realize. When we looked at the money being spent on that we decided to re-think our strategy and instead put it into creating great content (see above) and looking for free outlets in which we could share our content and drive backlinks.
Here are some of the top ones that have worked for our B2B SEO strategy:
Product Hunt: Our #1 launch on Product Hunt drove more than 16,000 uniques in a single day. We also saw lots of people linking and sharing Unstack. Competitors wrote comparison content about us, and I got a handful of interview requests. Overall, for digital product companies, it's hard to think of a better place to promote your product. Just make sure you're ready for it.
Slack communities: There are tons of Slack communities out there which can serve as a great place to share your product and find guest posting opportunities. Here is an example from a no-code founders Slack channel that I joined. I see a few of these every day on this slack channel alone. Look around your industry to find out where people are congregating and there are likely a bunch of opportunities that can lead to both SEO and referral traffic. We have also launched our own slack community with hundreds of founders and marketers. Join here and you may find some great people to collaborate with.
5. Get listed on app exchanges and integrations
Starting earlier this year we started focusing on getting our app listed with companies we had built integrations for. Some of these are very authoritative, including HubSpot, Stripe, Klaviyo, and others. If you're building an app with integrations to larger players in the market, get listed as early as possible. These partners typically have very high domain authority and can help get you a lift.
6. Build authoritative content from your webinars
To help our customers build their businesses faster we started bringing in third party experts for webinars on topics like Facebook ads, influencer marketing, and positioning your product and then turning them into long form "pillar content" optimized around those channels. This translates to basically any business and has helped our SEO a ton.
7. Keep optimizing your content
One of our top performing posts was something I wrote a year ago about my favorite B2B marketing websites. For 2020, we've refreshed the list with new B2B marketing sites that we love. Building on your content and refreshing things is a low effort way to make the most of the work you've already done.
We also look at our Google Search Console and Unstack Insights closely to understand which content is driving the right SEO traffic—for us it's B2B founders and marketers building digital businesses—and continuously thinking about ways to optimize for reaching that audience.
Looking to improve your B2B copywriting? Make sure you're not losing conversions to any of these terrible mistakes!
Be patient with your B2B SEO strategy
As you can see from the chart at the beginning of this post, it took about ten months before we really started to see any meaningful results. SEO is a long game. You have to be patient and continue to execute before getting any results. The way I think about it is like contributing to a 401k. You can't touch the money in the short term, but you'll be super thankful you contributed down the line.
Take the strategies above and start working them into your marketing today and your 2021 self will be thanking you!