We all know the role content marketing plays in boosting businesses. But unfortunately, not everyone in an organization is aware of its merits.
Are you looking for a way to justify the existence of your content marketing strategy? Are you pressured to explain its effectiveness? How do you prove that your content marketing strategy is delivering results?
This post is all about content marketing ROI (return on investment) and how it can help maximize your conversion rate.
We'll not only define what content marketing ROI is, but we'll also give you the ROI calculations on how to compute for it.
You'll also see all the factors involved in a marketing campaign and how to make content marketing ROI work.
We'll even throw in some tips on improving your return on investment.
With all of that said, let's go jump right into it.
What Is Content Marketing ROI? How Do You Compute for It?
A return on investment is a way of calculating the percentage of revenue earned from sales or marketing campaigns.
So content marketing ROI works the same way. Only in this case, the goal is to calculate the percentage of money earned through posting content online.
But why is it important?
Here's why:
In business, there's a cost to doing things. And those who are in charge of keeping tabs on expenditures need to be able to justify their decisions. Obviously, there's no need to pay to publish posts on your company's site.
However:
Your employer has to pay all the writers, editors, managers, and other specialists who are part of your content marketing efforts.
If you can't prove that the business is getting more than what it's putting in, why would management give you the resources to continue?
And the way to determine that is by using this simple ROI formula.
ROI = ((Return - Investment) / Investment) x 100
This will give you the ROI percentage.
Factors Involved in Your Content Marketing Campaign
To gain a better understanding of content marketing ROI, you must set the variables in place.
So in this section, we'll break down the equation.
There are three factors you need to figure out before you can calculate ROI:
How much are you spending to create marketing content? 
How much does it cost to distribute the content?
How much are you getting in return?
Let's break these three factors further.
Are you losing conversions with silly mistakes? Find out in our 7 Conversion-Killing Copywriting Mistakes!
Cost of Content
This includes the salary of your writers and graphics people. You also have to consider adding the cost of stock photo/video subscriptions.
But content creation does not stop there. You'd also have editors, camera operators, set designers, and production assistant if you're doing videos.
The same applies to companies that regularly produce podcasts.
Then you have all the SEO specialists working in the background. Not only do you have to pay for them, but you also have to account for the tools and platforms they use. Unless they're using free apps, you're likely paying for tools designed to do keyword research and content optimization (Surfer SEO or Page Optimizer Pro).
Add up your numbers to determine how much it costs you to create content.
Cost of Promotions
Your costs only go up when you start promoting your content. If you only rely on free promotion like sharing a post with your social media followers on facebook, twitter, and instagram, then you're all set.
However:
Most organizations have a budget for promoting articles, videos, podcasts, and infographics.
If you use submission sites that charge you for promotion then you have to account for that. Some also use pay-per-click (PPC) advertising to be more visible on search engines.
Some even go through the lengths of advertising on social media (ie. facebook ads).
There are even those who pay for sponsored content slots on prominent sites.
Add the cost of promotion to your cost of content. This would give you an idea of how much you spend in total to produce content for your site.
Sales From Content
This refers to the sales generated from the content you produced.
We'll be honest:
It can be tricky to calculate. It will require you to be familiar with Google Analytics (GA). To be more specific, you'll need to learn how to set up goals in GA to determine how much sales each content has generated over a period.
There are plenty of goal types you can set in GA. For example, you can set time spent on a page as a goal. But we're focusing on monetary conversions as our goal in this case.
Note: If you need more information on goal setting in Google Analytics, you can refer to this helpful guide.
GA has a metric called Page Value which it uses to assess how much a piece of content is worth. We can use this to determine how much the article is bringing in.
To make Page Value useful, you need to meet one of two conditions:
For eCommerce businesses — First. set up ecommerce tracking in GA.
For non-eCommerce businesses — You need to set up Goal Conversion tracking for your site in GA. You also need to assign each non-transactional goal the correct value.
Note: If you don't set up either eCommerce or Goal Conversion tracking, your page will report $0 in value.
Note: Before you set up your analytics, you're going to have to purge your current data. You want to only measure the goals that matter (remove goals like Pages/Visit and other non-transactional goals). Measuring unrelated goals could mess up your data.
You can also use the data produced by GA to track your content marketing progress.
Content Marketing ROI at Work
Let's put this in context:
Say you have an article that took you $100 to produce (from writing to promoting).
Now you want to track how much your website visitors spent after landing on the post.
For eCommerce sites, you want to see the value your customers added after they made a purchase.
For sites that don't sell products, you can base that number on a value that you assign. For example, an infographic for your business could be worth $1 in sales.
So let's say that you are an eCommerce site and that visitors purchased $300 worth of product.
Then:
You also have to account for non-transactional conversions that the page caused. This could refer to a visitor who may not have bought something but managed to subscribe to your newsletter and will now be exposed to your email marketing campaigns.
Let's pretend that the non-transactional value is at $100.
Then you have to look at how many unique page views there are in total. For this example, let's say there are 25.
Google now uses all these numbers to determine Page Value.
The formula for Page View looks like this:
PV = (Transactional Value + Non-Transactional Value) / Page Views
So our formula for this example would be:
Page Value = ($300 + $100) / 25
That would bring this content's Page Value to $16.
But Page Value is only a ranking metric. Meaning you'd have to compare it to other landing pages.
If $16 is more than what other landing pages are worth, then you can justify the existence of that landing page.
If you want to know how much revenue the page brought in, you can go to GA and see what the landing page's Revenue says.
Tips for Improving Content Marketing ROI
Need some tips on how to improve your content marketing ROI?
We have you covered.
Use the following tips below to deliver results that can bring your business to the next level. By being smart with your strategy, you'll be able to justify your efforts to anyone who would question it.
Repurpose Your Content
You can make multiple posts out of one topic. If you have a blog post you'd like to reuse, you can convert it to an infographic.
This makes sure that your audience can digest your information in different formats.
You can also try converting long posts into bite-sized autoresponders. This will help you capture more leads and funnel them down the sales pipeline.
Do you have a lot of articles that cover a single topic?
Then why not put them all in one ebook? You can then offer them as downloadable content for your readers. This can even be an incentive for signing up for your newsletter.
Or if you have video content, you can transcribe the content and repurpose it as a blog post.
Review Your Customer Path
Getting from point A to B isn't simple when it comes to site design. The UX must be tight so potential customers don't get lost in between.
Clearly define where the customer must go when they reach your site.
You have to remove obstructions like pages that lead them off to other parts of your site that don't convert.
If your customer found you through an email campaign, give them a clear path to the correct landing page instead of having them go to your social media accounts (unless that is your end goal).
Update Your Pages Regularly
Keep updating your site with fresh content. Even evergreen articles can go out of style. So make sure you liven up old posts every now and then.
There are several reasons why you'd want to do this.
Your audience will come back to your site knowing that you post regularly.
Search engines will have more opportunities to present your articles to the right audience.
You increase the likelihood of ranking higher in the results pages because Google likes serving newer content.
Updating your content is also another way of repurposing old posts that are no longer as relevant as they once were.
Do Your Research
Your content should be well-researched and void of inaccuracies. But that's not the only research we're referring to.
Anyone who's out to publish posts should also research their audience and their keywords.
Knowing your audience will allow you to cater to their specific needs.
What kind of information are they looking for? Where is my audience coming from? How can I make this post more appealing to them? These are the kinds of questions you should be asking yourself about your buyer persona.
Keyword research will give you the chance to optimize your site content with words and phrases. They can also direct you towards writing the kind of content people are clamoring for.
Analyze Your Content
Look at your headings for example. Are they too long? Do they contain the right keywords?
If your post lacks that visual punch, consider adding images and videos. These will make it easier for your audience to get your point across.
Think about how long your post should be. It shouldn't be so short that it fails to add value. However, a very long post that lacks substance might turn off your readers and have them heading out the door.
Be sure to sprinkle in some call to action (CTA) buttons if you want your readers to head to another landing page or do something else.
Reimagine Content Optimization With Unstack
Using Unstack can help you identify the best-performing pages on your site. It can also help you process information that will break down your digital marketing strategy so you can increase your ROI.
Note: Users can sign up for an account for free. You only need to upgrade to a paid plan if you plan to publish your custom domain.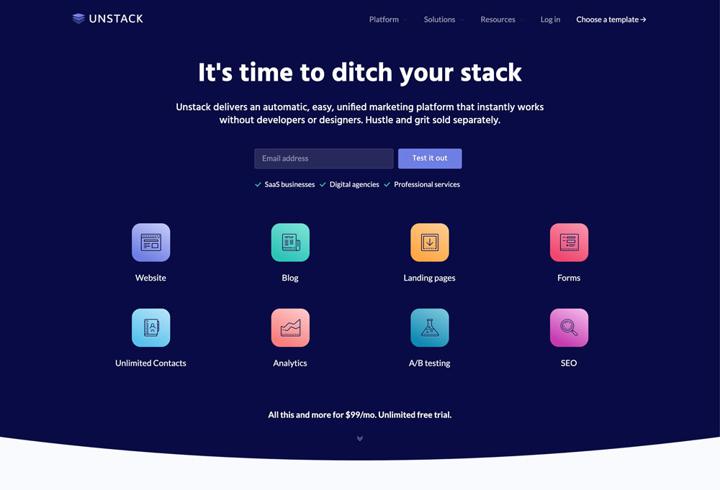 Unstack is a marketing CMS that lets users publish websites and landing pages. But it does more than that. You can perform A/B testing, look at insights, generate leads, add other integrations, and more.
To create a page, you only need to click the + icon on the upper right-hand side of the main dashboard.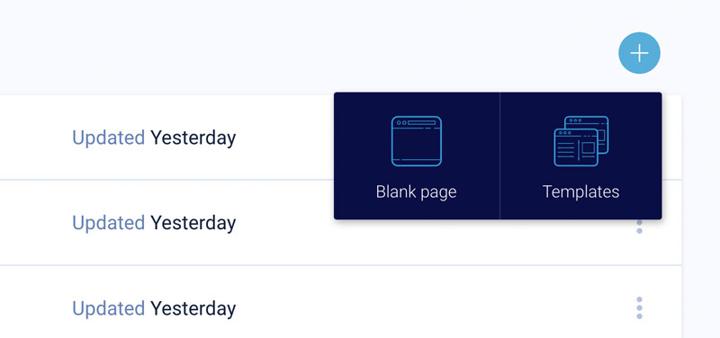 You can then select from building a page from scratch or using one of the available landing page templates.
Using the online editor, you can make changes to the font, text, images, and other elements on the page to make it your own.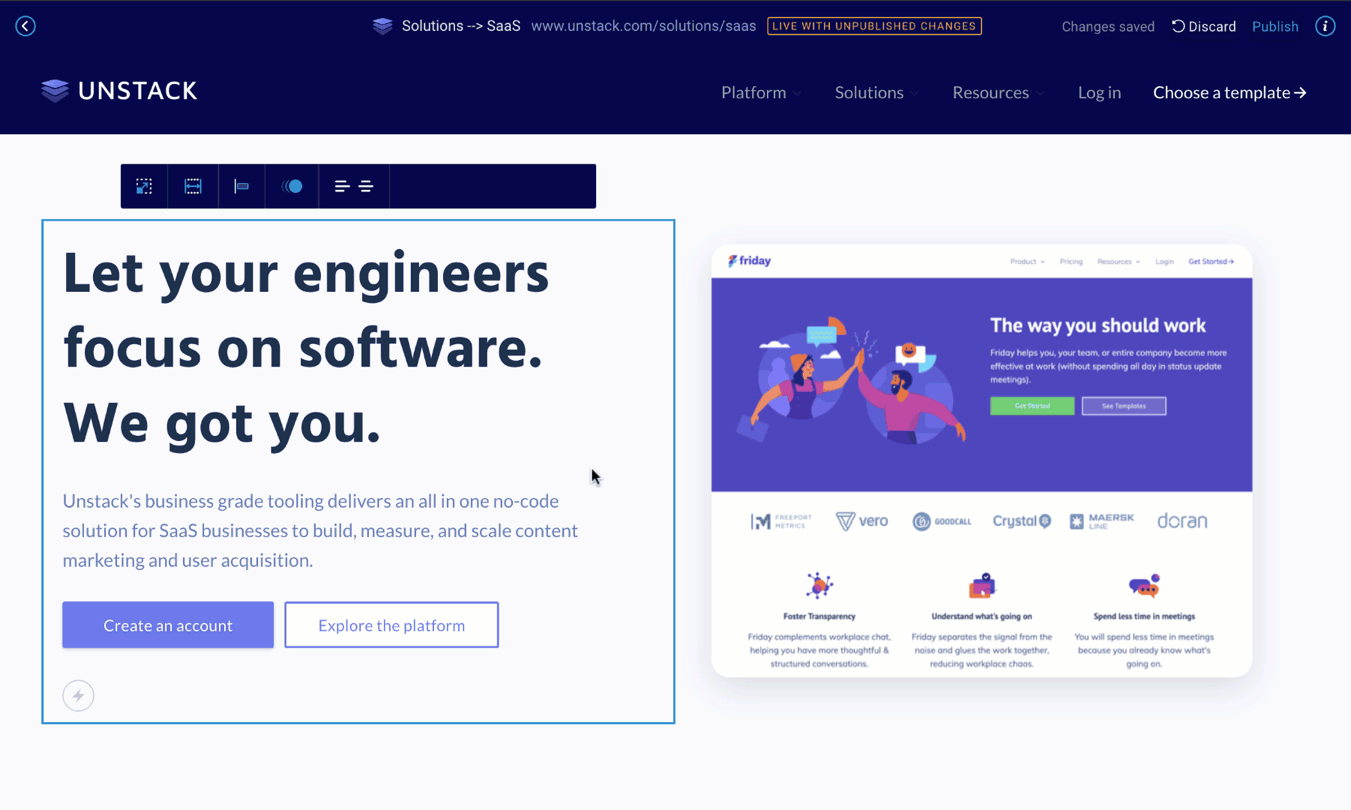 The editor is easy to use but should you run into any issue, you can get in touch with the Spark team via instant messaging.
When you're done, click Publish Page so the page can go live.
On the main dashboard, you'll find links to other Unstack features like blog, insights, and contacts.
Conclusion
You can only justify content marketing if you can calculate ROI.
Having the numbers will help you explain the merits of your content marketing campaigns. And hopefully, this post gets you walking in the right direction.
If you're able to see and explain how your content is delivering value, you're given much more leeway to achieve your goals.
If you're interested in trying Unstack, you can sign up for a free trial account here so you can create optimized web pages with built-in content performance features.
B2B marketing tips you won't want to ignore.
Our newsletter shares our best blog resources, plus recent podcast episodes, partner content, and more.