Did you know conversational marketing can help you fire up your sales?
The problem is, you don't know how to tap into its power. Come to think of it; you don't even know the necessary details about it.
So why not turn things around? Don't worry about not knowing where to begin because this article will bring you up to speed.
Here, let's talk about everything you need to know about conversational marketing. This way, you'll be in on its benefits, see it in action, and more.
What Is Conversational Marketing?
Conversational marketing or advertising is this new approach to managing your online business. The idea behind it is simple:
You need to personalize how you engage with your potential customers.
And the approach it uses is simple, too. If you want to pull it off on your own, all you need to do is to talk to your customers and answer their questions simply.
It's just like mimicking a typical conversation between two people. If one person talks, the other listens, right?
That's how it should be between you and your potential customers, too. If they come up to talk to you, your job is to hear them out. And if you want to be there for them all the time, then why not set up automated messaging systems and open other communication channels?
From this angle, it can't be challenging to see that getting into conversational marketing is like taking a walk at the dog park. And a remarkable thing about it is it can work wonders!
It's one of the top content marketing trends that you need to implement.
Benefits of Conversational Marketing
What makes conversational marketing attractive? It's the fact that it helps personalize the customer journey! After all, not all of your customers behave the same way.
Some customers can easily understand your message. And because it's effortless for them, you don't run into any trouble when encouraging them to buy your product or service.
The rest, however, are not like them. But it doesn't mean you should leave your customers hanging. Instead, help them out.
And fortunately, you have conversational marketing to help you out. Because you're giving a venue where your customers can raise questions, it leaves no room for doubt.
Beyond that, here are more benefits of conversational marketing:
Unifies marketing and sales
When you put conversational marketing into the mix, both your marketing and sales efforts can quickly join forces. And the result of this collaboration is visible:
Improved efficiency.
Let's elaborate on this.
When you use conversational marketing, it means you'll automate your messaging system, right? Well, if you make it happen, you're making the marketing to sales transition go more smoothly. Plus, you're also making it possible for all the people in the sales department to access a specific conversation.
From there, they can see where it left off. More importantly, they can keep the conversation going based on the previous engagement.
And based on the previous engagement, they're equipped to guide leads that are at the top of the sales funnel. This means they have better chances of persuading these leads to become your customers.
Scales your business strategically
It also allows you to let your business soar without letting go of that personal touch. After all, it's not always easy to scale your business and also focus on a personalized approach at the same time.
Here's an example: Think of needing to send emails to your customers. If only five to ten people make up your list, personalizing each email won't be time-consuming. But if there are about 1,000 names on your email list, you're talking about a different game.
If you personalize all the emails for each of the 1,000 recipients, you're talking about days — if not, months — of work. Now, how can you grow your business if you're busy attending to emails?
The solution? Accept the fact that you can't keep up. You can, however, go personal through other means, like installing a chatbot so your customers can hit you up anytime.
Again, scaling your business while maintaining a personal touch is not always easy. But it's doable. And if you take into account the use of conversational marketing strategies, you have a higher shot at pulling it off.
Are Chatbots an Example of Conversational Marketing?
Chatbots are the hot stuff nowadays. 67% of consumers around the world have used a chatbot lately. That's more than the majority of consumers!
And their popularity is justifiable. After all, chatbots help facilitate the meeting of the audience and a brand through conversation. They also complement voice search optimization to help users find the right information. Plus, you can automate these tools to say the right things.
To show you a brilliant example, check out what Drift has in store for you on its website:
The DriftBot in action.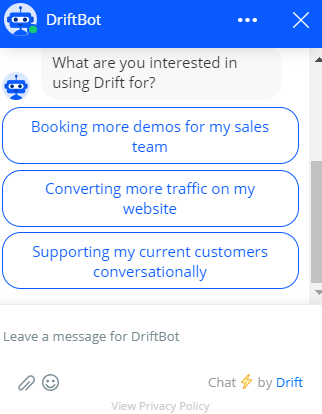 Other Types of Conversational Marketing
Do you think conversational marketing is all about chatting with your customers anytime? Well, it's not.
Let's look at the other types.
Live Chat
If your potential customers reach out to customer support and not get answers immediately, they can get frustrated. Therefore, install a live chat to cater to them.
And because it's a way to collect instant feedback, it's right for you, too. Talk about hitting two birds with a single stone, right?
Email Marketing
Email marketing is a very profitable channel. Manually sending emails is both time-consuming and tedious. So, automate the process!
Forms/Surveys
Using conversational marketing through forms or surveys is a genius idea. Not only can you use it to get valuable information from customers quickly. But you can also use it to provide an interactive customer experience.
Landing Pages
Your website's landing page is a vital part of increasing conversions then sales. If you don't whip up an excellent landing page that gets clicks, you're just letting its potential go to waste.
So here's an idea: Create a conversational landing page!
Examples of Conversational Marketing
Want to unleash the power of conversational marketing? Then check out these brands and maybe follow their lead.
Lyft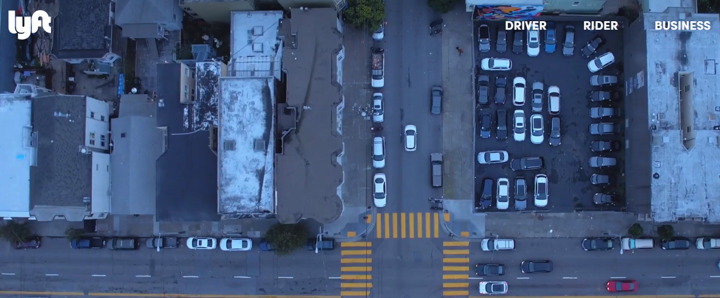 Lyft is a ride-sharing company that uses live chat as part of its marketing strategy. Through its platform, drivers can find riders -- and vice versa.
And from that point onwards, the users can arrange to meet each other in the middle through a conversation. To get a handle on how it works, download its app.
HealthTap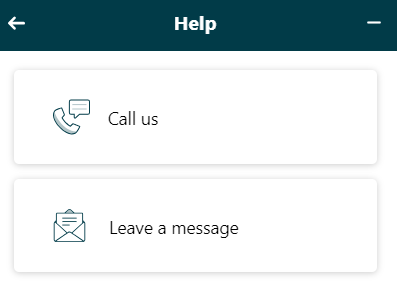 Like Lyft, HealthTap also uses live chat to wow its qualified leads and customers. It's a provider of high-quality healthcare for workplaces. And it's always there for its customers.
If these people have something to say and want immediate attention, the company is just a message away.
And if they don't mind not getting immediate attention, they could just sift through its database of medical discussions. All these people need to do is just type in symptoms or anything related to their conditions.
MonsterInsights
The WPForms Conversational Forms Addon is what MonsterInsights uses. And so far, customers who turned to its analytics plugin have nothing but love for the tool. After all, these customers are well-cared for.
If they have any concerns, they can easily reach out to MonsterInsights through the company's forms. And if someone wants to back out from trying to take home its product, it acknowledges that lead.
To show you, here's what one of its conversational forms looks like: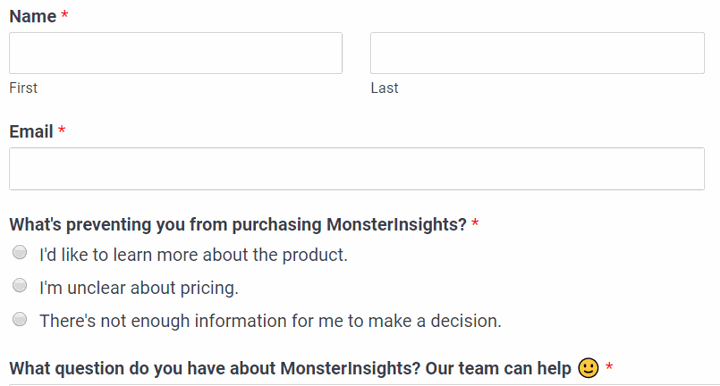 It's a venue for customers to express whatever's on their mind. And the moment they hit submit, they're good to go.
Best Tools for Conversational Marketing
To nail the implementation of conversational marketing, you need to gear with tools. But rather than go with just any tool, go for the best of the best.
Chatfuel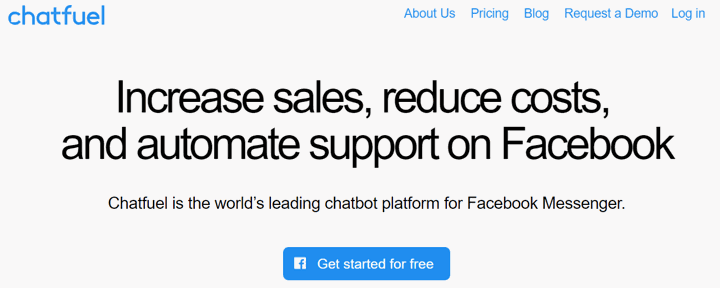 Do you know how many bots for Messenger run on Chatfuel? According to its website, this chatbot platform is behind 46% of all those bots!
Drift

There's Drift, too. Like Chatfuel, it can help you build a bot quickly. But what sets this tool apart it's not all about creating bots for Messenger. It can provide automation for email, video, and more, too!
WPForms Conversational Forms Addon

If you're big into using forms, WPForms Conversational Forms Addons is a great contender. It's easy-to-use and cost-effective. And as mentioned earlier, MonsterInsights uses it!
Best Practices
Without a doubt, conversational marketing can work great. But does it mean you can use it without a strategy in mind? Technically, you can. But if you want your business to make it big, the clear answer is: "NO, you shouldn't!"
So here are some things you need to keep in mind.
Experiment - Don't be afraid to try new things. And make some changes as you see fit
Stay simple - Don't complicate matters. Otherwise, it'll defeat the purpose of a natural process, which a chatbot is there to deliver
Don't forget traditional marketing - A new marketing style may help you reach new places. But because some customers are already familiar with it, so will your old marketing approach.
Conclusion
So that's everything you need to know about conversational marketing. And like I said, it can help you fire up your sales.
Just think of it as your very own firing squad. Once you deploy it right, it'll fire away.
The moment you give your green light, the process executes automatically. And the moment one of your customers comes up to you and asks for help, you can be at his service.
So not only will it back up your customers. But it will back you up, too!