When I'm explaining my job to people who don't work in tech or marketing, I cut corners and say I manage a blog at a software company. My parents, for instance, know what a blog is, so it's quick and easy. They would probably understand editing website copy, and I bet they'd get email cadences with a little explanation. But their eyes would most definitely glaze over if I started talking about CRO or calls to action or gated content.
But when it comes to your marketing strategy, gated content is crucial. Here, I'm going through six ways you can use to build engagement, generate leads, and grow your business.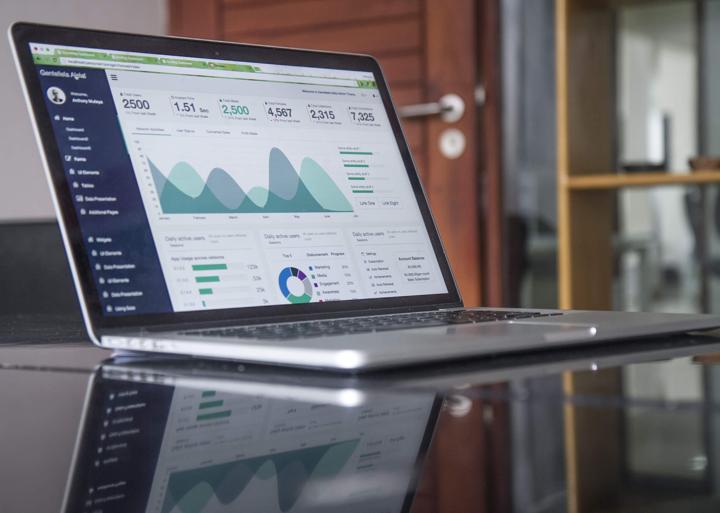 Before we jump into the strategies, let's review what exactly gated content is.
What is gated content?
Gated content is material like whitepapers, videos, or infographics that requires users to fill out a form to access.
Think of it this way. Ungated content is what exists for users freely—your blog posts, your YouTube channels, maybe even your company's resource hub. If a user wants to access any of this content, all they have to do is click.
Gated content requires information first. Most often, that includes an email address and a name. That's why so many marketers rely on gated content as an effective lead generation tool. In fact, up to 80% of B2B content marketing is gated. 
How to use gated content to grow your business
Gated content is a great lead generation tool for growing your email list and your business—as long as you're using it effectively. Here are six tips to make sure you're making the most of your gated content.
1. Set your goals
The first step in most marketing campaigns is to set your goals, whether that's building brand awareness, growing your online community, or getting more traffic. When it comes to gated content, your goal will most likely be conversions. These conversions will be email capture, so that you'll be able to capture these leads and grow your email list.
Now, "getting more conversions" is a good start, but it's better to be specific about what you want to achieve. In fact, marketers who set goals are 376% more likely to report success than those who don't.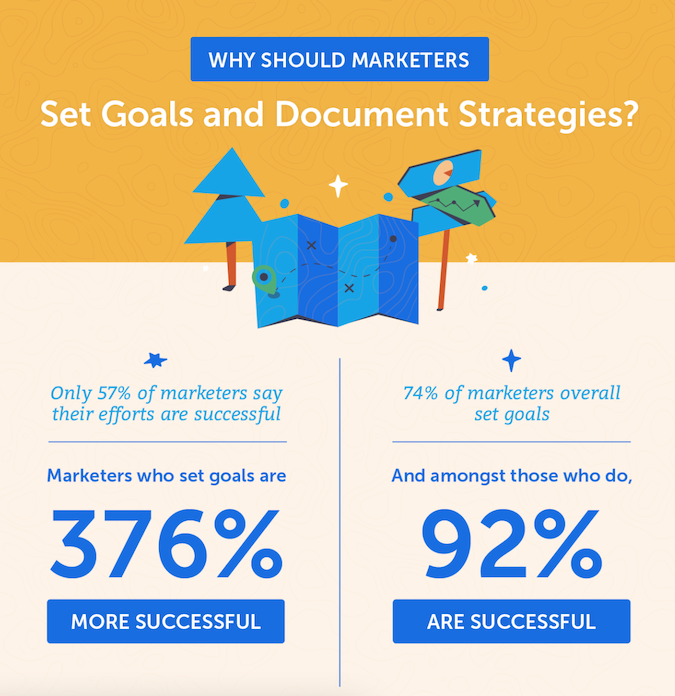 That means it's important to take the time to clearly define what you want to get out of your content. 100 downloads in the first week? 100 leads? Would you rather measure success with a 5% conversion rate? 
These goals should further your larger marketing objectives, so review those and set your goals, and then it's time to get started on the plan.
2. Put together a marketing plan
I say this all the time because it's true: It's so much easier to change course when you have a plan.
Blog post taking longer than expected? No problem, I have tomorrow's almost ready and can swap it in. Podcast guest needs to push back? We know the real last-minute deadline for this week's episode. Ads for webinar promotion delayed a day? Not great, but we had the email and social out on time.
Mistakes happen. People forget things. But having a plan in place helps make sure these won't keep you from reaching your goal.
When it comes to gated content, you'll need to tailor your marketing plan to the type of content. Webinars, for instance, are going to need one to-do list; your ebook marketing strategy will need another. Still, these are a few things that you'll need in any marketing plan:
Your goal. We already covered this, but it's worth documenting in your marketing plan so that you have it on-hand for easy reference—or, even better, motivation. 
The gated content. What's the content? Is it publish-ready? Outline what you need to do to create the content.
The landing page. This is key for most types of gated content. You need somewhere to direct your visitors and provide enough compelling information to encourage them to click. 
The promotion. Will you share on social? Will you put ad budget behind sharing the gated content? All these plans—plus what you need to create or set up to make them happen—need to go here.  
Your timeline. When do you need to launch your gated content? Make sure to include that here and base your other deadlines, like for creating the content and putting together promotional materials, on that.
This should all be written down and recorded. I'm a huge fan of keeping a Google sheet and setting up some "In Progress," "Done," "Delayed" tags to keep everything on track.
3. Produce value-packed gated content
When I click on a blog post from the SERP and the title over-promises, I'm disappointed. I wasted a few minutes reading or skimming the post, and I didn't get what I was looking for. If it happens a lot, then I'll remember the company and skip those results in any future searches.
It's important to create valuable content for your un-gated content, like your blog posts, videos, and website resources. It's especially important to create value-packed content when you're planning on gating it.
The best way to ensure you're providing value in your content is to use your audience's interests to spark ideas. That's why keyword research is so important. When you're considering, use a keyword research tool to consider the search volume, the current SERP, and other top-ranking posts. And be sure to look at related questions that people are asking for even more ideas. 
Once you have a topic set, make sure to do your research. Here are a few good ways to create additional value for your gated content:
Include expert insights
Survey your industry and audience
Use proprietary (but shareable!) data
Go deep on how-to guides and technical reviews
Provide a walkthrough of your process
For example, we recently released our Startup Marketing Report for 2021. This report includes survey results, data from Unstack websites and landing pages, and advice from industry experts.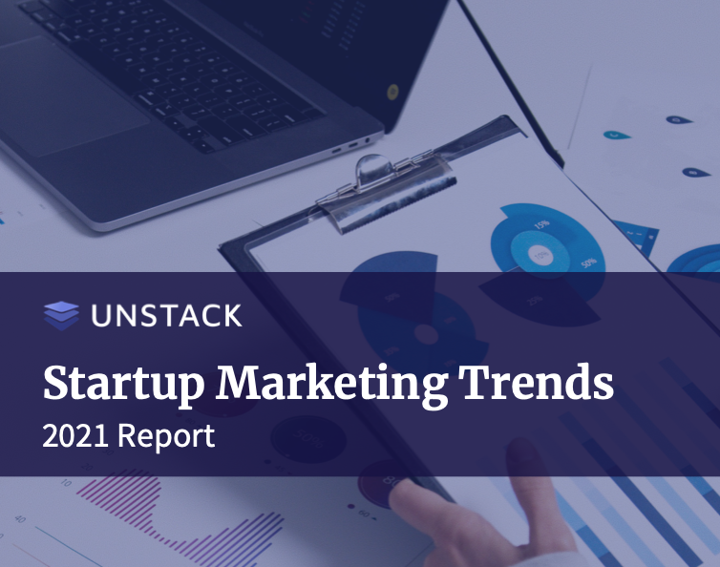 4. Target based on your marketing funnel
Content marketing is great for building brand awareness and growing your reach. But it's also effective for educating prospective customers. And encouraging and capturing conversions. This just won't all happen in the same piece of content. 
That's why you need to approach your content strategy with your marketing funnel in mind so that you can target based on the stage of the customer's journey.
When you're planning your gated content, be clear about what part of the funnel you're trying to attract. Consider this graph below from Lucidchart.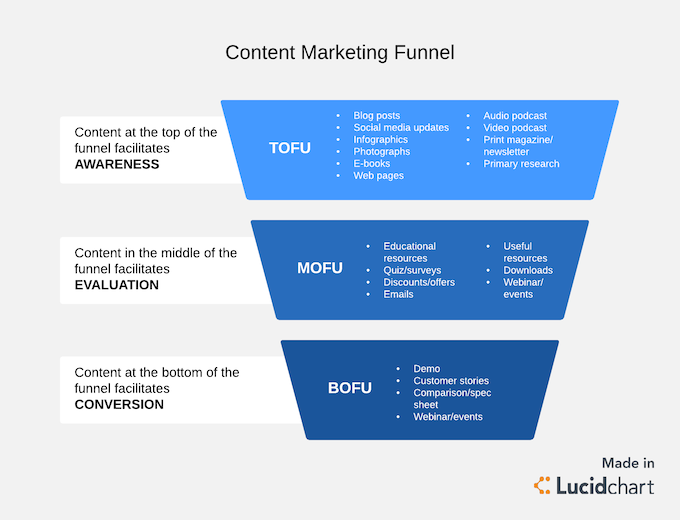 If your goal for a piece of gated content is to capture top-of-funnel contact information for your email nurture, try an infographic or an ebook. If your goal is to engage middle-of-funnel leads, consider running a webinar that shares strategies. If your goal is to encourage your bottom-of-funnel prospects to convert, send out compelling case studies sharing key success stats from your customers. 
You can gate lots of different types of content—and we'll talk more about why that's important in a minute. 
5. Create an effective landing page
When you're creating gated content, providing value and targeting the right stage is so important. But it's equally important to communicate that value and that personalization in your ungated promotional materials. Otherwise, you won't appeal to your audience and, worse, they won't ever see your awesome content.
Creating an effective, compelling landing page has to be a priority.
A landing page for a gated content needs most things any effective landing page needs: a clear CTA, compelling design, and persuasive copy. 
Let's take a look at an example from Hootsuite.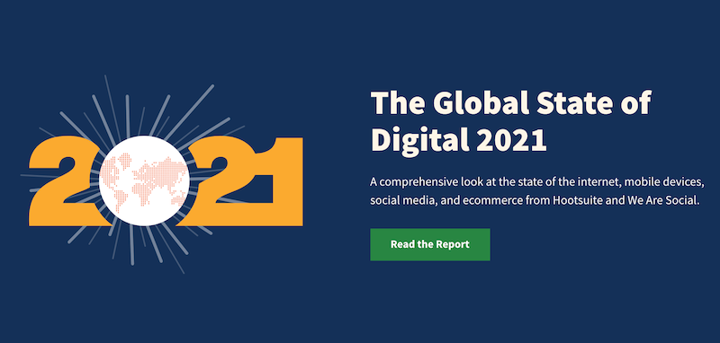 This is the hero section of the page, and it already has all the key components. The CTA is simple but effective, the custom illustration is on brand and appealing, and the copy lets me know why I'd want to click. 
If you're looking for a jumpstart on creating yours, check out our free landing page templates.
6. Experiment with different kind of gated content
By now, you know that gated content can be almost anything—whitepapers, webinars, templates, checklists, infographics, courses. Any valuable piece of content that your audience is willing to exchange contact information for will work as a lead gen tool like this.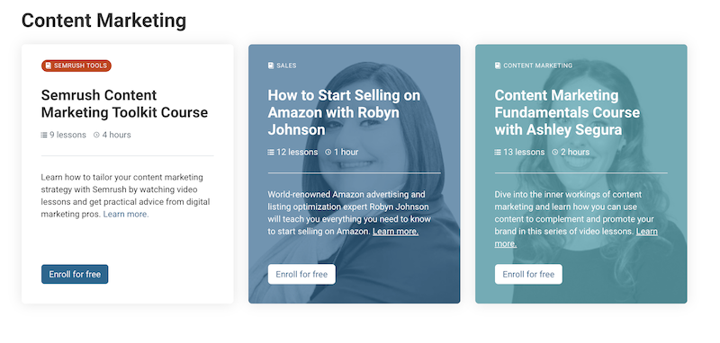 SEMRRush's Academy is a great example of gated content.
What types of content is your audience interested in? You'll need to experiment to find out.
Try out gating a few different kinds of content and see what. This isn't a perfect A/B test, remember, because you're changing more than one variable. But as long as you do a few different topics of each content type, it'll give you a good indication of where you should focus your efforts.
If you're an Unstack customer, this is easy. You can gate—and ungate—any content and keep track of conversions in your Insights tab.   
Capture more leads with gated content
We went through a lot in this post, so to recap here's how to use gated content to grow your business:
Set your goals
Put together a marketing plan
Produce value-packed content
Target based on your marketing funnel
Create an effective landing page
Experiment with different kinds of gated content
Now, you're ready to add a new lead gen tool to your content strategy. Use these tips to get started gating your content and generating more leads today!