20 years ago, if you wanted to create a website for your business, You would have needed a web developer to code it, upload it, update it, and maintain it.
Not anymore.
These days, you can create a website for your business in a couple of hours, even if you don't know a single thing about coding. That's all thanks to content management systems (CMS), or more commonly known as website builders.
Why should you create a website?
1. You own it.
With social media sites like Facebook and Instagram giving you the tools to sell your products or services and make money, you're probably thinking: why the heck do I need a website?
The reason is very simple: you don't own these platforms, so you're at their mercy.
Think of it like renting an apartment or condo unit. Sure, you got a place to stay and call "home." But if the building becomes condemned or a snooty neighbor decides to lodge several complaints against you, your landlord can tell you, "you're outta here!"
That's the same thing that happens on these social media sites. When you set up a business page or account, you're required to abide by their rules and regulations. If not, they can suspend or delete your account. When that happens, you lose all your content and prospective clients.
Also, if something goes wrong with their system or they suddenly go down (like the major outage that recently hit Facebook), it affects your business big time because you can't sell without people checking out your social media content. That can cost your business anywhere from a few hundred to a few thousand dollars.
Now, imagine what it's like living in your own home. Yes, this is more expensive than renting, but you don't have to worry about all the things people who rent face.
The same is true with creating a website. You can run your website exactly how you'd like. You can publish content without worrying that it would be taken down. You can choose how it looks like and how it functions.
>>>Go and check out Unstack landing pages<<<
2. Your customers can find you more quickly.
81% of consumers will search on Google to find a product or service they want to buy. 92% of them will visit those listed only on the first page of Google.
So if you want your target audience to come and visit your website, it's got to show up on Google's first page. The way to do this is by optimizing your website's (SEO). You are limited with the optimization techniques to convert customers when you are on social media.
For example recently social media sites cracked down on automated DM's but then they turned around and offered the same service.
LinkedIn Inmail
Facebook Messenger
Twitter Cards
3. Run your business 24/7.
Unlike a traditional brick-and-mortar store that's limited to serving customers within your town or city, a business website transcends geographical borders. That means you can be running a business in the US, but serving customers and clients in other parts of the world, regardless of their time zone.
4. Fast and cost-effective.
Although you still have to pay for things like your domain name and web hosting, what you'll spend is considerably less compared to hiring a web developer.
You don't even have to wait for weeks or months to get your website running. With the right CMS, you can set up a fully-functional and professional-looking business website in a few hours. That means you get more people to know about your business, and still got plenty of time to spare to work on other stuff.
5. It's easy to do.
The majority of CMS platforms use a What You See Is What You Get (WYSIWYG) dashboard. This interface lets you create a website from scratch using ready-made templates, themes, and plugins. So you can see your website taking shape right before your eyes without typing a single piece of code.
Steps in building a website from scratch
Step #1: Choose what type of website you need.
Business websites fall into one of these five categories:
Online store
Also called an eCommerce website, this website is solely designed to showcase your products, accept payments, and have these delivered to your customers. Amazon's website is a perfect example.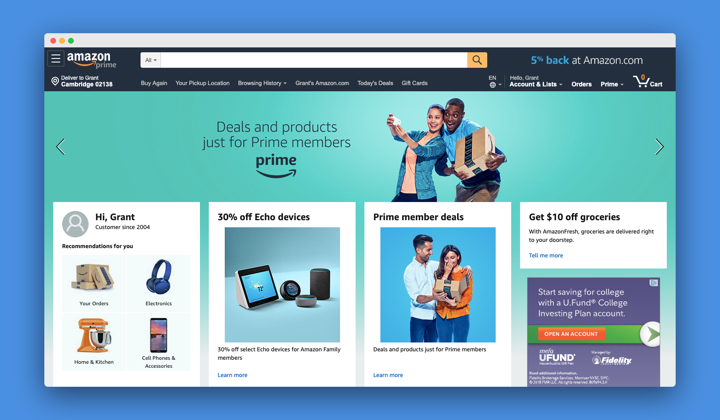 Blog
In the early days of the Internet, blogs have been used as online journals where people share their thoughts and opinions about specific topics.
These days, blogs are sites that primarily share valuable information about different topics. Some blogs, like FunCheaporFree focus on a specific topic.
Others like Huffington Post cover a broad set of topics across various niches.
Most blogs generate income through ads and affiliate links. However, there are a number of bloggers like Ryan Robinson and Michael Hyatt who make money by selling courses, books, and other products.
Membership Sites
A membership website requires people to pay a monthly or annual fee to get access to their content.
Some membership sites, like the Harvard Business Review, will give its target audience a limited number of articles that they can read for free each month.
This helps them attract and encourage their target market to sign up for a paid membership.
Static Website
As its name implies, a static website provides your target market with details about your company and products or services. This is often used by businesses that have a physical office or store. They use their website as an online brochure of what they offer and get people to visit their physical store.
Some creatives like models, photographers, and designers, also create static websites to serve as an online portfolio they can show to potential clients.
Hybrid websites
These websites combine two or more of the first four types already mentioned.
For example, you can add a member's area in your blog where only those that pay you a subscription fee can get access to courses and other premium content.
Alternatively, you can have a static website to feature your completed work and incorporate a blog to build credibility and showcase your expertise.
Our website is an excellent example of a hybrid site.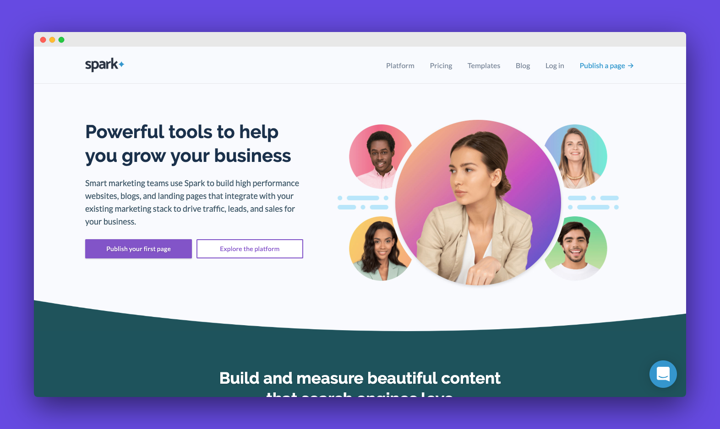 Although we offer free and premium solutions to help you create a website, we've also included a blog where we share valuable tips and strategies for you to create, launch, market, and scale your business website.
So how do you know which one's the best choice for your business?
Well, there are two things you need to know.
The first is the purpose of your website. In other words, how do you intend to use this for your business?
Is this where you'll be doing all your business transactions including sales and customer support? Or do you have a traditional business and only need to get the word out to your target audience?
The second thing that you need to consider is your business' buyer persona.
Your buyer persona is a snapshot of your ideal customer. This doesn't just tell you their demographics. It also gives you an insight into your target customer's wants, needs, and how they make buying decisions.
Knowing these details about your customers will help you determine what website to set up so that you capture their attention and eventually convert them into customers.
Step #2: Choose your CMS.
Now that you know which website to create, the next step is to pick the right CMS.
Here are some of the most popular ones used today.
Wordpress is the most popular CMS used to create a website, mainly because it's one of the oldest. It's estimated that 30% of websites are built on Wordpress.
The biggest advantage you get using Wordpress is that you got so many themes and plugins you can use to customize your website. Ironically, this is also its biggest downside because having so many options to choose from can be very overwhelming if you're just starting.
Wordpress is an open source CMS. Again, that's got it's ups and downs. The good part about it is that it works with any web hosting provider and operating system. The downside of this is that some of the plugins available for you to use may not necessarily work together. That can cause your website to either slow down or crash. Either way, it's not good for your business.
Wix is a CMS that provides you with a drag-and-drop interface, so it's easy for you to create a website. You can choose to create one from scratch or using one of the hundreds of different templates that in its library.
One of the pros you get from using Wix is that you can create a website for free. Another is that the website you create here is automatically optimized for mobile devices. This is crucial, especially with Google's recent shift to mobile-first indexing.
Wix also provides you with a host of other tools and features like SEO tools, and eCommerce storefront, live chat, and opt-in forms. But these are not available in their free plan. You'll need to upgrade to one of their premium plans. Depending on the features you'll need, you're looking at paying anywhere between $5/month to $35/month.
HubSpot's CMS is designed for business websites that intend to use inbound marketing to promote their brand and products. It has a user-friendly interface to help you create a website and publish your content. It also includes advanced features like SEO tools, social media sharing, email marketing tools, and analytics.
The biggest downside to this CMS is the price. The HubSpot CMS alone will set you back a whopping $300/month. And although you can use Hubspot's marketing tools for free, the features are very limited. If you want to get the most out of these tools, you'll need to pay for them separately. The Starter plan for their Growth Suite costs an additional $113/month, and this just includes the basics.
Shopify
Shopify is a CMS that's specifically designed to cater to people that want to set up an eCommerce website. You can choose from their free plan or one of their premium plans to create a website for your business.
It provides you with SEO and blogging tools to your eCommerce website as well as any one of the 100+ third-party payment gateways. However, if you decide to use any one of these payment gateways, Shopify will charge you a transaction fee anywhere between 0.5% and 2%.
Also, Shopify's list of built-in apps is limited, even with their premium plans. That means if you want to integrate things like social media sharing buttons or live chat, you'll need to purchase a subscription to use this.
Unstack CMS takes the best of these popular CMS platforms and then works through each of their limitations to give businesses a quick and easy way to create a website.
Our user-friendly interface is equipped with a one-click integration feature so that it's easy for you to integrate the tools you need for your website.
One of the enormous advantages we have over other CMS platforms is that we have a section template library that you can use for free. This means that you can choose your website's design by section so that it comes out just the way you like it.
Whether you choose to sign up for a free account or purchase one of our paid plans, our team of creatives is on standby to help guide you through the entire process of building your website, whether it's learning how to create a landing page or choose which app or tool to integrate for your needs.
Step #3: Claim your domain name
What's in a domain name? Everything!
Your domain name is both your brand and business address on the Internet. So it's crucial that you choose the right one for your business.
Here are some tips to choose a domain name.
Keep it short and simple
A short and simple domain name makes it easy for your potential customers to remember it. It also makes sure that they get to spell it correctly.
Add a keyword
Including a keyword in your domain name gives visitors checking your website what your website is about. It will also help your website rank higher on search engine results pages (SERPs).
For example, Intuitive Professional Coaching's domain name includes the keyword "coaching" on their domain name. Just one look at the domain name tells you what kind of services this website provides.
Go for .com extension
Your target customers will automatically type this in their browser's address bar. So make sure that you do your best to get this extension when claiming your domain name.
Use your company name
As much as possible, make sure that your domain name matches the name of your business, except if your business name's too long. When this happens, opt to go for your business name's initials.
The Wall Street Journal's domain name is a perfect example.
Step #4: Creating your website pages.
Although the pages you include on your website can differ, the following are must-haves in any website regardless of the nature of your business, what type of website you decide to create, and your products and services.
Your Homepage
We call this the 'make or break' page of your website because this is usually the very first page that your visitors see, and will make them decide whether they'll stay or go.
Here are some tips on how to design your home page:
Add the most important information above the fold. The term "above the fold" is used by newspapers to refer to the upper half of the front page. In the case of a website, this refers to what shows up on the screen the moment your website loads.
The things that you should include in this area are:
Your company name and logo
Your navigation bar
Your tagline (if you got one)
A call-to-action button
Use simple, everyday words for your navigation menu.
It may be tempting to get creative on the words you use on your navigation menu. However, this can confuse your visitors where they should click to find the information they need.
For example, in our navigation menu, we used common words like "Pricing," "Log In," and "Blog." This helps our visitors and existing clients know precisely where they should click.
Think like your customer
Ask yourself: What's the first thing that my customer would like to know? The second? Third? Your answer here will help you properly section out your homepage and give your customers an overview of what your business is about and your products.
About page
This website page serves two purposes. First, it tells your visitors who you are, what your business is about, and—more importantly—why did you set up your business in the first place.
Second, it allows you to connect with your visitors at an emotional level. This is important because people are more willing to do business with a brand with whom they share the same principles and values.
Aside from giving information about you and your business, make sure that you show off your personality here. Spend time talking about your core principles and values. Above all, write as if you're talking to a friend.
Products and Services page
Here is where you list down what you're offering to your target customers.
Balance is crucial when writing the copy for this page. It should be exhaustive enough that your visitors clearly understand your products and terms.
At the same time, the information should be straightforward and easy to comprehend. Otherwise, your visitors may decide to opt out and go elsewhere.
Blog page
Did you know that having a blog on your website is one of the most effective ways to quickly increase your website's ranking on SERPs?
Each time you add a new blog post, Google considers this as a new page for them to index. It also helps you create backlinks between your website and authority sites. So you're increasing your website's ranking while growing your brand's authority and credibility.
Contact page
You need to give your visitors a quick and convenient way to reach out to you.
Take note that potential and existing customers have their preferred way of reaching out to you, so include as many options as possible in this page.
Landing page
This page is what will bring your visitors into your marketing funnel so that you can nurture them into paying customers.
There are two vital parts to your landing page. The first is your content offer. This should be something that your target customers would want to get, and would be happy to give you their contact details.
The second part is the copy of your landing page. This should give your visitors a brief description of what they will gain from downloading your offer.
Make sure that you run the Blink Test before publishing your landing page. The Blink Test essentially means staring at the page for 5 seconds and then closing your eyes. Your landing page's design is useful when you can remember the title of the content offer and what it's about.
Watch this video to learn how you can quickly create a website page using our CMS.
>>>Go and check out Unstack landing pages<<<
Step #6: Optimize your website for SEO.
Now, don't let this scare you. Because the truth is that optimizing your website is a lot easier than you think.
There are generally two types of search engine optimization (SEO). The first is offline SEO, which involves creating backlinks with relevant keywords from authority websites to your site.
The second is on-page SEO, which is including relevant keywords that you want to rank for within your website.
Here are some tips on how to do on-page SEO for your website:
Search for the keywords you want to rank. You can do this using tools like SEMRush, Neil Patel's UberSuggest, and Google Trends. Go for those keywords that have a high monthly average search and a low to medium competition ranking.
Add this to your website. Ideally, these keywords should be included on your website's Title and meta description.
Sprinkle these in your blog posts. Be sure to include your keyword phrase in your blog's title, subheadings, body, image alt description, and the blog's URL.
At this point, you got a fully functional website ready to go live. But since we're learning how to create a website that will quickly get you results, we got one last step to do.
So…
Step #7: Boost your website by integrating apps.
Integrating apps and tools on your website makes it easier for you to connect and engage with your target market.
These tools and apps also help you easily track and monitor your progress, especially when you've launched a marketing campaign for your business. That way, you can find out what's working and what's not, and make the necessary adjustments.
There are lots of different apps that you can install on your website. Here are the most important ones to have when you're just starting:
Analytics. Tools like Google Analytics will give you detailed reports on who's visiting your website, which pages and blog posts are driving the most traffic, and what landing pages that are generating the most leads.
Live Chat. People are impatient when they're online. Installing a live chat app like Drift allows you to start a conversation with your visitor quickly. Not only does this help you start building a relationship with them, but also shorten your entire sales process.
Social media marketing automation. Social media marketing automation apps lets you post on your different social media accounts and quickly respond to comments left by your followers. More importantly, they prevent you from getting tempted to waste lots of time while you check your newsfeeds.
Email marketing automation. Believe it or not, people still prefer getting updates about your latest blog posts and promos through their email. Integrating an email marketing provider like ConvertKit or MailChimp lets you stay in touch with those in your email list. You can also segment them so that you can send them more targeted content.
As you can see, creating a website isn't as complicated or overwhelming as you first thought. Follow the steps in this guide, and you can have a website for your business up and running in just a few hours.
You can start building your website on Unstack's Marketing CMS by creating your free account today.