The secret to generating more leads, attracting more customers and growing your business in 2021 has little to do with marketing your company. 
Don't get me wrong, your company is awesome. But what really resonates with your audience is the story you tell through your personal brand. 
Building your personal brand sometimes feels at odds with growing your business. If you haven't done much personal branding before, it might feel like talking about yourself isn't worth the time and attention it takes away from your business. I worried about that too. But once I focused on developing my personal brand on LinkedIn, traffic to my company's LinkedIn page and our website massively increased, generating dozens of new prospects representing more than $1 million in revenue over 2 years (and plenty of awesome connections).
If your current marketing isn't bringing the results you want, it might be time to overhaul your LinkedIn marketing strategy in 2021. Here's how:
Assess your LinkedIn profile
Build your network
Create plan for content
Follow LinkedIn best practices
Now, keep scrolling for your step-by-step guide to building your profile, growing your network and crafting a killer content strategy. 
Assess your LinkedIn profile
Using LinkedIn as a lead generation and marketing tool? You should first evaluate how strong your personal profile is. Instead of being mysterious, people might think you're a bot if you're posting content and engaging with others, but no one knows who you are.

Here are eight areas to evaluate when assessing your LinkedIn profile.
1. Profile photo
Choose a professional headshot that's well-lit with high resolution and a clean background. Your face should make up 70–80% of the frame, with your body facing forward making "eye contact."
Bonus points if you use this photo consistently across other social media to help build your brand across platforms!
2. Cover photo
The cover photo is excellent real estate for additional personal or professional branding. You can use it to showcase a current project, promote a work campaign, include a call to action, push people to a link (like your personal site), highlight awards, or feature a short testimonial. 
3. Headline
LinkedIn's default headline is your current job title, but is that really the value you bring others? Of course not. Instead, use your headline to explain your mission or articulate how you help your audience. Include keywords so your profile is easy to find.
4. Custom URL
Again, LinkedIn's default setting isn't doing you any favors here. Instead of sending people to a URL with a bunch of numbers, customize your URL to your name. This will make it easier for people to find your profile. 
5. Company profile
Even though this is your personal page, you'll be using it to indirectly promote your business. Make it easy for people to learn more about your company by creating a business profile and linking to it from your page. 
6. About section
While all of these aspects will help build your personal brand, this is your big spot for making an introduction. Tell your story and relate it back to your audience in a meaningful way. Remember to write in first person ("I" statements), and try to keep it around 450–650 words.
7. Profile sections
Now it's time to look at the meat of your profile. This will give visitors more context about you and help them spark conversation:
Experience. Include current and previous jobs and your responsibilities (2–3 bullet points is sufficient, but executive positions merit 5–6). Include notable accomplishments and attach any relevant documents/project pieces. 
Education. Highlight your degrees, honors, extracurriculars and anything else that establishes your qualifications. Linking to your school also encourages networking with fellow alumni. 
Skills. List any relevant skills, with the most relevant ones listed first.
Don't stop there! If you have volunteer experience or licenses/certifications, be sure to list those on your profile too. 
8. Recommendations
Write recommendations for your colleagues and coworkers. By writing them a recommendation, your profile will be listed on theirs. Then, request recommendations from current and past colleagues. 
Build your network
Now that your personal profile is in great shape, it's time to expand your network by adding more connections. 
Start with the people you're already interacting with regularly. This includes coworkers, employees, current customers, active prospects, and other people who are part of your real-world network. Because you already have a relationship with them, this should be an easy way to grow your connections.

Next, start making introductions to people you may not know but would like to connect with. This includes cold prospects, ideal customers and industry leaders. Include a quick personal message about why you'd like to connect; for example, "Saw your profile and loved the article on increasing ROI! Would love to connect." Any personal connection you can make is a bonus: "I heard you speak at the last industry conference," or, "I noticed you're a UW alum too!" Now is not the time to mention your company or product or to make a sales pitch. 
You'll find that as your network grows larger, more people will start asking you to connect. Don't be shy; my policy is to almost always accept connection requests. You never know who might be your next lead. 
Create a strategy for consistent, compelling content
Your profile is strong and you've built an audience. This is the foundation you need to launch your LinkedIn marketing strategy. 
While your personal social media profiles might be more about in-the-moment content (e.g., sharing your dinner pictures on Instagram or a funny meme on Facebook), you need to be more intentional about your LinkedIn strategy since you'll be using it as an extension of your company's marketing strategy. 
Map out a plan to post 2–5 times a week, combining a variety of different post types (more on that below). You can plan your posts at the beginning of the week, but it's easier to have them written at least a week in advance. You can also create a content roadmap so that you have an idea of which theme(s) to focus on based on what's happening in your company or industry. 
Text posts
LinkedIn posts are similar to the posts you would find on other social media sites. A text-only or text + image post is the most common type of post you'll see—and when done correctly, it can be your best-performing type of post. 
Even though text posts are the shortest post type, they still need to tell an engaging story. Start with a compelling hook, like a question or a surprising statement. Then, use formatting to further build interest: When you add a couple of spaces after your hook, readers will only see your first line and then have to click "Read More" to see the rest. Throughout the rest of your post, add line breaks, lists, and emojis to break up the text and make it more skimmable.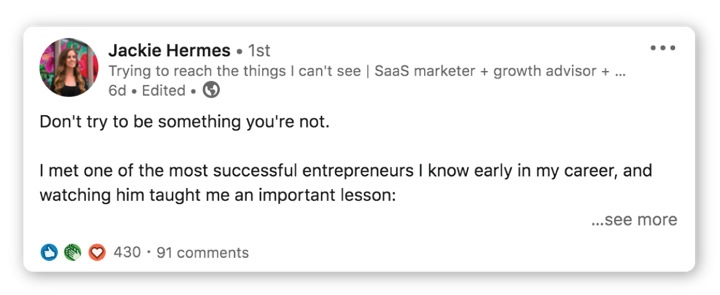 As on other social media platforms, it's also a good idea to tag people and companies where appropriate. This notifies them that you're talking about them, and helps them engage with your post. Additionally, people follow hashtags on LinkedIn, so be sure to include those in your posts too. 
Note: LinkedIn's algorithm suppresses posts with links. If you add a link to the body of the text, fewer people will see it. If you're sharing your thoughts on an industry article or wanted to share a link with your audience, leave a comment on your post with the link and make a note in your post where readers can find it (e.g., "Learn more at the link in the comments.").
Video 
I'm a huge fan of using video on LinkedIn. I find it to be a really effective way to convey my personality, tell a story and establish myself as a subject matter expert in marketing, business, management and entrepreneurship. Through these consistent posts and regular interaction, I grew my audience to more than 70,000 followers—and video had a big role to play.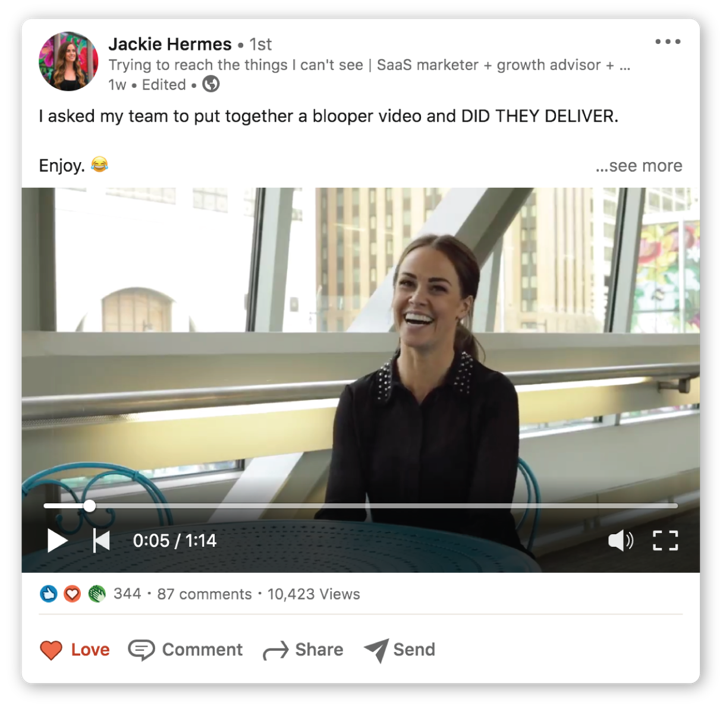 Some people are intimidated by uploading video, thinking they need high-quality production value or that it isn't worth the effort (it's not as costly as you think!). When I first started with video I also thought I needed pre-planned, well-produced clips. Now when I'm inspired I just hit record. Authentic, in-the-moment videos are often the best way to connect with your audience. 
Still, that doesn't mean you shouldn't have a strategy. You need to have a clear message and reason why the audience cares to click or you risk rambling on camera for no reason. If you created a content strategy for your social posts, you can determine a theme or an idea for a video in advance. 
Video posts should be accompanied by text summarizing your video using the same best practices. Not everyone will watch a video, so you want to make sure that anyone who sees your post is immediately hooked and can still understand your message without watching. 
Articles
LinkedIn offers a publisher platform for long-form thought leadership. This is your opportunity to flex your knowledge about the industry. 
Start by choosing topics you're familiar with and that you know will resonate with your audience. Your goal is to not only share your knowledge and insights but also to encourage a conversation with your readers.
Don't forget, you can also repurpose your blog posts as LinkedIn articles. You're much more likely to start a conversation on LinkedIn than on your website. Just be sure to include a blurb about where the content was originally published with a link to the post. 
Use marketing best practices to promote your article and ensure high performance. Add a compelling header with keywords, include relevant hashtags and include a strong call to action. Encourage engagement and discussion in the comments section. 
Engagement
You've realized by now that an effective LinkedIn strategy isn't a one-way street. You can't just share your content and log out. You also need to cultivate engagement with others on your content and theirs. 
It might not seem like it, but comments are a type of content on LinkedIn. When implementing your LinkedIn strategy, you should also plan time for posting on others' pages to increase your chances of engagement with them and their followers. If someone takes the time to comment on your post, keep the conversation going with a response.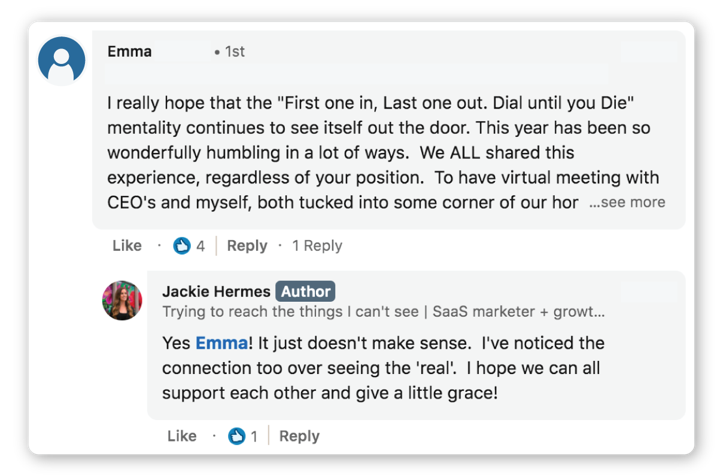 It's a good practice to ask your team to comment on your LinkedIn posts—especially during the first hour after it's been posted. This gives your post a higher chance for impressions. At my company, we have a Slack channel dedicated to sharing our LinkedIn posts with each other so we can engage ASAP.
If you find yourself having a great conversation in the comments with someone, don't be afraid to message them. Building relationships via direct messages is especially helpful for getting in front of your target buyers. The key is to keep these messages conversational and value-driven; this is not the time for a sales pitch. 
Follow LinkedIn best practices
Like all technology platforms, LinkedIn often changes their algorithm and functionality, which can make optimizing your profile and posts difficult. Here are some current best practices to help you get started when launching your strategy:
Don't add external links to your posts; instead, add the link in the comments. 
Ask colleagues to comment on your post within the first hour of posting.
The best days to post are Tuesday, Wednesday and Thursday during normal business hours.
Right before you post, do some engagement with others in your timeline so that they are more likely to see your post in theirs. 
Create content that is educational, value-driven or shares a personal story; LinkedIn may be a sales tool, but your content isn't where you make your pitch. 
Don't share others' posts and add commentary; instead, copy the link to the article and share your thoughts as a new post. 
Respond to comments and interact with others on your own post, and respond to replies in the comment section of others' posts.
Always look for where you can start a conversation: Ask questions, choose compelling topics and keep responding to comments. 
Make your LinkedIn strategy work in 2021
By overhauling your personal branding and LinkedIn marketing strategy for 2021, you'll soon discover new channels for generating leads, building your brand and growing your business. 
About the author
Jackie Hermes is the CEO of Accelity, a Milwaukee-based agency that helps software-as-a-service (SaaS) startups get to revenue and grow faster, and a co-founder of Women's Entrepreneurship Week. Very active on LinkedIn, Jackie sparks discussions about the daily life and challenges of growing a bootstrapped company. Jackie mentors student startups via The Commons, is a co-organizer of Startup Milwaukee EMERGE, and an advisor with Golden Angels Investors. In addition to her professional involvement, Jackie is an adoptive foster mama and future pilot.