We're approaching the one-year anniversary of the time when many employees shifted, abruptly, to remote work from home. In the early days, companies and leaders scrambled to learn and adopt new practices and tools that would make remote teamwork work. 
Last April, a study by Upwork showed that many employees felt that what suffered most in remote settings was team cohesion, communication and organization. Since then, many organizations have improved their practices around these areas. And that's a good thing: With the pandemic stretching on and influential companies like Spotify and Facebook announcing "work from anywhere" policies, remote and hybrid work environments are here to stay.

That's why I'm sharing some tips for managing remote employees. These include often-overlooked basics of remote management, strategies to capitalize on what we've learned in the past year, and more.
Let's get started.
1. Set a clear direction for your team—and tie tasks to this purpose  
Teams that are working together to fulfill a clear and shared purpose will be more successful teams, every time. 
When you're managing remote employees, this becomes even more important, because you need to foster a sense of connection that doesn't happen naturally with in-person events.
As a manager, one of the most effective ways you can give your team's morale and performance a boost is to talk about purpose and direction. Purpose-driven work unites teams and also protects against burnout. 
Clear, open conversation about your team's shared purpose and how it connects to everyday tasks will also boost your team's resilience. According to a recent McKinsey study, the companies and leaders that look to their purpose to guide their decisions through the pandemic and its aftermath are going to come out stronger than those looking for short-term, purely profit-based wins.  
Make sure you're talking about your company's mission and how your team fits into that regularly. If you sense your team is unclear on its purpose, invite members to define it together. It's hard to believe, but many teams never take a step back to define what they are doing together. Doing so can lead to huge gains in alignment and motivation.  
2. Communicate more frequently than you would in person
It's a tenet of crisis communications that employee communication needs to be more frequent and transparent during times of upheaval. People are hungry for updated information when things are changing quickly. And over the last year, they have been changing so quickly, with restrictions, policies, new scientific information, and more.
When you're managing remote employees, you want to communicate more often in general, too.
Consider more frequent internal updates to share great work, recognize team members or discuss changes. People also want to give feedback during times of change, so make two-way communication habitual.
3. Boost your visibility with social media
You may think social media has little to do with your management role, but the truth is that social media has become much more important for leaders since WFH became the norm. 
In fact, in its annual survey for 2020, the Brunswick Group found that 61% of employees surveyed place greater trust in CEOs who are active on social media. And 68% of employees even prefer working for CEOs when they have this strong social media presence. 
The reason they cited? People want accessible leaders.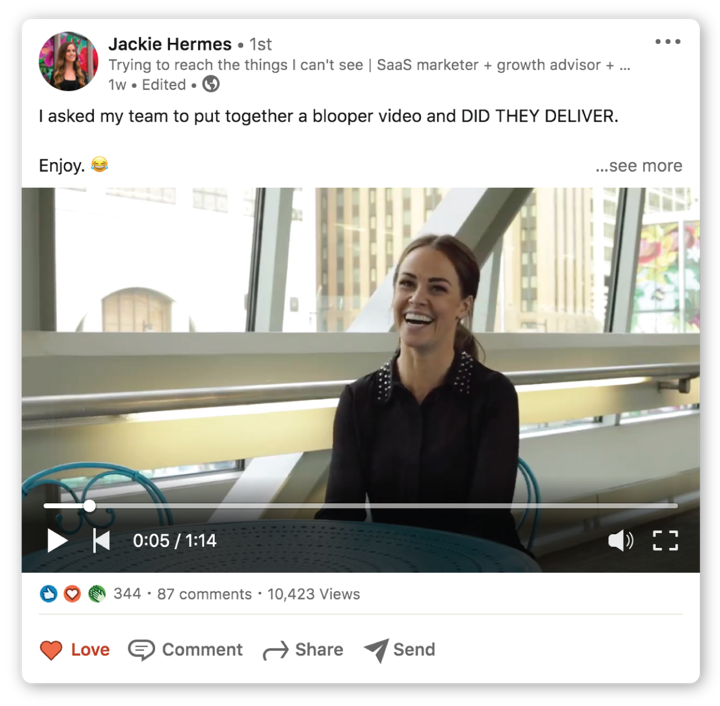 Jackie Hermes with her killer LinkedIn strategy is a great example of a socially active leader.
Especially right now, when visible, engaged leadership can serve as a reassuring and stabilizing presence.  Most every leader has honed their remote leadership skills since last spring. Now it's time to include a strong social media presence in that bucket. 
4. Grant your employees more autonomy
Most managers want their teams to produce great results. Supporting strong performance means putting in place the processes that help your team be the best it can be. That can mean anything from productive meeting formats to project dashboards to other helpful efficiency tools. 
In today's environment, this should include giving individual team members control of how they work together. In most cases, greater worker autonomy means better performance. Many workers have reported a surge in productivity as they've worked from home, where they have more independence, during quarantine. And one of the biggest discoveries of the pandemic is that many workers are happier and healthier, too, when they can control their own work schedules and environments.
Granting greater employee autonomy also supports a larger recent business and cultural shift away from hierarchy. Companies today are veering more towards matrixed organizational structures, where individual workers are self-directed members of a larger "talent network."  
5. Focus on tasks completed rather than time spent
Work and home responsibilities are still colliding for many employees, making flexibility more necessary than ever. 
Many parents, especially working moms, are at the end of their ropes with remote learning and daily child care and housework, on top of managing the demands of their careers. So as long as work gets done, let go of any last vestiges of a strict 9-5 mindset you may still have.
And while we're talking about productivity: It's not realistic to expect your employees to be as productive as they were in 2019. While a return to in-person school in many locales this spring may ease some pressure on parents, burnout is widespread among both leaders and employees. And speaking of burnout …
6. Shake up meeting structures  
Zoom meeting fatigue is real. It's now been a full year since many people moved their entire work, social and civic lives onto Zoom. As a result, many people are tired of meetings. Why not shake them up? 
Try "flipping" meetings by shifting status updates, presentations, material review, and other topics that don't require group discussion into recordings that team members review solo before meeting to discuss or problem-solve. 
There are a lot of great, actionable ideas for alternate meeting structures. Zarvana recommends flipping meetings by recording videos with information and using standup bots in Slack to skip at least one daily call.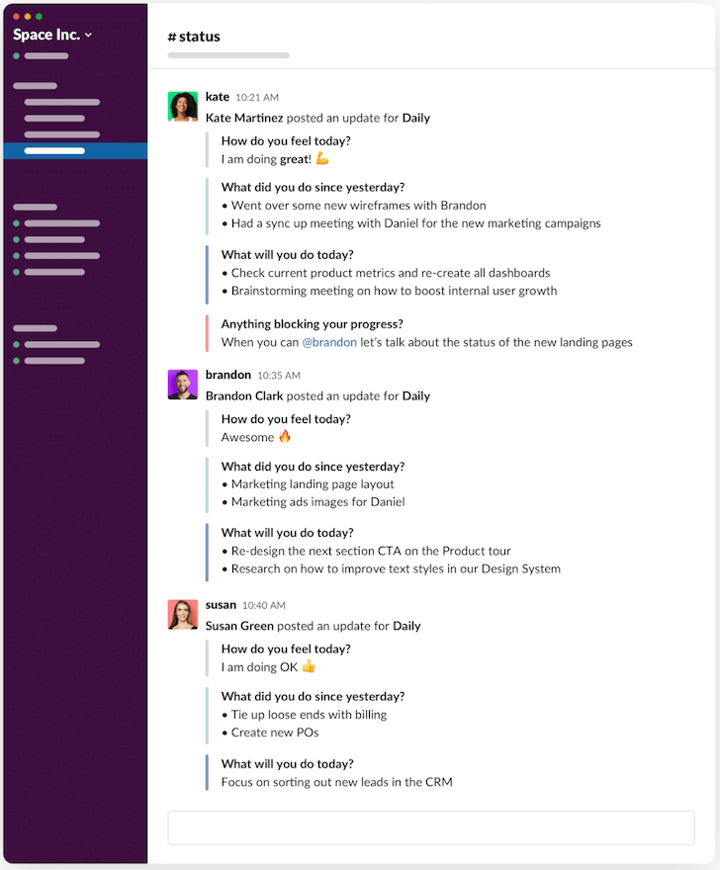 7. Make space for employees to talk about more than work 
Especially when so many of us have been working remotely for so long, it can be hard to know what's going on in your colleagues' lives. That's why it's more important than ever that as a manager, you make room for your employees to talk about what's most important for them to talk about during your 1:1 meetings. 
This can be as straightforward as asking with genuine interest how things are going at home or with family. Or asking probing follow-up questions if your employee seems frustrated with a process, colleague or timeline that is part of a project. 
If you sense frustration, apathy, or other feelings that may interfere with work, go ahead and bring it up tactfully. Checking in with language like, "You seem frustrated by this project, is there something specific bothering you?" or "You don't seem as engaged as you usually are. Is there anything you want to talk about?" 
Most importantly, truly listen to their response and respond with empathy rather than react with proposed solutions. And this leads me to my next tip for managing remote employees.
8. Lead with empathy 
Empathetic leadership boosts productivity, performance, and collaboration—and it's also the most powerful medicine leaders have to protect their teams from burnout. 
Empathetic leadership starts with leaders understanding the mindsets and circumstances of individual team members, including their goals and pain points. Considering personas can help with this.
You can check out these empathy deep-dives for four personas common in today's workforce and juggling remote work with pandemic-related pressures. 
9. Measure and track team development and well-being
If you're a leader, you probably already know that it's hard to manage what you don't measure. Tracking your team's well-being and growth with a team development tool can provide you with both a baseline benchmark and a picture over time of your team's strengths and vulnerabilities.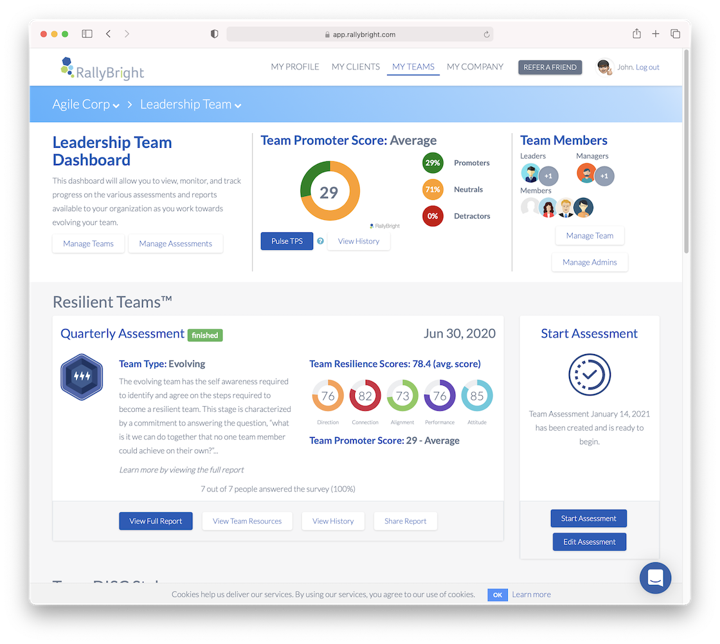 Here's an example of our dashboard.
In non-COVID times, we typically recommend that our customers pulse out surveys at least once a quarter to measure team promoter scores. (Team promoter scores are a proxy for depth of engagement and trust levels within a team.) For remote-first or all-remote teams, monthly or every other month is not too frequent. 
10. Keep refreshing the ways you stay connected as a team 
Remember when Zoom birthday parties and happy hours were novelties? Those days are gone. Keep iterating on ways to show your team appreciation and to keep connections strong. I've known team members who started snail-mailing personal notes of appreciation to their teammates; company leaders who had new company apparel designed and sent to employees to wear on calls; teams that met up for walking meetings in local parks. A little bit of creative thought can go a long way towards keeping your team engaged, supported, and looking ahead with optimism. 
Try out these tips to manage your remote employees more effectively
If you're a people manager, you know that management strategies don't always work across the board. The people on your team have different communication styles, different preferences, and different personalities. That's good—it makes for an awesome team. Test out these tips for managing your remote employees to find out what works for you. 
About the author
Josie Raney is the Chief of Staff and Head of Content and Partnerships at the SaaS team performance company RallyBright. RallyBright brings together behavioral science with proven team development tools to help teams perform better, strengthen their interpersonal dynamics, and reinforce the behaviors that drive organizational values.