Building out a funnel is never easy, but it doesn't have to be hard. Realistically, there are three things your funnel needs to do:
Attract
Engage
Nurture
Here's how to set up a high-converting funnel that attracts, engages, and nurtures so that you can turn more of your website visitors into loyal customers.
Attract
First, we need to consider attracting organic visitors, this can be done through content, by building SEO-rich content around your topic of authority you can attract prospects searching for questions you'd address.
You can begin in this process by discovering what questions your audience is asking and writing your first blog posts around those. Great tools for this include AnswerThePublic, where you can input keywords you're targeting and get a chart of the top search queries people have preformed relevant to that keyword.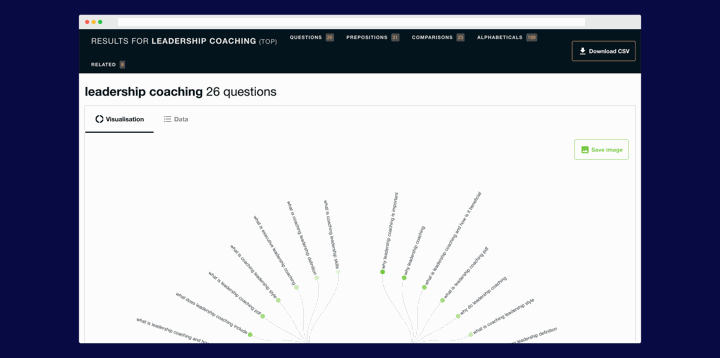 This quite literally converts your 1-2 keywords into week's worth of content.
Next, once you have all this content, you're doing to need to think of optimization.
If you're a small business, you might be wondering, why should I really invest in optimization just yet? Well, Akamai found that even just a "100-millisecond delay in website load time can hurt conversion rates by 7 percent."

How can you avoid losing those customers? Using powerful hosts like Unstack. We use cloud-servers to deliver the quickest page loads possible, and we automatically optimize every image on your site to improve page performance immediately.
Recap
Sites don't tell you when they're not doing well. You have to figure it out.
The goal of site optimization is to alert search engines that your content and your website are high-quality and deserve to rank—so that you can get in front of more potential customers. Focus on:
Load speed
Compliance with color contrast, font size, and alt text
H1, H2, H3, and paragraph content
Engage
Now that you have the visitor on your site, it's time to engage with them and get them to inquire further about your business. Your visitors want to chat on the channel they prefer whether that be live chat, SMS, or both.

Additionally, visitors are humans and they want to talk with other humans, so providing human-first communication can help differentiate you from the crowd.
90% of customers prefer a real person to answer their questions.
However, human-first doesn't mean zero-automation. Automating when helpful can also deliver great experiences for your customers. Leveraging automated questions which route the visitor to the right person can improve the experience by preventing hand-offs post-connection.
The more channels, the better
Encourage great engagement by offering channels for immediate responses and for asynchronous communication on customer's terms. This allows customers to engage with you even after they leave your site.
With Avochato, you can begin the conversation through live chat then quickly adjust to SMS upon the visitors request or when the visitor is no longer active on the site.
Nurture
Sales cycles can last a long time. So it's important to focus on delivering value to the customer multiple times throughout that cycle. The best medium for this is content.
Providing the prospect with meaningful content that can help them further their business places you in a position of authority and trust with that prospect, since to them, you're acting in their benefit.
An example of how we do this here at Unstack is through playbooks on content marketing, customer success stories, and blogs on SEO tips.
All to help the customer with their mission of site improvement and display the great role Unstack can play in helping them.
---
Ready to get started? Learn more about what Unstack can do for you. Plus, click here for more from Avochato on why live chat and SMS are right for your business.