We have an exciting new tool for startup founders, brand marketers, website designers, and, really, anyone who admires websites. Introducing the Unstack Style Guide. This Chrome extension lets you capture a complete brand palette for any website with just one click. 
Here's the Unstack Style Guide in action—on Unstack. 
You can start using this extension now by downloading it now. If you're still looking to learn more, keep reading for a full explanation of how the extension works, plus what this means for our new super smooth onboarding process.
Ready? Get the Unstack Style Guide here!
Unstack Style Guide Chrome Extension
You know how important precision is with design. If a color is one shade off or some of your text is one size smaller, people notice—even if they can't quite articulate why. With our Unstack Style Guide, you can identify the branding details for any website. That means no guessing hex codes, no color matching, and no debating on font types. You can be confident that these are precise every time using this tool.
Take this example below, with the branding info pulled from Hustle Fund.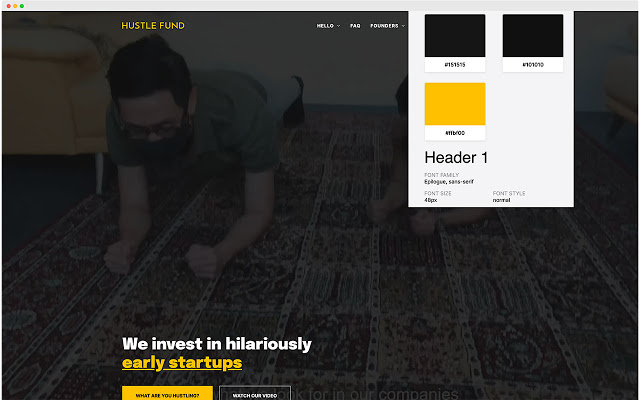 The Unstack Style Guide pulls the font family, size, and style, plus the main and accent colors used on the page. 
This is great for getting inspiration for your own brand palette. Even more, this is great for selling web design. Whether you're pitching a new project or working on a mock up for a current client, you need all the branding information in order to get started making a compelling design. Use the Unstack Style Guide to capture all these design details without sending any extra emails to win more projects and wow your clients with on-brand websites every time.
Ready? Get the Unstack Style Guide here!
How to use the Unstack Style Guide
You can download the Unstack Style Guide for free in the Chrome Extension store. 

When you click "Add to Chrome," you'll see a message to confirm.

After you confirm, it'll be in your browser ready to use right away.  Then, you can click on the Unstack icon in your extensions and get the information for any site instantly. 
I tried it out on Bookshop.org, a great place to order books online and support indie bookstores. Their color scheme is bold and bright, and the fonts are great. Using the Unstack Style Guide, I got the hex codes so I could use these colors anywhere—in a whitepaper, a social post, or even a website design.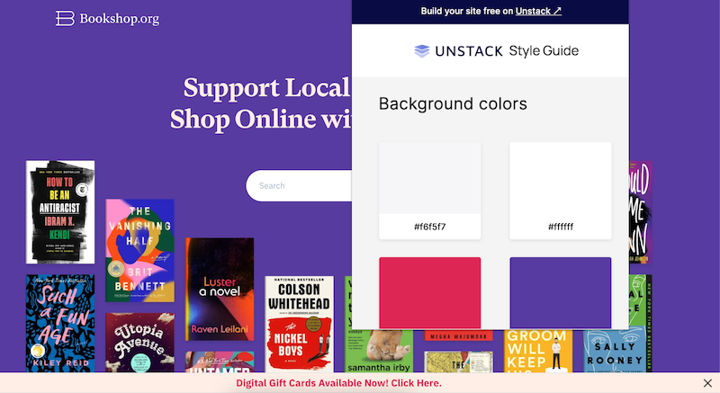 In addition to the brand color scheme, the Unstack Style guide gave me details on all the fonts used: the font, the size, the style, the height, and the color for each kind of text on the page.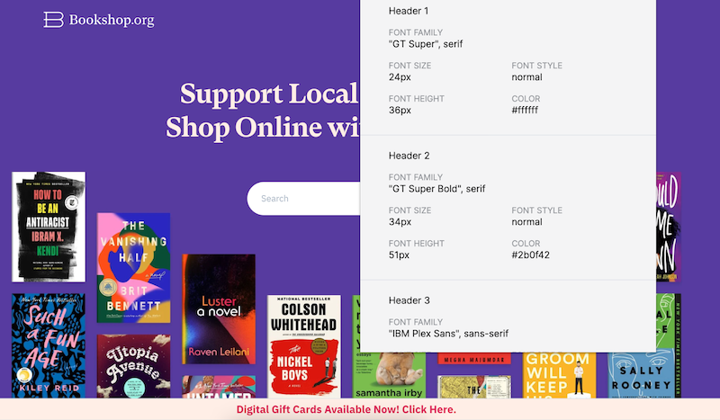 This is all great information to use when you're creating your own brand style guide and deciding which fonts to use and what works together. 
The best part? The extension is completely free to use, so you can check as many websites as you want when you're researching or looking for web design inspiration.
Our new onboarding flow
This is a bonus that might be the best part of our new tool. Selecting the hex codes for the five or six colors in your brand palette and uploading your brand fonts is tedious—and time consuming. 
You don't need to waste your time transferring brand information over to your new website platform with the Unstack Style Guide. Just use the Chrome extension to capture all your brand details then send the information to the platform. Then it's time to start building.
That's some serious time-saving.
Get started with the Unstack Style Guide today
Ready to start capturing brand information for any website you want? Download the Unstack Style Guide today!