Email marketing is a great way to engage with your list. You can offer content and other resources to your leads in thoughtful, appealing emails. 
But what if no one opens those emails?
Getting a conversion is already hard enough. If no one opens your emails, it becomes almost impossible. That's why your open rate need to be one of the first key metrics you pay attention to and optimize.
Today we're going to look at what allows emails to be delivered and how to make sure your subscribers actually want to open them. I'm going to share three essential tips to boost your open rate:
Start with subject lines
Pay attention to your email list
Avoid the SPAM folder
Plus, I'll walk you through a successful case study. 
1. Start with subject lines
According to MailChimp, the average ecommerce email open rate is 15.68% with a 2.01% click-through rate. The average across all industries is a little higher at 22.15%. This means you need a pretty big email list to see conversions or sales. 
As you can see in the abandoned cart sequence below, Low Gravity Solutions blows those averages out of the water.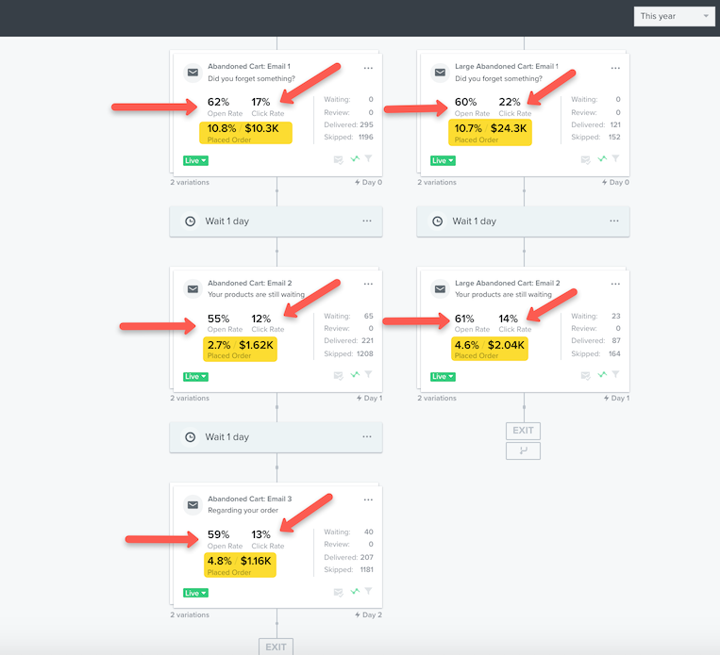 In my experience, the subject line is the main "thing" that's going to cause people to open your emails—it's not the only one, though, and I'll talk more about that in a minute. There is an art and a science to your email subject lines, and even though it's 10 words or less, you can almost put an endless amount of effort into optimizing them.  
Avoid clickbait
Honestly, people are over clickbait. That's when your subject line implies grandiose and too good to be true offers, but the email itself is just run of the mill boring—or flat-out dishonest. 
Sure, you can use clickbait to improve your open rates, but then what? This leads to a brand positioning of over-promising and under-delivering in the inbox. People are going to hit that unsubscribe button faster than you can say "I want a hippopotamus for Christmas." And in the long term, that's going to sink your open rates—and your list!
It's also important to remember that open rates mean nothing if you're not getting vital conversions or metrics after your audience actually opens it.
But stay memorable
Subject lines should tiptoe into the clickbait water, but not take it too far. Be funny, "believably outrageous," tongue-in-cheek, and make it too intriguing to not open. Always be honest and genuine about what the email is about (and deliver on your promises). 
If you're going to dabble in these waters, you need to use the preview text to bring it back to earth a bit and relate it to your brand or the specific email content. Just remember that the preview text doesn't always show up for everyone on every device so your subject line should be able to stand on its own two feet if necessary. 
Subject line science
Choosing words is definitely an art more than a science, but you can approach that from a scientific standpoint. Many email platforms offer A/B testing. Meaning, you can send two different subject lines to two different portions of your list, and based on how many people open after a certain amount of time, a winner is chosen and the remainder of your list will receive the winning subject line.
The downside of this method is that you need a very big list to get statistically significant information and still serve the winning email to a large enough portion of your list to make it worth it. I'm talking 20k+ subscribers.
Whether you have 20k subscribers or not, you can still be scientific about it and monitor your open rates over time. Come up with a subject line strategy, test different words and different styles. Monitor open rates from one email to another. If you notice a huge jump, follow that same style again to see if it's repeatable. If it is, stick with it. If not, try another test. If you notice a huge drop, go back to the previous style and make sure the rate pops up again.
It can be slow and tedious, but having an eye towards the science while testing your creative subject lines is the only way to truly optimize. 
2. Pay attention to your email list
Like I mentioned earlier, subject lines aren't the only thing that will affect open rates; they are just the fastest and easiest changes to implement immediately. But paying attention to your email list is arguably more important when looking at a bigger, overall branding standpoint and brand reputation. 
Keep your audience engaged
You can't expect high open rates if your audience isn't engaged with your brand in general. A lot of that depends on their long-term relationship and experiences with your previous emails so you need to ask yourself these questions.
Are my emails clean, clear, and working properly (pics, links, etc.)? 
A negative experience in the past will stop someone from opening your emails in the future (or downright make them unsubscribe) so double and triple check before hitting send. 
Is the content relevant to my brand and appealing to my audience?
Don't go off track. The really short answer to some open rate issues is that if your audience isn't interested (or doesn't think they'll be interested) they won't open it. So is the content that you're trying to share with them, actually going to interest them? If you've tried a lot of different tactics to improve open rates and had little success—I would always suggest looking at whether the actual content you're putting out is hitting the mark. 
Do I keep in touch with my list regularly? 
Consistency helps build brand trust and recognition. Over time, your audience should start to open more of your emails as they realize you're interesting and offering value to them. If you pop in every now and again, months or years apart, it's easy to be forgotten, especially in highly competitive spaces like ecommerce. 
This is why setting up email automation sequences can give you a better ROI, because of the ongoing communication and relationship you're building, but with minimal effort from you.
Maintain a high-quality list
It's better to have 100 engaged people on your list who convert than 10,000 people who ignore or delete your emails without opening them. Not only does it improve your chances of reaching the inbox of your whole list directly (and avoiding the SPAM folder—more on this next ), but it also gives you a much better idea of what engages your audience, gives you genuine feedback, and builds a loyal list and customer base. 
With this in mind, it's slightly counterintuitive, but you need to regularly clean your list and kick off the dead weight when it's no longer serving you. The more "cold contacts" on your list, the lower your click and open rate. The lower your click and open rate, the lower your domain score, which I'll also talk about next.
What are cold contacts? There is no set definition for cold contacts because it is largely dependent on you understanding your contacts. You can define a cold contact as any one, or any combination of the following items:
Haven't opened the previous X emails
Haven't opened any of the previous X emails in the past Y days/weeks/months
Haven't clicked on any of the previous X emails (or within a time period)
Haven't purchased anything
Basically, if they are not engaging with your brand within a time frame you find acceptable, they can be considered "cold." You should then try to re-engage them or just get rid of them.
3. Avoid the SPAM Folder
Ahh, the dreaded SPAM folder (sometimes known as "junk," depending on your email provider). Showing up there gives a bad impression about your brand, and you can almost guarantee the emails won't be read, if they've been seen at all.
As with subject lines, this is also art and science combined. You'll still need to monitor all the relevant analytics and try to optimize, but the science here goes one step further.
Boost your domain score
Believe it or not, someone out there is monitoring the marketing emails you send and calculating an overall domain score. The higher the score, the less likely you will end up in SPAM. The lower your score, the more likely you will. While it's difficult (or impossible) to know what your actual score is, follow these steps to make sure it's as high as possible.
You want the following metrics to remain low:
SPAM reports
Abuse rates
Unsubscribes
Bounces
Blacklists
And these to remain high:
Open rates
Click-through rates
Mail-forwarding rates
Consistency
Also, your domain email, usually set up on your website's servers, can actually trigger a SPAM flag with certain providers, particularly as cybersecurity improves. This has to do with the way your mass marketing platform sends on behalf of your domain email platform. 
I'll save the technical explanations for another day, but you need to properly implement SPF (Sender Policy Framework), DKIM, and DMARC policies in your domain DNS settings. These things essentially tell other mailboxes that you're legit and you are who you say you are. Without them, your email tech settings can look the same as if they came from a Nigerian Prince willing to pay you $1,000,000 for helping him transfer money out of his country.
Email Content
Like subject lines, the content you include is more art than science. If it doesn't resonate with your list, you need to do the A/B testing and long-term monitoring just the same. That said, there are a few things known to make sure your content complies with anti-SPAM best practices:
Too many high-risk words, like free, huge discount, limited time, 1000% ROI, etc. 
Too many pictures.
Too many HTML links.
Not including an unsubscribe link, which is against several anti-SPAM laws anyways.
Instead, keep your emails simple (which improves user experience, too) and just include a logo/hero image, your content with maybe only one or two pictures, a CTA, and your footer.
Breakdown of a high-converting email
Remember those crazy open rates I shared at the beginning of the article? Here is the breakdown of one of those emails using all the tips and strategies I've outlined today.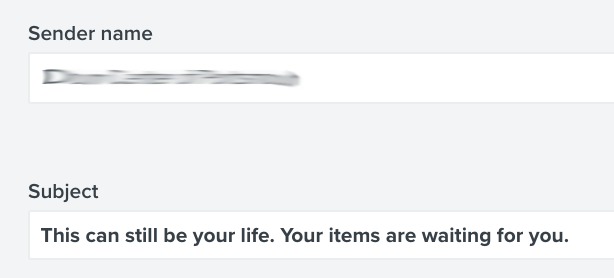 The sender name is the business name. This makes it easily identifiable by the recipient, and already they probably know what it's for. If you are the face of your brand, then something like "David at Low Gravity Solutions" also works.
The subject line is intriguing, yet tells them exactly why you're contacting them. "How can buying some drums change my life? What, in fact, is life like if I buy these things? Are they going to show me what life is like? Again, these are just drums, how exactly is my life supposed to change?!"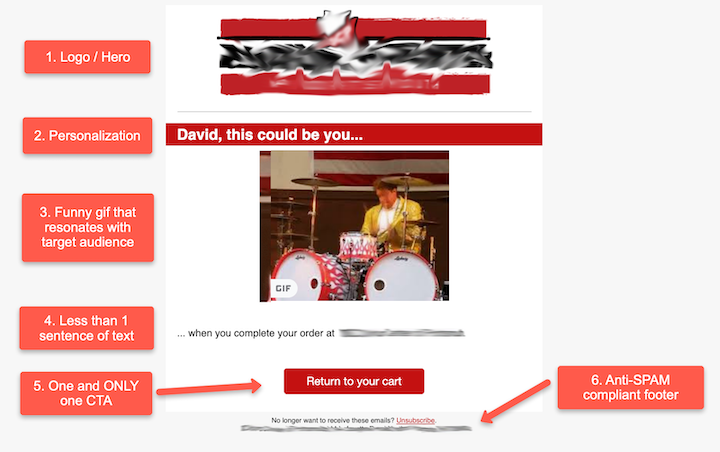 Once the email is open, you immediately again give them brand recognition and address them personally. Here, the email recipient feels noticed. 
The email also aligns with the brand and engages the reader. The copy is relatable and funny. Plus, it's brief. You don't want to overload anyone with text and persuasion and convincing arguments (that can be done later or in different emails). 
This one's important: The email has one, and only one, CTA. If your purpose is recovering abandoned carts, only allow them to go back to their cart. If they need to register for a webinar, make sure that's the only link in the email. Do not confuse them and give them a bunch of shiny toys to play with. 
The email also has an anti-SPAM compliant footer. Don't try to hide it with hidden text. Don't make purposely long emails so that the footer gets cut off. Give people the option to unsubscribe or contact you if they want to. In the end, you don't want people on your list if they're not interested in you anyways (see "cold contacts" above).
Your email open rate checklist
Ultimately there are a lot of different elements that go into email open rates, and whilst some are an easy fix, the truth is, a lot of it is testing and long-term monitoring of what does and doesn't work for your audience. 
Here's how you can get starting improving your email open rates today:
Check your tech setup (DNS settings) and implement SPF, DKIM, and DMARC policies.
Make sure you've got a really clean email template that works. Check all the links, including the footer, and remove excess and unnecessary graphics, images, or links. 
Clean out the dead weight. Set up an automation with a series of emails to try and engage with your audience. Anyone who doesn't interact with any of the emails needs to go. 
Test your subject lines. Go back and look at old emails and compare the differences between a high performing email and a low performing email. 
Plan your content ahead of time. That way, you can really make sure everything you're putting out is valuable, consistent, and at a time that suits your audience. 
About the author
David Sandel, an email marketing certified MailChimp Expert and Klaviyo Master, leads Low Gravity Solutions, a full-service marketing agency.