LinkedIn turns 18 in 2021. Over the years, LinkedIn has evolved from a platform to find and list jobs to being a full-blown business social media platform. Today, LinkedIn boasts a user base that includes close to 740 million professionals coming from all walks of life and all sorts of industries.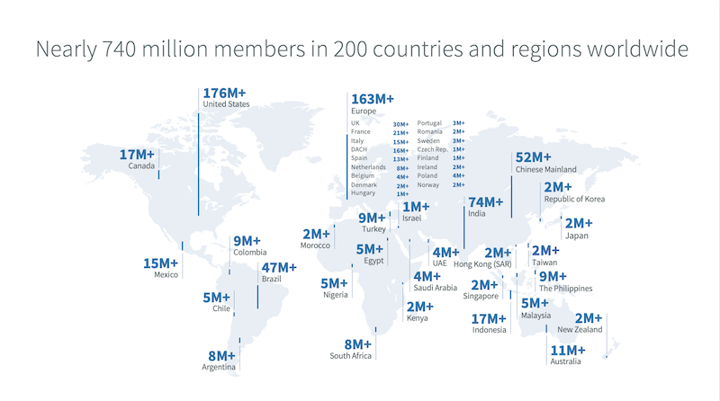 Image via LinkedIn
This means that while LinkedIn is still an excellent platform to find and list jobs, it is actually a superb place for all sorts of outreach. 
That's why we're covering everything you need to know about personalized outreach on LinkedIn, including:
Why LinkedIn works for personalized outreach
How to personalize your organic LinkedIn outreach
How to personalize your LinkedIn campaigns
Here we go.
Why should you use LinkedIn for personalized outreach?
Whether you are looking to connect with a prominent blogger in your niche about a guest post or simply trying to find new clients, LinkedIn is an excellent place to connect with other professionals.
With that said, connecting with other people is one thing and convincing them to act on your offer is an entirely different ball game. Without the right LinkedIn strategy, you may be left with an ocean of the wrong connections or even people that you have tried selling to, and have been rejected by.
On the other hand, there are countless case studies on the web about businesses achieving incredible success with the right LinkedIn outreach approach.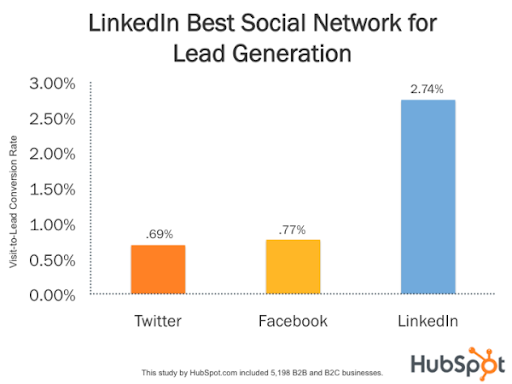 LinkedIn outreach and marketing have become so popular that they are not being offered as a part of digital marketing services by many leading agencies across the globe.
While taking help from such service providers is not a prerequisite to success, having the right strategy for approaching prospects is an absolute must.
One of the most incredibly effective ways to improve the results of any outreach efforts is to personalize your messaging. Needless to say, the same strategy can potentially work wonders when you are reaching out to prospects on LinkedIn.
However, with the sheer number of prospecting and advertising options available on LinkedIn, the road to personalizing campaigns can be overwhelming, especially for beginners.
If you feel the same, you have landed on the right blog post. As mentioned earlier, LinkedIn offers a variety of ways that you can reach out to your prospects. Some of these are organic and free, while LinkedIn will charge you for the others.
The good thing is that you can personalize your messaging and campaigns with both organic and paid outreach and advertising strategies. That's why, in the following sections, we'll cover both in detail.
Without further delay, let's jump right into it.
Personalized LinkedIn outreach
When it comes to finding and adding prospects to your connection list, LinkedIn offers incredible power. The filters associated with LinkedIn search will allow you to laser target your approach of finding and connecting with prospects. 
However, finding and connecting with prospects is the second step in the organic outreach process on LinkedIn. 
Let's look at all the steps involved in this process.
Step 1: Optimize your profile
Optimizing your LinkedIn profile  is a straightforward undertaking. The objective is to ensure that you appear authentic, active, and professional to those who visit your profile. Another objective of optimizing profile is to ensure your profile clearly states what you do and how you can help those you help (as a professional).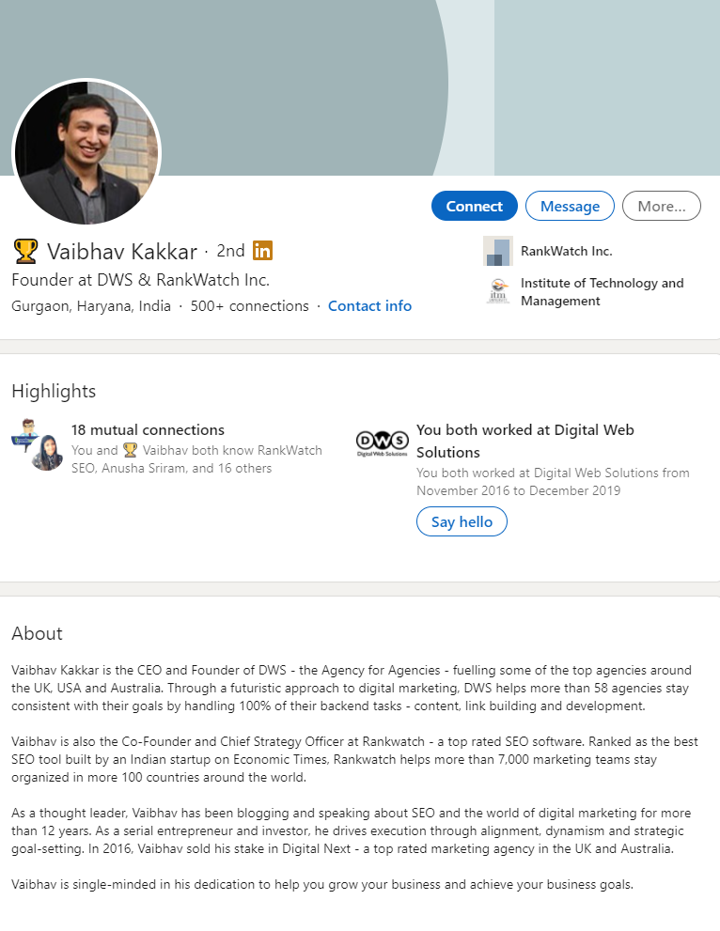 Here's mine as an example.
The most basic optimization tasks are to update your profile picture and profile cover image. There are no complex requirements for either. In fact, there is just one requirement: both images should look professional and should make your profile look professional. Optionally, you can also add a bit about what you do in your cover image. However, doing this is not compulsory, since the rest of your profile will be talking about the same.
Once you have optimized your profile and cover images, you can move on to four more LinkedIn profile areas that can benefit from optimizations.
1. LinkedIn Bio: Your LinkedIn bio is one of the three things (besides your name and profile picture) about your profile that appears in search results or on the feed of your connections. It isn't difficult to imagine how this is one of the most important parts of your LinkedIn profile.
Optimizing the LinkedIn bio is quite straight forward. Most people simply list their current position (employed) or professional specialization (self-employed, founders, freelancers). 
The primary objective of the LinkedIn bio is to tell people what you do, in a glance. The secondary objective is to make your profile visible for relevant search terms. 
We don't know the exact factors that determine your profile's rank in the LinkedIn SERPs—the platform doesn't share that information. However, experience has taught me that there is some role of keywords involved, especially since the Sales Navigator interface allows LinkedIn Premium users to search for profiles that contain specific keywords.
Your bio is perhaps the most influential place where you can put the keyword you want to appear for.
2. LinkedIn About: The about section is where you can expand more on what you have on offer and why you are the best option for your audience. 
With the right approach, this section will allow you to communicate to your visitors who your audience is and what you can do for them.
This is also a great place to name-drop if you have worked with well-known clients in the past.
3. LinkedIn Featured Section: The featured section is another place that is usually checked out by every visitor on your profile. With that said, there is no right or wrong way of using the featured section.
Some use this section to display samples to their best work and others use it to showcase their services or products in more detail.
I recommend you to experiment with both and find out what works best for your brand.
4. LinkedIn Activity Section: This is where all of your recent activity is visible to your profile visitors. However, if this section does not have any recent posts or comments by you, it may hurt the credibility of your profile.
For this reason, it is recommended to spend a few days simply becoming "active" on LinkedIn by adding people who broadly resemble your target audience and interacting with the content that they post. At the same time, it is also strongly recommended that you "warm up" your LinkedIn account by building a content calendar and ensuring you are consistently putting out relevant content through your profile.
This consistency, besides communicating credibility to your profile visitors, can also be used to build a personal brand that attracts leads organically. Gaining organic visibility with content on LinkedIn doesn't demand much more than quality, relevance, and consistency, yet.
This was the case for every social media platform at some point but as the number of users grow, most platforms start looking for ways to monetize their audience. As a result, algorithms prevent your content from gaining too much organic traction. Luckily, LinkedIn hasn't started doing this.
After you have optimized your profile, you can move on to the next step of the LinkedIn personalized outreach.
Step 2: Identify your prospects and add them to your network
This step is incredibly easy, thanks to the superb search filters offered by LinkedIn. Even the free account version allows you to filter people by keywords, professional roles, current and past companies, education background, and a lot more.
This will allow you to add exactly who you want to target in the following steps. However, it is a good idea to not limit your connection requests to only these people. Depending on your niche, there is a chance that you may not have many prospects identified. That's why, it is advisable to start adding people who broadly have matching attributes as your target persona.
One enormous mistake that a lot of people make with this step is to go into a frenzy of adding as many people as possible. After all, the more people you have, the better your chances of getting a conversion, right?
Wrong.
Sending out too many connection requests, especially if most or many of them aren't getting accepted, will get you banned from LinkedIn.
The trick is to "warm up" your account by sending a few requests initially and then eventually ramping up the number. While it is perfectly possible to do it manually, there are tools like Expandi.io and Dux-Soup that will let you automate this process for a price.
Step 3: Build and implement a messaging strategy
This is where we begin the actual outreach. 
Like on other social media platforms, people don't like to be sold to or to receive pitches on LinkedIn.
That's why, sending a sales message or pitch right after you add someone is not a good strategy. For instance, let's say you are selling a complex enterprise solution and looking for potential customers on LinkedIn. If your product is solving a complex problem, there is a good chance that there is a lot of education and consideration that happens before the purchase decision is made. In fact, even if you are selling a relatively simpler and cheaper product, some consideration will take place before the purchase decision is made.
If you add a prospect and send them a sales pitch in the first message, you are not even giving them time to make the consideration, let alone getting to know you and thinking if they want to buy the product from you.
Instead, your objective should be to build a relationship with them and then slowly nurture them into becoming a paying customer.
Ideally, you should send them a message with your connection request, stating a logical reason behind the request in a friendly tone. Next, you should send out another message after they have accepted your request. This message should simply thank them for accepting the request and tell them to stay in touch with you.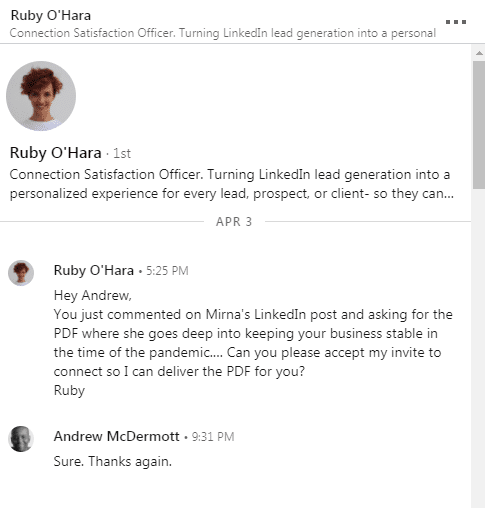 If, at this point, you are able to start a conversation, there's nothing better. If not, you can begin having a conversation about one of their posts or comments on someone's post. This sort of real personalization will enable you to create a lasting impact in their mind. If possible, it is also a superb idea to share a content offer that addresses a pain point that they have been talking about recently.
It doesn't even have to be your content offer. Remember, they're already in your connection list. You don't need any more of their details. All you need to do is help them and build a relationship that leads to a sale.
There is a lot of advice available on the web regarding creating a "messaging trail," which works much like an email marketing sequence. While there is no denying that this strategy of sending out templated messages has worked for people, the reality is that modern consumers are quick learners. That means they can smell a pitch coming from a mile away.
If a customer realizes you are about to send them a pitch before they have been properly "nurtured," there is a chance that they would stop engaging with your messages and your content. Moreover, since this article is about personalization, using templates is advice that I don't support.
Instead, I support having authentic and personalized conversations with your prospects. This will not just help you build a long term relationship with them, it will also help you find and work with prospects that will benefit the most from your service or product. This will contribute to the building of a happy customer base and plenty of word of mouth to propel your business to new heights of success.
That said, this personalized outreach strategy is not scalable. 
Reaching out to each prospect in a way that matters will demand time, effort, and innovation from you. If you are a believer of the notion that sales is a numbers game, and have the budget to support it, you might want to explore the premium advertising and outreach products that LinkedIn offers.
Let's look at which of the products support personalization and how you can use them to your advantage.
Personalized LinkedIn advertising campaigns
LinkedIn offers a variety of advertising options including banner ads and sponsored posts, among many other options. 
While most of these ad formats have incredible potential if you get your marketing messaging and targeting right, not all of them are designed to deliver a personalized experience to your prospects.
There are two LinkedIn Premium advertising products that do support personalization. Let's find out what these are and learn more about them.
Dynamic Ads
Dynamic ads, as the name suggests, change based on the user profile being targeted. LinkedIn algorithms use the profile information of your target audience to deliver them with ads that feature their names and other similar instances of personalization.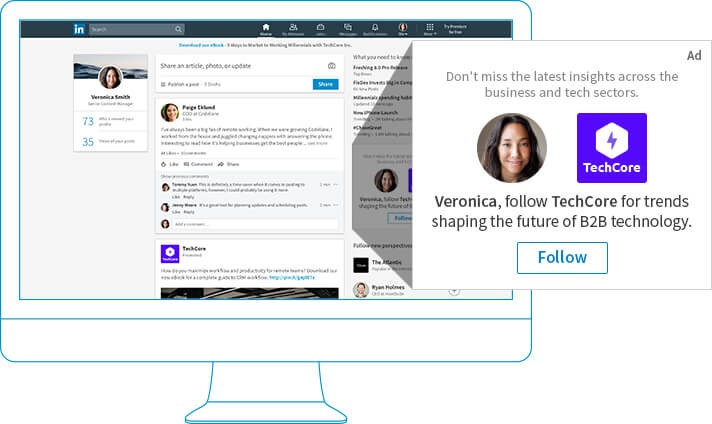 LinkedIn recommends using dynamic ads for objectives like:
Website traffic: Selecting this objective will allow you to promote an offer (or anything else, really) with Spotlight Ads. These ads lead your prospects to a present on a web property off of LinkedIn, like your website or a landing page. Spotlight Ads also let you customize the CTA to better focus on your conversion objective.
Awareness: This objective is aimed at gaining followers on a specific LinkedIn company page or profile. These ads work great when it comes to building a targeted audience that is likely to engage with your organic content and eventually convert into paying customers.
Lead generation: These ads allow you to promote your content offers to a targeted set of people that are most likely to find it useful. You can gate the content behind an information form and add brand new leads to your conversion funnel.
Dynamic ads are one of the top advertising products on the LinkedIn platform because they can deliver a personalized experience. Simply by personalizing ads with names, company names, or industry, these ads can make prospects feel like the offer within the ad is right for them.
LinkedIn's landing page dedicated to these ads features a number of raving reviews about their effectiveness.
InMail
If you have been active on LinkedIn even for a few days, you might have already received an InMail. 
An InMail, also known as a message ad, allows you to directly reach out to prospects in their LinkedIn inbox. LinkedIn claims that with the right targeting and messaging, InMails can outperform other cold outreach methods like emails.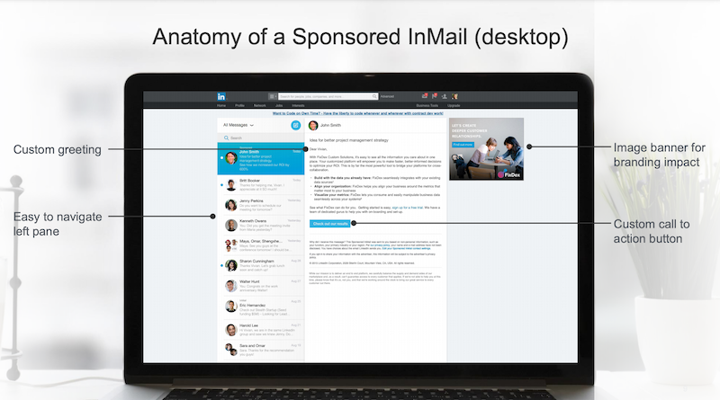 Image via LinkedIn
The InMail algorithm allows senders to customize the messages for each recipient. Moreover, LinkedIn as a platform has shown tremendous confidence in the effectiveness of InMail.
LinkedIn has laid out clear best practices that will help you get more positive responses. Plus, for every response you get, LinkedIn will essentially make that InMail free for you by adding more InMail credits to your account. 
This means, if you send out 10 InMails and receive eight replies, you will be rewarded with enough credits to send out another 10 fresh InMail messages. 
With the correct targeting approach, some homework on your prospects, and the right way of structuring the messages, you can turn cold conversations warm and still lead the conversation in a direction that leads to a sale.
Start personalizing your LinkedIn outreach
As you may have seen, there is no set it and forget it strategy that applies to personalizing campaigns and outreach on LinkedIn. While the task requires significant investment of time and effort, the results are usually incredibly surprising—in a good way.
About the author
Vaibhav Kakkar is the Founder and CEO of Digital Web Solutions, a globally trusted agency with a full suite of digital marketing services and development solutions. Vaibhav believes in building system over services, and has helped scale up agencies from scratch to niche-leaders with million dollar turnovers.