What is the Shopify Buy Button?
According to Shopify, "A buy button is a shortcut to the checkout process. With the Shopify Buy Button, merchants can generate an embeddable product card and checkout button that can be added to landing pages or blog posts. This gives shoppers direct-purchase access to the merchant's product from whatever web page they see the buy button on.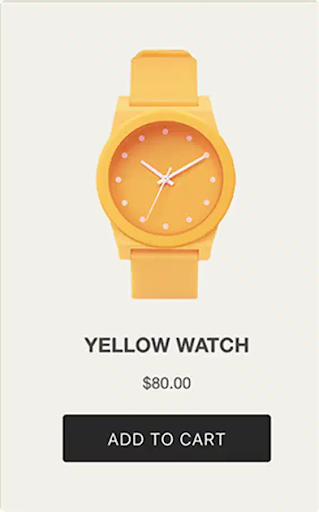 Source: Shopify
Builtwith.com's chart on Shopify Buy Button Usage Statistics states that there are 39,307 sites using the Buy Now Button. In total there are 20,776 total live websites, 33,022 additional website redirects, and 18,531 sites that used this technology previously.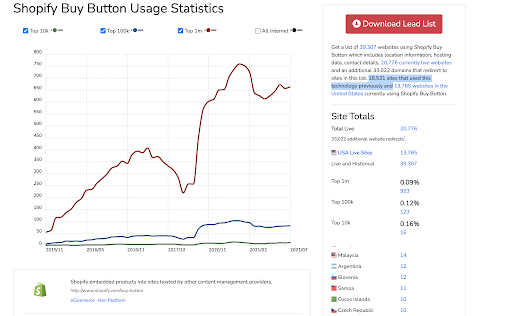 Source: Built With
How might you use the Shopify Buy Button? Say you partnered with a prevalent blogger to write a blog post on a new sweater that your company just came out with. You can embed a link in the post to purchase the sweater. This way as readers are discovering why the sweater is so great they have an easy way to purchase it without having to go directly to your store.
How Do You Use It?
There are two types of Buy Buttons. There's a Product Buy Button that lets you embed one product on a blog post or website and a Collection Buy Button that shows an entire collection on a full page. 
You're able to customize the look of the Buy Button's button by changing its:
You can also choose what happens when people click on the button. It can either add the product to the cart, go directly to checkout, or open product details. 
Once you have the Buy Button configured you'll be provided with some Javascript code that can be pasted into the application you want to use. 
Here are some ways you can use the Buy Button:
Add it to your

blog

so readers can get product recommendations while checking out your content.

Sell your products on other websites that you have a partnership with 

Sell on any platform like Squarespace, WordPress, Tumblr, Wix, or Weebly.
The Pros and Cons of the Buy Button
There are both pros and cons to the Buy Button. The Buy Button can definitely help create a seamless purchasing process since it leads to fewer clicks. This is great for companies that have brand recognition with consumers that already are familiar with their products.
For smaller businesses, it may be a little more difficult. Shoppers are less likely to click a Buy Now button if they haven't heard of the brand or seen the product before. In this case, a landing page would be a better option. Landing pages allow the shopper to become more familiar with the company, product details, and view quality product images.
Dedicated landing pages also allow you to speak to a specific segment of your audience. Depending on the segment you're targeting you may want to highlight certain features of a product or use specific copy that will resonate with this audience. 
A/B Testing
Another reason to use landing pages instead of the Buy Button is A/B testing. For newer stores, you might now know what works best for your customers yet. According to Steelhouse, targeting and testing correctly can increase conversion rates by up to 300 percent. By conducting A/B tests you're able to find out exactly what your customers want and improve the customer experience and ROA. 
Page Speed
Something else to consider is page speed. Page speed is the speed at which each webpage on your website downloads from its hosting server and is displayed on a user's screen. The time the user waits while the webpage loads are referred to as "page load time" and it varies greatly depending on desktop or mobile devices.
Page speed is very important to customers, in fact, 70% of customers have stated that page speed has an impact on their purchasing decisions. It's also linked to customer satisfaction, studies have shown that a 1-second delay reduces satisfaction by 16% and a 7% drop in conversions. 

Page Speed of an Unstack Landing Page with the Buy Button from Google Insights

Page Speed of an Unstack Landing Page with its Built-In Checkout from Google Insights
Because the Shopify Buy Button uses javascript that has to be embedded into your website it can slow down the performance. 
In the Google Insights images above, you can see the page speed of an Unstack landing page with the Buy Now Button versus an Unstack landing page with its built-in checkout process. The landing page with the Buy Button had a Speed Index of 3.7s, while the landing page with an Unstack checkout button had a speed index of 2.5s. 1.2s may seem like a small difference, but again even a 1s reduction in page speed can increase your bounce rate and lead to a 7% drop in conversions. With an increase in page speed of 0.1 seconds, 1 in 5 retail and luxury sites saw their homepage bounce rates improve by 0.6% and 0.2% respectively.
Conclusion
Now that you have a better understanding of the Shopify Buy Button you can determine if it's right for you and your business. It can be useful in certain situations, for example, advertising on a high-traffic blog, but there are also some drawbacks like reduced page speed. It's important to consider what will work best for your eCommerce businesses and your customers to generate sales.