I chatted with Allison Byers, Founder and CEO of Scroobious to hear about their transition from a previous hosting provider to Unstack and how Allison has leveraged the platform to redesign and improve the content/SEO on the Scroobious website.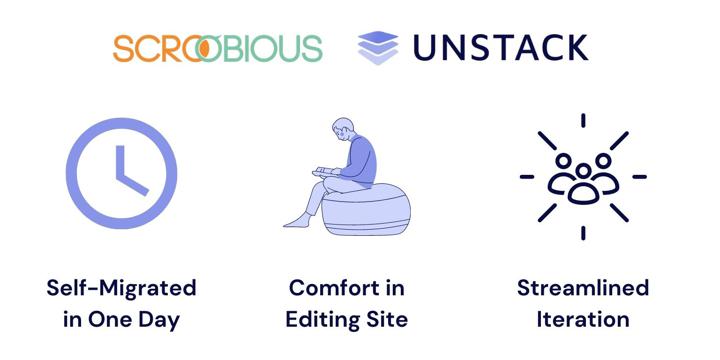 Self migrated site within one day
Improved comfort with editing and iterating website
"Took the scary away"
Increased SEO / Content and ability to refresh content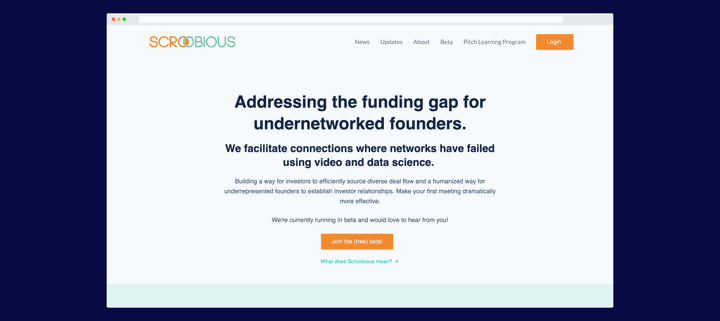 Transcript
[Chris] So my name Chris Cardone, I'm a customer success lead here at Unstack.
And, we're talking with Allison from Scroobious
Can you talk a bit about what your business does, who you are and where you're from?
[Allison] Sure. So, yeah.
I'm Allison Byers and the founder and CEO of Scroobious.
And we have a platform designed to help underrepresented founders form and craft a high level pitch. And then a pitch video that we then transcribe and close caption and put up on our platform where investors can view them so early stage investors who are interested in diversifying how they source opportunities outside of their network.
[Chris] And just a bit ago you moved over to Unstack from your previous provider. Can you talk a little about how you discovered Unstack and what really drew you to us?
[Allison] Yeah, so we were hosting our website on Squarespace, and this is an area I am not familiar with at all. I was first introduced to Unstack actually through my network.
I was connected to Grant, the CEO, and we had a great conversation. He was super supportive of my cause to help underrepresented founders find the right sources of capital for them. And I loved what he was building with Unstack and it just stuck with me.
Also had some other folks in my network who had already used Unstack and told me how great and easy it was, and it just stayed with me until I had a big need to switch over from Squarespace to a different provider.
So I reached out right away and went from there.
[Chris] And you got live with us pretty quick, especially being a non-technical founder yourself.
How was it moving over?
Because know for a lot of people moving websites is always this big hurdle that they feel like it's going to be a complete blocker because you talk about how it was doing that transition platform.
[Allison] Yeah, it was so easy.
It was really nice.
I am not technical.
I like to learn new programs and I can get into them, but I really don't have that much time being a founder myself and a mom, I had to find something that was easy for me to do and time efficient and the platform that lets you just move pieces around and it has these premade templates that are all formatted and done for you. But you can still customize in a way that you like was really inviting for a non-technical founder.
It I always like to use the expression "take the scary away".
I like to take the scary away for founders of pitches and Unstack really took the scary away of building a website for me.
I had never done it before. It was always kind of a black box.
Thing, and so I literally did it in a day. I took the content that I had already on Squarespace and used a lot of that but redesigned it, I even managed to embed forms from my email provider, which is like a thing I've never looked into before.
And I really felt very good about it and I still feel good about it.
I go in and update my website all the time by myself and I feel so much better knowing that I can do that.
And I really didn't ever see myself doing that.
[Chris] That's awesome.
I'm thrilled you have had so much success on the platform and also that we've just given you the comfort of knowing you can update your website.
So can you talk a bit- Because I know you've been using our blogging platform and prior to using on blogging wasn't really a thing that you did to too much.
So how is the ease of use of the platform opened you up to building more and more content for your content marketing?
[Allison] Yeah, so I'm not doing a ton of content marketing right now, actually, but I am.
I had Unstack open right before this. I am figuring out how to use it to host a lot of material that I provide to founders on my platforms.
And I do a lot of education around the fundraising process and pitch creation and all that kind of stuff.
And I think I can build this out in Unstack after researching a bunch of other kind of teaching platforms.
This has been like the the best way to do it for me.
So I'm using landing pages, which I didn't even really know about before now because I've always just worked with marketing teams or I've worked with, as you said, web developers.
And
I'm just figuring out all these new ways to use my website and to use the entire platform to host a lot of my content and value.
[Chris] We're so thrilled that you've got so much going. Do you have a last thoughts about
Unstack or anything that you'd recommend to anybody who's getting started, the Unstack?
[Allison] Yeah, I would say to just try it out.
I mean, you guys have you can sign up for free. I needed more functionality and I'm sure a lot of people do, too. But you can just try it out.
And I think once you just get your hands dirty and you can you understand how easy it is and you feel really comfortable right away.
And the other thing I would say, Chris, is you were super helpful. The one part that was scary to me was the actual porting over and the DNS and like the scary stuff, if you're non-technical and you don't understand what that means and after just a couple emails, you hopped right on a Zoom with me. You held my hand through it in real time.
It took, what, like five or ten minutes?
So I think your customer service is outstanding. And if there is a new founder out there who's non-technical, which there are a lot of, I think you guys made a great platform to just help us feel at ease with having a presence out there, having professional looking website and not having to really worry about it so much or rely on somebody else to do everything for you.
[Chris] Thank you so much for all those kind words we do love that are support team was able to help you through all of that.
And also, thank you so much for hosting a platform that empowers diversity, especially with the (social) climate that we live in today. It's so important.
[Allison] Well, thank you.
This is I've loved it. I'm a big fan. And you let me focus on other stuff so I don't have to just worry about my website all the time.