We'll be honest: SEO can be overwhelming, especially for companies that are just starting out or trying to scale. You need to balance on-page SEO and technical SEO in order to rank; you need to focus on building links and creating high-quality content.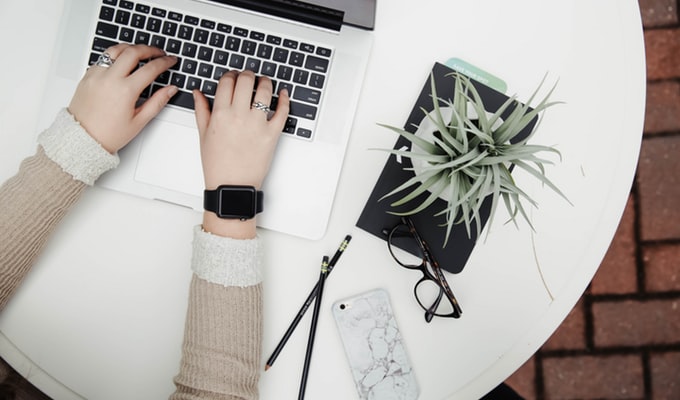 But the first thing you need to do is make a plan and focus your efforts. That's why we compiled a list of easy wins to get you started growing your traffic so that you can grow your business.
Here are five tips for boosting SEO for startups:
Select the right search terms
Create high-quality content
Structure your content effectively
Leverage internal linking
Build backlinks
1. Select the right search terms
The tips for building SEO for startups is foundation: find the right search terms to target. These keywords will drive your content strategy, so it's important that you're setting yourself for success.
Typically, long-tail keywords are going to be the easiest for you to go after early on. These will be more specific to your target audience, which is good for growing your following, and these terms typically have less competition. For example, "SEO" has a huge volume, but it's incredibly difficult to rank for that term.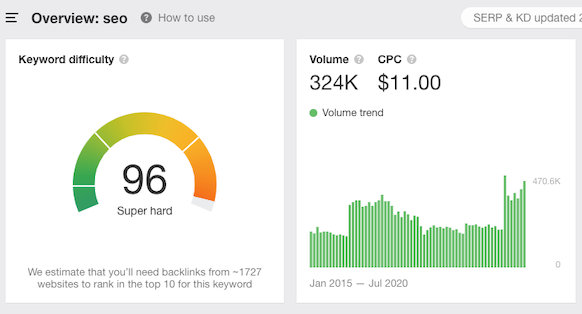 Instead of focusing on big topics like SEO, you'll want to focus on smaller related topics, like "SEO for realtors" or "real estate keywords." Both of these keywords have less volume but way less competition. You can use tools like Ahrefs, Moz, and Google Keyword Tool to find terms applicable to your business that have high search volume with low competition.
2. Create high-quality content
Once you identify keywords to target, you need to start creating content to grow your SEO traffic—and your startup.
When you're writing, focus on creating high-quality, compelling content for each search term you're targeting. You might be targeting keywords and working with a search engine algorithm, but always remember that you're writing for people. You need to be providing value. So once you have your topics settled, take the time to do you research. Use examples. Link to other, established sources.
Bottom line: Writing good content will lead to way better SEO for startups than just writing any content.
Looking to improve SEO for existing content? Check out our guide on revamping blog posts!
3. Structure your content effectively
Writing high-quality content is key, but you need to make sure you're structuring effectively, too. This will help make your post easy to read and skim, but it'll also help with SEO.
Here are a few ways to make sure your content is structured well:
Make sure to include H2s: Use headings and subheadings (H3s or H4s, if you need them) to separate your paragraph text on the page. Try to include your keyword in one or more H2s if you can can, too.
Write a solid meta description: This should be an engaging summary of the content in your blog post or on your page, usually about 150 characters.
Set alt text for your images: The alt text is an HTML element that the search engine will crawl, so use this opportunity. Also, alt text will be used if the image breaks or if your visitors are using screen readers, so make sure these are descriptive and accurate.
Use bullet points and numbers for lists: This one's a bit meta. See how skimmable this list is? Make sure you use the same techniques in your blog posts and landing pages.
Want more tips for startup landing pages? Check out our guide here!
This isn't an exhaustive list, but it's a great place to start with SEO for blog posts.
4. Internal linking
For great SEO, ensure your pages and blog posts interlink in a way that makes sense and guides readers and search engine spiders to other related content.
Using links in content in an article is a great way to allow readers and search engines to follow a link to get more info from another article or page on that topic. With Unstack's Smart Links, for example, you can be sure that these will never become dead links, and will follow the linked page even if you change the URL (Side note: We'll also automatically 301 the original page URL to the new URL so any inbound links will maintain your page rank.)

Eventually, you may have one page that is providing a lot of value to your business (e.g., has good click volume and a higher conversion rate than other pages). You can help prop up such a page by creating a linking strategy of having other less valuable pages link up to that one (and not vice-versa), then work on inbound linking to all of the above. This will bolster the "big" page, and ensure it is seen as most important to Google.
5. Backlinks
Backlinks are still one of the most important parts of your SEO strategy, and still the trickiest to do right.
Buying backlinks can seem tempting, but don't fall into these traps. They will almost always be found out by Google and result in penalization.
The best way to accrue backlinks is to produce high-quality content that people want to reference. 
Of course, this takes time. Social links will help you get started. If you're using Unstack, you have social sharing built in to your blog. Link to your articles on Twitter, Facebook, LinkedIn, and/or whatever community you think your potential customers use.
Eventually, when you get big enough or have the funding to make key hires, seek to syndicate your content or write contributor content to other sites, with canonical references back to your original content or links back to your homepage. Syndication and guest posts will help you build your domain naturally in a way that's providing value to both you and a more established editorial site. 
Focus on these SEO for startups tips
These are five solid tips to get you started optimizing your website and building a content strategy. Now, go and grow your business!