We've all been there. You had a great idea, wrote a blog post, and published with high expectations. And then that post underperformed. 
Sometimes topics are flat-out misses—the writing was iffy, the information was suspect, or the industry just moved on. But more often, you're missing opportunities for blog SEO fixes that can help you improve your content and your ranking.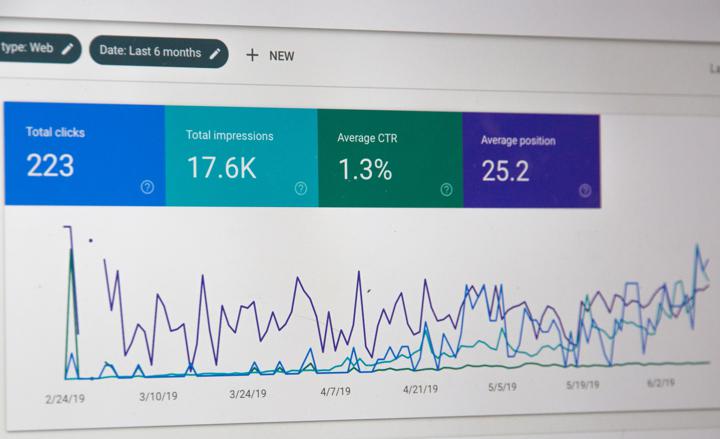 That's why I'm sharing seven blog SEO so that you can optimize your existing content to get better results: 
Identify any keyword opportunities
Revamp your title
Adjust your meta description
Rethink your structure
Answer your questions
Add lists to your intro 
Build internal links
Let's get started.
1. Identify any keyword opportunities
This is the first step, and probably the most important one. If you have a keyword that isn't performing, check the SERP.  Is the search intent a match? Does your content deserve to rank here? If both of those answers are "yes," then you should use that keyword and move on to the rest of the optimizations in this post.
If you didn't have a keyword in mind when you published the post, then the best place to start is see if it's ranking for any search terms. If it is, you've found your keyword to use. If it isn't, time to check for relevant, related keywords in your tool of choice. 
Take this example. Grant wrote an awesome post detailing some significant SEO changes that Unstack did over the last year, but it wasn't performing as well as I thought it could. I re-optimized for the keyword B2B SEO: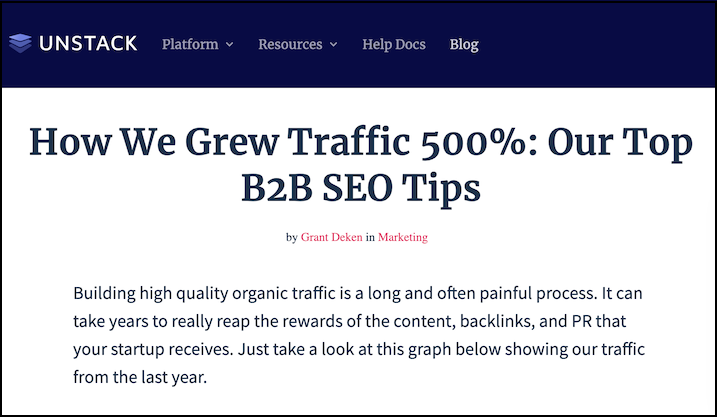 Here are the changes I made:
Added the new keyword to the title.
Added the keyword in the text, especially before lists.
Adjusted meta description.
Reworked conclusion to reflect the new keyword.
Now, I didn't change too much of the content here. This post was already about our B2B SEO strategy, but it wasn't optimized for a keyword. 
Rather listen to this post? Check out the video here!
2. Revamp your title
A revamped title is the easiest way too quickly, effectively refresh your blog post. Make sure that you follow basic SEO best practices for titles:
Include your target keyword—at the beginning of the title if possible. 
Avoid keyword stuffing.
Stick to 65 characters max.
Make sure it's unique—you don't want duplicate title tags. 
Double checking these SEO best practices is especially important if you optimized your blog post for a different keyword or a new keyword. But you're not done quite yet.
You also need to take a look at the titles of the pages that are ranking on the SERP. No one wants to publish the third "Ultimate Guide to X" or "Everything You Need to Know About X" for the same keyword, so make sure to check the SERP and adjust your title accordingly.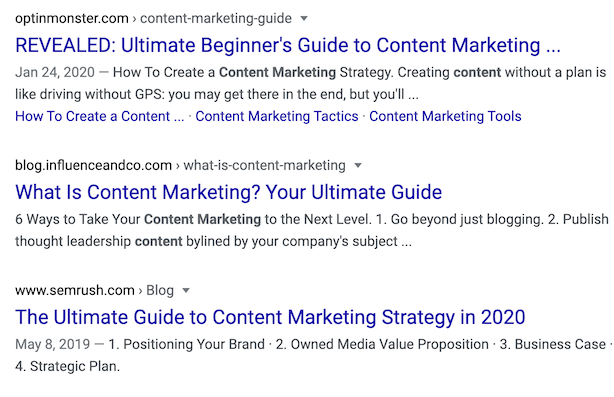 Also, remember that you need to appeal to people. Make your title interesting, descriptive, and engaging. No one should have to question why they would want to read your post. That value should be clear in your title.
3. Adjust your meta description
A meta description is an HTML attribute that describes what the page is about, and it's often the text pulled onto the SERP.
There are a few best practices for meta descriptions that you should be sure to follow:
Include your target keyword.
Stick to 160 characters.
Avoid double quotes.
But meta descriptions don't impact your ranking. The best way you can adjust your meta description is to make it more compelling and increase your click-through rate.
Remember, when your meta description appears on a SERP, it's people reading it. You can take this opportunity to convince why your blog post is valuable. Take this example from the SERP for "best museums in boston":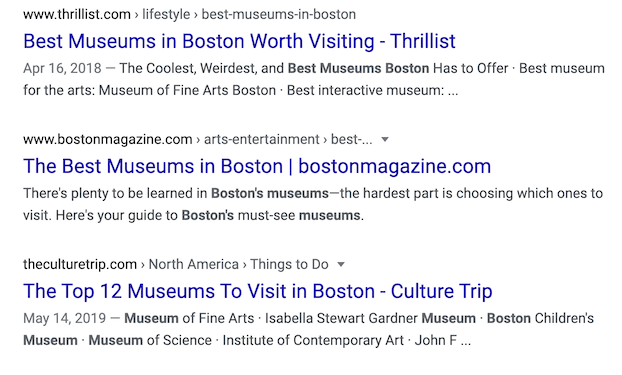 The first and third options are fine. The first one includes more descriptors of the museums on their list, and the third one lists the museums it'll cover. But that second option in the middle actually compels me to click. I don't know what the options will be, but I know they're worth visiting—not just some random weird places in the city.
4. Rethink your structure
The structure of your blog post is important for SEO and for readability. Sometimes, posts don't perform as well as we hoped because the information isn't structured in the best way.
There are lots of different ways you can structure a blog post, but here are some basic components that every blog should have:
Introduction
Conclusion
H2 headings
Images
Beyond that, it really depends on the post whether you need H3s or could benefit from bulleted lists. Most types of blog posts, though, can benefit from lists. It's important to remember that your audience is going to be reading online. When we're reading online, we're more likely to skim, to start and stop and start again, and to be multitasking. The best thing you can do to optimize your blog posts is to plan for this and structure your posts in a skim-friendly format.
That's one of the reasons why listicles are so ubiquitous online now—the format makes it easy for us to review and process information quickly. Our brains respond well to lists because we're able process information spatially, and, with numbers, we always know how far away we are from the definitive end. 
So take advantage of this. If your blog post explains how to do something, consider numbering those steps and using those as your H2s. If you rounded up expert opinions, number those, too, and let your readers know how far they are into the article.
And, when you're reworking the structure, make sure your keyword appears in at least one of your H2s. This brings me to the next tip.
5. Answer your questions
When you're doing keyword research to find any opportunities, check out the questions related to your keyword. Let's say, for example, you're optimizing a blog post that ranks the best ice cream flavors: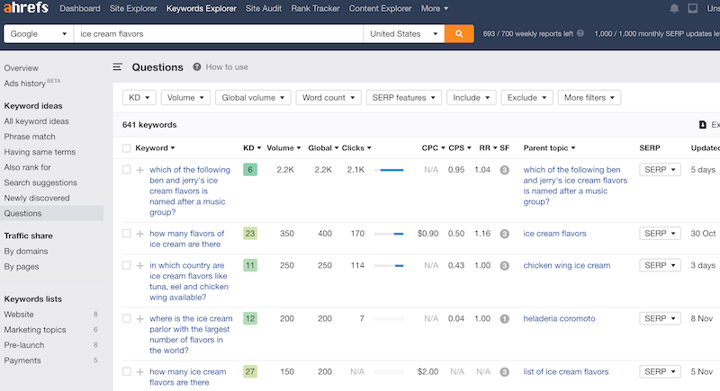 Now, adding a section to your blog post targeting "how many flavors of ice cream are there" in an H2 heading is a great way to add some new content to refresh your post and add some additional opportunities to rank. 
Whether you're adding a question-based section or you already have one in your post, make sure that you answer the question immediately in the regular text that follows the heading. This will help you optimize for a featured snippet on the Google SERP. 
Here's how that could look for our example about ice cream flavors: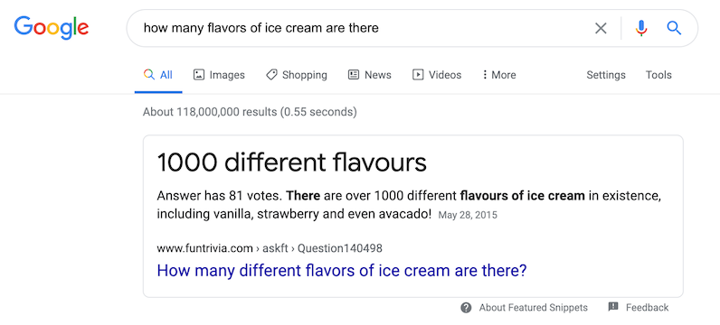 6. Add lists to your intro 
This is another way to optimize for a featured snippet: If your blog post is a list, make sure the full list appears in your intro or conclusion. Here's an example from our post on creating a successful SaaS marketing plan: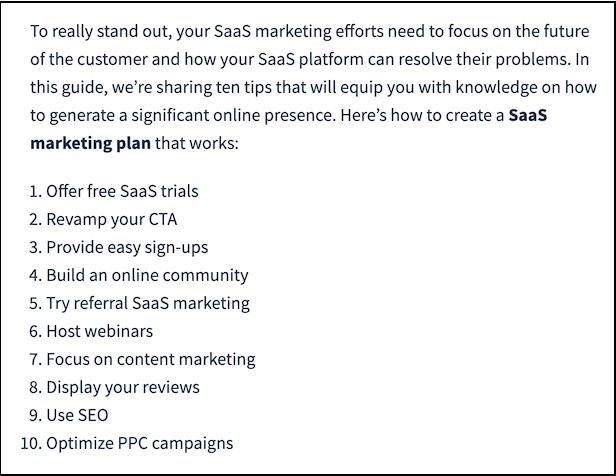 This appears in our intro because we thought the preview would be helpful for our readers looking for a few additional tips, even if they might not go through the whole post. But for the featured snippet, you can include the list in the intro or conclusion of your post.
Now, it's important to note that featured snippets aren't always the best option. Ahrefs found that getting a featured snippet won't necessarily lead to more clicks than the first result on the SERP.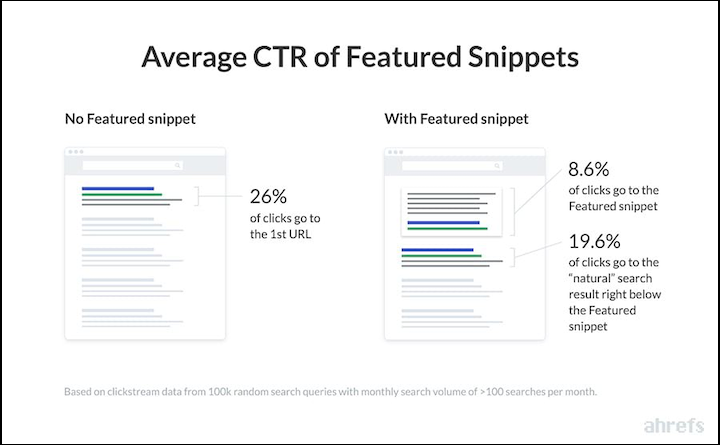 If you're likely to rank in the top result, that'd be better, and you can block featured snippets on Google. But, if you're lower on the page and there's an opportunity to optimize for a featured snippet, that's a good way to jump to the top. 
7. Build internal links
Including internal links is good to provide your audience with additional resources on your website, but it's also important for your SEO. When there are lots of links pointing to a specific, this signals to Google that it's important.
That means a good way to boost your blog post's performance is to build internal links to that post. To find places to include links, I like doing a site search of the keyword to see if there are any ideal opportunities to include a link to the blog post. Then, I'll do a site search of any variations or related topics. It's best to have at least five internal links pointing to your blog post.
Improve your SEO for blog posts
Use these tips to get more out of your existing blog posts—and to add more SEO value to your new posts!