Here's what you should know when it comes to social media marketing: It is a marathon. Not a sprint.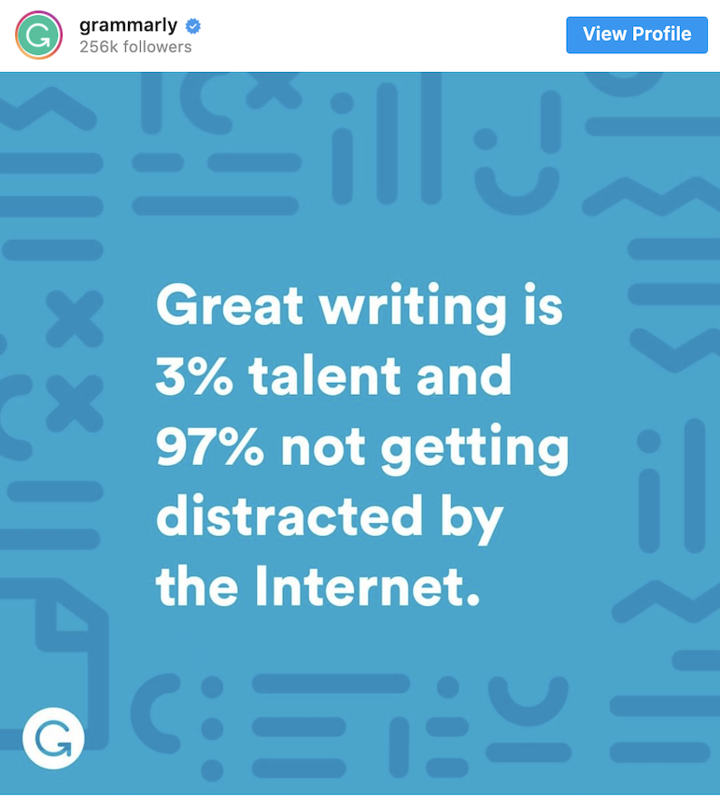 Sure, you want to turn social media followers into paying clients or customers. However, what you do today can impact your business' social media presence in the long run.
As such, you should develop a robust social media marketing campaign that can bring results in the long run. Here, I'm sharing 13 social media marketing tips every startup can benefit from:
Create a social media strategy
Find out what platforms your audience uses
Learn more about your audience
Use the same handle for every platform
Asses your social media channels
Create valuable content
Keep track of trends
Post content regularly
Share high-quality images
Use emojis and hashtags
Build a brand message
Engage with your audience
A/B test your campaigns
Before we get into the tips, let's start with exploring why you need to focus on social media in the first place.
Why should startups focus on social media marketing?
Social media is one the most effective marketing tools out there. For one, it allows you to build awareness for your startup. It also enables you to establish two-way communication with your customers.
Other benefits of social media marketing are driving referral website traffic and generating conversion and sales. That's because social media can help establish your startup's brand authority and online presence.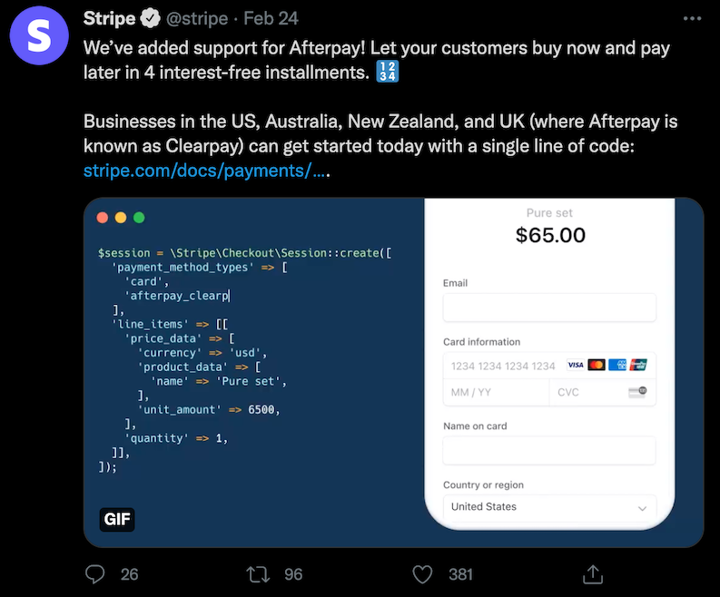 Example via Stripe.
It is just a matter of finding the platform where most of your target customers exist. From there, you should start producing content that is relevant to your business and can resonate with them. You can also create well-targeted ads if you want to expand your market reach.
How to use social media to grow your business
Whether you have an enterprise or own a startup, you can use social media as a cost-effective marketing tool. Still, despite social media's enormous potential, many brands and companies have failed to use it to build their reach and grow their sales.
Thus, we will share 13 effective tips you can maximize social media for your startup. 
1. Create a social media strategy
Countless brands are already using social media marketing to their advantage. But to get your voice to be heard, you need to have a well-defined strategy. 
Doing so ensures that you stick to the plan. That way, you are spending time and exerting effort into implementing tactics that can bring in results. Otherwise, your efforts will be for nothing. 
Simply put, a social media strategy ensures that whatever you do will be beneficial for your startup. This includes reaching out to the right people and producing content that will resonate with them. 
What should be included in your social media strategy?
Overall business goals
Social media marketing goals
Actions plans
Success definition
Key performance indicators
Branding guideline
After you understand your brand and company, you'll have an easier time creating a solid social media strategy. 
2. Find out what platforms your audience uses
Your social media strategy won't necessarily work unless you're creating content that your audience will see. That's why you need to find out the platforms they're using and focus on those channels.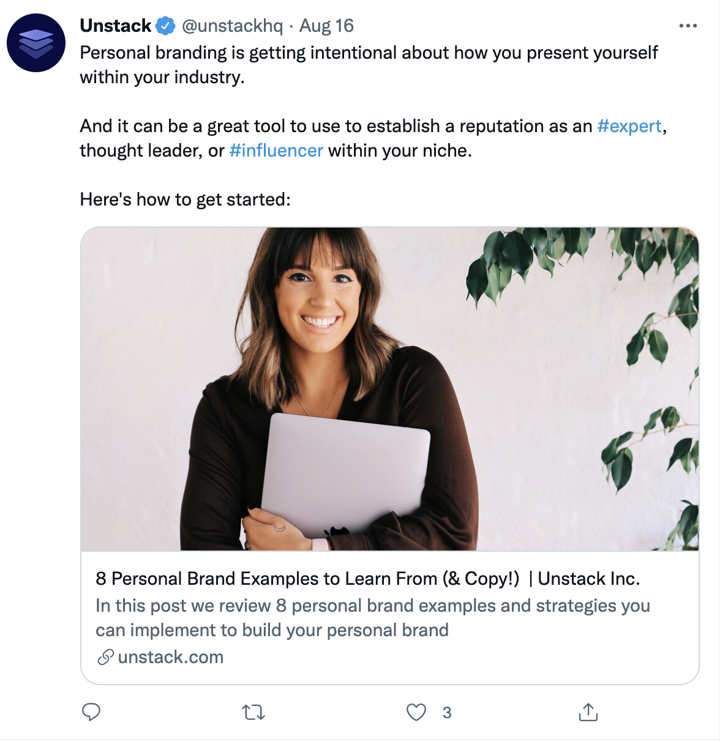 Here's some info you'll want to find out:
Where your target market is located
The online behaviors of your target market
How long they're spending their time online
What particular social media platform they're using
How often do they use these channels
Instead of signing up for every social media platform out there, search for the platforms that your customers use most and put your effort into growing those channels first.
3. Learn more about your audience
Now that you have identified the platforms you should be using, the next step is understanding how your target market uses it. 
The more you specify details on who you wanted to target, the easier it will be. 
You'll also notice that some sites tend to cater to a specific demographic. Facebook users, for instance, are primarily men, ranging from ages from 25-34 years old. Instagram, on the other hand, is in the same age group but has more women on the platform. 
Depending on who you want to target, try to know the platform where your target audience mostly spends their time. 
4. Use the same handle for every platform
Consistency here is always important. It would help if you used the same handle for every platform. That way, it will be easier for people to find you. 
If you are using different handles, chances are, you'll be confusing your target market. That's why you need to make your brand identity clear and robust. 
Your industry can be fiercely competitive. Hence, it is essential to stand out from the rest of the pack. And you can do this by creating an exceptional user experience, something that's simple and easy to understand. 
5. Assess your social media channels
This tip is for startups who are already using social media. Before you start a social media campaign or reshuffle, you need to get all your metrics from your social media channel to measure growth. 
Doing so also lets you know what works and what doesn't. That way, you would know what tactics to emulate, adapt, refine, and ditch altogether.
Don't be swayed by the number of followers. Instead, measure engagement and conversions. We are talking about like, comment, and share; content reach, sign-ups, and sales that your post can generate.
6. Create valuable content
Regardless of the social media platform you're using, you need to create content to share. 
One of the essential social media tips for startup marketers is to create a strong content marketing strategy. And a robust content marketing strategy is something that provides value to its audience. 
You should also establish your brand voice early on, which you can do via your content. Here are a couple of social media tips: 
On your profile, add your brand or business logo.
Stick with a brand color palette for your social media feed.
Go with a consistent style or tone of language that goes with your brand.
While incorporating your brand voice, you should also create informative and valuable content. You can use how-to videos or tutorials that allow you to establish your brand as a source of knowledge or information.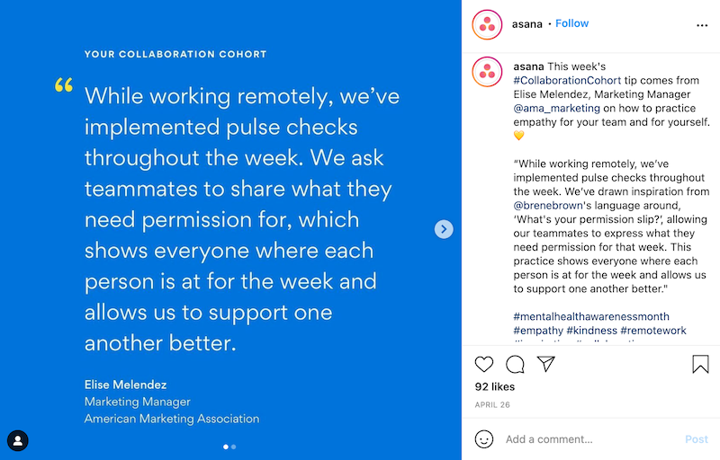 Asana shares tips from internal leaders in an Instagram series. 
You can also hold regular Q&A sessions about the subject matter discussed by experts in your team. This is a cost-effective way to create content that aids your target audience with the proper knowledge. 
7. Keep track of the latest trends
It's crucial that you track the latest trends in your industry and social media. It would help if you were well-aware of the latest news and facts and how you can incorporate these on your social media content. 
Keep your brand in mind, though.  It would help if you capitalized on the latest trends and topics in your industry to create content for your social media platforms. This also enhances your position as an expert. You don't need to try out every TikTok dance or tweet about any news story. 
8. Post content regularly
Regularity is one of the most vital aspects of a successful social media marketing strategy.
People, especially on social media, love consistency. This is because the world of social media constantly changes. One day you're an authority or industry leader of this particular niche, while the next day, someone might take over your position.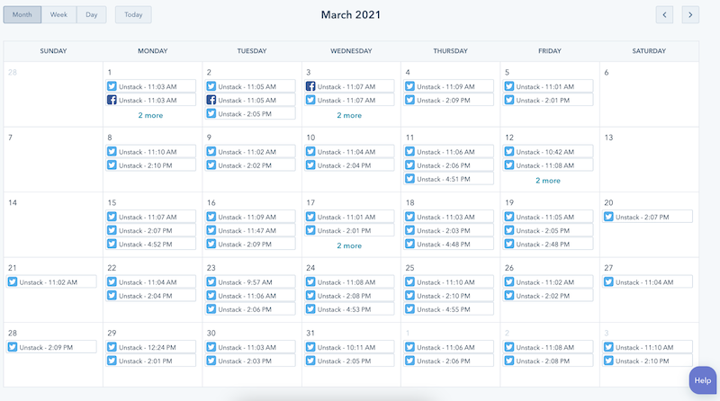 Some of Unstack's social media posts for March.
People on social media always love anything new and trending. So be consistent in establishing a solid social media presence by posting content regularly. 
9. Share high-quality images
Posting high-quality images on social media is also essential. In fact, it can increase click-through rates up to 45%.
A fantastic tool that you can use when creating images on social media to boost engagements is Pablo by Buffer. 
10. Use emojis and hashtags
Even on social media, brands should feel like they're talking to humans, not robots. 
Just because you are working behind does not mean you cannot show emotions. This is where emojis are for. They can help add emotional content to your posts. 
Similarly, hashtags also open up your posts to various people, groups or even set you up for further social promotion. 
However, try to avoid irresponsible hashtagging. It won't win you your followers' support anyways. 
11. Build a brand message
Building a brand message isn't just for large brands or companies. Even small startups can do it. 
Now that question is, how do you come up with an exceptional brand message? 
You need to know first what you wanted to say. Consider these questions:
Why does your brand exist?
How does your product or service impact customers?
How does it make you feel?
How will your startup add value to society? 
Choose a message, and then stick with it. You might also want to study the language of your consumer and start speaking to them in that language. 
12. Engage with your audience
Engaging with your audience is crucial for you to build a connection with them. You need to actively respond to all of their compliments, feedback, and complaints. 
To boost further engagement, you should also publish content that will prompt your audience to engage with you online.
To boost that engagement even further, you can create or join groups that allow you to engage with your target audience actively. 
Start building a community around your startup. This includes engaging with them and fostering deep relationships. Doing so will boost conversion rates and brand loyalty in the long run. 
13. A/B test your campaigns
Also called split testing, A/B testing means that you should be experimenting on two different approaches to complete a task. 
For instance, you can use the identical social media ad copy but associate it with different images. This will help you figure out what your audience is interested in, and what it isn't. That'll make your social media more effective.
Use these social media tips for your startup
A successful social media strategy is more than just creating an account on popular networks. It is not about the number of social media followers you have, either.
A robust social media marketing campaign is all about understanding your audience and providing value to them. That way, you can foster meaningful relationships and compel them to support your startup.
About the author
Kevin Urrutia is the founder of Voy Media Advertising Agency NYC, dedicated to helping businesses triumph over the ever-changing marketing landscape.