Did you know the human's attention span has decreased 4 seconds in the last 19 years reported by Microsoft? 
With the lower attention span, the days of someone scanning through your entire website are over. General websites are showing lower conversion rates and higher bounce rates because of the many options each website has. 
So what's the proven solution?
Dedicated landing pages for each advertisement or campaign that highlights exactly what you want to show the customer! 
Think about it as a customer. You see an advertisement for an outdoor kitchen by a remodeling company. If you clicked on the ad and it went to their general website you see the companies bio, history, testimonies, and all their other services. If you want to find more details about outdoor kitchens you would have to search and click for the dedicated page. That dedicated page usually has a little write up, maybe a form to sign up for more info, and then a thousand distractions to pull you, as a customer, away from moving forward with a sale. 
With a dedicated landing page, you remove all other distractions and focus on what you really want the customer to do. With fewer requirements or clicks, from the customer and a dedicated page that gives all the information on what the customer is specifically looking for you can increase conversions and keep customers focused on what they were initially interested in.
Here's how to do it
With any marketing program, your goal is to grab attention with an advertisement or a piece of content, bring that customer to a web page that further qualifies the customer and get their information to close that customer on a sale. Believe it or not, this is a very delicate process. If at any time your information isn't consistent or the customer becomes confused you will lose that customer. The worst thing that you can do as a business owner is to pay to bring a customer to a web page and that customer bounces off the page and doesn't give you their information. 
So how do you fix this issue? You need to design landing pages that are congruent with your advertisement and represent exactly what the customer is looking for. 
Let's use my agency as an example. If I was doing an advertisement targeting home improvement business owners I might lose the customer if he goes to my main website because my agency works with multiple different types of businesses.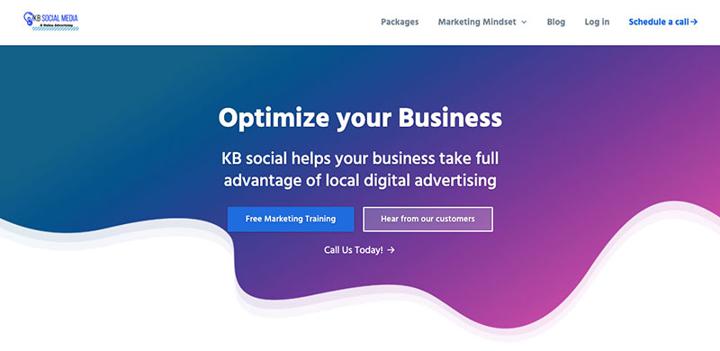 This is our homepage, but, for better results I would send them to a landing page that is 100% focused on helping Home Improvement business owners like such ?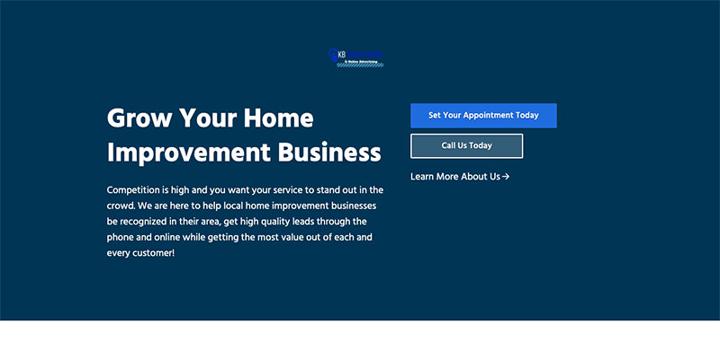 This will not only deliver to the customer exactly what they are looking for but make it very easy for them to contact me regarding growing their home improvement business. The fewer clicks, or searching, the customer has to do the higher chance you have in converting that customer! Make it simple and direct so the customer feels only natural to put in their information to move forward with the sale. 
You have your page. Now run an A/B test.
Not only does Unstack allow you to create unlimited landing pages they also give you the ability to A/B test all aspects of your site. What is A/B testing? A/B testing is testing certain changes to your webpage in an attempt to get a higher conversion rate. 
For example, say you make a landing page with a form on the top, then a video, then your pricing, and finally a list of testimonies and you get a 6% conversion rate on the site (meaning you get 6 people to sign up for every 100 people that go to this page.) Unstack allows you to test this page against a page that you change the order of the website to see if you can get a higher conversion rate. So website A has a form on the top, then a video, then your pricing, and finally a list of testimonies, but website B has a video on top, then your pricing, then a list of testimonies, and finally a form on the bottom. You can test these two website formats to see what format has a higher conversion rate! 
The testing doesn't end there. Once you get the order of your website correctly you can then A/B test headlines, call to actions, imagery and more! Good marketers are simply scientists behind a computer testing unlimited options to find the best results. If your current marketing company is not A/B testing they are not putting in the work to find success for your business online!
Why we choose and recommend Unstack
Unstack is not only an amazing place to host your website they also give you the ability to create unlimited branded landing pages within minutes! As an owner of a marketing agency the website I direct customers to is the most important aspect of the advertising campaign. With a dedicated landing page for each offer, we see a 5%-15% increase in conversion rates! 
Before Unstack, we would use third party companies such as lead pages, MailChimp, and many others. This was not only a pain to replicate the website's branding, but the development of each page would take 1-2 hours. With Unstack's templated landing pages we can now create amazing landing pages within minutes and through Unstack's template system. The best part, there is no additional cost and the landing pages are easily added to your main site!
From agency owners to local business owners Unstack is an incredible program that will allow you to host your website on an easily adjustable platform and give you the freedom to create unlimited landing pages with ease. Increase your conversion rates and connect more deeply with your customers with easily adjustable templated landing pages from Unstack.io.
Looking for help?
If you want help with setting up conversion rate optimized landing pages and ad campaigns feel free to reach out to us and we can lend a hand.
Kyle Barry is the Founder and CEO of KB Social Media, a Florida based digital agency focused on helping local businesses drive high quality leads that convert into sales, with an emphasis on home services, restaurants, and retail stores. You can learn more here.