We are pleased to announce that Unstack has raised $3.1 million in capital. This round was led by El Cap Holdings with participation from Andrew Bialecki, Ed Hallen, Dave Balter, Ralph Folz, TJ Mahony, Accomplice, MassVentures, Hustlefund, TBD Angels, and others. This investment strengthens Unstack for the future and allows us to continue delivering on our vision to empower teams to create incredible digital businesses.
When we started Unstack, we set out to make entrepreneurs and marketing teams feel like they had super powers building on the web. If we could level the playing field for non-technical users to build, measure, and scale businesses without reliance on developers, imagine how much more value could be created across the globe.
What we found was that entry tools just don't scale when it comes to content creation, customer data, and integrations. At the same time, more advanced solutions quickly require deep technical expertise or software development to enable. It looks something like the following chart, where usability has an inverse correlation to platform capability.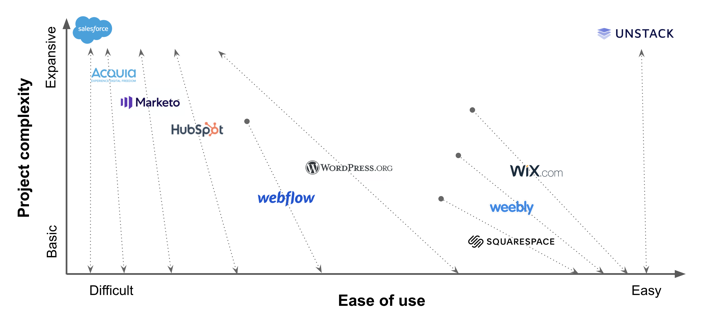 The solution: A different kind of CMS
Unstack's approach has been to focus on the key pillars of digital business and abstracting the code and complexity out of the process to enable non-technical users to build, measure, and scale their businesses. The result was a different kind of content management system focused on:
Robust content and digital experience creation
Customer data, marketing analytics, and A/B testing
Integrations and data synchronization
These "pillars" are core to every business today. You need speed and agility to build quickly. You need analytics and A/B testing to understand if what you're doing is working. You need to consolidate your customer data to deliver unique experiences to users.
This additional funding will ensure we can deliver the full suite of tools that today's teams need to build and confidently scale their owned marketing channels on one integrated platform.
What are customers saying?
Today, hundreds of SaaS businesses, product teams, and marketing agencies are already building confidently on Unstack, with more joining every day. We asked our community for some quotes for this announcement and selected a few to share:
"Unstack was a simple solution to what is normally a ridiculously complex problem. The simplicity of the templates and website builder, combined with all the built in SEO features made it a no-brainer for us. The fact is, nobody else has created a website builder optimized for search from the outset.  We are now also recommending Unstack to some our clients." - Lua Cooper, Founder, Greengage Digital
"Unstack was the difference-maker for my startup. It made it easy for me to build a beautiful, enterprise ready webpage for my SaaS business. It's incredibly easy, fast, and responsive." - Stefan, Co-Founder, RendezView.io 
"We've been able to build an end to end digital marketing and lead generation website with Unstack. Their payments and gated content features allow us to charge for subscriptions and provide exclusive content based on that subscription with a few clicks." - Paul Murskov, Founder, Staffer
"I'm a non-technical founder and since signing up for Unstack 6 months ago, I have built our marketing website, launched our membership prototype, created dozens of landing pages for partner offers, tested marketing messages, and integrated payments. I haven't even utilized all that Unstack has to offer yet!" - Allison Byers, Founder, Scroobious
What's coming next?
We have an aggressive 2021 roadmap that this round of funding will help to ensure we deliver on. Below are a few key features we will deliver, and you can check out our public product roadmap.
Open Components. Starting in February, companies will have access to a growing daily list of pre-built components and section designs that they can use to design and ship content faster. This will be available to developers and designers to publish to the community as well for free or monetization.
Automated analytics, attribution, and dashboards. Unstack will make it easy for your business to enable robust tracking and analytics that feed into configurable dashboards that your team can use or share with stakeholders to understand what's working from traffic source to lifetime value and everything in between.
Enhanced payments, subscriptions, and digital content options. We'll adding the tools that today's businesses need to quickly add and manage digital commerce for their businesses.
A few surprises we are not quite ready to share. Keep checking our public product roadmap to see updates as we add them and share more of what's coming in 2021.
Want to empower people to build their digital businesses? We are hiring!