We've mentioned before that Unstack was built with SEO in mind every step of the way in order to help you launch and grow your business. That's because having a website that supports SEO growth is non-negotiable.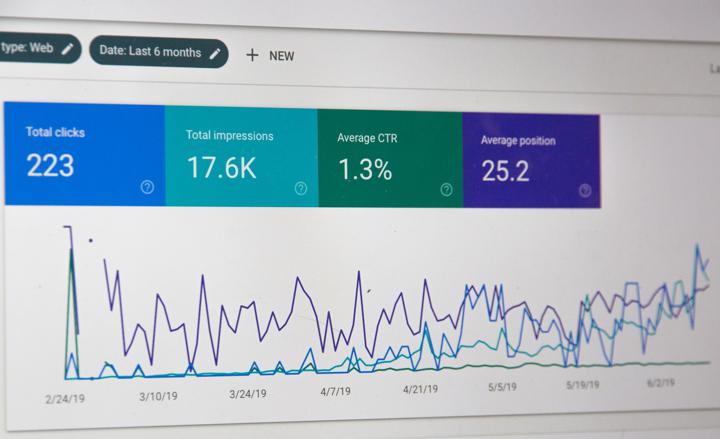 In order to keep providing our customers the best experience, we've been adding more support directly into our platform, too. With all the changes we've made, we wanted to share a list of all the ways Unstack supports SEO. 
Here we go.
Why do we focus on SEO at Unstack?
We focus on SEO here at Unstack because it's an essential tool for establishing and growing your business. Your customers expect to find you online, and SEO traffic is a huge way to expand your reach. A recent BrightEdge study even found that SEO drives 1000% more traffic than organic social media does. 
Of course, that much more traffic doesn't just appear. You need to make sure that you're creating the right content and monitoring your website effectively. If you're using Unstack, though, we can help with a solid foundation for your growth. We know that kind time is always a cost—especially for startup marketers and founders. That's why Unstack's platform integrates as many SEO best practices as possible directly into our platform.
How does Unstack support your website SEO?
There are lots of ways you can use Unstack's platform to grow your traffic and improve your rankings, but there's a lot going on behind the scenes to create a powerful, SEO-enabled foundation. Here are some key SEO features that Unstack offers.
Site map
Unstack generates a proper sitemap.xml for every website. Your sitemap collects all the links to pages and media on your website, and their relationships, for search engines to crawl. According to Google, sitemaps are especially important for large or complex websites. 
Any Unstack customer on a Full or Full+ plan can go into their settings page to gain access to their dynamic, XML sitemap file. This file can then be submitted to Google Search Console.
SSL certificates
Unstack provides SSL certificates for all websites on paid plans. SSL stands for secure sockets layer, and it secures your visitor's data during their visit to your website. SSL has become standard, and this can impact SEO. Websites that do not have proper, active SSL certificates can be penalized by search engines.
SSL certificates expire, and Unstack also handles this to ensure there is no interruption in the security of your site.
Google Search Console
Unstack features a Google Search Console integration, available to accounts on Full and Full+ plans. This integration pulls in and synthesizes your Google Search Console data so that you can stay on top of your SEO performance.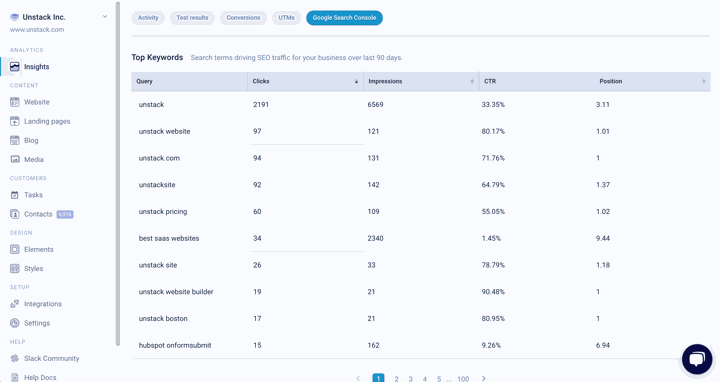 You can view top keywords and top content with metrics like clicks, impressions, and more, all right in easy-to-read tables directly in the Unstack platform.
Automatic HTML markup
Unstack is a no-code builder, which means you don't need to create any code to launch or manage your website—but that doesn't mean there isn't code happening behind the scenes. When you select headings on your website or landing page, Unstack automates HTML markup to signal <h1> or <h2> or <h3> tags for search engines and boost your SEO.
Alt text
When you include an image on your Unstack site, you'll be prompted to include alt text. This text that you include here will be automatically rendered as an HTML attribute that search engines will use to determine the relevancy of the image. This is key for your image SEO.
Clean URLs
Unstack automatically generates clean URLs for all pages on your site so that they can be easily indexed and read by search engines, and easily understood by real people.
Automatic redirects
Whenever you change the URL of a page on your website, Unstack automatically sets up a redirect.
Built-in image optimization
Image files that are too large commonly slow down website load speed, which can negatively impact SEO. Unstack has three optimization options:
Next-gen optimize: This will generate multiple formats of images, including next-gen media format WEBP, and it will also optimize and resize the file.
Optimize: This will convert the image to the most optimal format (e.g., from PNG to JPG or vice-versa), to minimize the size without impacting the quality of the image. It will also resize the image.
Resize only: This will keep the image in its original encoding but will resize it to fit the dimensions of the placement where it's being used on the page.
Unstack recommends next-gen optimize whenever possible, so this is the default option.
Accelerated mobile pages (AMP)
AMP gives users a lightning fast experience by creating mobile-friendly, lightweight versions of your webpages. Because the experience is better for users, Google prioritizes AMP-enabled websites in its ranking.
Unstack has AMP enabled automatically for all accounts.
Mobile optimization
Google prioritizes mobile-optimized content on the SERP. Because of this, Unstack prioritizes built-in mobile optimization across our platform to ensure that your website is appearing in mobile search results.
Smart links
Broken links are bad for SEO, and so are too many redirect chains. Unstack combats these issues with our smart linking feature. When you use a smart link, the link will remain valid even if you update domains, change the name of that link, or change the URL for that page you're linking to.
Meta data
Meta data helps search engines identify the content on a webpage, and these fields include the title, description, and keywords. 
Here's how Unstack supports SEO-friendly meta data:
Meta title: Limited to 65 characters per best practices. Unstack also allows you to set an on-page title, an internal platform title for easy identification of key pages, and the meta title.
Meta description: Limited to 165 characters per best practices, this field is required on every page in Unstack.
Meta keywords: Unstack includes this option on all pages so that you can signal the keywords you're targeting to search engines.
Structured data
For each page, Unstack provides a schema that aids search engines in indexing and correctly categorizing site content. Additionally, we use schemas for FAQ content to help your FAQs rank within searches.
How to make the most of Unstack's SEO capabilities 
All Unstack websites are equipped with these SEO best practices to set you up with a great foundation for success. In order to build on this, be sure to continue to create high-quality content and follow industry standards to keep improving your SEO—and keep growing your business. 
If you're looking for more ways to improve your SEO with Unstack, here are other great resources: