I've seen influencers on YouTube grow from 40 subscribers to north of 400,000 in the course of 18 months. I've seen Instagrammers go from zero to influencer hero out of what seemed like nowhere, and I've seen reality TV stars make the most of their moment by building up their social media presence and diversifying into sponsorships and new business opportunities. At my previous company Grapevine, we paid out millions of dollars to influencers to promote products for some of the most prestigious consumer brands on the planet. For certain, social media has changed the way we discover, research, and purchase products.
Leasing your digital footprint from YouTube and Instagram
Throughout those five and half years I was always so impressed by how the most engaging influencers were able to build and captivate an audience. They were content machines, often putting their lives on display for the rest of to see. But that content almost always lives on on a platform that they don't own. Instagram, YouTube, Snap, and other platforms control the rules of the game. They control the algorithms that surface content. They dictate how data is used and how you can even earn money.
"The algorithms dictate where talent ranks," says Lisa Filipelli, a partner with Select Management Group, a talent agency specializing in digital influencers whose clients include Tyler Oakley and Ingrid Nilsen. "You're told, 'If you take a break, you're going to take a hit.'"
What most people don't realize is that by only building on social media, you're choosing to rent space on someone else's platform instead of owning your own platform. When you're renting on someone else's platform you have to play by their ever-changing rules.
Investing in owned channels - in particular your website and email lists - allows you to build up a long term digital asset where you set and control the rules. The best part is that you can do this alongside your social media, allowing you to get the benefits of *both worlds* and even use social media to grow owned channels.
Why influencers should invest in websites and email lists
Reason #1: Evergreen content and SEO 
You've probably heard of this one. By posting your content on your website, you will start driving inbound traffic from people on search engines looking for what you're talking about. SEO and content promotion open up a completely new avenue to acquire new fans. This works especially well for how-to content, tutorials, and other themes and keywords that people are likely to be searching for. The more you publish, the more you benefit, and because it's compounding you should see this strategy pay you dividends.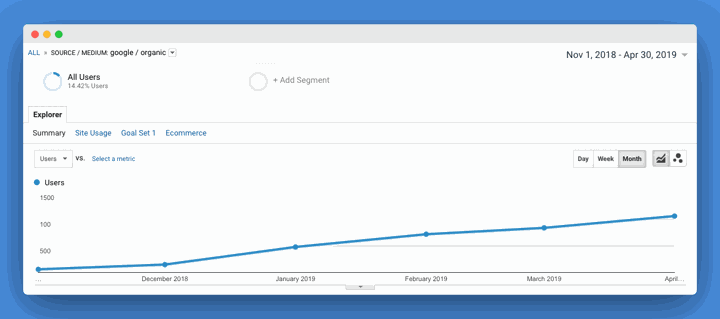 Lesson #2: Sell products to your audience
As your audience grows so do the options for how you monetize your business. Having a website allows you to showcase products alongside your content and create an experience where your audience can engage with you and buy products you launch. I've seen many fashion influencers do this. One that comes to mind is Madison Miller.
Lesson #3: Capture emails and email fans with new content, products, and events
Email is really important for tapping into your audience. Just like how YouTube will email your subscribers when you post live, email is a very low cost, high engagement way to broadcast new products, content, events, and collaborations with your audience.
When I was in the influencer world I typically saw about 10% of fans tune in to watch a new video on average. Typical email open rates are 20-30%, making it two to three times more engaging than your average social media post. Think about that for a second...
Lesson #4: Have a place for partners and advertisers to learn more about you
YouTube or Instagram Bio sections don't leave a lot of room to showcase yourself to potential partners and advertisers. Having your own website give you the dedicated space to highlight the work you're doing, explain what you're looking for in a partnership, and collect information for new opportunities. In addition to all of that, having a well done portfolio and business page signals that you're a professional. This will give you the edge when compared to another influencer who doesn't.
Lesson #5: A long term home base
Social media platforms change over time. What's hot today may not be hot tomorrow. This means that audiences migrate and change over time. And so will you. Having a website serves as a long term home base for you as your business grows year over year, ensuring that you are set up to be successful and capitalize on your work for years to come.
Influencer website are a must
Influencers should be investing as much time into building out their website and email list as they are into social media content. Not only can you do this alongside your existing social media efforts, you can accelerate your growth by promoting everything together.
Need a website? Unstack helps influencers launch websites with our cutting edge content publishing platform that is designed to drive traffic and help you sell products.