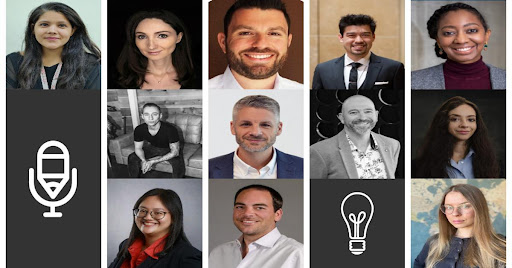 What is one thing to include on a coming soon landing page?  
To help you decide what to include on your coming soon landing page, we asked small business owners and marketing professionals this question for their best insights. From including facets of your company's branding to focusing on one CTA, there are several tips that may help you choose what to incorporate on your landing page.
Here are 12 things to include on your coming soon landing page:
Include Facets of Your Company's Branding

Offer Referral Promo Codes

Install a Countdown Timer 

Create a Lead Capture Form

Include PR Mentions 

Make a Teaser Video 

List Core Benefits

Present Data Interactively

Include Shareable Links

Keep it Simple

Provide Contact Information

Focus on One CTA
Include Facets of Your Company's Branding
When it comes to a "coming soon" landing page, you need to keep your company's branding front of mind. At its core, your brand is your purpose—your reason for existing. And that purpose has the potential to connect your visitors with a powerful customer experience that will authentically fuel your growth.
The most enduring brands are purpose-driven. To articulate your purpose so that you may begin sharing it right away, which is your "why," start by asking yourself: What are we building and how is it helping people? Your brand's "why" is eventually expressed in your mission and vision statements, which can be provided as a glimpse of what is to follow on your "coming soon" page before your successful launch.
Greg Gillman, MuteSix
Offer Referral Promo Codes
Adding a referral component to a landing page is one of the most effective marketing strategies to increase the campaign's reach. A combination of referral marketing and promotional codes maximize the viral potential of the campaign and broadens brand awareness. This strategy works similarly to word-to-mouth, as people trust referrals from their network, especially if the offer is mutually beneficial.
Rebeca Sena, GetSpace.digital
Install a Countdown Timer
Having a countdown timer on your landing page creates a sense of anticipation about your upcoming product launch that hooks visitors' curiosity. A clock ticking down is a visual cue that encourages potential customers to be the first in line, so they don't miss out. But the trick is setting the timer within seven days or less of the launch. A tight deadline duration keeps your upcoming offer relevant and will significantly impact your conversion rate. There are many countdown widgets available online. And they're easy to attach and customize. Nothing does a better job at encouraging customers to "Act Now" than a ticking timer.
Chris Gadek, AdQuick
Create a Lead Capture Form
A coming soon page should almost always include a lead capture form to start email/SMS nurturing way earlier than the actual landing page launch date to maximize traffic to the page for when it actually goes live. People tend to forget about you unless you're able to maintain a consistent mode of communication with them. On top of email or SMS marketing, you can do remarketing campaigns on Google or social media sites to remind people who have expressed interest in your business before to visit your page nearer to or on your launch date and beyond.
Trendy Tan, QuickHR
Include PR Mentions 
The best way to increase engagement and buzz is to let people know where you have been featured. If you are conducting a strategic public relations campaign for a launch, you probably already have people talking about your company on social media.
Perhaps a journalist has even written about the suspense of what you are building in the news. Do not skip out on including this in your coming soon landing page! If you have been featured in the media, let people know. This will help to increase email sign ups, and can also lead to more press and publicity. Many entrepreneurs make the mistake of not including PR mentions on a landing page. Avoid this mistake by increasing trust with third-party media mentions.
Kristen Ruby, Ruby Media Group
Make a Teaser Video
It's essential to keep in mind that the purpose of the coming soon landing page is not to sell the product or service but rather to pique interest and get people talking about it. The goal is to generate as many subscribers as possible so that when you launch, there will be an audience waiting. So, what to include on a coming soon landing page? A teaser video is one thing to include on a coming soon landing page. The teaser video might be 30 seconds long, and it should show the product being used in a real-world situation. It will get people excited about the product, making them want to buy it when it becomes available.
Muskan Rai, Web Hosting Advices
List Core Benefits
A coming soon landing page should stir up buzz about your product or service that sticks with consumers in the lead-up to launch. You want to convince them to offer their emails so that you can build your list, and one of the most important ways to do so is to succinctly and compellingly list the core benefits of what you're offering. You don't want to overwhelm your audience with every little detail, but offering clarity about your unique value proposition can stir audiences to feel they not only want but need your product/service. Make sure it's clearly visible and stated in a way that feels like human speech rather than industry jargon.
Roy Morejon, Enventys Partners
Present Data Interactively
Everyone has heard that data is the new oil, so collecting it and presenting it to customers is essential. Therefore many lead magnet campaigns are based on ebooks or reports full of data. But having valuable resources is only a first step to achieving success; their visualization is crucial for website visitors, who are landed there from sales funnels. My advice is to focus on data visualization and allow customers to personalize their experience on the landing page. Therefore, I recommend any interactive charts, graphs, and figures. Thanks to them, visitors spend much more time on the landing page, and it will be profitable not only for sales but also for SEO.
Gosia Szaniawska-Schiavo, Tidio
Include Shareable Links
The most important feature of a "coming soon" page is being shareable. Add social media buttons allowing users to share to all social media sites; Facebook, Twitter, LinkedIn, Pinterest, Tumblr, Reddit, etc. Any launch is only as successful as its marketing, and social media marketing can significantly impact your product/service/event's exposure. Adding share buttons is a virtually free marketing technique, as people share your content within interested communities without any additional charge on your end. Be sure to add visible social media buttons beneath your call to action ad, so people can easily share your content.
Bryan Philips, In Motion Marketing
Keep it Simple
Keep it as simple as possible. Although you want to have a compelling and intriguing message, like any landing page you also want the visitor to convert in some way, so a single, prominent call to action is crucial. Typically, coming soon pages are prime real estate for email signups, so make it a very clean process for user registration with a single CTA. Demand little in the way of information – do you really need a telephone number or is it just an email magnet you're creating? Unless you're an extremely well-known brand with a much-anticipated product then you aren't likely to be offering new users much in return for their information. The less they have to fill in, the more likely your lead magnet will work.
Scott Hitchins, Interact Software
Provide Contact Information
A coming soon page is used to build excitement and interest for a website or product that is not yet available to the public. The use of a coming soon page is common for new products that are in beta testing or are being developed for release in the future. This type of landing page is often used for crowd-funding campaigns, or simply as a teaser for a new product that has not yet been released. When creating a coming soon page, the most important thing is to include some type of contact information. This is because people who visit a coming soon landing page are interested in the product or website and may contact you with questions or to learn more about the project.
Also, you should always include a countdown timer on your coming soon landing page to create a sense of urgency and prompt visitors to return sooner. Finally, be sure to showcase your product or service in a visually appealing way to entice visitors.
Neille Bonner, NEC
Focus on One CTA
Focus on one captivating Call to Action (CTA). You want to direct the person's excitement into an email list and you should make it easy for them to do so. Make sure you don't overwhelm them with a bunch of different actions, keep it simple and intuitive. A button and a tagline make the perfect duo. Use your copywriting skills to the fullest, instill some FOMO, and let everyone know they deserve to be the first ones to get notified about the launch. Taking it a step further and adding another incentive in the form of early bird pricing, exclusive discounts, premium content, behind-the-scenes access, etc. will also help increase your conversion rate.
Nicole Ostrowska-Cobas, LiveCareer
Terkel creates community-driven content featuring expert insights. Sign up at terkel.io to answer questions and get published.