We see it all the time: when we're ordering food online, looking up the hours for a local coffee shop, or trying to get more information about a coaching service. Some businesses still don't have their own websites.
Now, you might be thinking that social media pages can contain some business information. Does your business really need a website? Yes. The value of owning your web presence can't be understated. 
That's why today, we're sharing five key reasons why your business needs a website:
You own your web presence
You can grow your web presence—and your customer base 
Your customer can find you quickly 
You can run your business 24/7
You can easily set up a cost-effective site
Let's go through each of these.
1. You own the website
With social media sites like Facebook and Instagram giving you the tools to sell your products or services and make money, you might think you can skip creating a website of your own. 
But, remember, you don't own these platforms. 
Think of it like renting an apartment. You have a place to stay and call home, but you can lose it if the building is condemned or if other tenants complain about your or if the landlord increases your rent too much.
That's the same thing that happens on these social media sites. When you set up a business page or account, you're required to abide by their rules and regulations. If not, they can suspend or delete your account. When that happens, you lose all your content and prospective clients.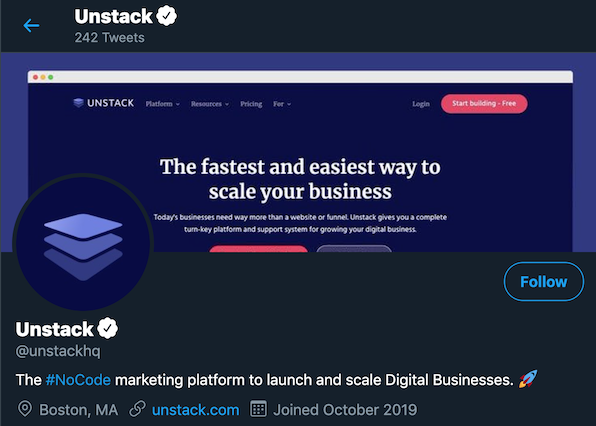 We don't really own this webpage. Twitter does.
Also, if something goes wrong with the platform's system or the social media site suddenly goes down, it affects your business big time. You can't sell without people checking out your social media presence, and that can cost your business in lost revenue and lost customers if it makes your brand seem flaky.
Now, imagine what it's like living in your own home. It's more expensive than renting, and it's more work than renting. But you're in charge. 
The same is true with creating a website. You can run your website exactly how you'd like. You can publish content without worrying that it would be taken down. You can choose how it looks and how it functions. You can own your web presence, as well as the online experience of your customers and prospects.
2. Your customers can find you more quickly
81% of consumers will search on Google to find a product or service they want to buy. 92% of them will visit those listed only on the first page of Google.
So, if you want your target audience to come and visit your website, it's got to show up on Google's first page. The way to do this is with search engine optimization, or SEO. 
Having your own website is better for SEO than having social pages, which are limited with the optimization techniques to convert customers when you are on social media. For example, in the past, social media sites cracked down on automated DMs but then they turned around and offered the option as a fee-based service:
LinkedIn InMail
Facebook Messenger
Twitter Cards
3. You can grow your web presence—and your customer base
Your business showing up on page one of Google when someone searches your company name is key. But with your own website, you can make sure your company is coming up in search results for related terms—for free.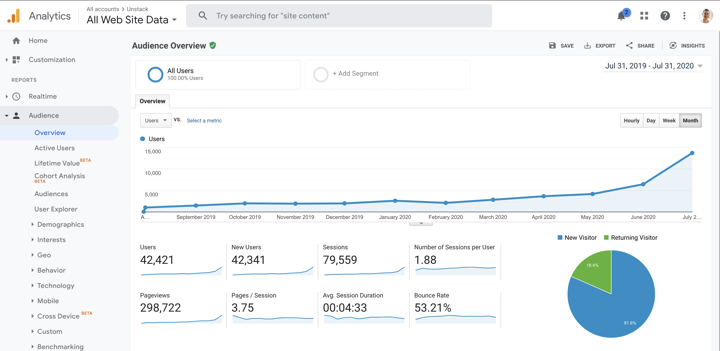 Check out Unstack's B2B SEO strategy here!
The best way to grow your web presence is with a good content strategy. You'll want to find keyword opportunities relating to your brand and produce content for your audience. For example, if your company offers software for time management, you might write blog posts about time management techniques, productivity tips, and  productivity tools. If you optimize these and rank on Google, you can not only establish authority on the subject but also expand your audience. And expanding your audience means reaching more potential customers.
4. You can run your business 24/7
With a traditional brick-and-mortar store, you're limited to serving customers within your town or city. With a good website, you're not constrained to a physical location to serve your customers.
Your company will be accessible 24/7, letting your reach transcend geographical borders. That means you can be running a business in the US but serving customers and clients in other parts of the world, regardless of their time zone.
Not converting all these customers? Check out the biggest copywriting mistakes you need to avoid!
5. You have easy, cost-effective website options
You don't have to hire a web developer to set up a business website. Although you still have to pay for things like your domain name and web hosting, what you'll spend is considerably less.
And, if you create your own website, you don't even have to wait for weeks or months to get your website running. With the right CMS, you can set up a fully-functional and professional-looking business website in a few hours. That means you can start attracting online visitors and still have plenty of time to focus on growing your business.
The majority of CMS platforms use a "what you see is what you get," or WYSIWYG, editor. This interface lets you create a website from scratch using ready-made templates, themes, and plugins.
You can see your website taking shape right before your eyes without typing a single piece of code.
Bottom line: Your business needs a website to grow
There are so many reasons your business needs a website, but there are as many benefits to having one. With a great website, you can establish your online presence, serve your current customers, and expand your reach—all so you can grow your business.  
Ready to start creating? Sign up for Unstack for free!