The world of ecommerce is continuously adjusting to the various effects of the pandemic. Consequently, the ever-growing numbers of online shoppers are learning to navigate the immense amount of advertising being thrown at them as soon as they step online.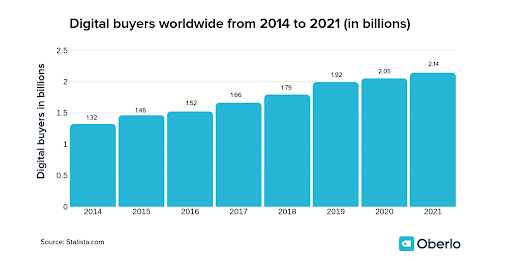 Image source: Sleeknote
Now, there are over 15 million online stores (probably even over 20 million). Given this fact, can we even wonder that customers' attention spans are getting ever shorter? Is it even a surprise that they will happily switch to another shop if they have anything less than a stellar experience with yours?
In order to meet the needs and demands of modern-day online shoppers and outmarket your immediate competition, you need to be more strategic than ever before. Let's look at marketing avenues you can explore to grow your business beyond 2021. 
Embrace Multichannel Selling
Multichannel selling means embracing as many online marketplaces, big and small, as you possibly can. It can mean having your own online shop on your brand domain or selling on platforms such as Amazon, eBay, Etsy, Wish, Instagram, or Facebook.
The more channels you're able to sell on, the more customers you will be able to reach. After all, 66% of shoppers use more than one channel to make their online purchases. The chances of them coming across your one channel may be a bit slim.
Multichannel selling also enables you to adapt to the different needs of your customers. For example, maybe the shipping rates are cheaper with one option, or they can bundle your products together with products from another brand. 
Selling on social media is especially important, as more and more customers prefer to make a purchase directly from their feed instead of having to switch to a browser themselves. Offering this level of user experience caters directly to a shopper's convenience, and they won't forget it. 
For example, iLoveParcels sell their post boxes on their website but they also have an Amazon store. This makes them more accessible and increases their chances of making a sale, especially given the fact that they don't rank at the very top of search for their target keywords.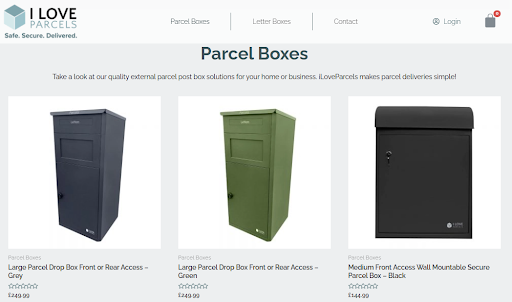 Image source: iLoveParcels
Automate What You Can 
Marketing automation is hardly a new practice. However, most ecommerce brands still fail to embrace its full potential and try to automate tasks that should still be executed manually.
The benefits of automation are clear. You can save time and effort, cater to a wider audience, improve your ROI, and convert higher-quality leads. 
Here are just three examples of processes that can (and should) be automated:
Email marketing 
Email marketing automation is essentially setting up rules that will trigger an email whenever a lead performs a certain action. They may sign up for your newsletter, abandon their cart, turn one year older, or leave you a review, for instance. 
Mailchimp is possibly the most popular tool for this task. As it also has a free option, you can try it and see how well it works for you. 
Paid advertising
Running an ad campaign manually can take up a lot of your time, as you constantly need to keep track of different metrics and ensure your bidding is competitive. A tool like AdRoll can help you automate this part of the job. The reports it generates will teach you what your audience is really like and what they are looking for. 
Amazon repricing
If you've embraced the multichannel selling tip above, you will also need a repricer for Amazon in order to stay relevant. As other sellers lower or raise their prices often (and most often automate this process, too), you won't be able to keep up. You'll be missing out on sales as your prices are too high (or too low). A tool like Aura can keep track of these price fluctuations for you, so you can focus on other things (like your product descriptions).
As for the processes that shouldn't be automated, they include: 
copywriting

and anything to do with creating content 

complex sales interactions

customer service chats beyond a certain point

lead nurturing
Base Your Decisions on Data 
In order to ensure what you are doing makes sense, you need to rely on actual figures when making decisions, instead of general practices and ideas or something you've just read online (this article included). And to do that, you will need to track certain metrics regularly. 
Some of the most important ecommerce-related metrics to keep an eye on include:
Impressions in search and on social media

Social media reach

Post engagement 

Email click-through-rates

Organic traffic per page

Specific product abandonment

Average order value

Customer retention rate

Refund and return rates

Subscription rate
The list doesn't end there, but it's a good place to start. 
You will need several tools to track all of this data. Social media platforms already have their own integrated tools, and Google Analytics and Search Console will be of huge help as well. 
Your best bet is to use a marketing dashboard to import all of your data from different sources. That way, you'll have all relevant data at your disposal, and you will be able to cross-reference and compare. For instance, you might see an influx of traffic and then pinpoint that an influencer has mentioned you on the same day. 
Even if you are not a huge fan of numbers and charts, the visual representation of data will make much more sense than merely looking at a sheet you can't make heads or tails of. Remember: data-driven marketing produces better results than winging it. The sooner you are able to use concrete data to make decisions from when to post on social media to which products to discontinue, the better. 
Make Good Use of Third-Party Review Sites 
Customer reviews are inherently more trustworthy than whatever you, as a brand, have to say about your products. After all, you have an agenda. The people leaving their reviews on third-party websites that are not in any way associated with you do not. 
By featuring these unbiased reviews on your website, you'll add an extra layer of credibility and trustworthiness. Plus, you'll showcase different aspects of your products in more meaningful ways. 
Ask your customers to leave a review via email or on your social media channels after they've made a purchase. You can also provide an incentive, like a discount on their next purchase. 
Two of the best review sources to incorporate are Google and Trustpilot. 
Google reviews are easily accessible, and most people love leaving their two cents there. As long as you are not the victim of a smear campaign, feature them on your product pages. Richer Sounds have over 28 thousand reviews on their website, and they are certainly doing a lot to improve their conversion rates. 
Trustpilot is another amazing review source to include on-site, as it is among the most trusted in the space. In 2020 alone, they have removed 2.2 million fake reviews. It's this diligence that sets them apart from other, similar companies. 
As for how to incorporate these reviews on your site: take a leaf out of Mixam's book. They have a Trustpilot widget on their homepage that shows you their latest reviews and speaks volumes about their service. You don't have to go as big, but the more prominent your 4+ star reviews are, the better.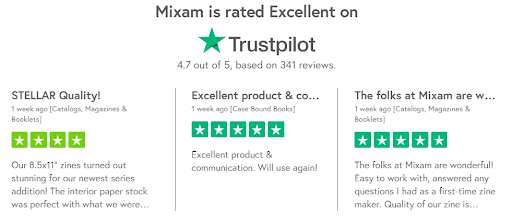 Image source: Mixam
Use Video on Your Landing Pages 
Video is often hailed as the best content format on the web, yet this is only semi-true. It's the format people enjoy most often, but it's not the best way to market your product. At least, not on its own.
Using video on your landing pages enables you to show a different side to your brand. You can tell more meaningful stories, show your production lines or your customer support team, speak to your audience directly, and add some faces to the company.
You can also feature video testimonials from your customers, like Bay Alarm Medical does. They have taken the time to sit down with some of their users and discuss their experiences with the product. Not all visitors will watch these stories, but they speak volumes about the brand and are a great conversion booster.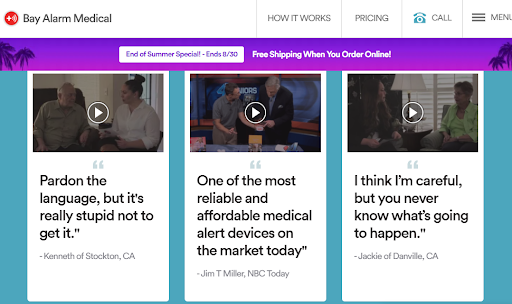 Image source: Bay Alarm Medical
The thing to watch out for when it comes to video is that you can't let it slow your website down. It has to load fast, and it has to be playable instantly. 
Also, make sure the video is not your only selling point, as there will be visitors who don't want to watch it. Always augment it with plenty of conversion-oriented copy and let the video merely be the icing on the cake. 
Offer In-Person Support 
The one major downside of online shopping is that it feels sterile. There's no salesperson that can provide advice and no one to answer any of your questions. You are left on your own. True, there are the experiences of others you can rely on – but sometimes, all you want to do is speak to a brand representative and get the lowdown on a product. 
If you can offer that in-person feel to your ecommerce store, you can increase both customer lifetime value and average order values, as customers fall in love with the experience and prefer it to what your competition has to offer. 
The key is in the delivery method. For instance, you can have digital personal shoppers available who can chat to your customers on Zoom and answer any questions. If you also have a brick-and-mortar store, you can even pair sales assistants with shoppers who wear the same size and are similarly built so that they can try on clothing items for them. Or, they can show items via video to your customers so they get a better feel for the size and make. 
Inkable Label, for instance, offers their customers free quotes and a free chat, which can go an extremely long way. Let's not forget that a sales assistant can do a whole lot to close a deal. Now, that's something a chatbot or a completely soulless shopping experience can never do.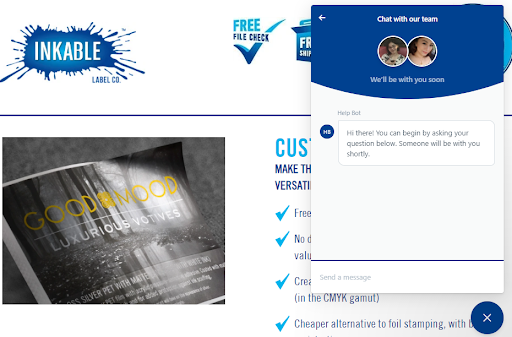 Image source: Inkable Label
Market to Your Existing Customer Base 
It's easy to get caught up in the endless race to acquire new customers and forget that you already have a customer base to market to. Once you've converted someone, enticing them to make a second purchase will be much easier (not to mention more affordable) than converting a brand new lead.
Some of the tactics to consider include:
Follow up after the items have been delivered and thank them for their purchase.

You can use this opportunity to recommend similar products or products from other categories they would be interested in. 

Start a loyalty program with special bonuses for frequent or long-term shoppers.

 

Celebrate special days.

Birthdays are a good place to start, but you can also reward every tenth purchase, spending a certain amount of money, and the like. 

Ask for their input on product development or customer experience improvement. 
The more data you can gather about your customers, the more you will be able to personalize your offers. That way, you'll cross-sell and up-sell products that actually make the most sense. 
Final Thoughts 
Remember the first rule of digital marketing: only utilize strategies that make sense for your own target audience. Just because it's working for someone else doesn't mean it will work for you. 
Perhaps some of the strategies we've listed here wouldn't appeal to your customer base at all. Before you jump headlong into any of them, make sure you understand what results you expect to see. Consider how these desired results align with your overarching goals. If it's a good fit – good luck!