Shopify free plan
We added a free plan in Shopify so merchants can create their first shoppable landing page on the house. Connect your Shopify store and start create a landing page for your email marketing, influencer, ad campaigns, and more!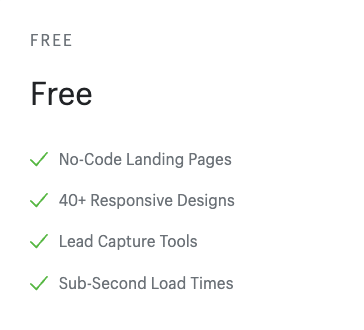 Banner components
Running a sale? Offering free shipping with a $50+ purchase? Let customers know! It's now super easy to add a banner component to any page.

Dark and light text toggle on boxes
Boxes now support their own light and dark background settings for text. Previously you could only set this setting on the section. Now you can do it on individual boxes.
Both sections and individual boxes have this setting. If it's not set on a specific box, the box will inherit the setting from the section.
Setting the width of a form
If you only have a little bit of copy on a page you don't want a massive form next to it. The solution - we've now made it possible to set a custom width for a form.
All forms will use the style guide setting by default, but here's how you set up a custom width:
In the admin portal, under Forms, open the form you want to change
Click on the Settings tab
Under Max Width, select Custom...
Enter a number and save!