The inexplicable way custom photographs complement the headline; how harmoniously words flow through the blocks and down to the footer; the magical charm of a button reminding you to seize the opportunity now. This is like music to our ears.
However, there is more to a landing page than its enchanting design. You need a landing page that keeps your business at the top of search results and eliminates distractions. One that you can proudly use in your thoroughly planned ad campaigns.
You want a landing page that converts on all devices.
The average conversion rate of a landing page is 2.35%. But some industry players take their numbers much higher, bringing around 11.45%. So what do you need to do to be among the top achievers?
It's no secret there are a couple of landing page best practices one must follow to create a successful page. In this article, we will highlight the steps of how to build high-converting landing pages for your online business.
Define your goal
When you have a goal behind your landing page, your customers can sense that. Are you trying to get your prospects to sign up or create excitement about the newly added product? If it's the former, then you need to develop a page with a form to help you grow your list. If it's the latter—your goal is to promote your business and sell your product. Let's look at some other landing page conversion goals and how they translate to overarching business goals.
Lead generation -Most B2B lead generation landing pages have a primary goal of attracting prospects by offering gated pieces of content, whether that's a whitepaper, a guide, or a checklist, in exchange for their contact information. Those leads are entered in a lead nurturing program with the final (and ultimate) goal of converting them to paying customers.
E-commerce - Suppose you're selling a product. In that case, the post-click landing page layout should consist of a checkout button above the fold, with carefully positioned product images and detailed descriptions to inform the prospect. If the next page is a transactional post-click landing page, offer as much explanation as possible to address any objections or doubts. This can be an offer like free shipping or customer testimonials. 
Sales inquiry - If a prospect downloaded an asset, it doesn't mean they are ready to be sold to. Sadly, many B2B companies don't understand that part. Some of the most popular sales CTAs include:
Getting a quote;
Asking for a call back;
Request for more information;
Requesting a product sample;
Setting up an appointment.
Branding and viral marketing - A viral landing page is created as part of the word of mouth marketing through social networks. Aside from getting visitors to sign up or follow the call to action, this page also invites you to share this experience with your network bypassing the link along.
Know your audience
Make your landing page relevant and highly converting by delivering content that's tailored to the different potential customers you are targeting. Put your customer first. A generic landing page copy used across various audiences is not going to resonate with them. Provide your different customer groups with the appropriate experience that answers their questions.
Think about a landing page as a tool that helps you direct the buyer to the solution that solves a specific problem. So, naturally, if you want to increase landing page conversions, you need to know the exact pain points of your customers and how to address them.
According to the Harvard Business Review, one of the caveats of delivering customer-centric content is the lack of data. Luckily, the technological advancements now allow businesses to better profile and segment their user base. If you still don't have a CRM platform in place, now may be the time to make that change.
Consider the following aspects:
Your current customer base. For instance, you could look at the social media data on LinkedIn to see the industries your followers come from and use this info to deduce their product needs.

Competitor research. Who are your market rivals targeting? Analyzing the relationship between your competitors and their customers could give you insights into your target customer's pain points.
Psychographics analysis. Demographic data is important, but don't overlook the psychographics—this information explains the psychology behind target customer's purchase patterns.
Once defined, align the remaining design elements of your page—the imagery, language, and overall messaging—to that specific set of prospects.
Write compelling copy
Just like any piece of marketing collateral, landing pages are more effective when they feature copy that's succinct, on-brand, and resonates with your audience. Writing genuinely great content is a craft.
However, implementing some basic psychology techniques can make your landing page copy really impactful. The AIDA formula, for example, teaches to structure your message and urge your readers to take action.
It all starts with a catchy headline. Then, you pique their interest by emphasizing the pain points. After that, you explain how your product can make their lives easier and deliver the promise. Finally, you close out with a quick and actionable CTA.
Headline. From the moment your customers lay their eyes on it, the headline is the ultimate attention-grabber. Include your product in the headline to help ease your visitors' anxiety.


Body. To help your prospects cut through the noise, keep your landing page copy to a minimum. Yet, even those few words can make a big difference in the decision-making process. Does your landing page clearly explain the offer? Does it convince people to take action?
Call-to-action (CTA). Once your prospects feel convinced to take action, there must be a way for them to do so. Consider what buying stage your prospects are in, and then tailor your CTA buttons accordingly.
Footer. Include the most important quick links on your website, along with your contact information.
Provide a detailed product or service description
As obvious as it may seem, a clear and well-written explanation of what you are selling and why shoppers need to care is one of the critical elements of any product or services page. That copy must align with your overarching brand messaging and be relevant to your audience to convert prospects into paying customers.
For example, Pilgrim's product pages reflect what it's like to see their diffusers during the day or at night.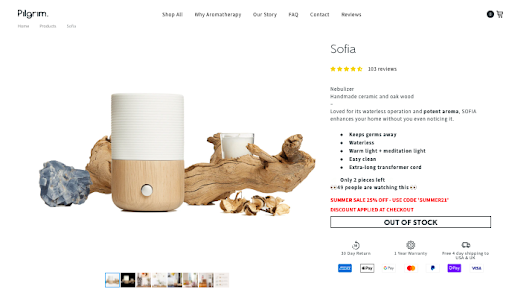 Image credit: Pilgrimcollection.com
Aside from the flashy design of its product page, Pilgrim includes a few key elements worth mirroring—short yet descriptive product information.
If you scroll down, you'll find a deeper dive into their product's features and benefits, along with some user-generated content.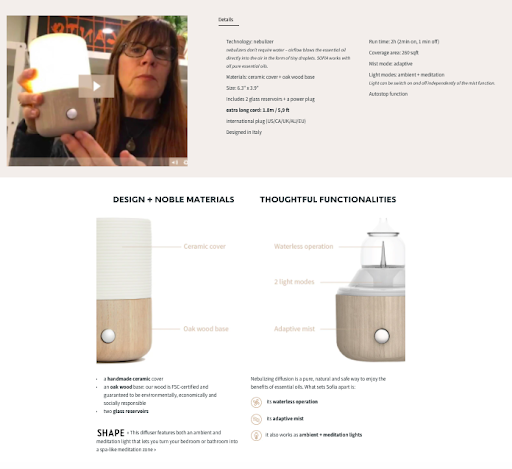 Image credit: Pilgrimcollection.com
As you are working on improving the content on your page, be direct with your shoppers. Research has proved that 79% of people never fully read a webpage. They glance over it instead. That's why the first sentence (or two) that your customers see on your landing page should be free of fluff.
Add more context with visuals
A picture is worth a thousand words. That's why it's critical to take advantage of showcasing your product or services right at the top of the page.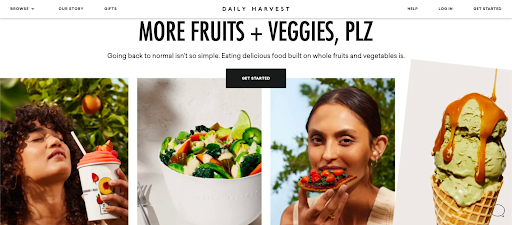 Image credit: Daily Harvest
It might be challenging to interact with your products or services exclusively online, which means your prospects will be looking for high-quality pictures to help them make a decision. In fact, 93% of consumers state that images are integral to helping them decide whether to part with their money or keep searching elsewhere. For that reason, make sure your photography communicates every aspect of your products.
Add high quality images to keep your online visitors attention. And should you need more inspiration or the actual images, look into resources like Unsplash or Pexels.
Also, don't forget to optimize your pictures—it makes a difference for better page load and SEO performance.
Use videos to increase conversion rates
Videos allow you to convey messages that images, text, or animation never will. Moreover, videos do that in a format that's universally compelling. In fact, 51% of marketing professionals worldwide claim that video is the type of content with the best ROI.
Some businesses feature a video alongside relevant copy and images to win visitor's attention. Others use video as a centerpiece of their landing page. But, needless to say, the copy of your landing page needs to correspond to the video that's included in it. Here are some of the ways to make your landing page video drive more conversions:
Test autoplay vs. press play. Some people, for obvious reasons, find autoplay quite intrusive. If you decide against it, disable autoplay and make your play button more conspicuous. It will prevent your audience from getting overwhelmed and will allow you to measure the engagement rate better. Besides, you can include a CTA halfway through the video to understand if your viewers truly pay attention and want to take action.
The length of your video is essential. Test if a short video performs better than its longer counterpart. Some products may need a detailed overview, while others might be better candidates for a 30-second "commercial" style.
Closed captions. A recent survey shows that 92% of U.S. consumers view videos with the sound off. The solution? Use captions to help your viewers make sense of what's being said.
Feature social proof to build trust
In his book called Influence: The Psychology of Persuasion, Robert Cialdini explores the depths of social proof and explains: "We view a behavior as more correct in a given situation to the degree that we see others performing it." Oftentimes, when we are unsure how to act or what to do, we assume that other people have more expertise in the matter.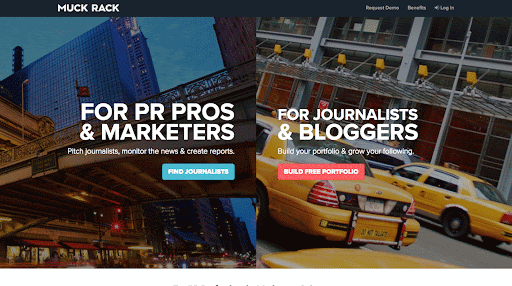 Image credit: Muck Rack
Can you relate? Have you ever read a business or a product review before making your final decision? If so, you know for a fact that customer reviews and testimonials have a direct impact during that buying stage.
Leverage the positive feedback you've received from your clients and feature those words of endorsement on your landing pages. Not only will their comments improve your brand credibility, but they might be that missing puzzle piece for someone who used to be unsure about your offerings.
Include discounts
The truth is in numbers. In Yodle Insights' survey, 57% of consumers confirmed that special deals for returning customers allow businesses to stand out from the crowd while creating a sense of urgency.
Offering promo codes and coupons on a landing page will never disappoint you, as these tools are the most effective in driving sales. When building your next landing page, give your customers another reason to do business with you and include an extra incentive. With the help of audience segmentation, you can avoid disrupting your overall marketing strategy and only display that special offer to a specific group.
Test, optimize, repeat
Building highly converting landing pages isn't an exact science. As you look at your reports, you'll find that some techniques may be performing better than others. With industry best practices at your disposal, you can significantly improve your page's chances for success: clean and on-brand design, clear value proposition, compelling story, convincing social proof. Running regular A/B tests to find the best performing CTA, image, or color combination is part of the process. However, the only way you can be sure that your business has developed its best landing page is by continuing to test and optimize.
We'd be remiss if we didn't mention following one of the most important SEO writing rules—include main keywords in your headings and subheadings. This way, you'll make your landing page more discoverable.
There are a few other factors you need to take into account to make a landing page that brings more paying customers:
Web hosting. Choose a reliable web hosting service; otherwise, you'll have to deal with frequent server downtimes and slow page loads.
A custom URL. If you publish a landing page to your website's domain, it will get a slight boost in rankings when people search for the keywords your page includes.
Backlinks. Theoretically, a backlink to your landing page tells Google someone appreciates it. But be mindful of the links your page gets—always check the quality of the source.
Also, ask yourself a question—is your landing page designed for a website or a web app? There is a different user intent between the two. Web apps heavily interact with a user, while a website's landing page mainly serves an informational purpose.
In Conclusion
Landing pages are amazing conversation starters and wonderful conversion drivers. Whether you set out on a journey to grow your customer list or simply sell more, remember to always have a plan for everyone who clicks your CTA. Current technology, including segmentation and marketing automation tools, will help you build a long-lasting relationship with new subscribers and returning customers alike. So take advantage of technology, industry best practices, and the feedback you've received from your clients to focus on providing a personalized experience for every persona you've identified.