Your ability to generate sales from your eCommerce site is directly tied to traffic. If you don't have any visitors coming to your pages, you won't make any sales.
But finding ways to reach your audience and bring them to your store is hard. Things aren't any easier when you're up against more established brands.
To help you out, we put together a comprehensive list of strategies you can use to drive more traffic to your eCommerce store. 
We've broken these down into the following categories, so feel free to jump ahead by clicking the links below:
Search engine optimization (SEO)

Paid search (PPC)

Content marketing

Social media

Affiliate marketing
Search engine optimization (SEO)
Many consumers begin the customer journey on search engines. In fact, 49% of shoppers say they've used Google to discover or find new products. 

But just creating a site isn't enough for your audience to find your products. So how do you rank your eCommerce store in Google?
The answer is with an SEO strategy — the process of optimizing your site to increase its visibility in the search results.
Here's how to get started. 
Optimize on-page factors
On-page SEO means optimizing individual elements of a site to improve its relevance. Include your target keywords in:
Title tags

Headings

Meta descriptions

Image ALT text

URLs
Here's an example of an optimized page from Inkable Label: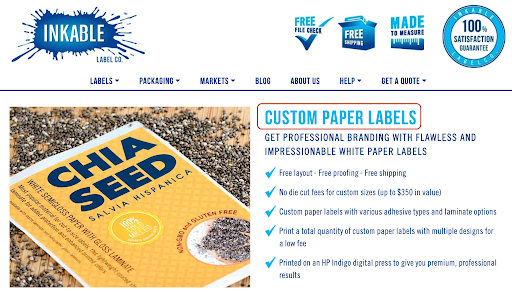 Here we can see that Inkable Label includes its target keyword (custom paper labels) in its page title and throughout the content.
And here's how that same page appears in Google:
Optimizing on-page factors for your target keywords helps Google determine what your store is about, which increases its visibility in the search results.
But be careful not to go overboard here. The last thing you want to do is spam your content with keywords.
Boosting your SEO can be a rather tedious task. If you're completely in the dark, consider outsourcing an SEO expert or agency to give you a hand!
Optimize off-page factors
Off-page SEO is everything you do outside your website to increase its rankings. The goal here is to get Google to see your site as credible and trustworthy.
Backlinks are arguably the most important off-page ranking factor. Pages that ranked number one had 3.8 times more backlinks on average than other results on the first page.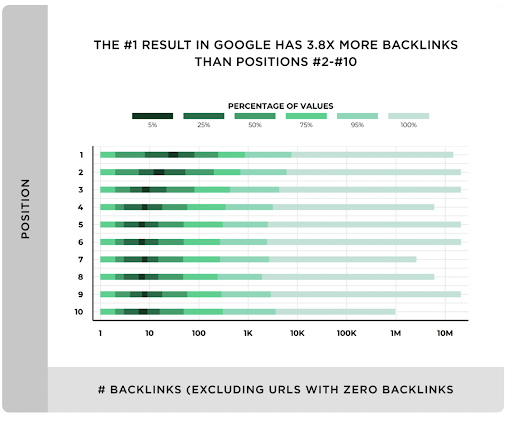 Backlinks are important because they act as votes. In fact, 84.39% of SEO experts believe that link building has a big impact on brand authority. When other websites link to yours, Google sees it as a signal that others are vouching for your site.
Here are some ways to build backlinks to your store:
Reach out to manufacturers you work with

Reclaim unlinked brand mentions

Reach out to journalists

Sponsor a local event 

Contact bloggers in your industry

Get interviewed by the press 

Submit your site to business directories
Just remember to focus on quality. One link from a relevant and authoritative site will carry far more weight than hundreds of backlinks from spammy sites. 
Pay-per-click (PPC)
Search traffic accounts for 65% of traffic to eCommerce sites — 33% is through organic search traffic, while 32% is through paid search.
Paid search, or PPC, is a channel you can't afford to ignore. There are two ad types you can run through Google Ads: search ads and shopping ads. 
Let's take a closer look.
Search ads
Search ads appear at the top and bottom of search results. They work on a pay-per-click model, meaning you only pay for the clicks that your ads generate.
Here's an example of a paid search ad from Nike: 

How much you pay will depend on factors like the keywords you're targeting, the number of advertisers bidding for those keywords, and the relevance of your ads.
If you're just getting started, focus on long-tail keywords for your campaigns. These types of keywords are not only cheaper to bid on, but they're also more likely to convert.
Someone searching for "best shoes under $100" is looking to buy, while someone searching for "shoes" is still researching their options.
Be sure to also optimize your landing pages and set a daily budget to manage your ad spend.
Shopping ads
Shopping ads are still based on a pay-per-click model, but have a different format.
Here's what these ads look like:
Shopping ads also appear at the top of the search results. But instead of just text, these ads include images, prices, and ratings.
You can also see these ads in the Shopping tab on Google.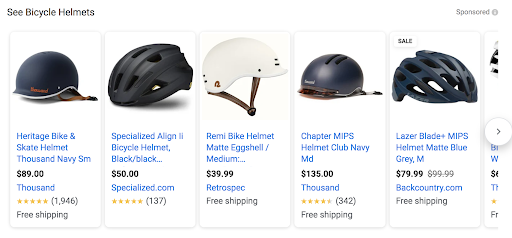 That's not all.
Google will display your shopping ads on other search partner websites and even YouTube depending on your settings.
To get started, you'll need to create a Google Merchant Account. Then you'll need to upload a product feed and link it to Google Ads.
Just like the regular paid search ads, you'll want to start with a small budget at first to test the waters. Or you can hire eCommerce ad experts like folks at AMZ Pathfinder to do the job for you.
Content Marketing
Traditional advertising like commercials and radio ads tend to be disruptive. You're pushing your products to an audience that may not be interested in what you're offering.
Content marketing takes a different approach. It involves creating relevant content and giving visitors a reason to come to you.
Here are some tips to get started.
Write engaging blog posts 
Blogging is an effective way to drive more traffic to your online store. It involves creating and publishing quality content to your website.
Before writing anything off the top of your head, it's important to have a strategy. Start with your customers. What kind of problems are they trying to solve? What questions are they asking?
Here are some articles that Track-POD, a route optimization software solution, published to its blog.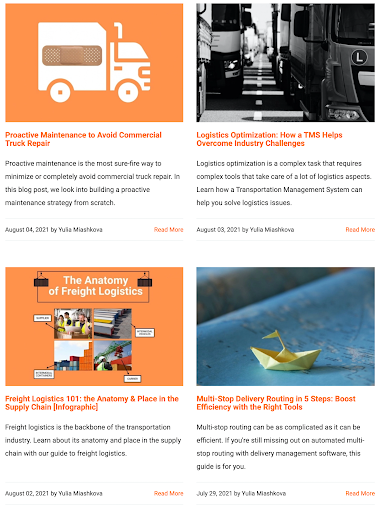 Track-POD creates content based on what its audience is searching for, a strategy that boosts its overall traffic and rankings.
Here's another example of articles that REI published to its blog.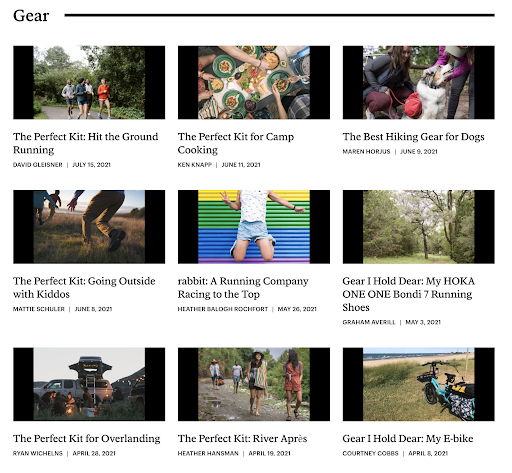 Focusing on keywords like "hiking gear" helps REI attract tons of quality traffic.
Research keywords that are relevant to the products you offer. Then use a tool like Google's Keyword Planner to identify even more keywords you can target.
Alternatively, you can also use social networks like Facebook and Instagram to come up with additional ideas. Just remember to optimize your blog posts to improve their rankings.
Use video
With over 2 billion active users worldwide, creating and publishing videos to YouTube can be an effective way to drive more traffic to your eCommerce store. 
Videos you upload can even appear in the search results as shown here: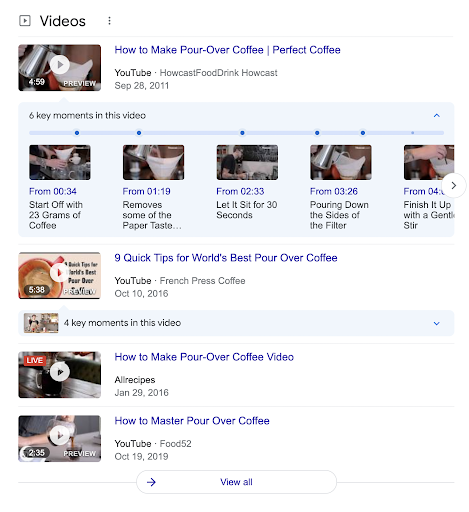 Videos require more resources to create, but they can also help you generate more sales. ​​84% of shoppers say they've purchased a product after watching a brand's video.
Find out what your audience wants to learn more about and create engaging videos around those topics. Don't forget to use video SEO to help your videos rank.
Write guest posts
Guest posting revolves around publishing content on other sites. This helps drive more referral traffic to your store and build quality backlinks in the process.
Search using the following search operators on Google to find sites that accept guest posts:
[Keyword] + "guest post"

[Keyword] + "write for us"

[Keyword] + "become a guest author"
Here's an example: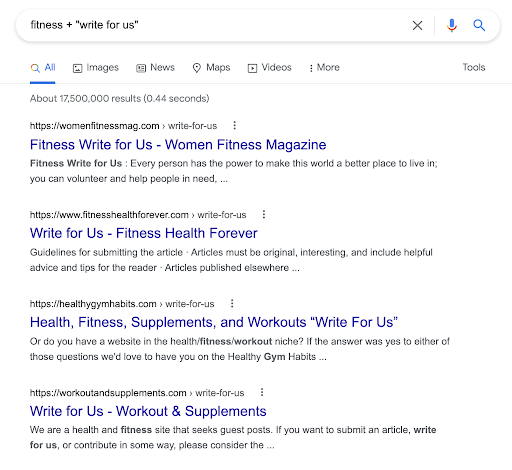 Most publications have strict guidelines on what they can and can't accept, so be sure to read through those before submitting your content.
Social Media
With over 4.2 billion social media users, there's a good chance your customers are on platforms like Facebook and Instagram.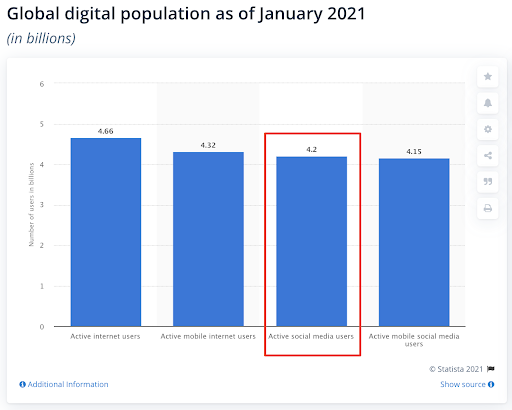 A strong social media presence is a must when trying to reach your audience.
Follow these tips to get started. 
Focus on the right channels
Unless you have sizable resources at your disposal, you'll want to focus on a handful of social networks to avoid spreading your efforts too thin.
Focusing on only two or three channels will allow you to create quality content and engage with your audience.
Ask yourself these questions to identify the right channels:
Where is your target buyer?

What channels do your competitors use?

What platforms align with your brand?
Another helpful way to narrow down the platform you should target is to dive into the demographics of each.
Here's a helpful graphic from Pew Research Center.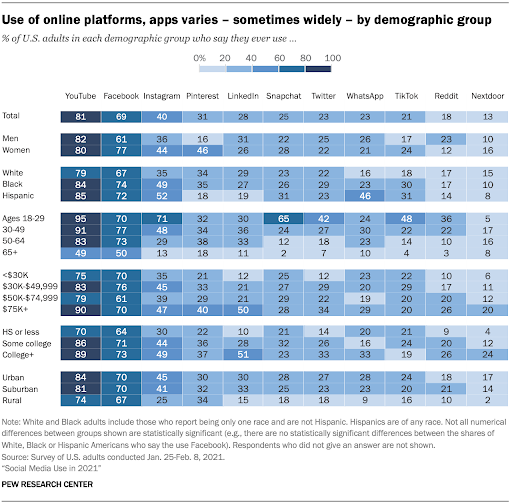 Whatever you choose, try not to spread yourself too thin. Just because you can create accounts on every social media network doesn't necessarily mean that you should. 
Take advantage of shopping features
Platforms like Facebook and Instagram now have features that let users shop from the brands they follow. These features allow you to showcase your products and drive more targeted traffic to your store. 
One clothing brand saw a massive 1,416% increase in referral traffic to its website from Instagram.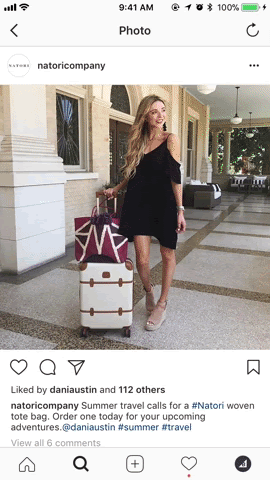 By adding a shopping tag to your products, your audience can click through and buy. Creating a shop is free, but there are certain conditions you must meet. 
For example, if you want to set up a shop on Instagram, your business must be in a supported market and sell a physical product. If your store qualifies, you'll want to take advantage of these shopping features.
Host viral giveaways 
With 90% of users on Instagram following at least one business, it makes sense to use this platform to reach your customers. But it can be difficult to stand out from the competition.
Giveaways are limited-time promotions where you give something away to a participant. You've likely seen this firsthand if you've spent any time on Instagram.
Here's an example of a giveaway that Bambu Living ran.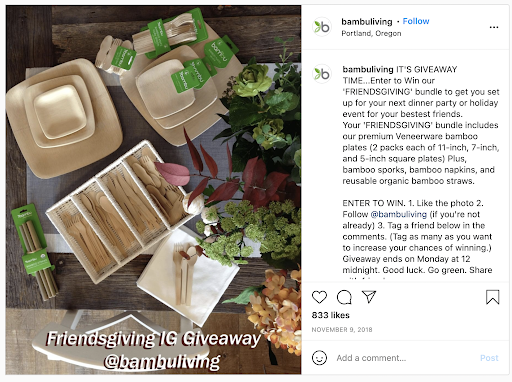 When done right, these types of giveaways can help you raise brand awareness and bring more shoppers to your store. No matter what platform you use for your giveaway, make sure to follow the rules for each. 
For example, in its promotion guidelines, Instagram makes it clear that you must state your giveaway isn't sponsored or administered by Instagram. You also can't ask participants to tag themselves or tag others who aren't in the post.
Follow these steps to get started:
Choose a goal

Decide on a prize

Determine eligibility criteria

Select a campaign hashtag

Place a time limit

Launch and promote your giveaway

Announce a winner
The last thing you want is to announce a giveaway and have your site crash.
Not only will you lose a ton of sales, but shoppers may form a negative impression of your brand. Make sure your data center infrastructure and your servers are set up to handle all the additional traffic.  
Affiliate Marketing
Affiliate marketing is when publishers or affiliates promote your products in exchange for a commission. Affiliates can be bloggers, influencers, YouTubers, or anyone with a following. 
Affiliate marketing is based on performance, making it a cost-effective way to raise brand awareness and increase traffic. You only pay commissions on valid sales.
More companies are now allocating more of their budgets to this marketing strategy. In fact, affiliate marketing spending is expected to reach a staggering $8.2 billion by 2022.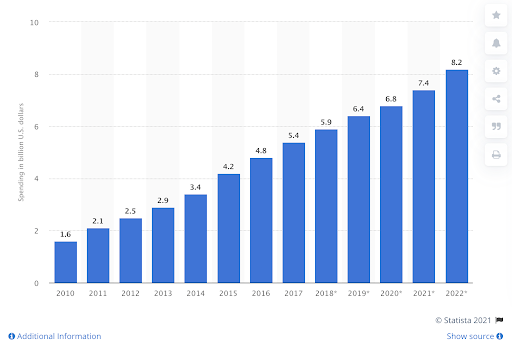 That figure is only expected to increase as more companies invest in affiliate programs. If you're not already using affiliate marketing, you're leaving sales on the table.
Let's take a closer look.
Join an affiliate network
Affiliate networks bring merchants and affiliates together. Joining them comes at a higher cost than starting your own, but you'll have a much easier time attracting publishers to your program.
Here are some of the most popular affiliate networks you can get started with:
CJ Affiliate

ShareASale

Clickbank

Awin

Rakuten

FlexOffers

Pepperjam
Be sure to familiarize yourself with each, as some affiliate networks are better suited for certain products than others.
Alternatively, you can also create your own affiliate program in-house. This has lower initial costs, and you can manage your affiliates directly.
Here's an example of Unstack's referral program: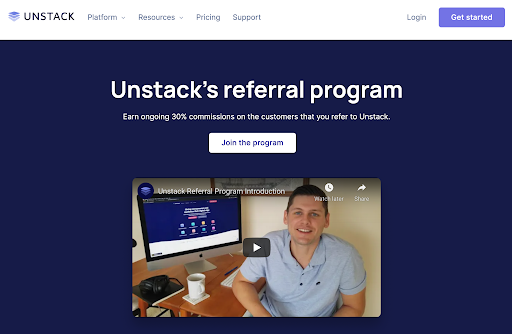 Whether you opt for a self-hosted solution or decide to join an affiliate network is entirely up to you. Both have their pros and cons, so be sure to weigh these before making a decision.
If you're just getting started with your affiliate program, offering a high commission rate can help you attract more affiliates. Consider your customer lifetime value to come up with a commission structure that's profitable for your business.
To help your affiliates succeed, provide different types of creative content like banner ads, product images, pre-written copy, and templates. 
Work with coupon sites
Everybody loves getting a great deal.
Another way to leverage affiliate marketing is to partner with coupon sites. These sites organize coupons from different brands and help visitors save on their next purchase.
Offering discount codes to coupon sites is a great way to drive more traffic to your online store. That's because consumers often search for discounts before making a purchase.
For example, anyone searching for Hobby Lobby coupons may come across something like this:
When a visitor applies the code, the coupon site earns a commission and you get a new customer. Just be sure that you're not undercutting yourself here.
Final thoughts
eCommerce platforms like Shopify and Magento make it easier than ever to create an online store. You don't even need any technical experience to get started.
But creating a store is one thing, and getting targeted traffic is another. Even with the best products, you'll struggle to bring in sales.
Fortunately, by implementing the strategies laid out here, you should be able to drive more traffic to your eCommerce store and grow your bottom line. Just remember to measure your efforts to help you determine what works and what doesn't.