Content marketing is one of the best lead generation strategies. Sadly, most online stores ignore it in favor of PPC and other strategies. And while PPC can give you quicker conversions, content marketing boosts traffic which could lead to more conversions and other benefits.
In this article, I will take you through a six-step guide on creating an effective eCommerce content marketing strategy. But let's get the definitions out of the way first:
What is the definition of eCommerce content marketing?
Ecommerce content marketing involves creating blogs, videos, ebooks, podcasts, and other pieces of content for the purpose of driving traffic, and generating leads and sales. 
A solid content marketing strategy also helps you in nurturing potential buyers. If you create content covering all stages of the sales funnel, you'll be able to capture and guide your website visitors through the buyer's journey until they convert.
That means content marketing can reduce the leaks in your funnel to boost your sales.
Moreover, eCommerce content marketing can build brand awareness and loyalty. By generating valuable and educational content, you will earn the goodwill of current and potential customers. This can increase the customer lifetime value dramatically.
Here's a blueprint on how to build a working content marketing strategy for your eCommerce store:
Personas and journeys of customers
You need to understand your target audience first in order to develop an effective content strategy. That's where customer personas come in.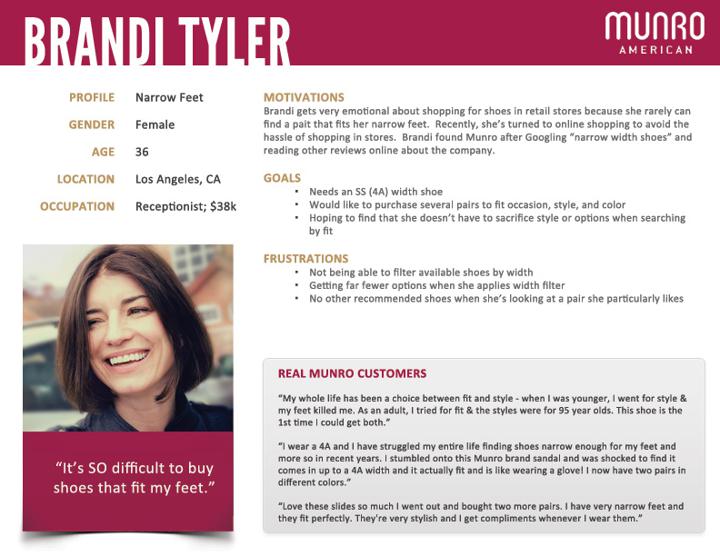 A customer or buyer persona is a fictional depiction of your ideal buyers. The persona contains tons of data on who your buyers are, their interests, and pain points. Once you have all this data, it becomes so much easier to design a content strategy you and your team will use effectively.
For example, if your store sells power tools for DIY projects, one pain point could be that beginners are having a hard time using some of the tools. That gives you an idea that a how-to blog or video content can perform very well.
There are different ways of collecting customer data. First, you could look through the database of existing customers. You will get valuable insights there like their gender, age, location, etc.
The other option is to ask for the data from interested and existing customers. You can do this through social media polls/QAs or a survey form on your website.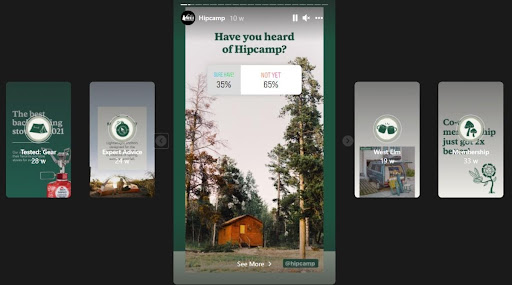 Customer feedback can also produce plenty of resourceful data. So, if you have a public review system in your store, go through the reviews and look for helpful information. You can also consult your sales and marketing team for additional insights since they interact with consumers a lot. 
Besides giving you content ideas, the buyer's persona can show you how to distribute your content. For example, if your research shows most of your customers hang out on certain social media platforms like Facebook and Twitter, you can create content targeting those specific channels.
Once you have accurate customer personas, your goal should be to create content that captures users at different points of the customer journey. You will need informational content for buyers who are still at the top of the funnel. The content should be purely educational, so don't try to oversell your products.
At the bottom of the funnel, you will need content for engaged prospects who are ready to buy. Think product comparisons, case studies, product tutorials, testimonials, etc.
How can you come up with keyword ideas
Keyword research helps you create relevant and optimized content. Various tools can help you out with research. Google Keyword Planner, for example, is a free tool that can generate related keywords based on the phrase you want to target.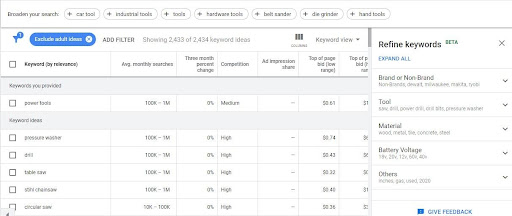 All you need to use this tool is a Gmail account.
Besides Google Keyword Planner, you can also use premium tools for more capabilities. These include the likes of Ahrefs, SEMrush, and Moz.
Paid tools provide more insights. For example, Ahrefs lets you perform competitor analysis, making it really easy to generate quality keyword ideas. Just drop your competitor's URL in the site explorer tool and check the "top pages" section.
There are two main items to keep an eye on when performing keyword research. First, check the average monthly traffic - target keywords with a decent monthly search volume.
Second, if you want to drive organic traffic to your content, check the keyword difficulty. The metric shows you how hard it is to rank for specific keywords.
Content creation for your online store
With your content ideas and target keywords ready, start creating high-quality content. There are various strategies and tools you could use here. Personally, I start by searching the top-ranking articles for my target keyword.
I'd then go through the top 7 or 10 articles and see how the content is written and formatted. I also check the subheadings used.
From there, I start writing a super-comprehensive article covering all the key topics included in the top-ranking articles. The article will eventually be longer and more exhaustive, which is good since the goal is to give readers maximum value.
Tools like Surfer can also help you refine your content. It shows you the keywords you need to optimize and the ideal word count.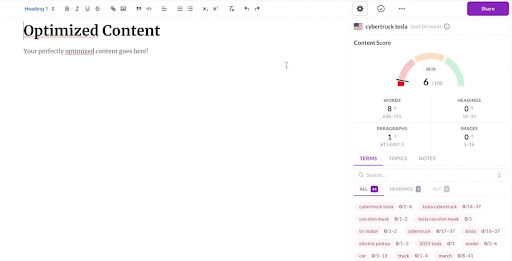 Beyond content writing, you also need to implement some SEO (Search Engine Optimization) best practices to help your articles rank better. That includes writing optimized page titles and meta descriptions and developing a link-building/earning strategy.
One critical element of eCommerce content marketing is linking your content to product pages. That is how you will generate sales from your content, after all. However, you should never be too pushy. Remember, the objective of your content is to educate your audience; making a sale is secondary.
Therefore, don't spam your content with call-to-action buttons directing visitors to product pages. Instead, use product mentions strategically and in relevant articles.
For example, Northern Brewer sells home brewing products. They also have a resourceful blog, and CTAs are placed strategically for improved conversion rates without appearing too pushy.
In one of their how-to articles, for instance, they provide a recipe for brewing beer and link back to some of their product pages.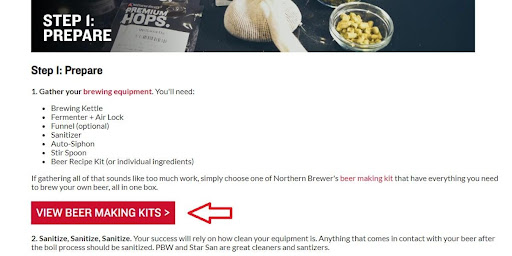 You can also place the button after specific subheadings. For example, if it's bottom-of-the-funnel content and you have a subheading discussing the benefits of a product, it would make sense to put your CTA under this section.
Obtaining backlinks to improve your content's ranking
Backlinks help your content rank well on the search engine results pages (SERPs). The more high-quality links, the higher your general website authority. High website authority helps you rank higher and faster.
There are two general methods of building backlinks, i.e., creating quality research-backed content and doing outreach.
Content such as infographics, research, and case studies can attract backlinks from other websites without any input from you. But, of course, the content has to be authentic and of a high standard.
Outreach is a more active technique of securing backlinks. It involves things like guest posting.
With guest posts, look for authoritative websites that accept guest posts and pitch your idea. If accepted, the websites will let you write a high-quality blog for them with one or two links pointing back to your website. While doing outreach, aim for relevant websites.
One easy way of knowing which websites to reach out to is by looking at the backlink profile of an authoritative website in your niche. Ahrefs can help you out with this.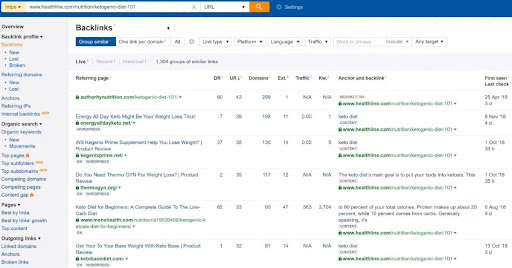 The tool will show you all the websites linking to a specific page of your competitor. It also gives you details on the domain rating (DR) of the linking website and the anchor text used.
Monitoring the effectiveness of the material
To maximize your return on investment, monitor the performance of your content and make the necessary adjustments. 
For example, if you notice a poor time-on-page for a specific article, identify the potential problem and fix it immediately. Maybe the article is not relevant to the search query, or perhaps your content is poorly written.
The key performance indicators (KPIs) to monitor vary depending on the content type. For a blog post, monitor the traffic, the number of unique visitors, bounce rate, time-on-page, user flow, and geographic distribution of your traffic.
If you are running a social media campaign, track impressions, follower count, audience growth rate, applause rate, engagement, and click-through rate.
You can track content performance using free or paid tools. Google Analytics helps you monitor the performance of your blog for free. Social networks also have free inbuilt analytics tools.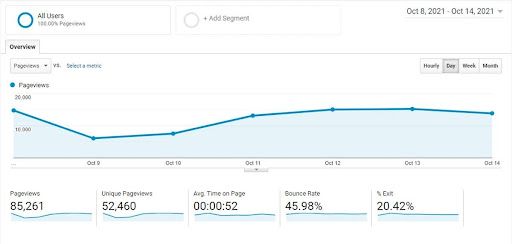 Content promotion in other places
Publishing high-quality content doesn't mean you'll drive tons of traffic to your eCommerce website and generate lots of sales automatically. You still need to push your content out there.
Promote your article on social networks and send out emails to your subscribers. If you are publishing social media content, consider adopting Social PPC campaigns or partnering with influencers.
You can also share your content with online communities through platforms like Reddit, Quora, and Yahoo Answers.
Conclusion
A good eCommerce content marketing strategy builds a connection between a brand and its audience. It helps you deliver valuable resources to your audience, and in return, you get more traffic, sales, and brand loyalty.
To build a solid strategy, you'll need to do six things; create an accurate customer persona, perform keyword research, create quality content, obtain backlinks, measure results, and lastly, promote your content.
With this strategy in place, your eCommerce business will surely gain a competitive edge over competitors. Good luck!