Shopify free plan
Moving forward with our experiments around pricing, we're now putting all new Shopify accounts on a free plan. The hope is that we will see an uptick in new accounts and eventually reviews. This won't be a permanent change, but we will probably run with it until we introduce multiple Shopify plans in Q2.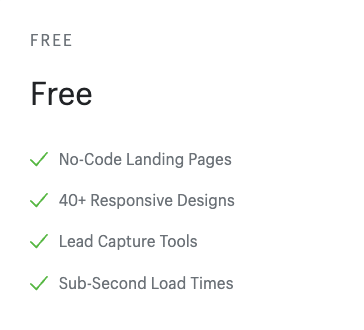 Banner Components
We implemented a basic banner component. That might sound kind of silly, but to date, we didn't have a good way to build a component that had smaller buttons and padding. It's now trivial to add a banner to any page.
There's more work to come on this to support sticky Page banners & global CTAs, stay tuned!
Dark and light text toggle on boxes
Boxes now support their own light and dark background settings for text. Previously you could only set this setting on the section. Now you can do it on individual boxes.
Both sections and individual boxes have this setting. If it's not set on a specific box, the box will inherit the setting from the section.
Setting the width of a form
In this release, we rolled out changes so that you can set a custom width for a form.
All forms will use the style guide setting by default, but you can now set a custom width:
In the admin portal, under Forms, open the form you want to change
Click on the Settings tab
Under Max Width, select Custom...
Enter a number and save!