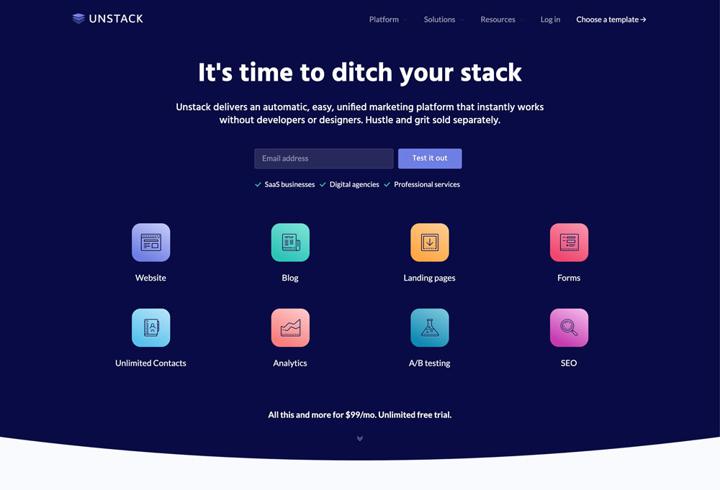 Company raised capital from numerous marketing technology executives and Boston area venture capital firms to build unified growth marketing platform for SaaS and service companies. The funds will be used to expand the team and support go to market initiatives.
Boston, MA - Unstack Inc. has raised $750,000 to accelerate the development and go to market of its no-code, all-in-one marketing platform for SaaS companies.
"Companies are spending too much resource time and money getting their marketing to work. Unstack's all-in-one marketing platform largely eliminates this and enables companies to focus on the aspects of their marketing that actually drive growth," said Founder and CEO, Grant Deken.
The core platform consists of five pillar areas of functionality, including:
Design and publishing
Data & conversion focused analytics
Lead generation and customer data
Deep 3rd party integrations
Teams and collaboration
Today, companies primarily rely on open source options like Wordpress to build their digital marketing footprint. These platforms only manage content and are lack more sophisticated tooling for growth and customer acquisition. As a result, companies are forced to find and integrate a number of third party tools together to understand their data and run effective marketing programs.
Unstack's platform is built from the ground up to help you grow with differentiating features including one click A/B testing, out of the box lead attribution, content personalization, and more. Pricing starts at as low as $99 for teams to get started.
The platform is currently in beta through the end of 2019 and already has dozens of businesses who have moved their marketing over to Unstack while in its beta phase.
"Unstack has been an all-in-one system for running our marketing efforts. It's really easy to make changes and understand what's working without any engineering overhead. It's the only system I've found that brings it all together in one place in an intuitive and turn-key way," said Luke Thomas, Co-Founder and CEO of Friday.
Companies can join the public beta by signing up here.
About Unstack
Unstack is the automatic, easy, unified marketing platform that helps you grow your business faster without the need for developers and designers. Leverage a powerful no-code experience to build, measure, and scale sophisticated web experiences for your customers while and unifying your data using Unstack's one-click integrations. Learn more at www.unstack.com.