Black Friday always falls the day after Thanksgiving and this year it's on November 26th. Although, Black Friday deals are starting earlier and earlier. In fact, some stores start their sales at the start of Thanksgiving week.
Whenever you decide to start your Black Friday marketing campaigns it's important to start preparing weeks, if not months, in advance.
That's why we spoke with marketing experts and store owners to find out their top tips for Black Friday campaigns. Read on to find out what they recommend so you can start implementing these successful strategies asap.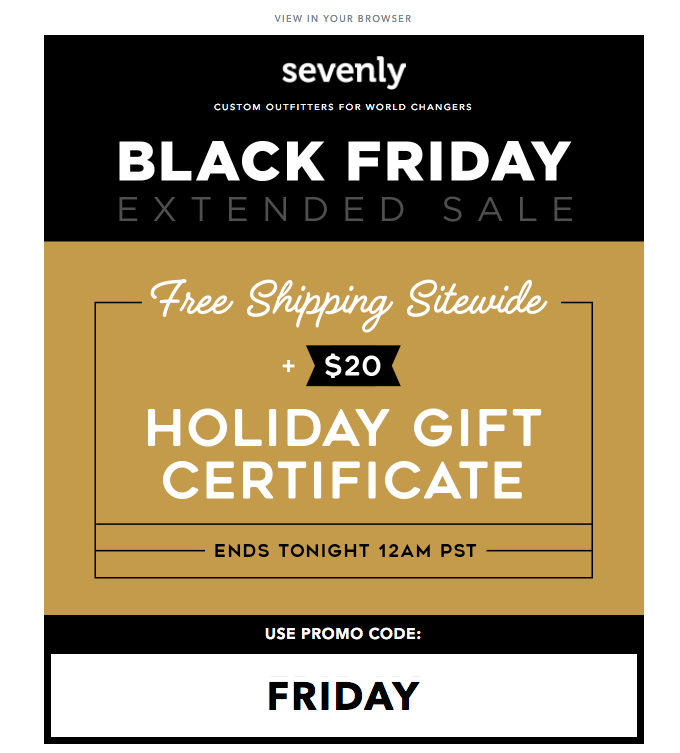 Source: Chamileon
Utilizing Social Media
Advice from Alex Mastin, CEO and Founder of Home Grounds
A brilliant tip to prepare for your Black Friday or even the cyber Monday event is to engage your audience through social media channels, like Facebook and Instagram. Upload photos of items that will be going on sale, with how much they will be. Reviewing which items are getting the most traction can be a great way to make sure you are prepared with larger stocks of the most popular items so you know you can keep visiting, loyal customers happy with a higher chance the product they want will still be in stock.
Further to this, you can also help layout your physical store (if applicable) in a way that makes sure the popular items are easily accessible and need less stocking up, to hopefully prevent any chaos or fall behind on the day
So many companies understock on Black Friday, essentially throwing money away when supply doesn't meet the demand.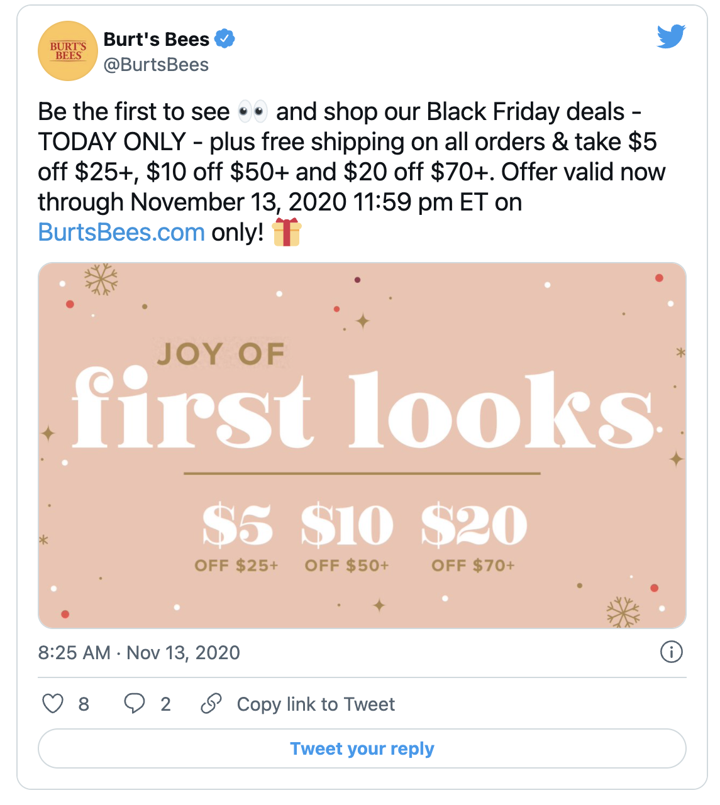 Source: SproutSocial
Shoppable Social Media Posts
Advice from Liam Johnson, CEO of TheHitchStore
One of the best holiday marketing strategies is sharing shoppable posts on social media, such as a short video or photo of your product fitting for the upcoming holidays.
Social media is an excellent platform to advertise products and reach a large number of potential customers, while also providing them with a convenient channel to purchase your goods.
Holiday discounts and gifts are also worth incorporating into these social media promotions as these offers can quickly draw people's attention.
Show Off Your Reviews
Advice from Chris Campbell, CEO of ReviewTrackers
This makes it easy for potential customers to find information about others' experiences with your brand and products. It's also a great way to inspire consumer confidence and trust: two key ingredients to a seamless customer experience.
A review widget suite like Amplify dynamically displays reviews as digital marketing assets on brand websites. Marketers can also share customer reviews on social media as a way to provide social proof that helps drive engagement and conversions. This is especially helpful when advertising your Black Friday specials.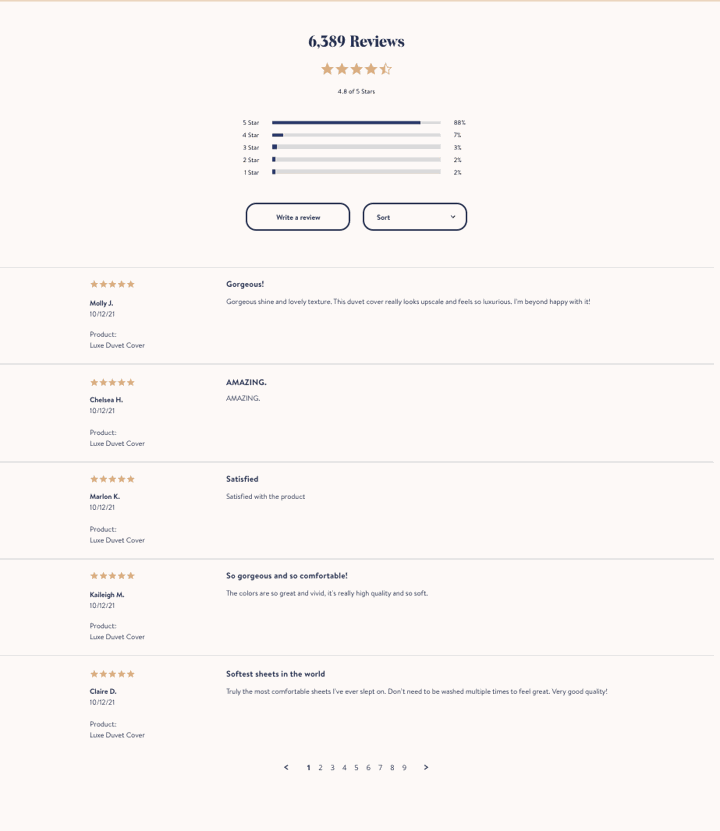 Source: Brook Linen
Encourage Social Media Usage and User Generated Content
Advice from Jonathan Roque, Digital Marketing and Content Strategist at Zapiet
From a marketing perspective, you want users to rave about your products and let everyone know you (your business) are amazing. After all, the best form of marketing is word-of-mouth.
I would encourage your customers to share what they think about your product on social media and have them tag your business. This is a great way to gain exposure from their circle of friends (followers) and also gives you, the business owner content to share not only during BFCM and the holiday season but throughout the entire year. This also gives your team content to showcase throughout social media.
Initiate a Referral Program
Advice from Bram Jansen, Chief Editor of vpnAlert
Referrals or recommendations are the most reliable type of advertising. This basically means that the majority of people strongly rely on the opinions of others while making purchasing decisions. Referred consumers can be a more powerful driver of brand loyalty and profit than any other client. How can you make this strategy SMARTER?
Make it impossible to resist. When beginning a referral program, you must consider how you will incentivize a successful recommendation. There are a variety of approaches to develop a profitable reward system that is also appealing. Make careful to find out what piques your audience's interest. It will be a waste of money if your reward system does not attract clients.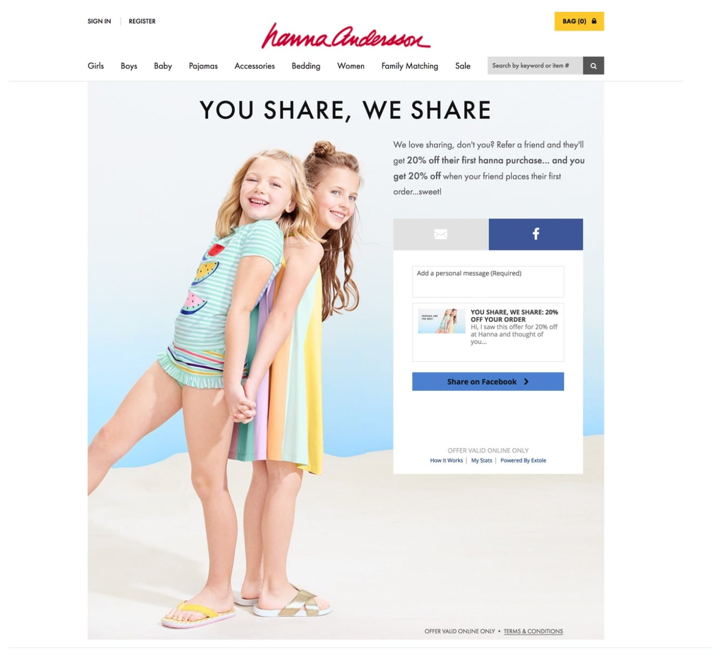 Source: Extole
Indicate when the reward will expire. In a referral program, a sense of urgency is crucial. If it takes a long time for a referral to make a call to action, you're missing out on a lot of sales chances.
Make it a viral sensation. Allow your fans to discuss your companies on social media, which is an excellent platform for referral leads. Because of the strength of social media sharing, more people will become aware of your brands and visit your website as a result of their friends' shares/posts/tweets.
Incorporate Email Marketing
Advice from Susan Melony, Editor in Chief at Unbreak Yourself
Aside from having discounts and promos, email marketing campaigns and social media advertisements are a good way to market your business for Black Friday.
Making content that is eye-catching and interesting can drive a lot of interested individuals to browse your website. Given this, you also need to work on improving your website's loading time. This can help in customer satisfaction and retention.
Create a Dedicated Page
Advice from Daniel Lee, Founder of Strategyst
Create a dedicated page on your website for Black Friday offers and reuse this same page every year. You should update the year and the content each Black Friday, but by reusing the same URL, your SEO value carries forward and isn't lost.
Businesses spend a lot of time building links to their Black Friday pages, but if they remove the pages and change the URLs, they are essentially starting again with new pages each year in the eyes of the search engines.
Moment Marketing Management
Advice from Jacob Udodov, CEO of Bordio
Moment marketing management is one of my Black Friday strategies. Moment marketing is a popular current idea that involves exploiting popular issues among consumers offline and online settings and incorporating them into your brand's marketing material.
You may develop trendy social media marketing tactics and distribute them on social media networks as a business. It will increase brand recognition and strengthen the bond between users and the brand.

Source: VISCOMM
Contactless In-Store Shopping
Advice from Jennifer Foster, Managing Editor of Authority Astrology
Given the global scenario, maintaining a safe distance in public places and a clean atmosphere is one of the essential tactics this year. As a result, you should concentrate on making contactless and faster aspects of your in- store purchasing experience as a business.
Contactless payments, hands-free product trials, augmented reality, virtual reality, and other technologies are examples.
Escalate Suspense and Reverberate
Advice from Austin LaRoche, CEO of ATAK Interactive
It's trivial to announce a Black Friday bargain, but developing anticipation and buzz can help it become a huge hit. Start stimulating your consumers' interest by sending them Black Friday emails with previews of upcoming sales, and start posting sneak peeks of upcoming sales on social media.
The sooner you start, the more momentum you'll have when you ultimately announce the sale on Black Friday or Cyber Monday.
Pop-Up Ads
Advice from Katherine Brown, Founder and Marketing Director of Spyic
My top marketing strategy for Black Friday is pop-up ads and announcing deals on the website landing page. A festive and engaging theme is the first view a customer engages. This makes it impossible to miss, while visitors who seek to leave without purchasing trigger a pop-up ad that offers more deals.
Feature Popular Deals
Advice from Stacey Kane, Business Development Lead at EasyMerchant
Create a presence on social media channels, blog posts, and other content to be shared before Black Friday. It enhances word-of-mouth communication with your audience by giving them something great to share specific to the holiday spirit!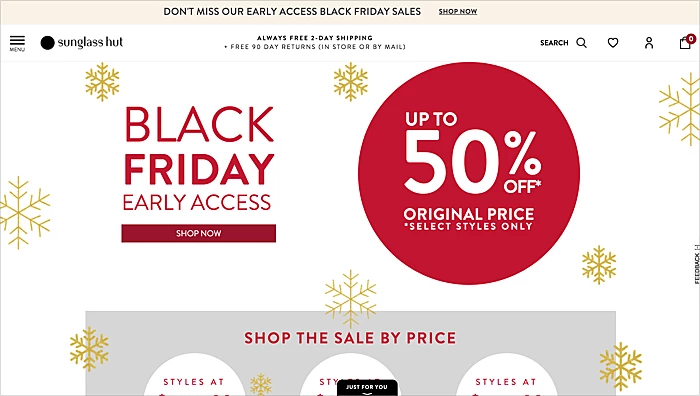 Source: Agente
Feature popular deals of the season on your homepage. This can be done by offering your core products at a lower price point for the duration of the Black Friday period, changing up sales formats (such as flash sales) during the week, etc.
Release new products. If you're launching a new product before Thanksgiving this year, there's no better time than in the weeks leading up to Black Friday! New product releases are guaranteed to fuel the fire of your marketing campaign, as well as keep customers coming back for more throughout the year.
Provide Outstanding Value
Advice from Grant Silverman, Director of Wow Merchandise
Black Friday marketing needs to have an emphasis on providing outstanding value, benefits, and urgency. When planning your content strategy, focus on benefits AND value. Most strategies emphasise only one or the other, but with a time-sensitive sale window, the emphasis on both as well as a focus on urgency will be powerful. Think of it as a refinement to the AIDA loop across all of your sales copy and content.
Be Different
Advice from Megan Kitt, Founder of Tuli
Since people are inundated with killer deals on Black Friday, my top tip is to find a way to be different. This year, Tuli is paying for a month of schooling for a Ugandan child for every single purchase we receive on Black Friday (in addition to a steep discount on our products!). The key is to keep your campaign on brand: Since Tuli's products are handmade in Uganda and Kenya, our schooling campaign aligns with our company as a whole.
Be Prepared & Get Ready Early
Advice from Clare Jones, Outreach Manager for Custom Neon
Our top tip is to be prepared and get in early! Increase product offerings, optimize all pages and include BNPL pay options.
We have completed rigorous testing to ensure that our site can accommodate an influx of traffic without returning error messages.
There are several tools that can simulate peak traffic (Pingdom and Loadimpact), it's advisable to utilize these to see how your site performs and avoid any nasty surprises. Forewarned is forearmed.
Custom Neon will be launching a "Too great to wait" campaign on the 8th of November. Initially offering a great discount. As Black Friday draws closer, we will publicize further offerings through specific banner ads on our site, socials, and other means. Offers will include free shipping, free dimmer, etc. And include a countdown timer to create urgency.
It's an exciting time in e-commerce as retailers are all vying for a slice of that multi-billion-dollar Black Friday pie!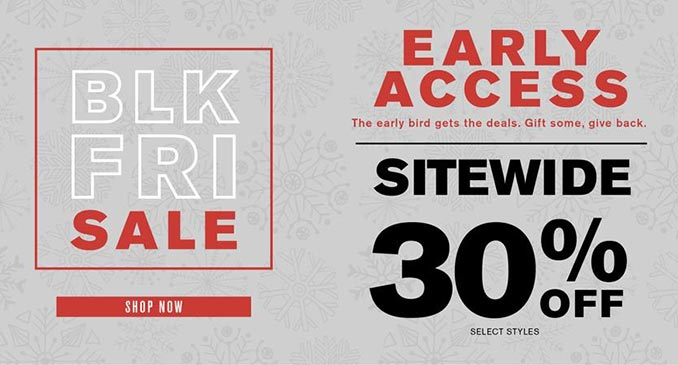 Source: Geek Alerts
Effective SMS Marketing
Advice from Daniela Sawyer, Founder and Business Development Strategist of FindPeopleFast.net
Effective SMS marketing has become a personal favorite of mine for increasing our Black Friday sales. Returning clients, in addition to the new consumers, are even more essential to my company, in my opinion. Having a large number of happy customers not only helps us boost revenue, but it also helps us attract more new consumers to our services.
Customers are often swayed by offers and advantages that are only available for a limited period. It is straightforward and efficient to provide recommendations to our current clients, such as a one-time discount code, early access to discounts or new releases, and regular text-only specials. SMS enables customers to communicate with one another and make purchases directly from their messages.
Drops in price and limited-time offers are two of our most successful SMS marketing strategies on Black Friday. Consumers are more likely to respond fast when they get a text message, especially during the holiday shopping season.
Prepare Your Website
Advice from Michael Hammelburger, CEO of Sales Therapy
It's possible that your website's traffic will increase by 100 times or more over the BFCM weekend. This is good news to you but a large rise in traffic all of a sudden can be problematic, especially if you didn't have the time to prepare your web store for it.
Unexpected outages during these few days would be disastrous, to say the least. As a result, ensure that your e-commerce platform can handle it. Consider upgrading to a more stable and quicker hosting server. Ideally, one that automatically scales up and down based on the current needs of your website.
Build Excitement Into Your Landing Page
Advice from Alix Greenberg, Founder of ArtSugar
If your landing page doesn't ring out, "Black Friday is Here," deal seekers may go elsewhere.
So be sure the excitement of the day extends to your landing page by welcoming customers with a unique and festive banner, heralding your shop's exclusive deals and limited promotions. And be sure its design matches your branding and has clear messaging in an easy-to-read font that communicates upfront what discounts you're offering.
A Black Friday sales event banner immediately informs customers that your shop has special offers they don't want to miss, keeping them shopping on your site longer and buying.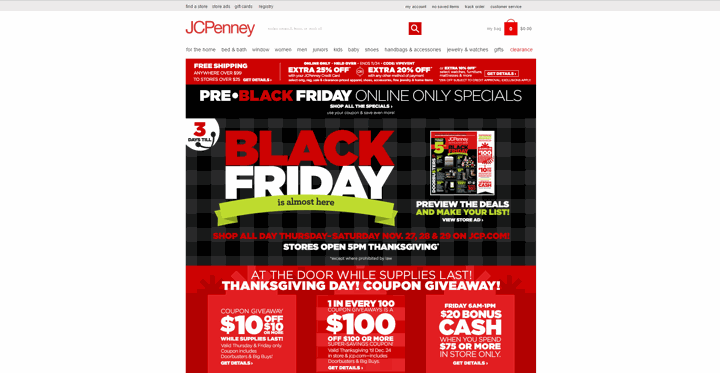 Source: Opencart
Next Steps
Now that you've learned from the top experts, it's time to start applying these Black Friday marketing strategies to your eCommerce store.
Start planning what your Black Friday promotions will be and what channels you'll be using to interact with shoppers. We encourage you to put together a marketing calendar so everything is organized and flows well together. 
Don't stop there, though. Because the eCommerce landscape is rapidly evolving, it's important that you stay on your toes and make adjustments often. The best online retailers are always testing new methods.