Almost all businesses send post-purchase emails (at least the most basic types such as order receipts and shipping confirmations). However, most of them don't appreciate the opportunities these emails offer for improving customer experience and customer retention. By sending bland post-purchase emails, they fail to take advantage of the high engagement rates of post-purchase emails.
Post-purchase emails are opened more often than other business emails. For example, email receipts are opened around 4 times more than other marketing emails (with the open rate of 70.90%) and have much higher engagement. Follow-up emails boast an average open rate of 40.5% as well.
What are post-purchase emails
Post-purchase emails are basically any kind of email sent to a shopper after they've purchased from you. These are some types of post-purchase emails you can send to your customer: 
Order confirmation emails 
Shipping confirmation emails 
Guides and other educational emails 
Replenishment reminders
Related products suggestions emails 
Rating/review request emails 
UGC request emails 
Type #1. Order Confirmation emails: 
Order confirmation emails (or order receipts) are probably the most expected post-purchase emails. People expect to receive these emails after each purchase to make sure that their order is received and processed. It typically contains order details such as order number, items ordered, date, billing information, etc.
Now imagine the distress you'd cause if you fail to send an order confirmation email accordingly. It's the email marketing equivalent of messing with the first impression your customers have of you.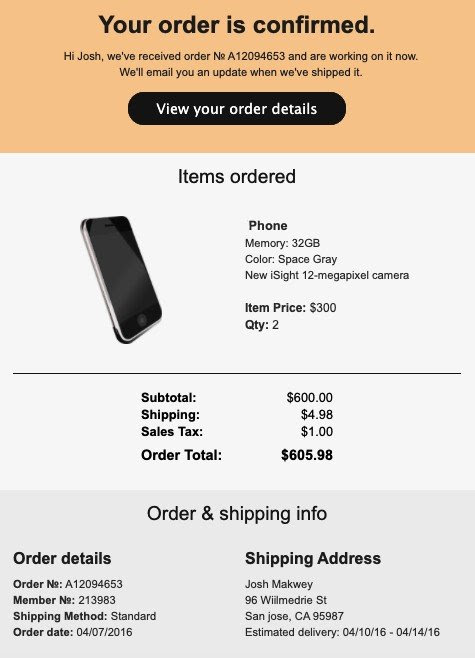 As Jack Dorsey argued in 2014 National Retail Federation's annual expo, order receipts could be considered a stand-alone "publishing medium" that people could engage with and be interactive with. There's a lot of room for improvement in email receipts. Aside from the order details, you can add any other elements that could increase people's engagement. Here are some suggestions: 
1- Show your human side 
Order confirmation emails should highlight the details of your customers' orders but it doesn't mean that they should be bland and inhuman. Since these emails are basically the first messages people receive from you as customers, it's important to make sure they see you as a friendly brand. 
When Derek Sivers realized that CDBaby's typical order confirmation email was in fact incongruent with his mission to make people smile, he decided to take 20 minutes to write another confirmation email that showed them more playful and entertaining. The result was the following email: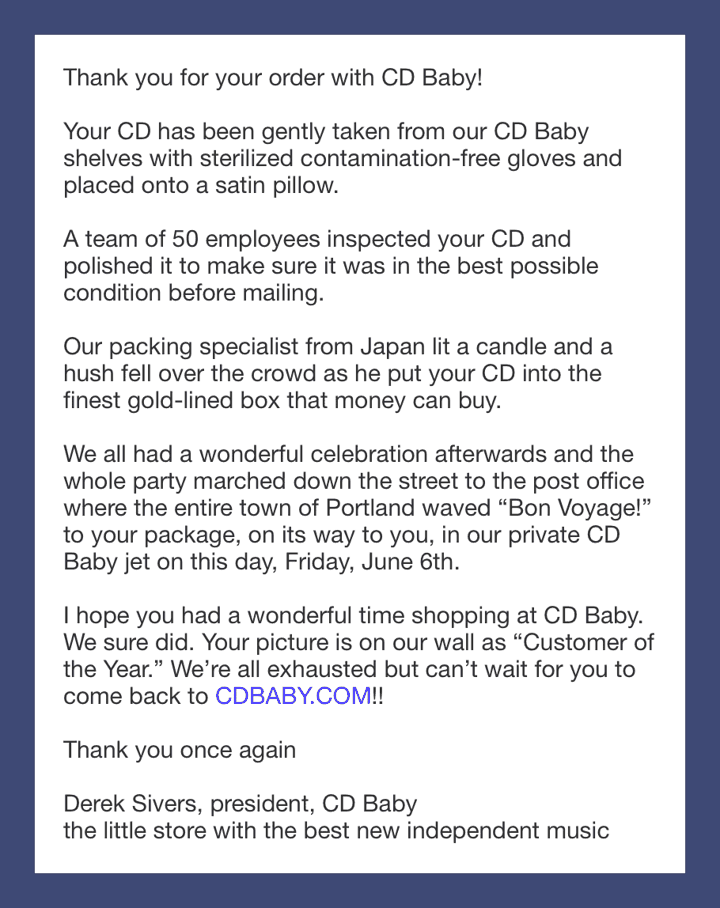 2- Address the main concerns
What's more important than showing the human side of your business in your confirmation emails? 
Addressing people's main concerns after their purchase. 
When people order a product online, they start to have some concerns : 
Is the company processing the same product as I ordered? 
What if the wrong product is sent? 
What is the company's return policy? 
Can I change my order before it's shipped? 
Can I change my shipping address? 
How do they package it? 
How long does it take for them to ship it? 
Addressing these issues in your confirmation email is the best way to provide a smooth and stress-free customer experience. This can then lead to repeat purchases. 
One way to do this is by adding a mini FAQ in your emails with links to the content that answers your customers' most common concerns. 

3- Upsell and cross-sell 
Confirmation emails are a great place for recommending complementary and similar products to customers. Don't shy away from adding a section with product recommendations based on the products they have just bought. 91% of customers are more likely to do business with brands that recognize, remember, and provide them with relevant personalized offers and recommendations. 
When talking about product recommendations, we're reminded of Amazon. Check out how they offer new products right at the end of their confirmation emails: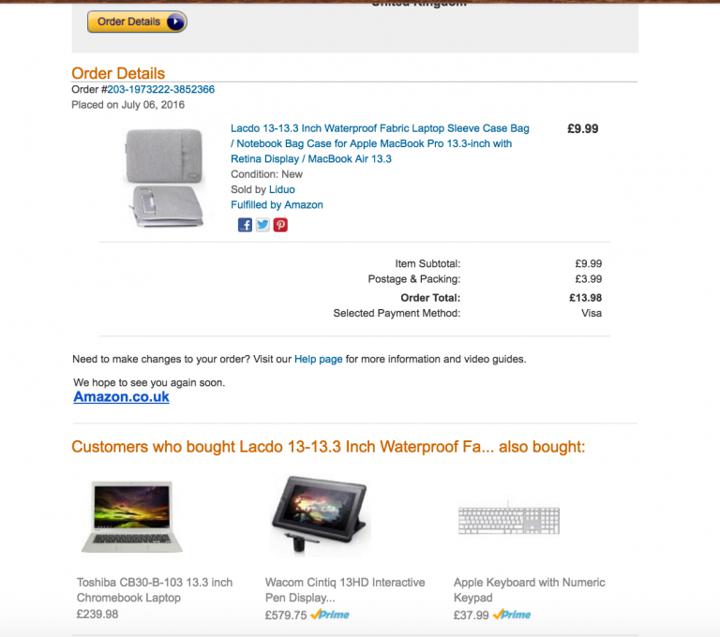 But not just Amazon, this same functionality happens to help businesses who sell on Etsy, Poshmark, Ebay, and other platforms. 
Type #2. Shipping confirmation emails:
Shipping confirmation emails are sent once a product is shipped. They contain shipping details such as order details, the shipping address of the receiver and the sender, shipping date, etc. Shipping confirmation emails are the second most important post-purchase emails you should send. 
Here are some tips to optimize your shipping confirmation emails: 
Include all the product and shipping details
There are lots of things that could go wrong in an online purchase -- receiving the wrong product, delay in shipping, damaged goods, shipping to the wrong address are only a few. 
To ensure your customers that nothing could go wrong with their purchase, you need to send them the product and shipping details in your shipping confirmation emails. The name of the product and its description (quantity, size, color, etc.), shipping method and the delivery address, order number, and billing are some of the information that should be contained in your shipping confirmation emails. 
Include a tracking number
A tracking number allows your customers to know where exactly their product is. Remember that Shopify and its major alternatives are offering the option to include a tracking number – setting it up is easy but makes a big difference in user experience. Here's how Fitbit includes a tracking number in its shipping confirmation emails.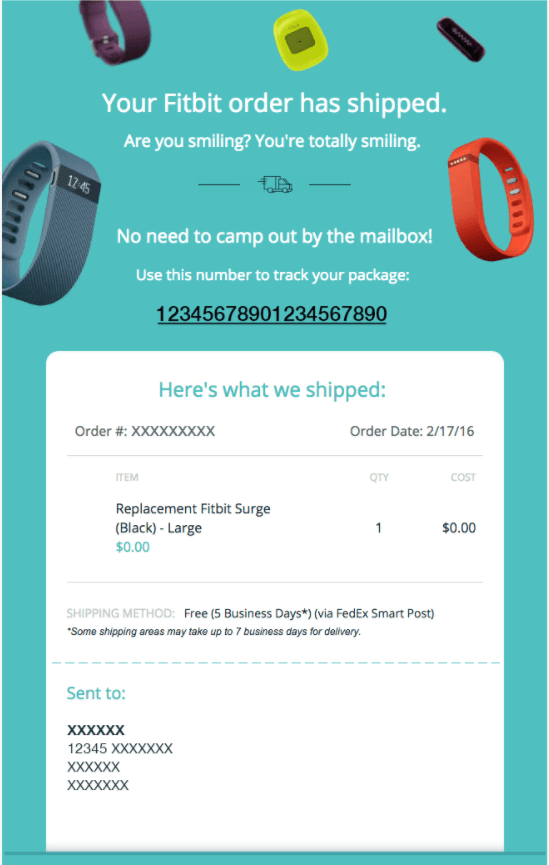 Estimate the arrival
Including an arrival date in your shipping confirmation emails prevents any confusion for your customers. They would be able to plan ahead and be home when their package arrives. 
Provide support 
Include contact information in your shipping confirmation emails in case your customers have any concerns. Make it easy for your customers to contact your customer support by calling or through your customer support software. 
Type #3. Educational content
Educational email newsletters are among the best ways to keep your customers engaged with your brand. Here are some tips to make sure your educational newsletters do the magic. 
Send how-to guides
If your product has details and complexities that need to be taught, you need to send how-to guides to your customers and avoid extra costs of customer service questions. 
Some brick-and-mortar shops might want customers to come back to the store (and check out all the other products). Online businesses typically prefer to avoid service costs. How-to guides are the best way to do so. You just need to make sure you do everything you can to make your educational emails look professional. 
For example, the shaving and grooming products company, Harry's, sends educational email newsletters with the best shaving-related tips to its subscribers.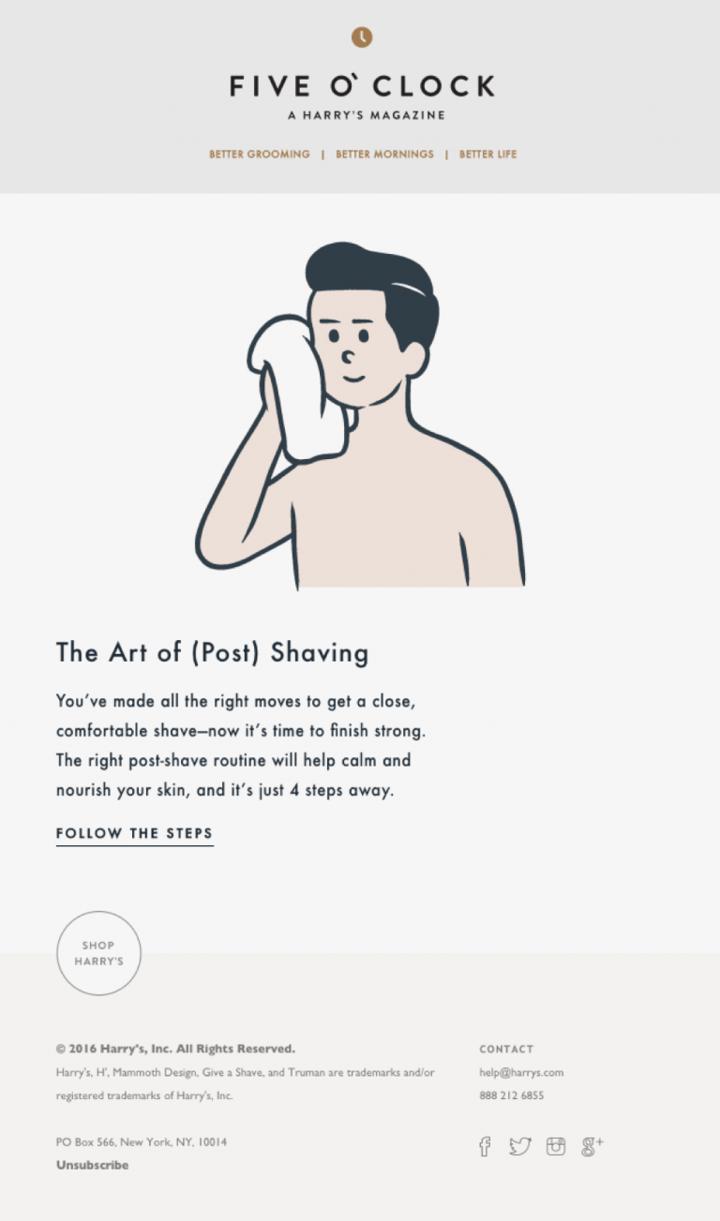 Use videos: 
When talking about ecommerce and marketing to consumers, it helps to know that easy-to-grasp and attention-grabbing content works best. Video content is easy to understand and provides you with more flexibility to offer educational content. A good video marketing strategy boosts engagement, builds credibility and trust, and increases conversions.
Whiteboard animation videos are ideal for educational purposes. As YumYumVideos explains "a whiteboard explainer video has a great capacity to synthesize and condense information effectively. What is unique to whiteboards is their presentation that lets ideas unfold in front of the viewers without distractions while maintaining their interest."
Invite Customers to Attend a Webinar
This post-purchase onboarding tactic is used quite often by SaaS (Software as a Service) companies but could definitely be implemented by other types of businesses as well.
Before hosting your webinar, just invite a few relevant influencers and key figures to speak about your service or product. 
By doing so, you'll be able to gain more trust and customer loyalty which leads to customer retention.
Type #4. Related products suggestions
You probably know the numbers: acquiring a new customer is at least five times costlier than retaining an existing one. Yet this (rather self-evident) fact is entirely neglected by nearly half of companies. Sending post-purchase emails is one of the greatest ways to skip the cost of promoting products to new customers and increase your customer retention rate. Here are a few tips to optimize your related products suggestions:
Personalized recommendations 
Probably the most important factor in the success of a product recommendation email is personalization. You need to make sure only the products that are interesting to your customers are recommended, not just any product. 
Amazon's product recommendation algorithm uses big data to predict a buyer's interest in the company's products. Apart from on-site recommendations, Amazon sends product recommendation emails as well. An Amazon employee explains that email recommendations have higher conversions than on-site recommendations: "the conversion rate and efficiency of such emails are 'very high,' significantly more effective than on-site recommendations."
Using marketing automation tools you can use data from your store's website and generate product recommendations. MailChimp for example has a personalized product recommendations tool that could connect to your store, collect data from your customers' purchase history and produce automatic product recommendations. You can simply insert these product recommendations in the form of content blocks in your emails. A product data management tool could help you manage and use your product data for effective product recommendations. 
Personalized landing pages: 
The goal of your product recommendation emails is to get your customers to click on your product links and completing the purchase. In fact, they greatly rely on how well your landing pages can convert visitors into buyers. Personalization in the level of landing pages is kind of the endgame here. 
Using different data points such as past interests, location, device, life cycle stage, job title, etc. you can personalize the layout of your landing pages. As a website and landing page builder, Unstack uses data from your email marketing campaigns to personalize your landing pages. There's a huge potential here. The only issue would be how well you can take advantage of this potential. Check out our tips for personalizing your landing pages. 
Send replenishment emails
If you're offering products that need replenishment, like pet food or beauty products, you need to send replenishment emails to your existing customers. Replenishment emails are automated emails that remind your customers that the product they bought a while ago is about to run out. Email marketing tools allow you to make sequences and set the right periods before sending the replenishment emails.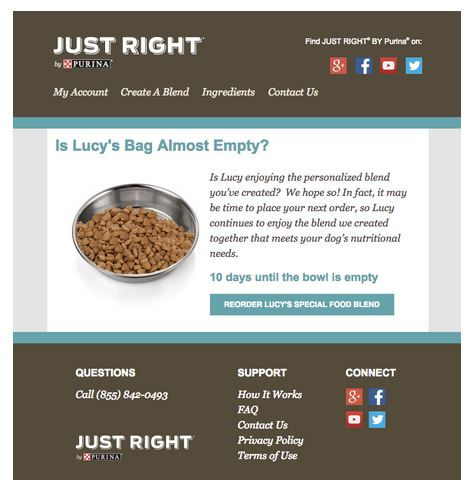 Offer promo codes and discounts
Using promo codes and discounts is the standard way to incentivize purchases. Make sure you offer timely promo codes and discounts in your product recommendation emails to encourage people to make purchases. 
Have a referral program
It's true that post-purchase emails are great for retaining your current customers, but what if you use these emails to bring in new customers? A good referral program does exactly this for you. 
The general idea behind referral programs, or loyalty programs, is getting your current customers to refer your business to people they know. As a form of word-of-mouth marketing, referral programs could have a great impact on your customer acquisition efforts. Check out how Riff Raff and co. offers its referral program in its order confirmation emails.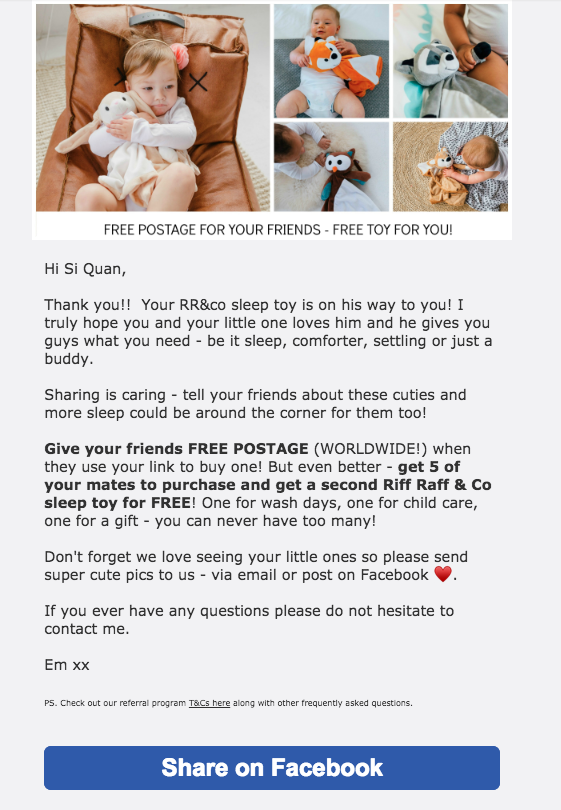 Offer a valuable reward for referrals by your customers. It could be a discount code, access to a paid membership, or one of your products for a particular number of referrals made by your customers. 
Type #5. Asking for ratings & reviews
90% of buyers read online reviews and ratings before purchasing a product. So it makes sense that you need to ask your customers for positive product reviews and ratings. How should you do so? Using social media to collect feedback is one way -- post-purchase emails is another. 
Ask for a positive review after a successful delivery
The best time to ask for ratings and reviews from your customers is when they received their order and had a positive experience. People are more likely to give you positive reviews and ratings after their good experiences with you. Send an email and ask them to send feedback regarding their experience with your business. Product experience management software tools can help you in this process.  
Make it simple
Unless people are truly in love with your brand, they rarely leave reviews if the process takes too much effort. Remove the unnecessary steps for leaving reviews and make it easy for them to do so. For example, instead of providing a link to your website, make it possible for them to simply reply to your email and send their reviews. You can also provide them with templates to make it easy to write reviews. 
Showcase case studies and positive reviews
To encourage your customers to write positive reviews, you can showcase some of your best reviews and case studies. People tend to trust you more and leave a positive review if they see an influx of positive reviews. 
Type #6. Collecting UGC
Customers who view user-generated content (UGC) are twice as likely to convert compared to those who are not exposed to real customer images or videos. One effective way to increase UGC is using post-purchase emails. Here are some tips: 
Encourage them to connect on social media
Social media is probably the best place for your customers to share their content. Let them know that you're active on social media and encourage them to connect with you in your post-purchase emails. 
Give them ideas
Although one of the greatest merits of UGC is that people with different creative perspectives produce content for you, it's a good idea to make the ideation process easy. Inspire your customers by showcasing your successful UGC in your post-purchase email sequences. Your customers will take your UGC campaign more seriously when they understand the engagement they could get by creating content for you. 
Promote their content 
When producing content about your brand on social media, your users are doing some effective marketing for you. Don't let this opportunity go to waste. Be hyper-active and promote their content in any possible way. You can share their content, feature them in your account/channel, repurpose them and use them on other platforms, etc. An Instagram post could be repurposed and shared on Facebook and Pinterest for example. 
Take advantage of influencer marketing
Influencer marketing has become a norm in any social media marketing campaign. It gains momentum when it comes to collecting UGC on social media. Identify the right influencers for your campaign and reach out to them to form a partnership. Some content marketing software tools can help you in the process of prospecting, outreaching and managing your contacts. 
Finally:
Post-purchase emails are ideal for customer retention. But to get the most out of them, you need to know their different types and categories and how to use them accordingly. In this guide, we reviewed six essential types of post-purchase emails with different examples and how-to tips. Using these tips will help you increase engagement with your post-purchase emails and increase your customers' lifetime value.