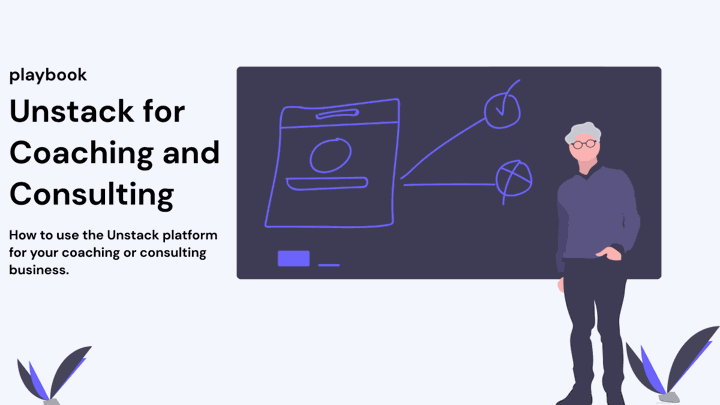 On April 7th, Customer Success Lead, Chris Cardone from the Unstack Crew went live on for an Unstack Webinar to chat about how to successfully use the Unstack platform for coaching or consulting businesses. Below is that webinar recording and a recap of what he went over!
What KPIs (key performance indicators) most Unstack Coaches use:
Bookings (via Calendly or another source)
Form Fills
Webinar Registration
How we suggest getting setup to properly track that data:
First, you have to understand that Unstack can only track actions which occur in the Unstack Native system. Therefore, you'll want to do a little customization to your workflow in order to get the most out of Unstack.
For Bookings
When pushing someone to book with you, a great way to set this up is by asking for their email before showing them the booking form.
One thing you'll notice is, if you go to book a time, your email is pre-filled, so we're not asking them to re-enter the same information. You can do this by setting that form to "GET to URL" and setting the URL to your Calendly.com link.
Why? Because, when that form is filled out not only can we create a contact in your Unstack CRM so you can see their customer journey, but we can also attribute them to whichever source they came from and give you proper data.
Form Fills
We track this native, so simply setup that form and you'll be all set.
Webinar Registration
We'll give you some insider secrets and tell you how Unstack runs webinars!
We use Klaviyo + Zoom to deliver our webinars. Since you can use a Klaviyo form, we use those on our webinar pages and then send the confirmation and invite-to-join emails via Klaviyo!
This not only allows for tracking within Unstack, however, it also allows for us to deliver more personalized and on-brand webinar emails to our visitors.
---
Leveraging the Customer Journey tool in Unstack
Our Customer Journey tool can be found in Insights > Conversions this shows you the average paths that customers have gone down before converting, then we'll display their conversion metric.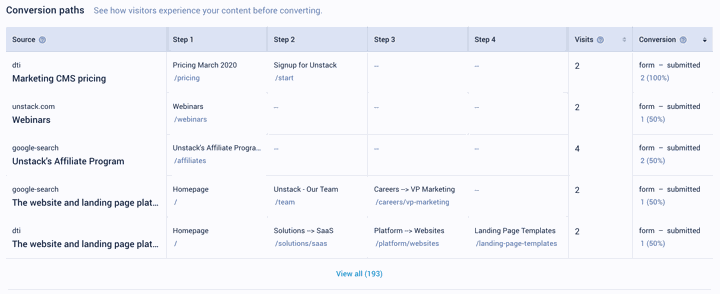 This shows you what pages have the most influence during a visitor's conversion path. Therefore, providing you a list of pages to improve and perfect. Or, better yet, a list of pages where A/B testing could be extremely beneficial.