Close to 70% of people add something to their cart but leave without checking out. Your sales are only a third of what they could potentially be!
Don't worry, we're here to help. With dedicated abandoned cart emails, you can give your customers a second chance to complete their purchase which gives you the opportunity to recover some of these lost sales. 
In this post, we analyze various abandoned cart emails to determine the most effective strategies so that you can implement them for your ecommerce business.
Nomad

Nomad's abandoned cart email incorporates humor in the intro text for a more playful approach. They use a mix of interesting CTA's like "Seal The Deal" along with the straightforward "Checkout", to make it clear what the next step is. They also have a streamlined layout with intro text, CTA, question, and footer. 
Headspace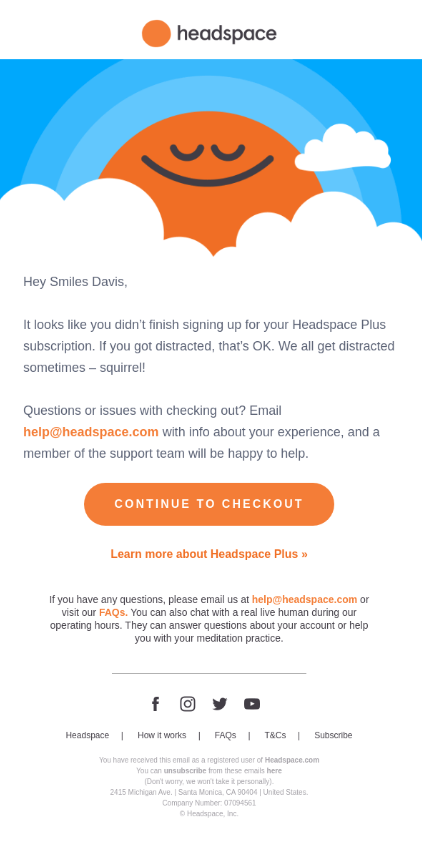 Headspace did things really well with these email:
They use a playful header image and copy to engage with the customer. 

They incorporate two sections suggesting users email their support if they have any questions or concerns, emphasizing that you will talk with a real person. 

The CTA is prominent and clear making it obvious what the next step is. 
Altogether this is a simple, easy to read, cart abandonment email.
Saatchi Art

In this example, Saatchi Art provides an incentive for people to continue with their purchases by offering 10% off. They made this copy large so that the eye is immediately drawn there and personalized the button by stating, "Get My 10% Off". 
They create an air of exclusivity and urgency with their "High Sell-Out Risk" copy and "Check Availability" buttons. They also reinforce that these are original artworks to make sure you realize you're getting a one-of-a-kind piece. 
A great element is the bottom layer which provides a final push to purchase by informing users of additional benefits like free shipping, free advisory services, and 70% of proceeds going to the artist.
Pinterest
This is a simple email yet effective email from Pinterest. The copy makes it clear that you're getting a deal by highlighting the price change in blue text throughout the email. They even calculate your savings to push you to act immediately. The button is a nice bright blue with a straightforward CTA.
Specialized

Specialized went in a different direction with their abandoned cart email. Offering free express shipping is a great way to incentivize customers to make a purchase and two CTA buttons make it easy for them to complete their purchase. By saying 'they can't guarantee' they are creating a sense of urgency to buy the product.
Homes Alive Pets

In this example, Homes Alive Pets uses funny and snappy text to grasp the attention of the reader. Using personalization makes the customers feel like they are being spoken to directly and multiple CTA buttons makes it very convenient for the customers to complete their purchase. 
Final thoughts
Abandoned cart emails can be an extremely beneficial strategy to retrieve some customers that could have been potentially lost. Be sure to use:
Discounts and promotions

Appealing and captivating text

Clear CTA 
This will ensure that your email is as effective as can be and will present a great ROI for your business.