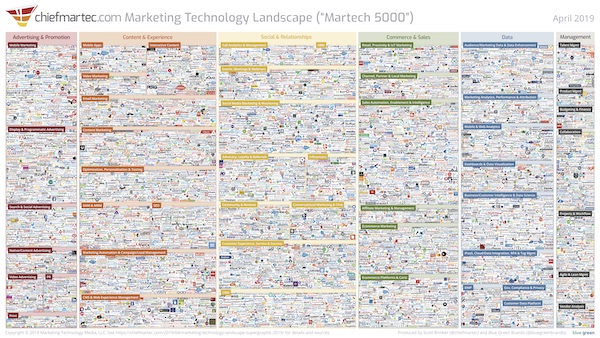 Anyone who has built a MarTech product or invested in one is familiar with the chart above. It's called the MarTech 5000 and it categorically lists out the thousands of marketing products that exist today. As exhaustive as this chart is, there are plenty more not listed. While the last 10+ years have produced endless point solutions to help businesses with acute problems, they also created a number of the challenges that marketers and businesses face today as digitalization matures. Below we'll explore some of these challenges as well as how the space is continuing to change and evolve.
1. Data silos are still a major challenge for marketers
Marketers are still dealing with data silo issues across CRM, ecommerce, email service provider, web analytics, and call centers. Companies have invested in ecosystem development and APIs that promote information exchange but the challenge is that it remains difficult and time intensive to make systems talk to one another. Additionally, these implementations require support. As APIs evolve and change the teams who maintain them must make adjustment to account for end point deprecation, new methods, or even changing nomenclature.
One response to this pain point has been the advent of the customer data platform (CDP). Segment alone has raised $283m to centralize and standardize data customer data across these channels. CDPs are making it more reasonable for companies to take control of their data, but there is still a major gap between codification, centralization, and actualization. The gap lies in actualization. While collection and codification is a big step forward, helping customers proactively put that data to work is where massive value will be created.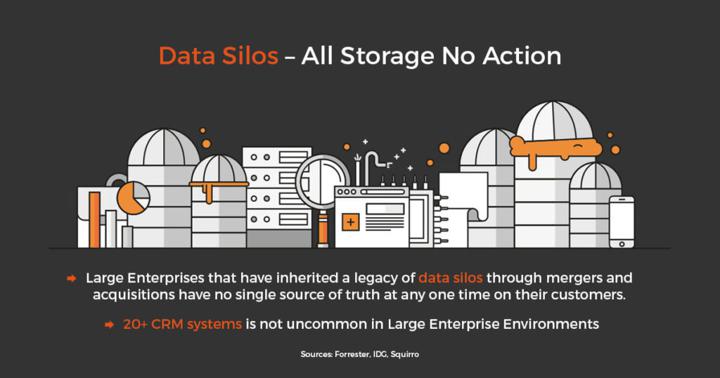 2. Increasing need for first-party data as walled gardens tighten grip
Third party data has been wrecked in the wake of the data privacy zeitgeist. In 2018 GDPR took effect which significantly limits how companies can track users in Europe. California has also passed legislation and we expect to see more governance around data and tracking going forward, not less. Beyond the legislation, the numerous data breaches and negligence with consumer data has forced Facebook and Google to tighten the reins on what companies have access to. This is in turn making it harder to implement the type of targeting and personalization that businesses are looking for.
The companies who are best positioned to capture on this opportunity are those who have become a source of truth for customer information. In particular, email marketing providers, marketing automation platforms, and CDPs who are collecting deep information about customer behavior and thinking about how to put it use.
3. Artificial Intelligence will be a force-multiplier in marketing execution
AI will play an increasing role in powering applications, including a wave of "right-brain capabilities" like automated content, ad copy generation, and web personalization. Today AI can help teams rapidly understand their data and how to act on it. As capabilities improve we expect to see more automation of the actual work itself.
For example, figuring out what content it should write, then producing the content, knowing when (and where) to publish it, and personalizing the funnel based on what it knows about a user's behavior.
That being said, intelligence is only as good as the data informing it, which is why the previous trends are not only connected, they are prerequisites for putting AI to work in compelling ways.
4. All-in-one options will continue to gain favor over point solutions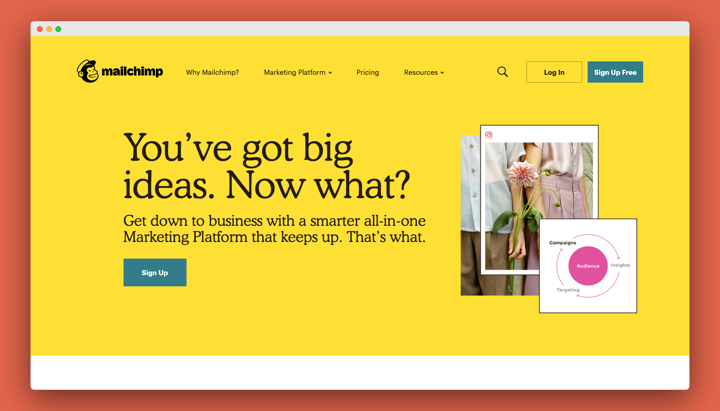 The proliferation of API's and javascript have created an explosion of solutions that help businesses assemble marketing stacks like lego sets, with each specific tool solving for a specific pain point.
The argument for point solutions is that the sum of the incremental gains by using each of these specialized solutions will outweigh a centralized "conglomerate" solution. While point solutions solve for tactical, immediate needs, they also lead to increased data silos and implementation, integration, and support costs.
As technology improves we believe companies will increasingly opt for more holistic marketing solutions that tie together planning, targeting, activation, measurement and attribution in one closed loop tied together with data. Of note, while there has been significant progress on many pieces of the puzzle, attribution is still the weak link here (unless you are Amazon).
Additionally, we expect to see established point solution providers adapt to this trend by expanding their product mix to compete, increase ARPU, and reduce churn, all while incrementally driving switching costs for end users. We are already seeing this happen across all business segments.
Micro business - Wix's expansion of walled garden native-only tools
Small business - MailChimp's expansion from email to "all-in-one"
Medium business - Hubspot's expansion into CRM and support
Enterprise - Acquia's expansion to marketing automation with Mautic
5. Increased M&A in MarTech will support these trends
According to LUMA partners' State of Digital 2019, MarTech continues to enjoy robust strategic M&A interest. Among the marketing clouds there are a handful of well capitalized, high multiple players actively competing to enhance their product offerings. And increasingly, private equity has emerged as the number one buyer in the category. Corporate development teams are focused on the three primary drivers of value: growth, operating leverage, and predictability.
"M&A activity in 2018 signaled that the grand view of mar tech is becoming actualized and 2019 will be about how companies move beyond facilitating the intersection of marketing technology and management to real integration into the enterprise," Greg Paull, principal and co-founder of R3, wrote in R3's annual M&A report.
MarTech companies and unconventional buyers, such as Adobe and Alibaba, lead the 465 deals done globally in 2018 (source: R3 2018 M&A report).
6. Holistic solutions put your data to work
Look closely and there is a theme throughout all of this. Companies need a MarTech stack that simplifies and centralizes data in a manageable away that can be put to work across the organization to drive efficiencies and insights.
Investing in more holistic marketing suites should accelerate teams' ability to accomplish these goals. Executives can play an important role in making sure that there is a macro view being considered as companies assemble their technology stacks.
Increasingly, the next generation of technology companies will be able to bring more integrated offerings to the market that address these challenges. Doing so will accelerate the collection of consolidated first-party data that can be put to work more quickly for real time marketing automation.
If you're looking for a system that can help you do this, let's talk. hello@unstack.app