Whether your startup is just a few people or a few hundred, chances are that your team is constrained on time and resources. As a lifelong startup junkie, I'm going to share my little secret on how to get things done efficiently and without borrowing resources within the company. It's called automation.
Automation is the strategy of the startup business. When you use automation tools, you enable your team to work more efficiently, as well as provide your customers with a better experience. These tools, combined with a resourceful team, can streamline everything from email marketing to customer support and internal operations. Save yourself time and precious energy with our suggested list of automation tools for small businesses. Here are seven essential CRM automations that can help any startup:
Capturing leads from your website form
Scheduling meetings and demos
Collecting feedback from customers
Generating a quote
Updating your sales pipeline
Sending contracts
Re-engaging your old contacts
1. Capturing leads from your website form and storing as contacts
The gateway of automation for most companies is this simple process. By default, most lead form capture plugins want to email the data to you. That functionality doesn't do you or or your team any good. It is widely accepted as a best practice to log contact information into your CRM so the lead can be shared, assigned, and called upon for qualification.
In order to achieve this first milestone in automation, you need to have a form on your landing page. Most landing page builders allow you to put "homebrew" forms on them and most of them now integrate with tools like Zapier. On top of that, most CRM solutions now offer an embeddable form you can build, copy, and paste to your website. This will ensure that you are now storing leads directly into the CRM instead of living in one person's email inbox.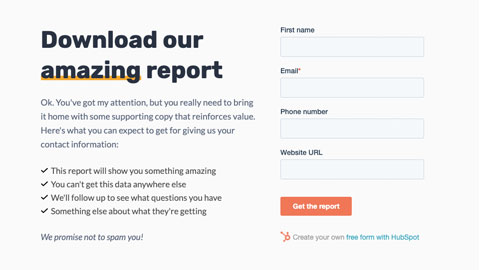 If you are going the "homebrew" way of having your own form, make sure it is from a company that has an integration with Zapier, such as Contact Forms 7, Wufoo, Jotform, or Typeform. If you want an elegant, built-in solution that works out of the box, we suggest using HubSpot as your CRM since they include this feature.
2. Scheduling meetings and demos
We've all been through it, you get an interested client and then you go through a painful back-and-forth dance routine of getting an actual meeting on the calendar. This is because everyone's schedule is different, as is their timezone. Scheduling gets really complicated really quickly.
One way to fight against this is to present a meeting link from HubSpot or Calendly right after the lead submits their information on your site. They are already on your site and looking to buy! You might as well encourage them to book a meeting while you are in their memory. The chances of them coming back to your website to follow up are almost zero.
Another solution to this is to automatically send them a follow up email when they submit their contact lead information on your site. Inside the follow-up email, send them a link to your HubSpot meeting or your Calendly page. 

This gives your prospect the power to book a time that is convenient for them. Sometimes closing the deal just means removing as much friction as possible from the sales cycle. 
Want more automation tips from Bryan? Check him out on our Zero to a Million podcast!
3. Collecting feedback from customers
Here's an easy one that we often forget. Getting that extra feedback from customers after you've closed a deal or after the service has been completed is an important step to becoming a successful company (or remaining successful). Feedback is necessary to grow and iterate your company, product, and processes. You need to understand where friction in your customer journey exists, and work to reduce it. Once a deal moves into the "closed" or "won" stage, you can trigger a Zapier automation to automatically send an email or a form through MailChimp, SurveyMonkey (my favorite), or just your plain ol' Google Forms. 
At the same time, you'll want to ask them for a review on Google Business or G2 (or other review directory listing sites). That can all be done straight from Zapier. 
4. Generating a quote
Nothing can kill a deal faster than the amount of time it takes to generate a quote for your prospective customer. In order to fight against the clock, you'll want to make sure your CRM has the ability to provide quotes for products and services, and you'll want to ensure that your pricing is accurate and updated. (HubSpot, for example, has this in the "Deals" sidebar.)
Again using Zapier, you can move your deal to a stage called "Generate Quote." Once that happens, you can set up a trigger to generate the quote using your CRM, and then sending an email to the customer with quote information. Having this all organized will make your business look professional and organized, which in turn will impress your prospects and build trust. This all leads to higher conversions on sales!
Want to know how your startup's performance stacks up? Check out our Startup Marketing Report for 2021!
5. Updating your sales pipeline
This one is a little bit tricky but can be very rewarding if implemented correctly. As a former sales person myself, I know how you feel on Friday afternoon when your manager sends out that email with the subject line: "Please update the pipeline before the weekend!" You want to shut down the laptop and head for the beer fridge instead. 
Instead, try setting specific triggers that can move a deal stage to a specific pipeline. 

If you're using Calendly and you've already reached out to your new lead to book a meeting (after they've filled out your lead form on the website), you can likely automatically move that lead from the "lead" stage to the "interested" stage, otherwise they would not have booked! Additionally, if you use a tool like Intercom or Dialpad, you can set up rules where if the meeting goes over 30 minutes or if certain keywords are mentioned during the call, you can move the deal stage from "interested" to "qualified" or "generate quote." You will still have to go in and manage the pipeline to make sure your automations are acting properly, but it will still give a more accurate picture rather than logging in on Monday morning and seeing all your deals still sitting in the "New Lead" stage.
6. Sending contracts
Remember the automation for the "Generate Quote" stage above? You should also have a stage sitting out there that says "Send Contract." When the deal moves to this stage, you could link up with my favorite contract and esignature tool: PandaDoc. Zapier's automation between HubSpot and PandaDoc is very well built with lots of goodies and modifications. This leaves room for data insertion directly into your contracts. 

You should be populating the contract with items from the deal properties to streamline the whole contract and agreement process. This all goes back to what was mentioned earlier: Time kills deals. It also just looks good for your company to be run like a well-oiled machine. 
7. Re-engaging your old contacts
Does your "Closed-Lost" deal stage look like a graveyard of "could-have-beens"? Don't worry! Mine does too! 
This is a great place to revisit every six months to follow up. Just because a deal didn't work out six months ago doesn't mean that the prospective customer doesn't need your product or service today. Besides, you have nothing to lose. They've already rejected you. They can't further reject you. The worst that will happen is they won't respond, and that's okay, because you automated it! 
By automating this interaction, you're investing just the right amount of time to follow up with a client who previously said no. Chances are they'll still say no, but it's always worth a shot if you can convert even 5% of those nos to yesses then you're doing great. It's free money. They already know your product and saw the demo. 

To set this automation up is super easy but requires an additional step. You'll want to start with a "Schedule" step in Zapier and run this task every three months (the maximum Zapier will allow). There are hacks to get around the there month rule, but that's not for this post. 
Next, have an action Zap that pulls all the email addresses from the "Closed-Won" stage from HubSpot (or whichever CRM you're using).
Finally, using the Zapier app for your email client (mine is Gmail), draft an email and put all those email addresses from the previous step into the BCC field and say this:
"Hi there!,
I know it's been three months since we last spoke and we weren't a fit for your team then. I'd love to reconnect and see how things are going and if our [insert product/service here] can solve your problems. Looking forward to hearing back!
Cheers!
[your name]"
That's it! Set it and forget it.
Use CRM automations to grow your business
As a small team working on a startup, you are constrained by resources such as money and talent. In order to combat those constraints, you need to be more resourceful. One way to become more resourceful is to automate certain aspects of your work so you can spend more time doing things that don't scale, which is what you need to do in the early stages of your company.
Using a CRM alongside Zapier is the most effective way to start automating some basic tasks that almost every company of any size has to manage such as deal flow, sending contracts, generating quotes and asking for feedback. When it's time to get more advanced, you can hire an embedded automation expert to take over entire business functions.
I hope you've found this guide super informative and helpful. At the least, this should provide a cheat-sheet style template to run with. I hope this gets your wheels spinning and thinking about what else you could possibly automate at your job! 
About the author
This guest blog post was written by Bryan Golkhajeh, an automation expert and co-founder of Workload.co. Workload.co is an automation platform and service that helps enterprises design, build, and implement business process automation for their company's workflows.