Last fall, we started talking here at Unstack about our marketing plans for 2021. We wanted to accomplish more this year by creating better content. We wanted to test out new marketing channels. 
But we wanted to know what other startups were doing, too—what worked, what didn't work, and what became a huge driver for business growth. We wanted to know how other startups were spending their marketing budgets and what their marketing teams looked like.
So we decided to ask them.
Now, we're sharing our Startup Marketing Trends Report with you. We collected the data, analyzed what we found, and asked industry experts for their recommendations. We used this to drive our planning this year, and we think you'll find it helpful, too.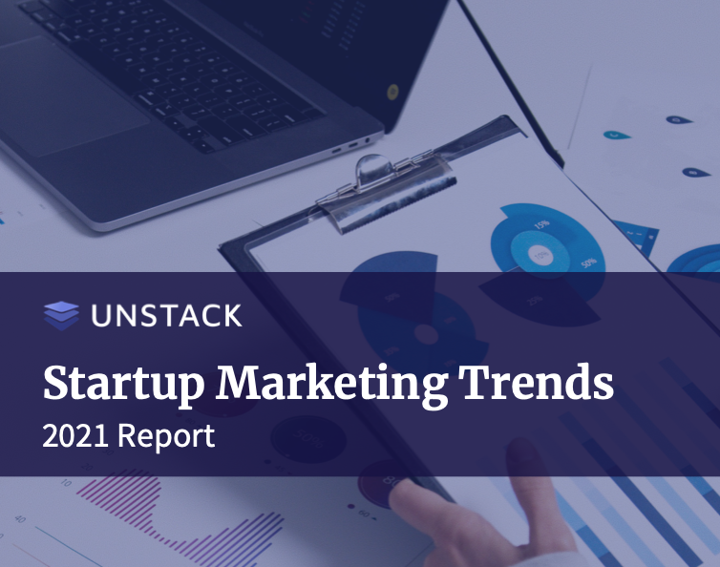 Get your copy of our Startup Marketing Report 2021 here!
Startup Marketing Trends 2021
We invited startup founders, leaders, and marketers to participate in this survey, and we asked all about their marketing. We asked what tools they use, what channels work, and where their budget goes. We asked how they create their content, how they measure their results, and how they rate their performance. 
Here's a preview of the data and insights in our report.
Which marketing channels are most important to your business?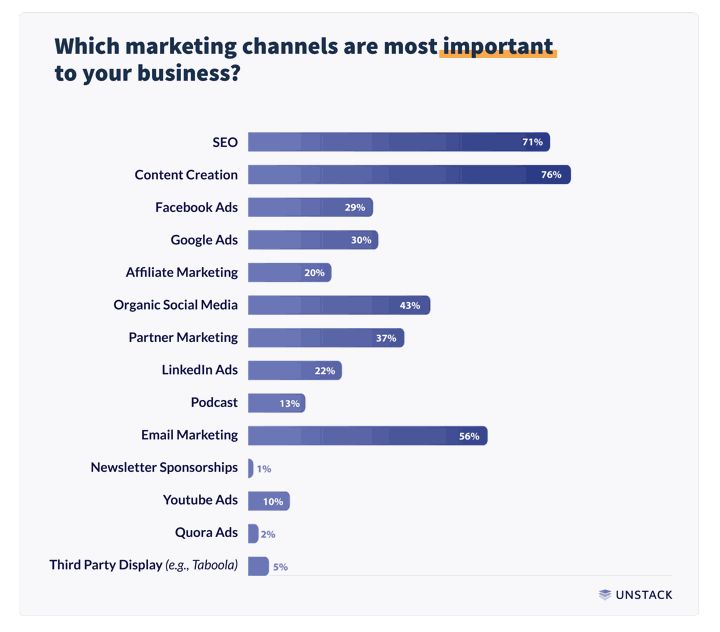 Most of the startups we surveyed identified SEO and content creation as the top marketing channels for their businesses. This isn't a surprise—these are both key levers for growing your business online. 
Email marketing and organic social aren't far behind here, with around half of respondents indicating the importance of these channels for their strategy. Both of these channels are great for establishing brand awareness and encouraging engagement with followers, customers, and even leads—all things that startups building brand recognition and a marketing funnel should be thinking of.
Which marketing channel is the #1 driver of growth for your business?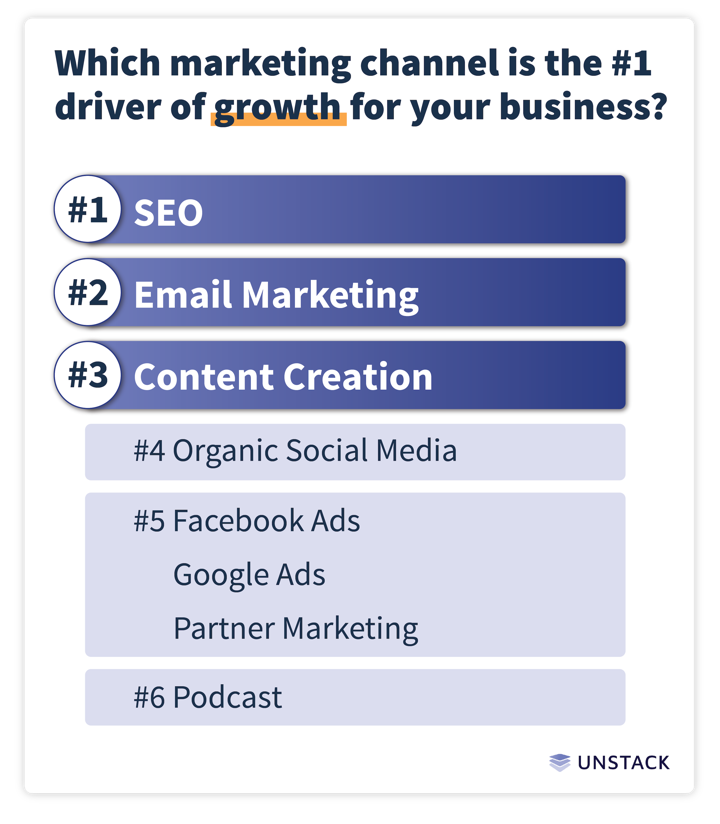 While startups indicated all of the most important marketing channels in the previous question, they shared the most important one here. 25% of respondents singled out SEO as the biggest driver of growth for their business in 2020.
Which channels do you think will be the biggest growth drivers for your business in 2021?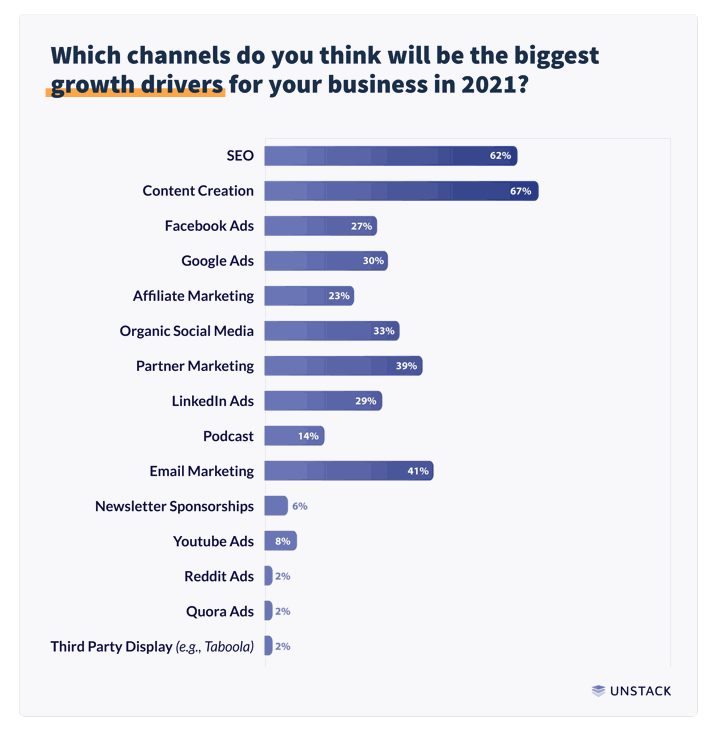 SEO and content creation lead again, as most of our respondents expect these marketing channels to continue to drive growth in 2021. However, these don't have as drastic of a lead in these marketing plans.
More founders and marketers will invest in Reddit ads, Quora ads, and LinkedIn ads next year than used them this year. (You'll see in the graphs above that no one reported using Reddit ads this year.) Testing new channels to make sure you're distributing your marketing budget effectively is a good idea, especially if your goals are to outperform and grow rapidly.
Want to know why we think startups are missing out on podcasts sponsorships? Check out our deep dive here!
How does your team create content?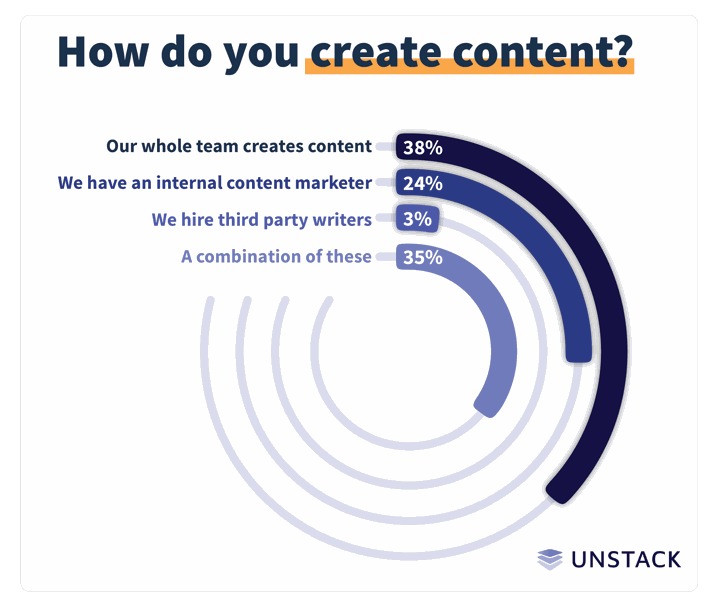 Most teams are all pitching in to create content, and only 3% use third-party writers as a rule to create content. Budgeting for external content creation or a dedicated content marketer can be a challenge, especially for early-stage startups, but it can be worthwhile if you consider the opportunity cost. Is your time as a founder really best spent writing a keyword-optimized blog post? Sometimes that's a yes. More often, that's a no. 
It's also interesting to note here that most startups noted content as a key driver of business growth in 2020 and planned for that to continue in 2021. Getting everyone across the company involved in content creation is great—the best ideas for blog posts and guides come out of problems we're having or conversations with customers. But having dedicated resources for content—whether that's an internal marketer, a budget for writers, or both—is the best way to ensure this channel drives growth for your business.
Ready for the whole report? Download here now!
What is your biggest challenge in growing your business?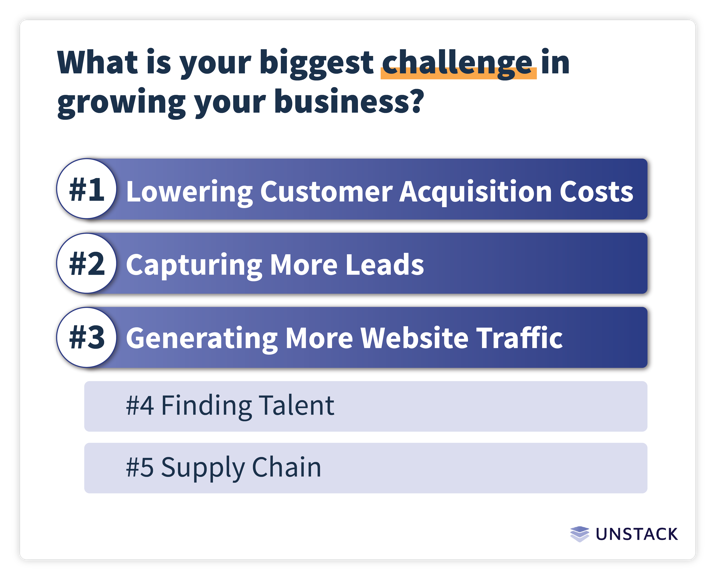 No surprises here: We know that lowering costs wherever possible is huge for startups.
More than half of people reported that capturing more leads is the biggest challenge to growing their business. This makes sense—for businesses that operate with inbound marketing, lead generation is critical for converting your website visitors into customers and generating revenue that keeps the lights on.
Get the Startup Marketing Report now
We created this report to help startup marketing teams like ours get a better idea of the industry standards, and we've included analysis from industry experts, including Adam Enfroy, Jackie Hermes, and more. Download the report today, and use the data, insights, and expert recommendations to help crush your goals this year.