High bounce rates can be a critical reason for the failure of an eCommerce store. The goal of an eCommerce store is to sell things online, and if visitors are landing on the site's homepage or a product page without visiting another page, then they aren't buying, which is a significant problem for the store owner.
Current eCommerce bounce rates in the US are estimated to be at 43%, with the highest eCommerce bounce rate coming from shoppers who land directly on an eCommerce rather than coming to the store from a brand's social channels or any other source. 
Keep this benchmark in mind when you measure your own store's bounce rate, and if you can, try and research the average eCommerce bounce rate for your industry, so you have figures to compare your data to.
Thankfully, there are plenty of steps you can take to reduce your online store's bounce rate, and in this article, we'll give you five tips you can follow to get your online store's bounce rate down and make more money.
Let's get started.
---
#1 Use tools to monitor how your visitors behave on your site 
There are many tools and apps out there you can use to see how visitors to your website interact with your store. The tools you'll want to use will be determined by what you're trying to find out. 
For example, if you want to see how visitors find key pages on your website or whether they can navigate to them quickly and easily you can use a tool like UserTesting to record your actual customers (if you have customers willing to take part) or visitors who are close to your target customer using your website and set specific tasks or workflows you would like them to complete. 
If you want to see how visitors are interacting with different pages on your website, heat mapping tools such as HotJar can help you see if visitors are interacting with your web pages in the way you want them to. 
For example, if you see through a heat mapping tool that visitors are paying attention to the top of your site, but you see a majority of visitors stop scrolling halfway down the page - this could indicate that the content on the page isn't compelling enough to hold your visitor's attention. 
If you notice that visitors aren't progressing down the page or engaging with the parts of the page, you want them to look into changing the copy. If the information and copy on your page isn't informative, clear, and persuasive to potential buyers, they are unlikely to add a product to the cart or request more information. 
Similarly, if you notice that visitors aren't clicking on a CTA that you thought they would, you can use this information to move or redesign the CTA. 
For example, in the images below showing the home pages of specialist SEO firm LawRank and personal injury lawyers Allen Law Firm you can see that each image is sharp, to the point, and clearly explains what each company does when any visitor lands on their website. 
While these examples aren't of an online stores product page, there are still valuable lessons you can take away from it to reduce your online stores bounce rate, mainly:
Keep your copy clear and concise and focused on the product or service you're selling 
Make sure your CTA's are clear and easy for visitors to click on
Display clear social proof
Use high-quality images.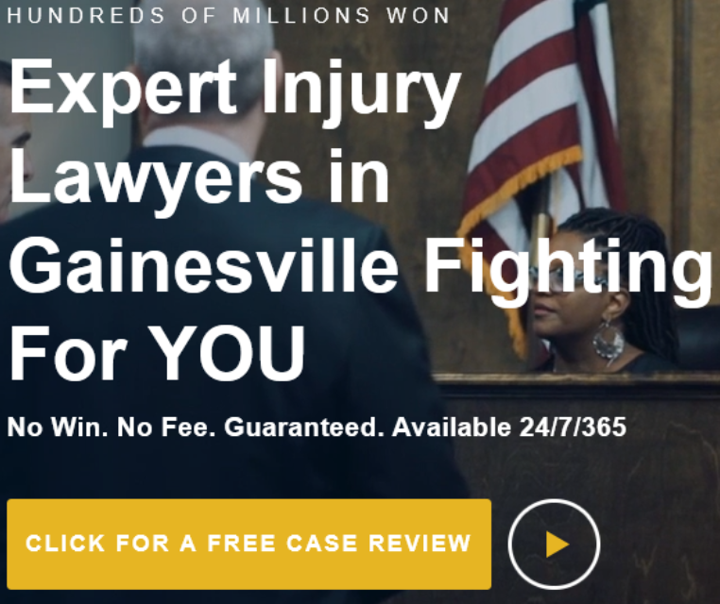 ---
#2 Reduce page load speed 
Reducing page load speed isn't exclusive to just reducing bounce rate for online stores, it can be applied to any website, but it is a factor you need to consider. Google's own research suggests that when a page's loading time increased from one second to three seconds, the chance of a bounce increased by 32%, and by 90% when a web page's loading time increased from one second to five seconds. 
Users also visit more pages on websites that have fast loading times. For example, on average, users visit 8.9 pages on a website with a loading time of two seconds versus only visiting 3.3 pages when the loading time is eight seconds. You can test the speed of your website or specific pages using tools like Google PageSpeed Insights; simply enter the URL you want to monitor. 
PageSpeed Insights will then inform you of an overview of what your users are experiencing, an estimation of your website performance out of 100, and some recommendations on how to improve your website's loading speed, as shown in the images below.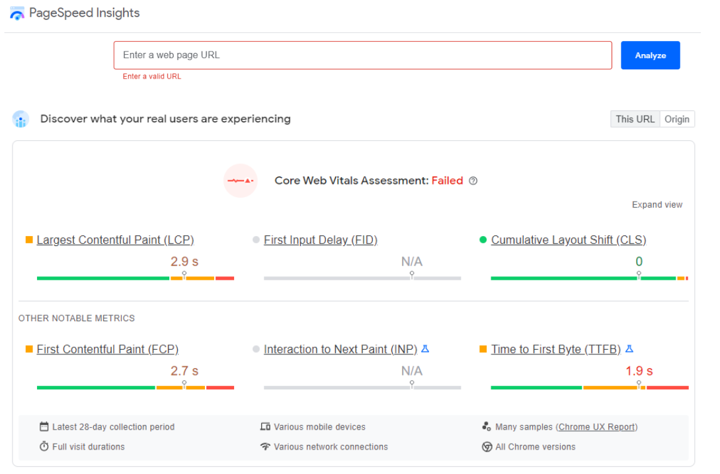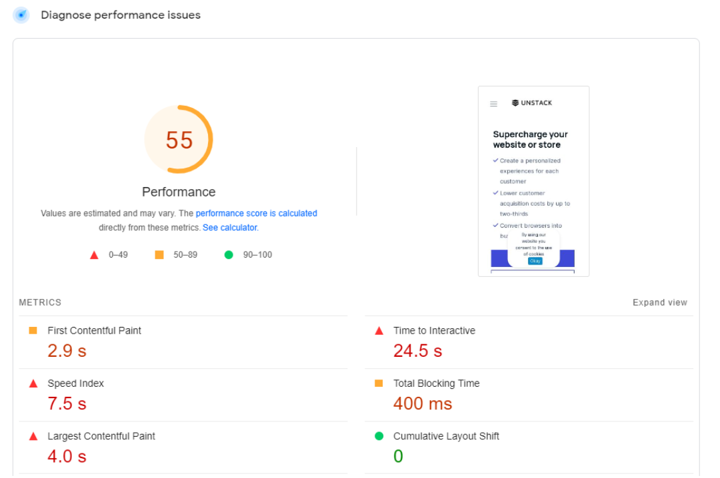 You can use these recommendations as a guide to inform you of some of the changes you'll want to make on your site. For a more in-depth view of issues affecting your site speed, you can use SEO tools such as Ahrefs, Moz, or SEMRush to crawl your site. Common issues an SEO tool might uncover after crawling your site include:
Broken links 
Page redirect errors 
Duplicate content 
Improper image sizes. 
Once you've implemented any recommended changes, you'll want to monitor a page's bounce rate to see if things improve, using tools such as Google Analytics.
---
#3 Optimize product pages 
Optimizing your product pages is a multifaceted process; ideally, a properly optimized page will bring visitors to the page and convert them into buyers. To do this, you first need to ensure your product page is optimized for SEO and that it's ranking for the terms your target customer is using to find the product you are selling. 
There's a lot of cross-over between the steps you need to take to optimize a product page for SEO and the steps you need to take to reduce bounce rates. Some steps you can take to improve your pages' SEO, and also reduce bounce rate include:
Make sure you use high-quality images to sell your products 
Use more than one image for each product 
You could consider using exit intent pop-ups on your desktop pages
Include relevant keywords in your product descriptions and title tags
Write informative meta descriptions
Show social proof - testimonials and customer reviews
Make strategic use of whitespace, and ensure the page isn't too cluttered 
Feature the most important product information towards the top of your page 
Include an 'add to cart' button that stands out on the page
Ensure your product pages are optimized for mobile
Ensure each product page has clear CTA's
Include pricing and shipping costs for each advertised product.
---
#4 Streamline visitors' purchase experience 
There's nothing more annoying than wanting to buy a product but feeling confused and frustrated when you go to try and purchase it. A confusing, convoluted buying process will frustrate your potential customers and increase your bounce rates. Examples of frustrations for potential customers include not being able to find the correct CTA or not being able to find reviews or pricing. 
Any of these factors can cause a potential customer to leave, and research suggests that 11% of web buyers who abandon shopping carts do so because of complex checkout processes. What could an 11% increase in buyers do for your business?
One mistake a lot of eCommerce brands make is confusing potential buyers with the page they link their ads to. You may well have experienced this; it's quite common for eCommerce brands to promote a particular product in an ad, only for the ad to link to the brand's homepage. There's a strong chance that if a brand does this, the potential buyer will just leave the site instead of trying to navigate to the product page or eCommerce landing page they were expecting to find. 
To avoid this potential scenario, ensure that any product you promote in an ad directly links to the appropriate product page and that it's easy for visitors to complete their purchase. 
Another quick tip is to make sure your customers can check out as a guest when they go to make a purchase. 14% of buyers who abandon their shopping cart on a website do so because there is no option to check out as a guest, so make sure you have this option on your site to decrease bounces and increase sales. 
---
#5 Inspire your visitors with product recommendations 
How many times have you visited a website to buy one product, only to end up clicking through to a related product that's recommended? It happens a lot, and you should be making the most of this on your site. This can be as simple as displaying a 'similar products' section or other products from the same brand. 
One company that does this well is furniture and home goods company Wayfair. Wayfair employs a few techniques on its product pages to entice the customer to look at another product. Not only do they have a 'Compare Similar Items' carousel, but also more products from the brand, a 'Compatible Products' section, and (not pictured)' a 'Frequently Bought Together' section.
Displaying this variety of products gives visitors plenty of different options that they may want to consider. The 'Frequently Bought Together' carousel is particularly useful for those visitors and customers who are looking to buy a bed but might also have their eye on something else, especially if they're redecorating a bedroom.
You can combine offering related products on your product pages with your other marketing efforts. For example, If you have an email list of previous customers or visitors who have signed up for a newsletter, you can send these contacts follow-up emails with relevant offers and recommendations through email marketing to further boost your sales.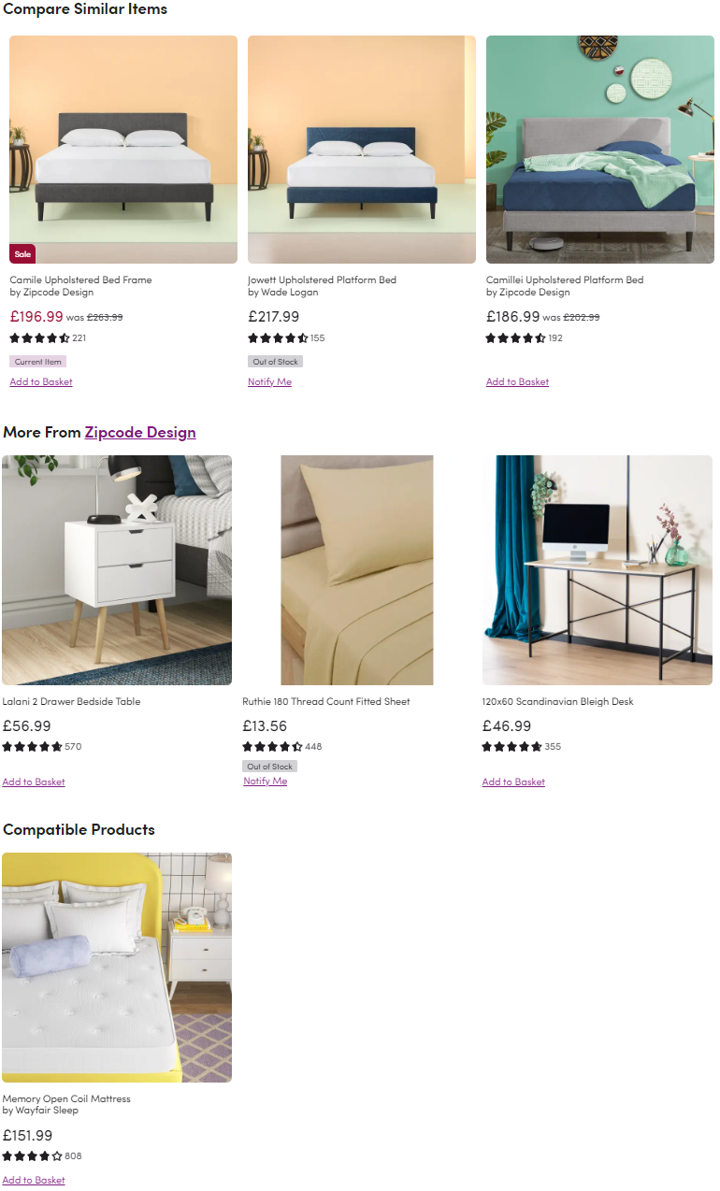 ---
Wrapping it up
Before making any major changes to a page or your website, you should note the current bounce rate so you know what metric you are trying to improve upon; you can find this information in Google Analytics. Once you've done this, you can start trying out the recommendations in this post to begin improving your online store's bounce rates. 
You should consider improving bounce rates as an ongoing process and an essential part of your ongoing SEO and website maintenance efforts. In addition, there may be new techniques and tactics that you come across that you want to test, so don't be afraid of making changes if you come across a recommendation that you want to test.
---
Freya is the founder of SERPManiac - an SEO consultancy service. She is a quoted contributor in several online publications including Business Insider, Fox Business, Yahoo Finance, the Huffington Post, BankRate, and GoBankingRates. She also owns CollectingCents - a personal finance blog that she grew from the ground up.