Unlike many business terms, "SaaS" has a definite birth date, which is - 23 September 1985. Now, in 2021 the "software as a service" niche experiences one of the highest competition levels ever. What to say - in 2020, the estimate of just Martech solutions' quantity on the market has exceeded 8,000, with 1 in 5 solutions weren't present in 2019. Ladies and gentlemen, that's an unreal 25% growth in quantity - within a single year!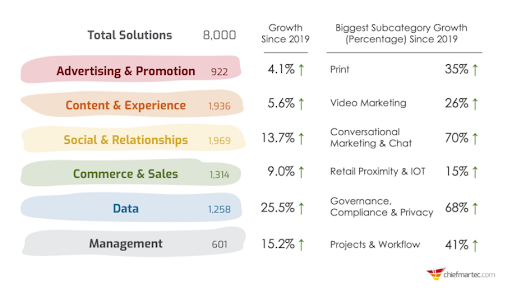 "Marketing technology solutions demonstrate steady growth among major niches", source
For business owners, this inspiring statistic indicates, however, that tough times are coming. Software services are not one-of-a-kind anymore - pretty any program has analogs not inferior in quality. Even though you develop really useful software, prospects may simply not distinguish it. Therefore, Marketing and Sales have to "enter the battle" - to generate qualified leads and develop a well-oiled, revenue-generating marketing funnel.
What is SaaS lead generation?
Lead generation is a combination of activities aimed to reach out to prospective clients and guide them towards making the purchase. The lead gen process is displayed as a funnel of 4 sequential stages: awareness, consideration, conversion, and retention.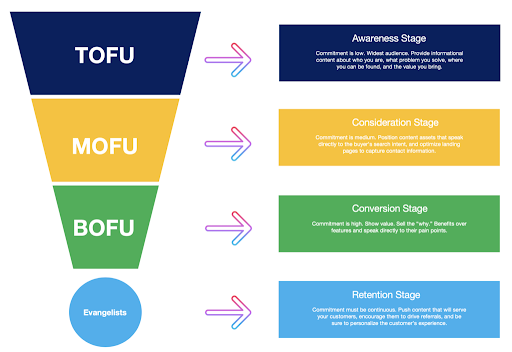 "Typical flow of how do prospects turn into buyers", source
Generating leads in the SaaS niche is nothing fundamentally different from the standard, but of course, there are certain specificities:
higher importance of in-person communication
Selling a service is not the same as selling a material good. SaaS companies commonly operate on the B2B market, where the unification approach simply isn't applicable. To offer services clients will be willing to pay for, they need to deeply understand and prospect client's needs. Hence, both-sided talks on the "Awareness" stage shall be put on stream.
a sales cycle is hardly predictable
If you ever developed software solutions, you will understand what this is about. Things go as planned, pipeline's projects are being delivered, when suddenly an unexpected and urgent big contract "knocks the door". So now you have to promptly rearrange capacities or raise them. On-the-run rescheduling habitually turns out into hurried hiring and/or backlog increasing. After projects were delivered, there may be several months or years of relative stagnation, with fixed costs not going anywhere. In these circumstances, planning operational costs and revenues is a strain, indeed.
customers retention is crucial
In B2B, long-lasting relations with clients are the only pathway to somewhat stability and profits' steady growth. The probability to repeatedly sell to existing clients is up to 70%, while for new prospects this metric doesn't exceed 20%. But you can't sell the same solution to the same customer for the second time, can you? In the SaaS niche, retention can be achieved in 3 ways: supplementing services, updates, and entirely new products.
Lead generation shouldn't be perceived as an autonomous process. Over against, this must be wholly integrated into inbound and outbound leads' nurturing activities.
The power of inbound marketing
In order to get the desired result, one shall provide some value for prospects for either totally or nearly free. This is what lies in the Inbound Marketing idea - to reach people's attention with worthy pieces of content. Instead of eloquent explanations of your software benefits, simply give clients a 1-month free trial. Or - film a helpful video tutorial for them.
To benefit commercially from Inbound activities, establish a thorough onboarding. Manage 3 primary channels:
On-site
If you develop a website for a SaaS company, consider the following time-tested best practices: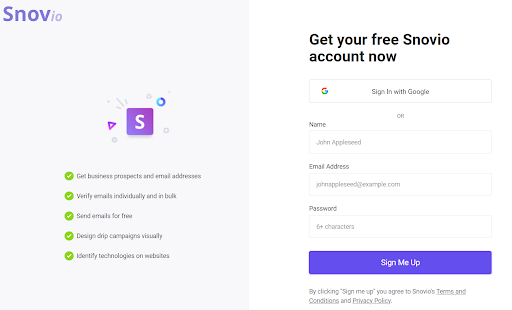 "Keep it simple when designing the registration form", source
Of course, you'd prefer to obtain extensive data about your newbie: name, job position, industry, company's size, etc. But designing a far-flung questionnaire isn't a good idea, as far as the lead may simply drop filling it in.
Stay brief - you can always collect the remaining information on further registration steps. A good idea is to implement extra authorization options, for example, via Google, Facebook, or LinkedIn.
A persuasive positive review works better than an expensive in-media ad. If you do have satisfied clients, don't waste the opportunity to brag. Add the "Reviews" section on your website, ask customers to share experiences from cooperation with you, and reward them with non-monetary yet worthy incentives.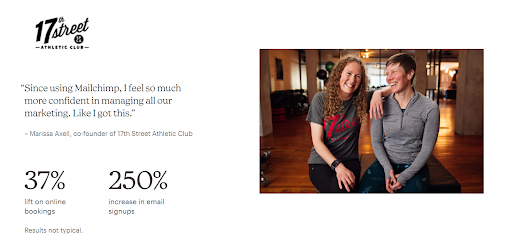 "Add clients' success stories, if your company has some", source
elaborate FAQ and online support
On the TOFU sales funnel's stage people have low engagement with your product, so any nuisance may scare them away. Make sure visitors can find all necessary information on your landing pages - study the most frequent inquiries and create a practical FAQ section. For example, if you do know that people frequently ask about subscription plans - pre-empt a meaningful answer.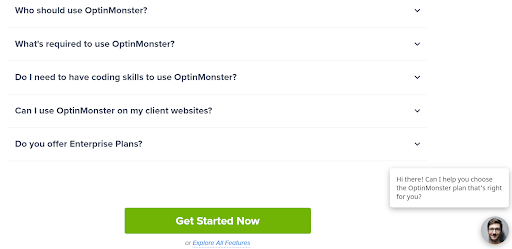 "Fulfill website with answers visitors seek for", source
In-App onboarding
If your primary product is an application, practice the following tips:
highlight one or two main USPs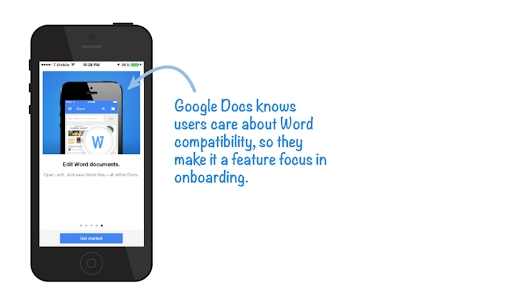 "Point out to main advantage the user will obtain from your App", source
The first screen is a portrait for your App, so make sure that a message fits a small screen size and isn't too wordy.
avoid appearing too curious
Ask people for data you really demand. 60% of users refuse to install the application if they consider it requests over-many personal information. Furthermore, 43% of people uninstall Apps - for the same reason.
Straightforward CTAs connect users with the App and intensify interactions. Ask for actions - use phrases like "Learn more", "Go premium", "Book a call", "Get whitepaper", etc.
don't overload the design
Although no one argues for visuals' importance, the most downloaded applications usually are quite plain. A good idea is to use coach screens that can be flipped with a swipe.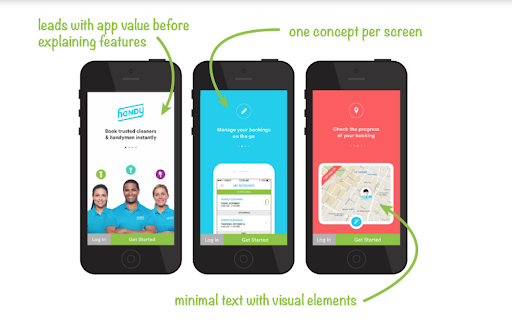 "Use minimum text and visuals for App screen design", source
Email onboarding
It starts with a confirmation email because double opt-in verification is what you must perform, according to GDPR. Onboarding continues with a Welcome email then. 
To connect with subscribers, explain how exactly your service or program will support their day-to-day operations. Include helpful external links, for example, to YouTube channels with tutorials. It is better to proceed with trigger email campaigns based on users' actions. And whichever type of email you design, pay serious attention to customization.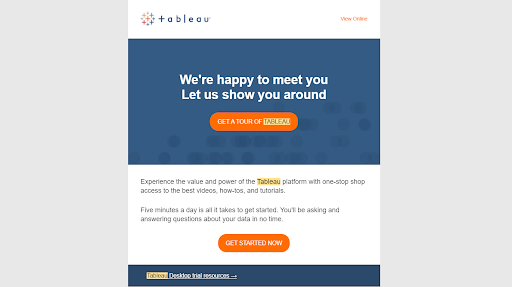 "Tableau Welcome email"
Inbound marketing is about attracting, engaging, and delighting prospects. To perform these duties, marketers use a variety of tools. The most prevalent ones we will talk about below.
Buyer personas
A buyer persona is a principal sales-enabling rational tool that works well for literally all companies, including SaaS. In simple words - it's a portrait of a target client. Two things distinguish a buyer persona from the segment:
A buyer persona isn't just a set of scattered buyers' features - it is storytelling about who your customer is.
A true buyer persona profile is based on calculable evidence: statistics from CRM, Google Analytics reports, lead gen campaigns' results, etc.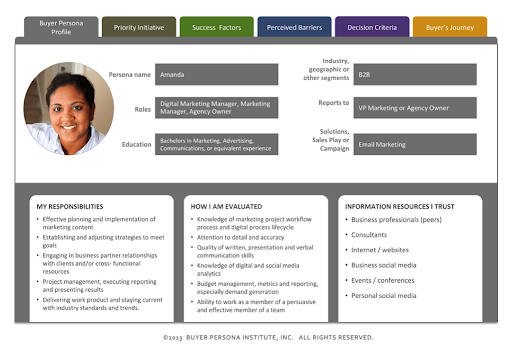 "Possible prospect's profile for software provider", source
Nevertheless, more than 90% of SaaS companies are unable to explicitly specify who their buyer personas are. And this is a bitter fact because profiling is remarkably important for strategic planning:
It allows understanding what prices to charge

It gives ideas about products' features

It allows predicting acquisition costs

It helps to determine relevant communication channels.
Follow the Buyer's Journey
A buyer's journey may seem similar to the sales funnel stages. However, it's a wider process that starts beyond the funnel and may coincide with it at some point. Consider 2 examples of how a buyer may look for the software:
He or she googles

"The best software for accountants.."

and your blog page. A lead scrolls the article, then - navigates to the registration page, but for some reason doesn't go further. The next week lead notices the company's video presentation on LinkedIn, remembers your brand, and decides to contact a consultancy.

He or she asks a colleague to recommend some assisting software. Due to the previously good experience, the colleague suggests your company's program and gives a sales rep's email address.
Both examples show the customer's journey, though, the second one has nothing to do with a funnel - it's the result of word-of-mouth. The first journey may last several weeks, while the second one - less than an hour.
No matter how short it happens, the journey includes 3 steps: awareness, consideration, and purchasing. To enhance the route - provide distinct content at every stage.
PPC for SaaS Companies
SaaS niche has vast opportunities to acquire leads on a pay-per-click basis. Regardless you work with Google, Bing, or Yandex ads, apply the following tips to create an effective keywords' portfolio:
study SERPs to learn search intents
Although high-volume keywords, like "best software App" or "best software", obviously look alluring, these are too wide, hence, might not bring many conversions. Pay to rank on less popular and more precise queries, for example - "apps software download for pc" or "order software for restaurant".
Because they have less search volume, they're usually more affordable than short-tail ones. Remember - it's not the amount of traffic you are chasing, but the number of deals. Invest time in studying keywords and find that revenue-generating wordy "diamonds".
Google predominates within search, with no doubts. Nevertheless, keep in mind there's still a sufficient number of users who utilize other search systems, as well. If your competitors don't pay enough attention to these - here's your chance to obtain extra paid traffic.
Display ads to people who've already shown interest in your company or product - visited website, downloaded App, etc. Although it may be difficult, retargeting brings more qualified leads, hence, money.
SEO for SaaS Companies
The site's optimization goes far beyond good titles and descriptions. If done properly, SEO will provide you with extensive organic traffic, while cheating will cause painful problems, such as spam filters. For effective SEO, follow these hints:
Don't create landing pages for pro forma - collect and cluster semantics to see what topical words you should cover. Write SEO-optimized articles, but don't slide into keywords juggling.
imitate the example but don't copy
Identify benchmark websites in your niche and strive for the same quality. Highlight the main promotion points: is there a blog? what calls to actions are used? are there video frames? what backlinks are used? Inspiration doesn't equal copying, however, otherwise you risk being banned.
When it comes to backlinks, think of quality - not quantity. Although aggressive strategy may bring some good positions in a short-term perspective, strategically this is a hopeless scheme.
Social Media for SaaS Companies
More than 90% of buyers in B2B engage with sellers through social media. To turn business profiles into lead-generating laborers, determine appropriate platforms and develop a fitting content strategy:
maintain publications' frequency
Although a regularity is a relative magnitude, make sure your feed doesn't appear slack. It's also essential to understand who your wanted readers are - to choose a corresponding writing style.
use quality branded visuals
If you promise quality but post grainy photos or charts, this won't influence your reputation positively. Hire a designer or purchase high-quality images on stocks - don't use untidy screenshots or Google images.
Run paid campaigns to get conversions. First, segment people and use similar audiences to expand impressions. Then - write a powerful message. Point to 1-2 clear advantages of your service and add CTAs. After the campaign ends up, analyze performance metrics - CPC, CTR, and others. Run A\B tests and scale winning schemes.
If you are a "newborn" SaaS company, forcing all efforts onto lead generation processes development may not be quite worthwhile, indeed. Yet, as soon as you witness the steadfast growth of deals' numbers, you need to start the Inbound Marketing system designing right away.