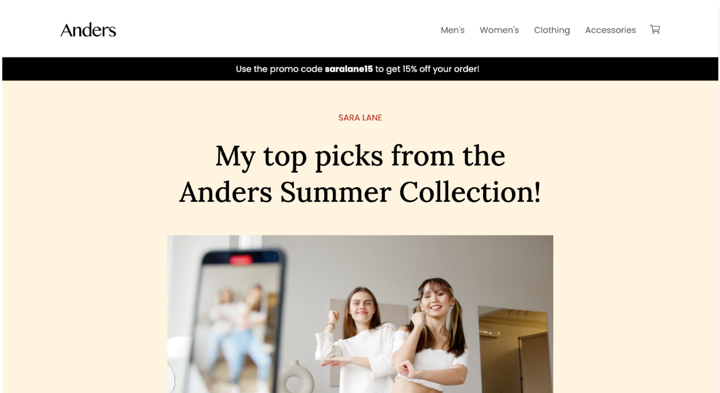 You've done everything right. From creating a beautiful product to setting up product pages, you have a killer ecommerce store and are driving visitors to your site. The only problem is, that your conversion rate isn't what it should be. Or worse, your ecommerce conversion rate is so bad you're thinking of taking the business offline, where you'll spend thousands more convincing people to buy.
Don't give up just yet! Landing pages can boost your conversion rate, and we've done our research and found 9 ecommerce landing pages that drive sales. In this article we'll discuss:
What an ecommerce landing page is 

What makes a great ecommerce landing page

9 ecommerce landing page examples that convert visitors 
Landing page versus e-commerce landing page
There are a lot of different terms used in the world of online marketing, and sometimes it can be difficult to keep them all straight. Two terms that you may have heard used interchangeably are "landing pages" and "ecommerce landing pages." But what exactly is the difference between these two types of pages?
A landing page is a standalone web page that is designed to promote a specific product or offer. A landing page usually has a form that allows visitors to sign up for something, such as a free trial or a discount.
An ecommerce landing page, on the other hand, is a page that is designed to promote a specific product or product category on an ecommerce website. An ecommerce landing page will typically have a product grid and may also include product reviews, pricing information, and other relevant details.
It should be shoppable, have add-to-cart buttons, and stand-out visuals. It can be used to drive traffic to an offer or product launch, or it can be used as an integral part of a conversion funnel. A good landing page will connect with your target audience, appeal to their needs and pain points, and lead them through the buying process without any distractions.
Here are some landing page playbooks we recommend you use for your Shopify store:
Create better back-in-stock experiences for your best-selling products to increase purchase rates.

Build your SMs and email list with sweepstakes and giveaway campaigns.

Send customers to personalized shopping experiences to drive more revenue from your existing customers

.

Increase conversion rates with a dedicated landing page that connects your PPC ads to your products

Make the most out of your paid influencer marketing with pages that can be promoted across social media, email, and ads.

Create one landing page with conditional content to deliver a personalized experience to your target audience.

Get more online sales with SMS marketing by bringing subscribers to a landing page that builds upon your messaging.
Landing pages are especially effective when used alongside conversion optimization strategies such as split testing and A/B testing. Even if your current landing pages are working well for you right now, it doesn't hurt to look at some examples of what other companies are doing with their pages — especially if they're converting better than yours!
What makes a great ecommerce landing page?
Landing pages are a crucial part of any online marketing strategy. But they aren't easy to create. 
A good landing page has to:
Attract attention and encourage visitors to stay on the page.

Encourage visitors to take action (sign up for an email list, buy a product).

Deliver the right message at the right time for each visitor.
We created a helpful optimization checklist to guide you through creating a conversion-driving landing page.
Optimization Checklist:
The entire page is shoppable

Incorporates social proof

Mobile-optimized

Content is written around one goal, for a targeted audience

Any discounts/promotions are clear & prominent

High-quality images

Contains only 1 clear

CTA

Create a sense of urgency or exclusivity (i.e. Claim Your Offer Now)
9 ecommerce landing pages that convert 
Now that we have the basics down, let's dive into some examples of 10 brands using landing pages to convert browsers into buyers.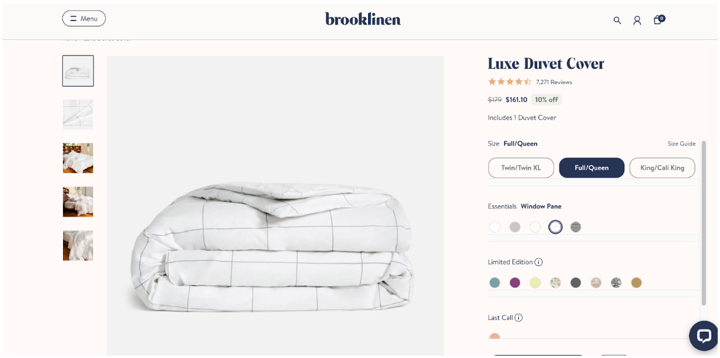 This landing page from Brooklinen does a great job of encouraging shoppers to buy with a banner offering a special promotion on their first order. They also create a sense of urgency by including a countdown timer on it. 
Highlights on the page:
Great product shots of the duvet cover. Viewers can see what it looks like on its own and what it looks like in a space.

Provides

social proof

by featuring real customer's pictures

Provides a comparison chart on their different products so shoppers can make an educated choice.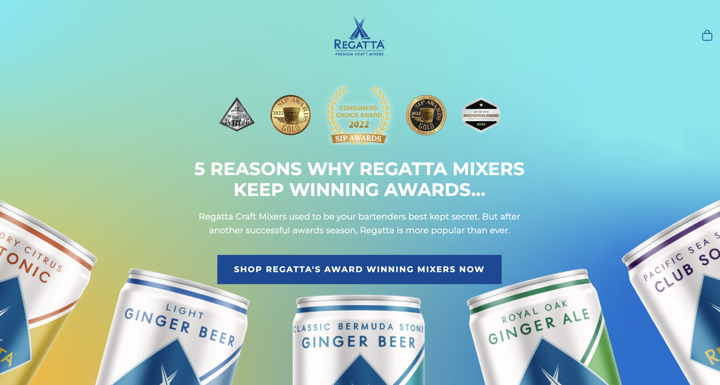 For this landing page, Regatta used an educational format to highlight the versatiliy and ease-of-use of their mixers. With great images and plenty of social proof this page is eye catching and provides valuable information.
The top banner showcases various awards to provide plenty of social proof

Engaging copy that convices readers to buy

Pricing comparison to show the low-cost of the product compared to a bar drink and cocktail in a can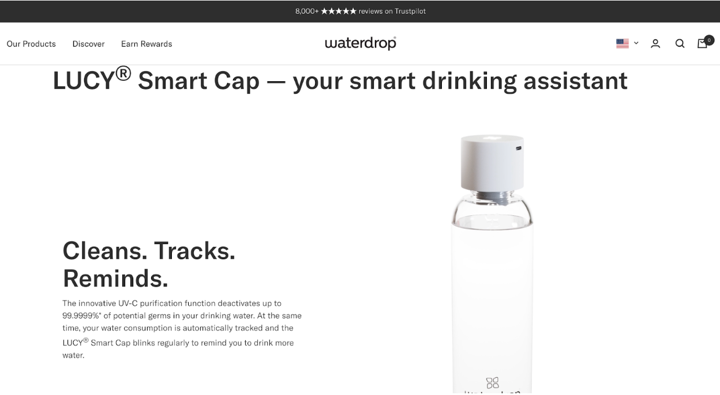 Waterdrop's landing page for the Lucy Smart Cap uses stunning visuals to convey the many features of the new product. The page has an almost futuristic feel to it so buyers feel like they're buying something cutting edge. 
Highlights on the page:
Sleek and minimalist design

Images and videos show the many features of the product

One clear CTA throughout the entire page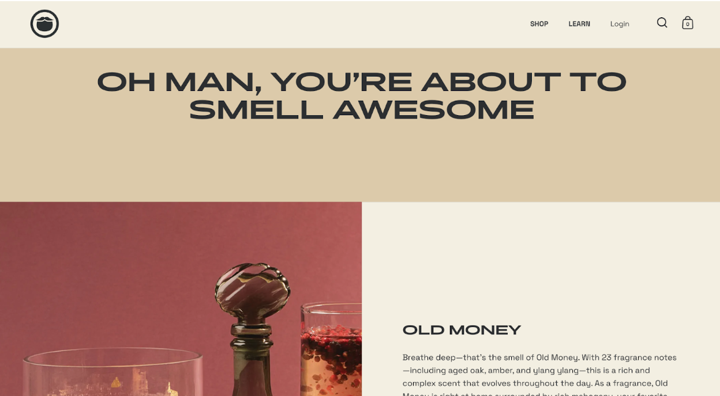 This landing page from Beardbrand has a hilarious video and engaging copy. It also features eye-catching images that give the entire page a luxurious look. 
Highlights on the page:
Beautifully written copy that resonates with the audience 

Entices visitors to purchase with a $10 credit towards their next purchase.

Allows shoppers to try a sample of all the scents before they buy

Easy to navigate on mobile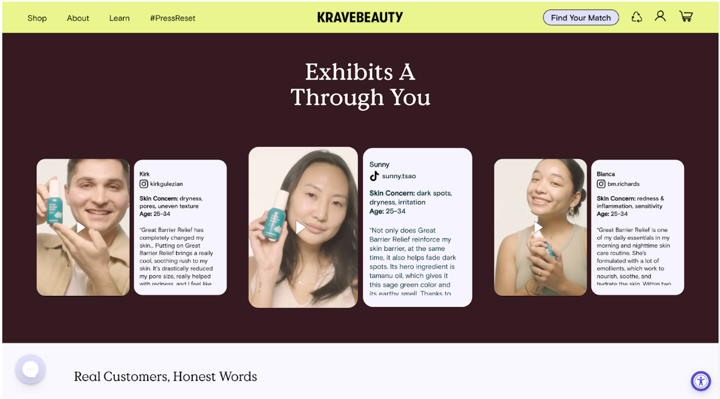 KraveBeauty's landing page builds credibility and trustworthiness by making social proof a key part of the page. The brand features videos and reviews from real TikTok accounts, in addition to having an extensive review section.
Highlights on the page:
Uses bright and youthful colors and fonts to make the page stand out

Features a video on how to use the product

Puts a spotlight on the benefits of the serum and highlights the power of the ingredients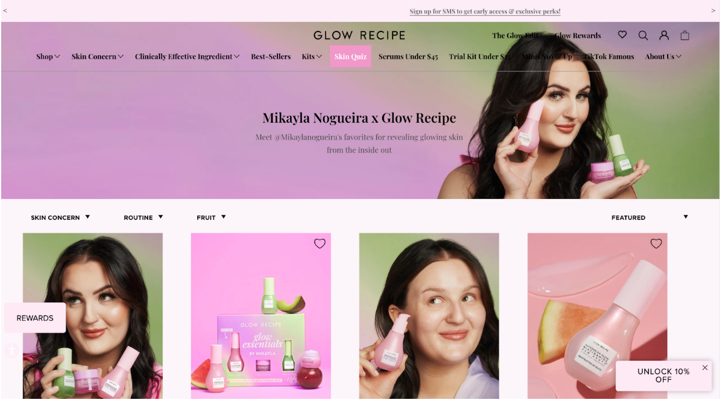 Glow Recipe collaborated with influencer Mikayla Noguiera and created a landing page that showcases beautiful imagery and powerful quotes. 
Highlights on the page:
Incorporates images of Mikayla using the

product

, along with actual quotes from her

Shows the number of reviews for each product "550 reviews" 

Has CTA buttons that stand out 

Provides a 10% discount at the bottom of the page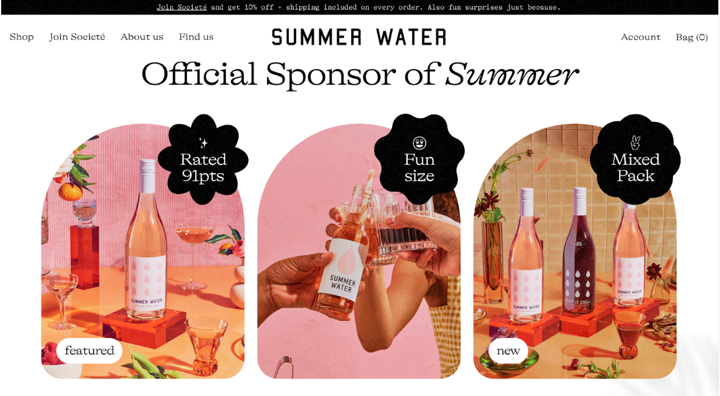 When Summer Water announced the launch of their new online store they sent out an email campaign that led to a new landing page. With funky fonts and images that pop, the page made a big splash. 
Highlights on the page:
Banner has a quirky and fun video showcasing the product 

Unique and eye-catching product shots

Incorporates social proof by having a large section dedicated to shots from their Instagram, and made each image shoppable 

Has a prominent section to sign up for email updates and find the product in store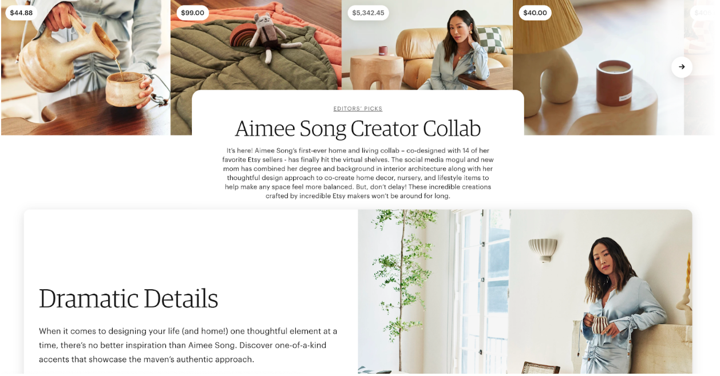 This landing page features Aimee Song's first-ever home and living collab – co-designed with 14 of her favorite Etsy sellers. With a minimalist and earthy feel, the page does a great job of showcasing the different products.
Highlights on the page:
Banner at the top of the page has expertly shot product images, along with pricing details

Features a prominent quote from Aimee talking about how talented the designers are

Breaks up parts of the collection by telling visitors certain pieces are "For the nursery" 

A mix of interesting visuals like bright photos and short

engaging videos

so visitors can see the products from a variety of angles.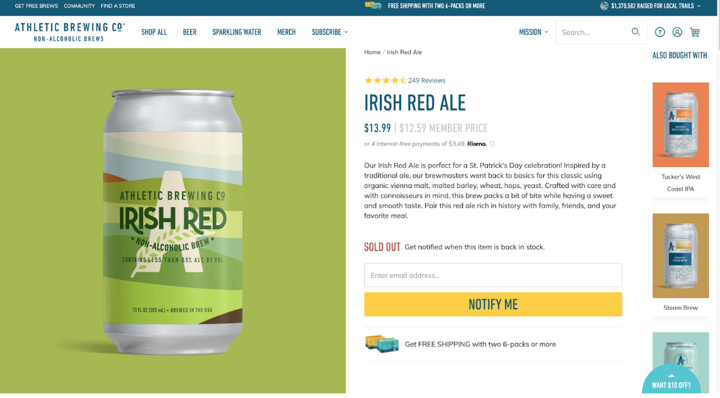 For Saint Patrick's Day, Athletic Brewing came out with a limited edition Irish Red Ale. The landing page does a great job of using clear and concise copy to show the beer's natural ingredients and flavor profile.
Highlights on the page:
Sleek design so visitors aren't overwhelmed with copy and images 

Incorporates reviews on the product information, as well as showing the discount members get on it 

Encourages visitors to spend more by adding a section showcasing additional products usually bought with the Irish Red Ale

Makes it so that even at a glance, visitors understand the ingredients and quality of the beer 
Conclusion
Start using these ecommerce landing page examples to boost your conversion and run a successful online business. You're welcome to steal these page elements or use them as inspiration for creating your versions.
And if you're looking to create high-converting ecommerce landing pages, then you need to check out Unstack. With Unstack, you can easily create beautiful, optimized landing pages that will help you increase your conversion rate and boost your sales.