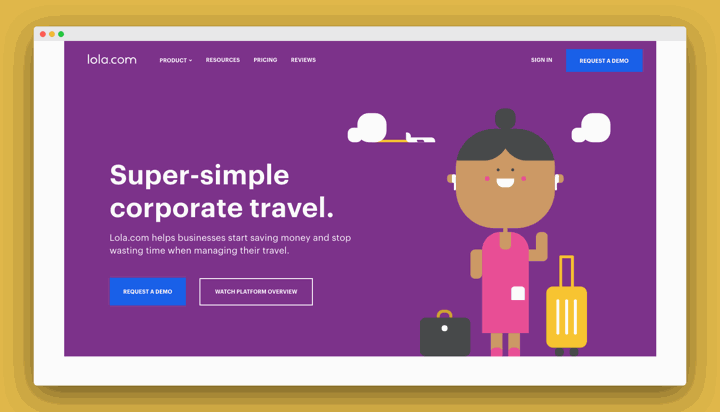 How do fast growing companies implement demand generation programs that pile in leads and drive bottom line outcomes that keep sales teams fed and happy? That's what I wanted to know, so I started talking with Jeanne Hopkins, the CMO at Lola.com. Lola itself is an interesting company, but it was Jeanne's 25+ years of experience building marketing engines at companies like Hubspot and Lola that I really wanted to better understand. I've summarized some of my findings below in a format which I hope you can take and use directly in your own organization.
Lesson #1: Establish feedback loops to inform your marketing in real time
Marketing can't sit behind spreadsheets and dashboards. As a marketing leader, you have to be dialed in across the organization. Jeanne spends a good amount of time thinking about what she calls "connective tissue" within the organization, looking for ways to make sure walls are broken down and teams are collaborating to push things forward. Establishing open lines of communication across product, sales, and marketing teams helps to foster and support an agile organization that adapts more quickly than their slower and more siloed peers.
This helps drive things like:
Faster reaction times to tweak a sales pitch, prioritize a feature, or change a marketing plan
More internal context between teams, which fosters empathy and trust between functions that often clash
Practical step: sit in on calls with your sales team and host  a bi-weekly lunch and learn to get feedback from product and sales
Lesson #2: Focus on enabling your sales team to win
People spend a lot of time on product launches and educating customers, missing out on the opportunity to educate and enable sales teams to be as effective as possible. Focusing more resources on training and collateral for sales teams puts them in a better position to close more business and keeps you aligned into their needs. Ask yourself, "What does the sales organization need to be successful?"
Practical step: sit down with your sales lead and prioritize the key deliverables they need to drive win-rates up.
Lesson #3: Embrace revenue accountability (hold the bag)
As a marketing leader you have to hold the bag. You have to feel accountable to driving revenue. The creative aspects of marketing are still really important - in fact, Lola is particularly good at looking and feeling like a fun consumer brand despite being B2B - but companies need revenue focused marketers who work closely with sales and product to drive the right kind of demand that leads to the right kinds of wins.
 "We came in and blew out the lead goals we had initially set, but ultimately understood that a better way to align with our sales team was by the number of demos we could get scheduled for them, so we adjusted to shift focus to that as a leading KPI."
Practical step: Don't just look at  cost per lead. Work with your team to think about which metrics will help the business move forward and dial in on them.
Lesson #4: Most companies are running similar playbooks but winning companies are doing it far more aggressively.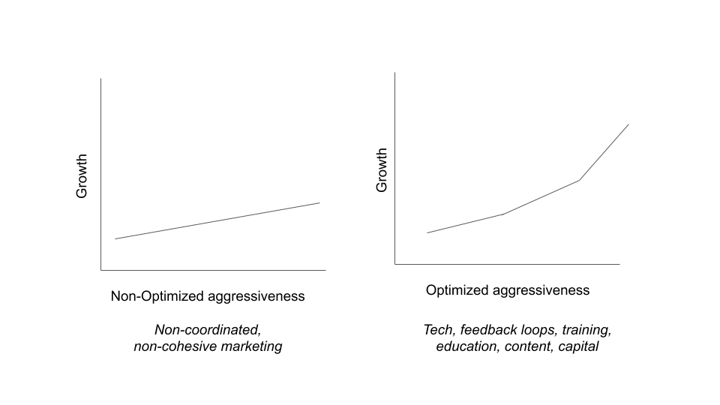 I keep coming across this. When I dug into the specifics of what Lola is doing to drive demand I found most of what you'd expect: lots of content, PPC, accounts based marketing, and some various bets on new channels to learn and adapt. It's all standard fare for B2B marketing, and that's good news if you're reading this and thinking about how you can grow faster. As far as I can tell there are two levers that fuel demand gen systems. First, it's got to be cohesive. There's a lot of moving pieces that need to work well together, especially when your product and teams are constantly growing. Jeanne knows this, and it's why the "connective tissue" and feedback loops are so important. Systems can automate a lot of the details, but communication flow and tacit insight are hard to program.
The second lever is the level of aggressiveness that leading companies are able to effectively push into their marketing. When I talk to smaller companies they are doing a little of this and a little of that. And the results are a little of this and a little of that as well.
Lola is running a full-court press on the channels that are working for them, and they aren't going to slow down any time soon. Yes, some of this is financially driven - Crunchbase notes they've raised $81 million - but it's also the mentality I sensed in Jeanne's voice. There is a strong sense of urgency to make it happen, and a healthy impatience for those who aren't going to keep up.
Investing in marketing early is key to growth, especially in owned channels like email and content, which can provide lasting compounding growth (though many will note that SEO is a long-term play). The point is, you have to do more if you want to get more.
Practical steps: follow Jeanne's advice.