Sometimes it feels like I'm constantly reading words on a screen. I wake up and turn off my phone alarm, then scroll through the headlines and notifications. I sign onto work and scan my inbox, clicking on links I want to read more about, then scanning those pages. Because it all starts to blend together, your copy isn't just competing against other marketing copy. That means you need to get creative.
By focusing on more creative copywriting, you can showcase your company's unique brand voice while also creating a reputation and authority on the subject matter, products, or services that your business offers—all while encouraging your  
Here are four go-to creative copywriting tips: 
Think of your headline like a math equation
Ditch the old, boring CTAs
Infuse your product copy with personality
Keep your website copy interesting
Before we get into these tips, let's cover why you need more creative copywriting in the first place.
Why do you need more creative copywriting?
Making your copy more creative stops you from hating what you're writing everyday.
No, that's not it—at least, not the most important part.
Effective copywriting is essential for any digital business, which, let's face it, is a lot of businesses these days. Copywriting persuades the reader to take an action, whether it's to click a blog post, open an email, sign up for a trial, or purchase the product. 
But how impactful could your copywriting alone really be in prompting users to take that action? Turns out, pretty impactful. MarketingSherpa shared case studies of copywriting successes that included 17% increase in newsletter subscribers, 3.13% lift in conversion rate, and even 321% CTR increase.
Now, effective copy is engaging copy. Let's jump into the creative copywriting tips that can help you improve your own stats.
How to master more creative copywriting
Here are four tips to help you write more creative copy so that consumers not only find your content but actually read it. (The dream!) 
1. Think of your headline like a math equation
I know, you've probably been told that math is like the antithesis of creativity. But if you've ever plotted , ran through countable vs. uncountable nouns, or diagrammed a sentence, you know that math is a part of writing, even writing creatively.
This is even truer with copywriting.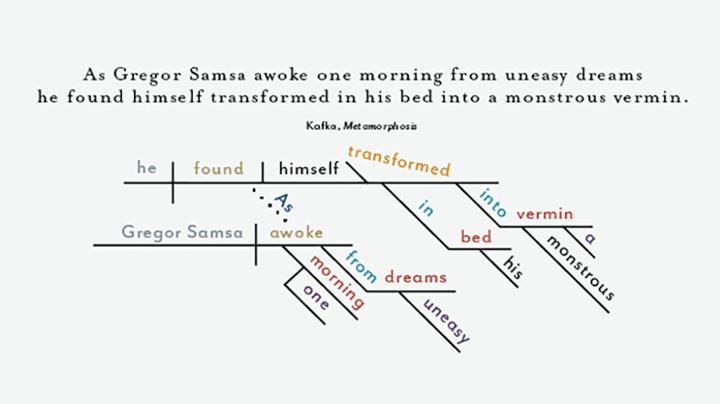 Ah, beautiful example of the dying art.
There's somewhat of a science to creating compelling, clickable headlines to entice readers in. You need to leverage the curiosity gap. You need to sum up the content. You need to keep it fresh. You also need to keep SEO in mind, so it's important to balance these goals.
In your headlines, every word matters. You only get so many to make your impression. Using some of the old tried and true tips for writing a great headline are still recommended because, well, they have been proven to work. Sometimes, having a bit of structure in place allows creativity to happen.
So what is the formula behind creative, interesting headlines? The bad news is that there isn't just one specific formula. (If only!) But there are many things to keep in mind and use when it comes time to write your short, snappy copy:
Include your keyword. If you're targeting a keyword (PSA: In most cases, you should be.), then make sure it appears in your headline. 
Showcase the benefit for your reader. Why should someone want to read or view of try out what follows the headline? Showcase the "WIIFM" (what's in it for me) right from the get-go.
Be specific. Make it clever, but also make it clear.
Generate curiosity. Whether you choose to ask a question, pull out an interesting statistic from the article, or even use impactful adjectives to create some allure.
You can always use tools to help you write your headlines, too. CoSchedule's Headline Analyzer and Answer the Public are two great free resources to use as you write your headlines.
2. Ditch the old, boring CTAs
If you're not thinking of your CTA as a place to use copywriting to your benefit, you've got a problem.
This small space on the page has a lot of impact. It's so easy (and maybe even tempting) to keep your CTA as a simple "Download Now" or "Sign Up," but injecting creativity into your CTAs can also help you achieve more conversions.  
Just like with headlines, you want to give consumers a reason to want what you're offering. How can you create more creative call-to-actions that will help you get more conversions?
Use action words. Create momentum by injecting words with momentum into your CTA. Try words such as "join," "run," or "hop." 
Write from the customer's perspective. Making your CTA in the first-person point of view makes the consumer really feel like they are the center of attention and the one choosing. Which is more powerful: "Download our ebook" or "Transform my business with this top-secret ebook!"?
Stay on brand. Use your brand voice in your favor when creating CTAs. Take Crossrope, for example. This jump rope company has used a CTA "Show Me the Ropes." This is too good.
Have some fun when writing your CTAs, and try to make specific ones for your specific offerings. Try to make them all about what the customer will get while also ensuring that they are unique and actionable.
Looking for more CTA inspo? We compiled 107 Calls to Action That You Can Steal Now!
3. Infuse your product copy with personality
Your product copy should absolutely describe the product. But that doesn't mean it has to sound like an encyclopedia entry.
Your product descriptions shouldn't just outline the specs and features of a product, they should tell a story. It doesn't matter if what you're selling isn't sexy or exactly "fun," there is still a way to make your product copy interesting, even if you're selling paperclips.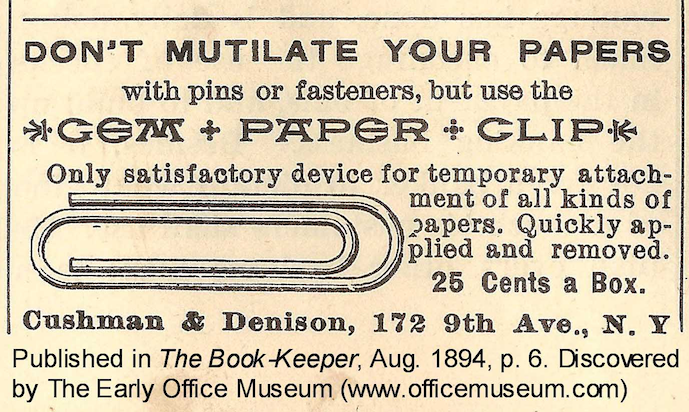 "Mutilate"? What a start to a paperclip ad.
This is a perfect time to evoke emotions from your consumers. How will they feel if they get this product or service? What will it do to make their life better? You can describe all of this with some creative copywriting. 
To get creative with your product copy, you need to turn the features into benefits by knowing your customer's pain points and addressing them.
Take a look at Old Spice's Volcano With Charcoal Antiperspirant, for example.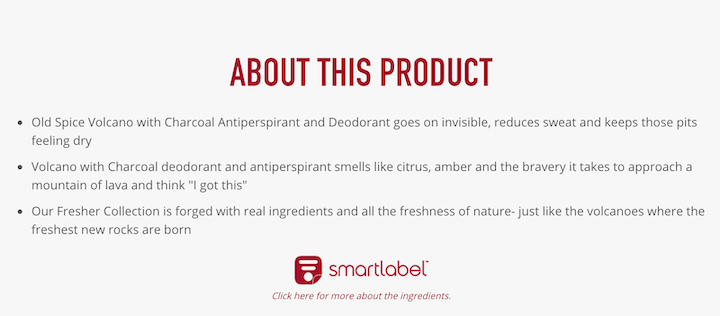 In this copy, Old Spice hits the important stuff—the deodorant works as described and isn't visible upon application. But then it gets more interesting. This deodorant has the scent of "the bravery it takes to approach a mountain of lava and think 'I got this.'" By infusing personality into their product description, they not only showcase what the product does, but how it will make you feel. 
Now, that's a way to make someone want to buy their product.
4. Keep your website copy interesting
Your website is the place that most consumers will come into contact with your company and learn about your company and your offering. And if you want to hook the reader from the get-go with creative, engaging copy, then you need to understand who that is. 
That's where your customer personas can help.
A customer persona, sometimes referred to as a buyer persona, is a fictionalized representation of your ideal customer. That means that while this person doesn't literally exist, this persona has many of the same characteristics and experiences as your target customers. 
For example, if your target customers are marketing managers without a design background who have been tasked with creating graphics, then your persona should represent this. Maybe you have Megan the Marketer, who is 32, has been working in marketing for five years focusing on branding and product marketing, and recently joined a startup where she's stressed for time. And those are just a few of the details you should include.
Here's an example of a complete buyer persona:
Now, when you're writing short, creative web copy, you can write for this specific reader. 
Is your customer persona obsessed with their pet? Feel free to make a pun about Fido. Are they passionate about your solution? Use some emotional appeal. Are they always rushed and skimming through your page? Delete that clunky five-dollar word. (Actually, if you're writing marketing copy, you can always delete that five-dollar word. Trust me, there's a clearer option.)
The best way to make your website copy effective is creative copywriting that's meant specifically for your target customer.
Sidestep boring with more creative copywriting
Hopefully, these tips have inspired you to take another look at your headlines, CTAs, product descriptions, and website copy and infuse them with a bit more creativity. By understanding your customers and using more detailed storytelling in your copywriting, you'll be able to stand out against your competition—and the sky's the limit after that.