Rhetorical question:
What if there were a way to increase your sales and delight your customers at the same time? 
Gratuitous answer:
There is. It's called 'guided selling'. 
Guided selling isn't a brand new concept. In fact, companies have been experimenting with this eCommerce strategy for a while now. For good reason. Guided selling puts the power into your consumers' hands and the money into yours. Mic drop. 
What Exactly Is Guided Selling? 
Guided selling is a data-backed process that helps consumers make purchasing decisions. Psychology and consumer insights empower purchasers to pick products that suit their requirements. This customer-focused selling process is usually undertaken by AI-powered software. 
Let's look at an example. 
Asics shoe finder is a perfect demonstration of guided selling. Its interactive tool starts with simple questions, such as a choice between male or female shoes, and whether the goal is to run faster or further.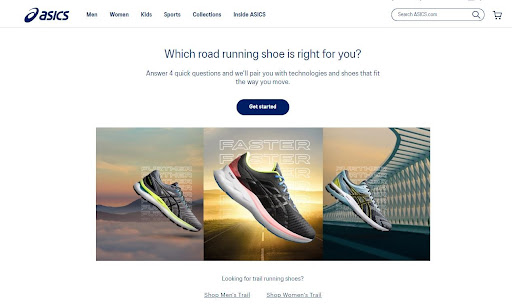 Here comes the science bit. 
Asics follow up with questions about extra support and cushion level. If the customer is unsure at this point, helpful information is provided about what these elements mean. The journey is user-first, easy, and educational all at the same time.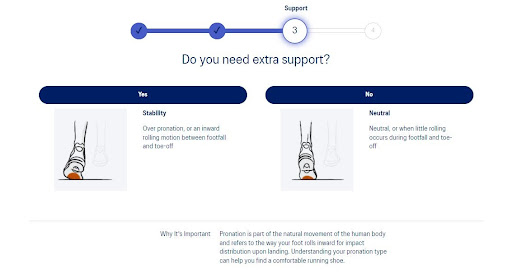 After just four steps, the customer is presented with an array of beautiful trainers personally selected for them.

That's guided selling. 
In this increasingly consumer-orientated climate, understanding your consumers' needs is paramount. Manipulating their purchasing journey to address these needs is what guided selling is all about. 
Did you know that 70% of online shoppers consume between one and six customer testimonials before making a purchasing decision? That's massive. Take a look at the image below to get an idea of the customer purchasing journey stages.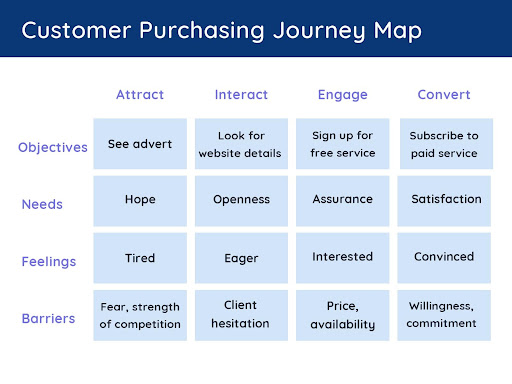 Image Created by Writer 
Whilst we may wish it were more straightforward, the consumer buying journey features many steps, thought patterns, and emotions. Your eCommerce website must make the purchasing navigation easy for consumers. Reassure them that your products are ideal for their circumstances. Calculate all customer interactions and touchpoints to seamlessly guide consumers to a purchasing decision. 
But hold up, we're getting a little ahead of ourselves. The purchasing journey begins before consumers even land on your website. With 40% of shoppers conducting their product searches on search engines, attracting consumers to your website with top-notch SEO is the first thing to consider.  
Guided Selling, SEO, and AI
AI (Artificial Intelligence) plays a pivotal role in the eCommerce landscape. Utilizing AI to deliver intelligent suggestions levels up your SEO game tremendously. AI works in this capacity by mimicking human behavior to understand consumers' search intentions. Your SEO strategy needs to keep up with this evolving trend in AI. 
As demonstrated in this graph below, leading eCommerce business decision-makers reveal the belief that AI will enhance their business's personalization efforts. Enhancing your customers' purchasing journeys by customizing their experiences can be aided by the integration of AI technology.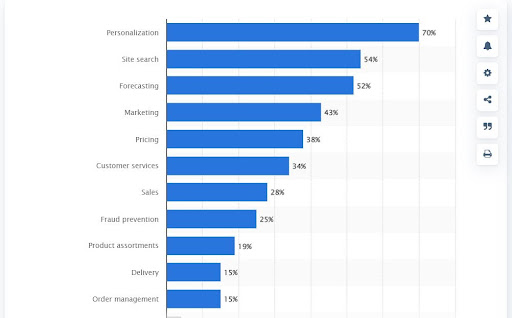 How to Make AI Work for You
Align your digital content and keywords to your potential customers' online search queries. This will stand your business in good stead for higher search engine result rankings. Harnessing the power of AI drives better customer experiences by quickly providing a solution to their questions and problems.  
What Can Guided Selling Do for You?
We're very glad you asked. Implementing a guided selling tactic for your eCommerce store enjoys these kinds of benefits:
Promotes consumer confidence

Drives successful products

Personalizes customer experiences

Removes purchase barriers 

Educates shoppers 

Encourages brand loyalty 

Reduces product returns 

Prevent customer overwhelm

Increases customer interaction

Develops your team's

telesales skills 
Now that you're totally on board (why wouldn't you be?), be our guest and explore the rest of this article. It's here for the very purpose of guiding you through the intricacies of guided selling. Upon finishing this article, you'll have a much better understanding of your customers, know how to improve their eCommerce experience, and achieve more sales. Let's go. 
Key Points on Guided Selling and eCommerce
The role of guided selling in an eCommerce setting is to identify consumer requirements, provide a solution and sway them towards your products. Along this journey, you aim to educate your consumers and enable them to make informed decisions. 
Aim to follow these steps:
Identify consumer requirements 

Match requirements to your products

Suggest suitable products

Give information to reinforce products' suitability 

Encourage sales 
Done right, guided selling is a much nicer customer experience than that annoying real-life salesperson hovering around, constantly asking if they can help you. Guided selling is politely asking your consumers their preferences, then delivering reassurance when they consider making a fabulous purchasing decision. 
Bonus points if you make the question asking process fun as Sephora does: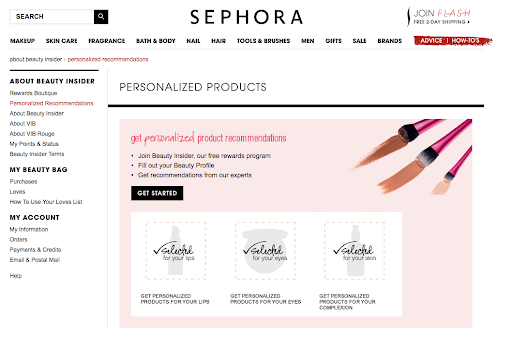 .au domains like this pitch their consumer market just right. Demonstrating personalized recommendations for all their products, Sephora delivers an interactive customer experience that drives conversions.    
Let's examine the key steps in the guided selling process. 
Guided Selling Steps
Know thy customers

Analyze customers' needs

Education lessons 

Recommend the perfect products

Reinforce and reassure 

Adapt and overcome   
Know Thy Customers
Begin by profiling your customers. Set the scene and start the dialogue with a few simple questions. Multiple choice questions are great at eliciting a good understanding of your customers. By asking what your customers want, it's easy to optimize your product descriptions like so: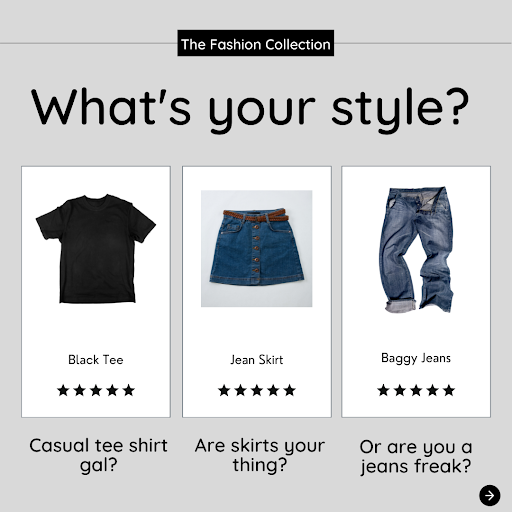 Image Created by Writer 
In this example, determining your customers' styles dictates their website journey. Just this one visual gleans plenty of insight into your customers' preferred clothing style.  
Customers that participate in questions like this offer up valuable zero-party data. Use it to your advantage to customize marketing campaigns and offers. Just remember to keep security tight by storing no customer personal data on your website.      
Analyze Customers' Needs 
This step takes your customers' needs and translates them into matches to your products. For example, a customer might know they want a Ringcentral alternative, but they don't know which are the best features or the solution for their specific number of users. 
This key customer information is valuable for analytics a little further down the line and will help you create future hyper-personalized marketing campaigns. Analyzing the needs of your customers shortens the buying journey, leading to - yep you've guessed it - quicker and easier sales. 
Education Lessons
A big part of the guided selling experience is education. By educating your customers, they take the onus on the decision-making. You're also delivering lessons in why your business is great to deal with, reinforcing loyalty to your business. Consider video demos or interactive product tutorials to help consumers compare different products and understand their value and purpose. 
Recommend the Perfect Products
Function of Beauty's website is glorious. It asks lots of questions about its customers' hair and beauty types. Based on responses, the site displays suitable products. 
Where possible, try to include different selections as well as the best match to encourage informed decisions. Clever website algorithms level up ecommerce personalization with customizations including choice of fragrance and recipient's name. You can even choose the color of the shampoo. How very exciting.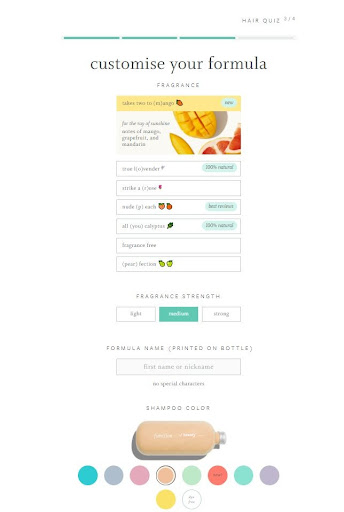 Reinforce and Reassure
The recommended products displayed are based on product attributes, allowing consumers to proceed to purchase with confidence. This stage is all about reassuring consumers that they're making the best decision for them at this moment in time. Here is where you introduce social proof from other like-minded customers to drive the message home. 
Adapt and Overcome
Your guided selling strategy isn't a one-and-done. Learn from every touchpoint and sale to check the best performing products. To do this, deploy content marketing performance metrics to analyze content engagement, repeat visitors, and other valuable performance metrics.   
Guided Selling and the Customer Experience
The guided selling technique assists consumers with potentially complicated purchasing decisions. Can you imagine back in the 1990s, buying a mobile from a website? You'd need a lengthy transaction with a knowledgeable salesperson in-store before even thinking about choosing the best phone for you. 
Fast forward to the digital age. Take this example below. Google offers easy-to-navigate Pixel mobile options on a website with plenty of white space. Uncluttered images make for easier buying decisions.
Strive to continually improve your customers' experience by providing the best-optimized content on your landing pages. For customers to make informed purchasing decisions, they need to know exactly what they're buying. A great content marketing strategy behind your eCommerce product listings solidifies the customer experience and skyrockets your SEO.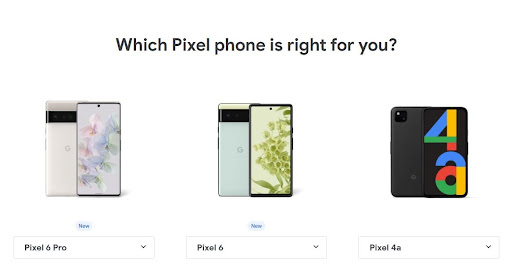 Takeaways
If your job role is to manage a remote sales team, guided selling offers excellent visibility of your brand through your customers' eyes. Delivering accurate analysis into customer behavior patterns, guided selling is the ultimate data-backed eCommerce sales solution. 
Consumers are increasingly demanding and expect nothing less than an awesome experience whilst shopping with you. Guided selling is the solution to address the experiences your consumers want, and to deliver it to them. 
Your customers won't tolerate gaps in communication or vague website purchasing journeys. Making buying decisions simple is the key to success. So, go forth, guide your consumers, and enjoy the rewards of increased sales and a loyal following.